Toasted bread stacked with all sorts of glorious things — who doesn't love that? Here are some of the best restaurants for sandwiches in Shanghai.
When it comes to my favorite foods, I'm more of a comfort food gal myself. For me, sandwiches are up there with pizza, medium rare steaks, curry, and ramen.
Where to get a good sandwich in Shanghai
Co. Cheese
Original: 32 Yuyuan Dong Lu, near Changde Lu 愚园东路32号, 近常德路
Tel: 13032118036
Hours: 11:30am-midnight (kitchen closes 10pm)
Second Location: 509 Nanchang Lu, near Shaanxi Nan Lu 南昌路509号, 近陕西南路 
Tel: 13122556050
Hours: 5-10pm

If you want a grilled cheese sandwich, look no further than Co. Cheese.
Co. Cheese is my favorite neighborhood bar/sandwich shop, and I don't even live in the neighborhood (Jing'an). Despite being a tiny bar on a quiet street, Co. Cheese is often seen brimming with regulars. Be it 5pm on a weekday, Friday evening, or weekend brunch time (they don't even serve a brunch menu), people are often seen spilling out onto the cramped yet cozy terrace.
*UPDATE* Co. Cheese has a second location on Nanchang Lu, behind iapm mall!
It's the brainchild of Toronto native Greg Jurksztowicz. He's usually at the bar and he always has great tunes on play, from your favorite sing-a-long 80s rock songs to Johnny Cash and the odd pop hit. 100% cool vibes.
Here, they serve 25 variations on the grilled cheese. Sandwiches are made with sourdough bread, and are pressed and toasted in the cubicle of a kitchen behind the bar. As much as I am a fan, I have yet to sample the entire menu. Really, I'm looking at long-term goals here, and so should you.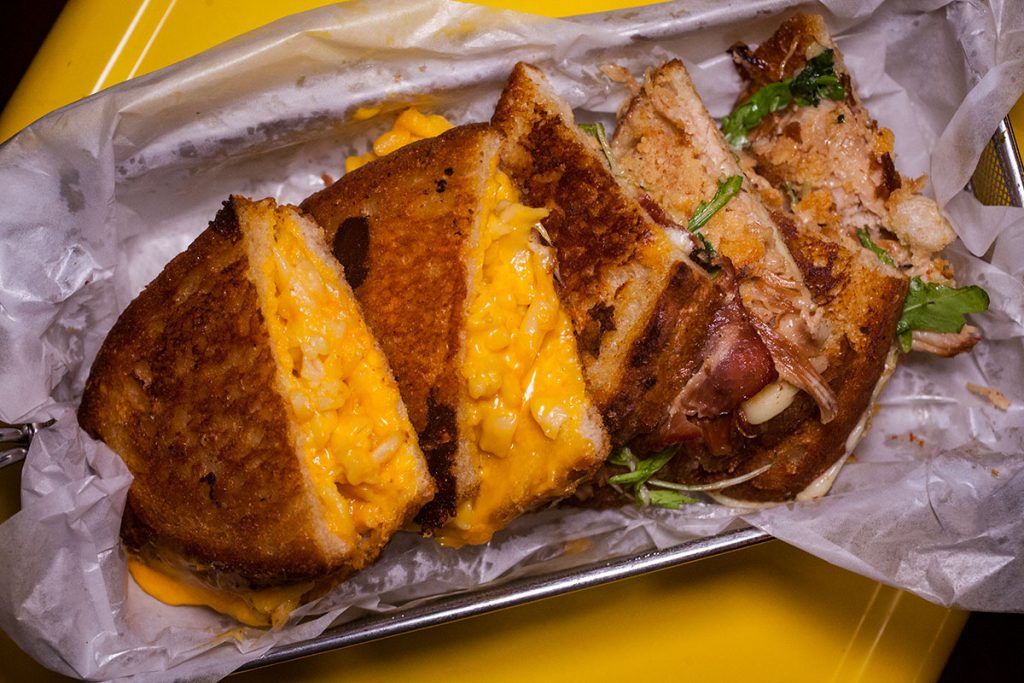 What they have is variety and consistency. I've ordered the Chicken Caesar (#20 on the menu) countless times, and that first bite has always induced the same orgasmic reaction. For carb-on-carb, go for the Kraft Mac & Cheese (#9). Other favorites include #14 Tuna Melt and #3 Duck Breast with Red Onion Marmalade. Another favorite was the Ramen Kimchi Grilled Cheese, currently not on the menu. Here's to hoping it'll make a comeback.
If 25 grilled cheeses weren't enough, there are hoagies, too. The Philly Cheesesteak (¥100) is a killer, stuffed with shaved beef, layered with provolone or American cheese. There are also soups, cereals, cheeseboards, and more.
Line your stomach with a regular (¥50) or large (¥65) grilled cheese, and then proceed to down copious amounts of picklebacks. The Bloody Caesars and Bloody Marys (¥50) are also fabulously on point, garnished with olives and house-pickled chilies.
Extra points for the army of hot sauces that clutter the bar and for allowing orders of half-and-half large portions of grilled cheeses (only when they're not busy).
Co. Cheese has a Monday deal: Two large cheese melts, four standard drinks, and two pickleback shots for ¥200. Partay.
---
RAC
Anfu Lu: No. 14, 322 Anfu Lu, near Wukang Lu 安福路322弄14号,近武康路
Tel: 13636595172
Hours: Mon-Sat 8am-11:30pm (food last order 10pm), Sun 8am-6pm
Shaanxi Nan Lu: 55 Shaanxi Nan Lu, near Huaihai Zhong Lu陕西南路55号, 近淮海中路 
Tel: 13636595172
Hours: Tue-Sun 9am-10pm (kitchen closes 9pm)

RAC is an ultra-popular café and wine bar that has racked tons of fame on social media for its crepes, galettes, and coffee. During peak hours, it's impossible to get a seat without waiting. If it's a less hectic meal you seek, go during off peak hours.
In addition to the crepes and galettes, the Avocado, Egg & Cheese (¥55) breakfast sandwich is an excellent choice. The sum of its parts is what you really want in the morning (or as a hangover buster)—gooey egg, creamy avocado, and melted cheese. Add extra ¥ for crispy bacon.
If you're searching for something more hardy, try the Soft Shell Crab Sandwich (¥98) with pickled red cabbage, avocado, and wasabi mayo.
---
Latin Woo
Address: 1262 Yan'an Xi Lu, near Panyu Lu 延安西路1262号, 近番禺路
Tel: 13501689458
Hours: 11am-5pm
Located in the newly opened Columbia Circle in Changning District, Latin Woo is the latest from the makers of Spanish tapas restaurant Pirata. Latin Woo serves from 11am to 5pm, and shares the space with the new location of Pirata (6pm-11pm), and 6-seater omakase Hulu Sushi (entrance around the back).
You won't find a better Cubano (¥35/68) anywhere else in Shanghai. Latin Woo's Cuban Sandwich has all the essential components, nothing more, nothing less: Cuban roll, sharp mustard, pickle, cheese, salty ham, and roast pork. The cutlet of pork looks thick, but it's suitably tender and doesn't pull when you bite into it. Toasty bun, melted cheese, and served with crisps or plantain chips.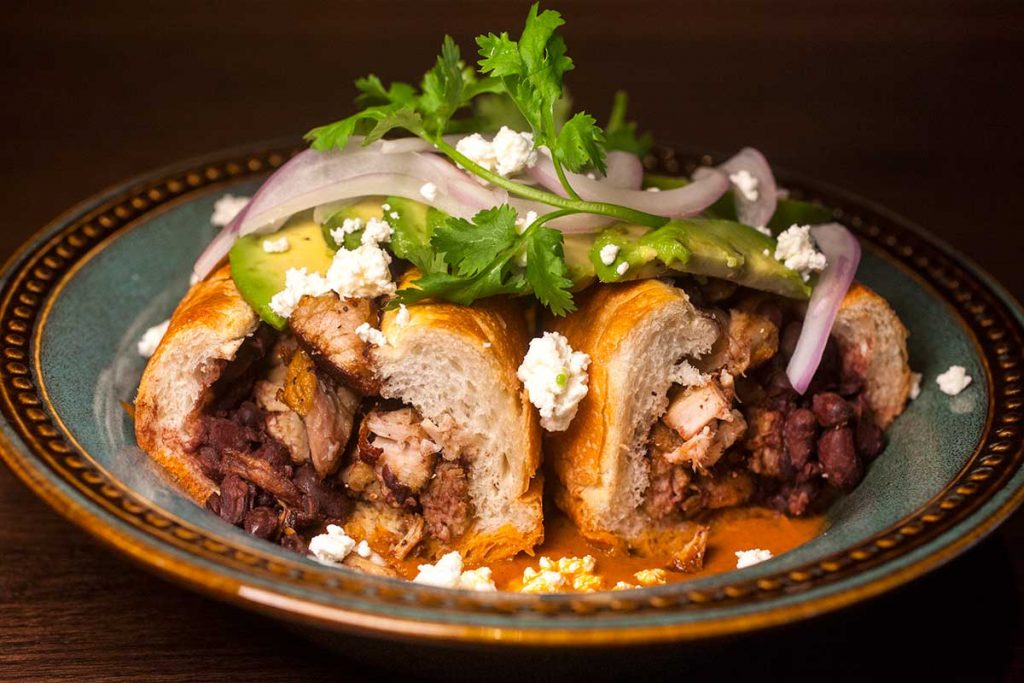 Sandwich #2 is the Torta Ahogada (¥65) aka the "drowned sub". It's a crusty bun stuffed with chunks of pork, avocado, and cheese, that sits in a spicy sauce made of chargrilled tomato, onion, garlic, and chili. It's messy—toppings flop out as you sop up the sauce—but that's half the fun.
With seven sandwiches on the menu, you'd think that would be plenty. But there are entrees as well, from steaks to this thing called Mexican Chicken Ramen aka Sopa de Fideo.
---
Highline
Address: 6/F, 282 Huaihai Zhong Lu, near Huangpi Nan Lu 淮海中路282号雅诗阁公寓6楼, 近黄陂南路
Tel: 63330176
Hours: 11am-2pm, 5pm-1am
Highline is one of my favorite restaurants in Shanghai. It's also my go-to brunch spot. It's an upscale American restaurant with an expansive outdoor terrace, great playlist, and a menu that's always rotating. Come brunch time, I usually opt for sandwiches to share in between the eggy mains.
The Philly Cheesesteak (¥158) is a heart attack on a plate, but in a good way, of course. It is made with slices of M5 ribeye, roasted peppers and onions, American and provolone cheese, and is served on a toasted baguette. It's a sadistic portion for one, an agreeable serving for two to share. Comes with fries or salad, and a tiny cup of pickles.
Fairly new is the Shrimp and Crab Roll (¥128), presenting a toasted milk bun overflowing with plump garlic buttered shrimp and crab egg salad.
Tack on the Highline Club Sandwich (¥98) while you're at it. Layers of artichoke and sundried tomato spread, grilled chicken, bacon ham, avocado, tomato, and basil pesto between sourdough bread make for an epic meal. Add ¥30 for fries (yes!) and salad (moo~).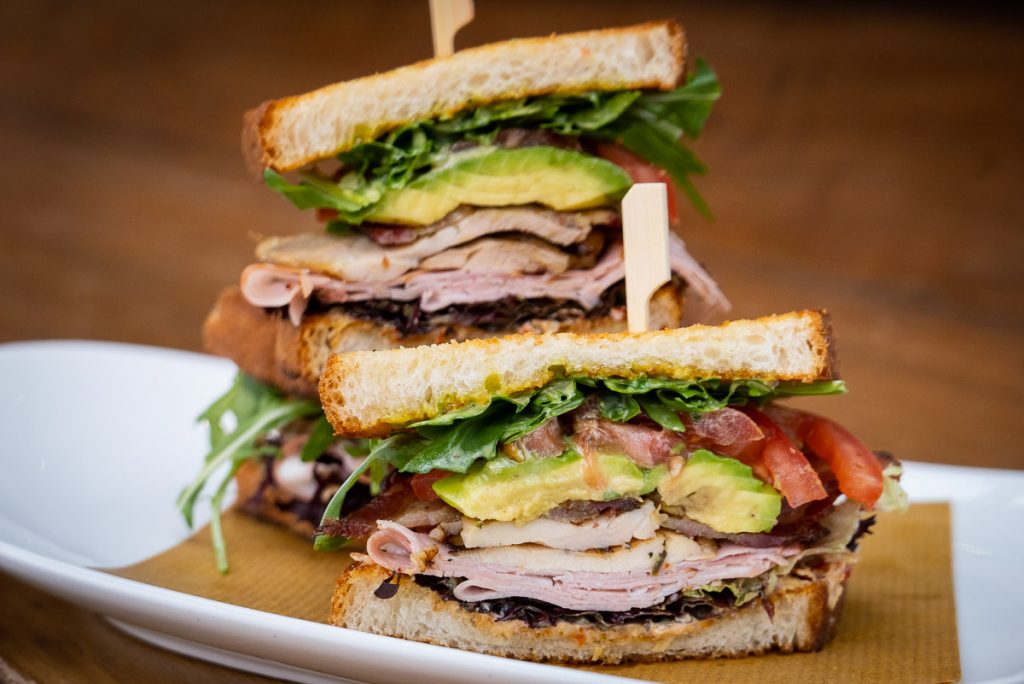 ---
Polux
Address: No. 5, Xintiandi North Block, 181 Taicang Lu, near Huangpi Nan Lu 太仓路181弄5号新天地北里, 近黄陂南路
Tel: 63339897
Hours: 10am-10pm

A club sandwich is a cafe staple, and Polux, Paul Pairet's Xintiandi cafe does it to perfect. The Real Double Decker Club Sandwich (¥110) has a precise balance of micro-thin housemade crispy bacon to lettuce to tomato to chicken between toasted bread. It's juicy, holds well, and tastes like either the best or second-best Club you've ever had. It's served with Hand-Cut French Fries Allumettes, which are also available a la carte for ¥50.
---
The Cannery
Address: Rm 106, Bldg 1, 1107 Yuyuan Lu, near Jiangsu Lu 愚园路1107号1号楼106室, 近江苏路
Tel: 52760599
Hours: Mon-Fri 5:30pm-1am, Sat-Sun 11:30am-1am
The Charred Reuben on the brunch menu at The Cannery is bomb. Corned beef, sauerkraut, Swiss cheese, and Thousand Island dressing, grilled with butter. If there ever was an appropriate time to use the word "moist"Don't underestimate it's size. Brunch is ¥198 for three dishes.
---
Spread The Bagel
Donghu Lu: 9 Donghu Lu, near Xinle Lu 东湖路9号, 近新乐路
Hours: 5pm-2am
Yuyuan Lu: 32 Yuyuan Lu, near Changde Lu 愚园路32号, 近常德路
Hours: Sun-Thu 8am-7pm, Fri-Sat 8am-9pm
Tel: 13817173245
Order delivery here.
Spread The Bagel is Shanghai's favorite homegrown bagel brand. Founder Christine Asuncion started STB in 2010, vowing to perfect her recipe and to bring a taste of authentic New York bagels to Shanghai. If you're eating a bagel right now in Shanghai, chances are it came from STB. They have plenty of bagelwiches on offer, rotating topping combos seasonally.
---
Tock's
(CLOSED): 221 Henan Zhong Lu, near Fuzhou Lu河南中路221号, 近福州路
Tel: 63463735
Address: 1/F, Bldg F, No. 16, 281 Maoming Bei Lu, near Wujiang Lu 茂名北路281弄16号F栋1楼, 近吴江路
Tel: 62253835
This Canadian deli was just about the only place in town where you could get Montreal-style smoked meat when it opened on Henan Lu in 2014. You can customize your sandwich by choosing lean, medium, or fatty cuts of meat. Served with skinny fries, pickles, and vinegar slaw.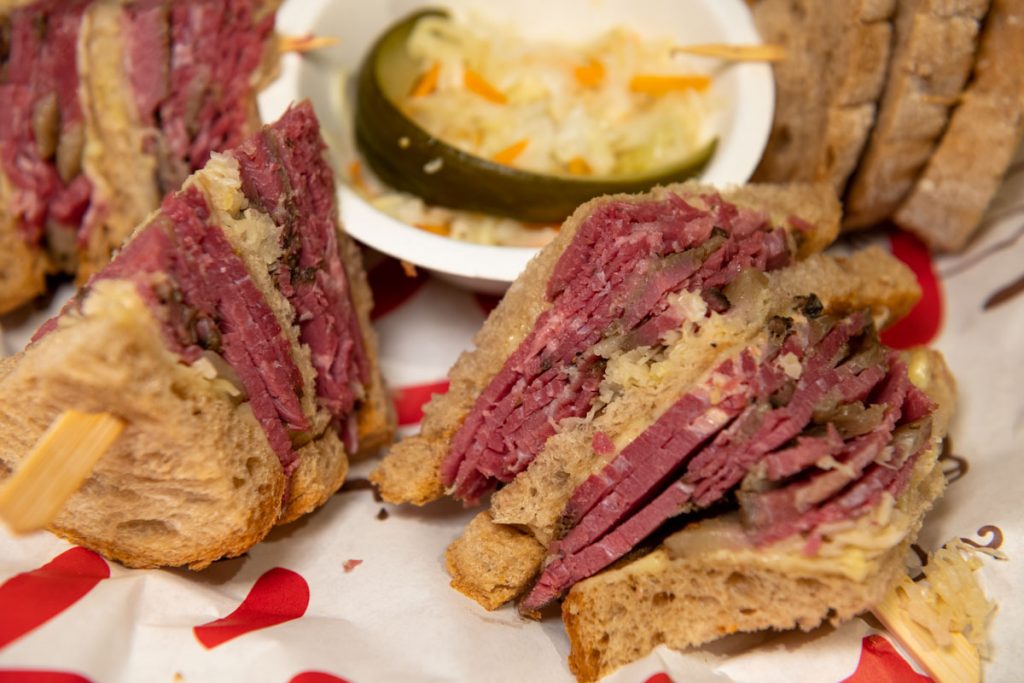 They have a new location in Feng Sheng Li, opened July 2018, where they serve addictive strips of crispy maple syrup bacon. They also do great Bloody Marys, garnished with a slice of smoked meat. Outdoor seating available!
---
Deli Boys
Address: 710 Dingxi Lu, near Yan'an Xi Lu定西路710弄, 近延安西路
Tel: 62121722
Hours: 10:30am-10pm
Deli Boys is a Montreal deli and restaurant serving breakfast, sandwiches, and takeaway meals. It's tucked away in one of the lanes down Dingxi Lu. It's worth stopping in if you're hankering for Montreal-style brisket sandwiches.
The Classic Montreal (¥73/88) or the New York Reuben (¥85) are both excellent choices. The meats are served on challah bread, a pillowy contrast to the traditional rye bread. The fries could be better, pickles and slaw are good.
---
Liquid Laundry
Address: KWah Centre, 2/F, 1028 Huaihai Zhong Lu, near Donghu Lu淮海中路1028号, 嘉华坊2楼, 近东湖路
Tel: 64459589
Hours: Daily 11am-2pm, Wed-Sat 5pm-2am, Sun-Tue 5pm-12am
Liquid Laundry is a popular gastropub serving casual American fare and beer. Brunch is one of the busiest in Shanghai. Try the Buffalo chicken grilled cheese sandwich (¥68) with pepper-jack and Gorgonzola cheese doused in Red Hot.
---
Stone Brewing
Address: 1107 Yuyuan Lu, near Fenggang Lu 愚园路1107号, 近凤冈路
Tel: 62262510
Hours: Sun-Wed 11:30am-midnight, Thu-Sat 11:30am-2am
Stone Brewing is a fiercely independent craft brewery—this is their first China location. Food on offer is tasty American pubgrub of sandwiches, burgers, steaks, wings, and bar snacks to go with the 20 odd beers they have on tap and by the bottle.
Try the French Dip (¥88) sandwich, made with thinly shaved New York strip loin on an Italian roll with horseradish sauce and crispy onions, and comes with a side of gravy. Dip, bite, and double dip.
---
Roujiamo
Address: B2, SML mall, 618 Xujiahui Lu, near Ruijin Er Lu 徐家汇路618号日月光中心广场B2, 近瑞金二路
Tel: 18817219170
Hours: 10am-10pm
Definitely have to drop roujiamo 肉夹馍 into this list. A roujiamo is essentially a Chinese pita-pocket. Originally from Shaanxi Province, this street sandwich is found all over China.
The bread should be crispy on the outside and multilayered with a slightly doughy center. It should be packed with juicy, shredded meat and sufficiently salted and peppered. Choose fatty pork belly (¥12) or lean meat (¥15), usually served with green peppers.
My previous hole-in-the-wall closed, so now I get them from a pretty good chain called 笑西西 (xiao xi xi), which also serves other Shanxi delicacies like noodles and chuanr.
---
Madison Kitchen (Update: Now Closed)
Madison Kitchen comes by way of celebrity chef Austin Hu (Diner, Union Trading Co., Heritage by Madison). Think chunky yet refined sandwiches for an exceptionally affordable price. Madison Kitchen first opened on Huaihai Zhong Lu and has since had to move two more times before serving out of Pirata on Dongping Lu. This will not the last move since the lease of this location of Pirata is up at the end of the year.
The sandwiches are fantastic though, so go go go. There are plenty of new sandwiches on the menu, including limited specials. From previous visits, my favorite is still the Green Eggs & Ham (¥55), made with chunky egg salad, slices of Cola-smoked ham, a heavy spread of fresh, garlicky pesto, and cheddar.
The Molten Oppa Love (¥55) lives up to its name and oozes with cheesy goodness, accentuated with the zing of kimchi. Great Balls of Fire (¥55), the meatball sub, and the Big Girl (¥85) with house smoked and cured pastrami and ham are also must-orders.
---
There are so many places with excellent sammies. If you have a recommendation, please leave a comment below!