Polux is an all-day dining French café/bistro by Paul Pairet in Xintiandi, Shanghai.
The highly anticipated project officially opens today, March 13.
Heads up, it's a long post.
What is Polux?
The café is a French institution, and Polux is Paul Pairet's interpretation of that idea—a beautiful Parisian-inspired café spiked with influences from around the world (he likes using soy sauce, and is a big fan of Asian food).
Breakfast and brunch are the cornerstones of Polux. Dinner leans towards more country-style bistro food and draws from Mr & Mrs Bund's French dishes, with the plating and design of Chop Chop Club, and plenty of dishes echo signatures and favorites from each. It even borrows from Ultraviolet. Simplified, of course.
It's kind of like Mr & Mrs Bund and the Chop Chop Club had a baby, and Ultraviolet is its godfather.
Adaptations aside, Polux does have some creations unseen at his other concepts—keep reading for that.
On the menu(s)
Take the best things about Paul Pairet's restaurants and roll them together with eggs, breakfast, brunch, and small plates at the forefront, and you have Polux.
They source good products. They make them into great dishes. And they don't cut corners. When you get a burrata, it's as fresh as it gets. The sauces are made from scratch and all the smoked meats are done in house. If they had the means, they'd probably herd their own cattle.
And while the dishes may not be large format, the menus certainly are. There are four: one each for breakfast, lunch, afternoon, and dinner, and then there's an expansive drinks menu. If you've seen the menu at MMB, this shouldn't surprise you.
Have we ever known Paul Pairet to do anything less? Noooope.
Café mainstays
Scandalous as it may seem, Paul has done a club sandwich and a burger. Sound simple? They're not.
"Simple is never simple," as Paul says. "People will always have that one croque monsieur that they think is the best they've ever had. And we hope to make these simple dishes the second-best version they've ever had."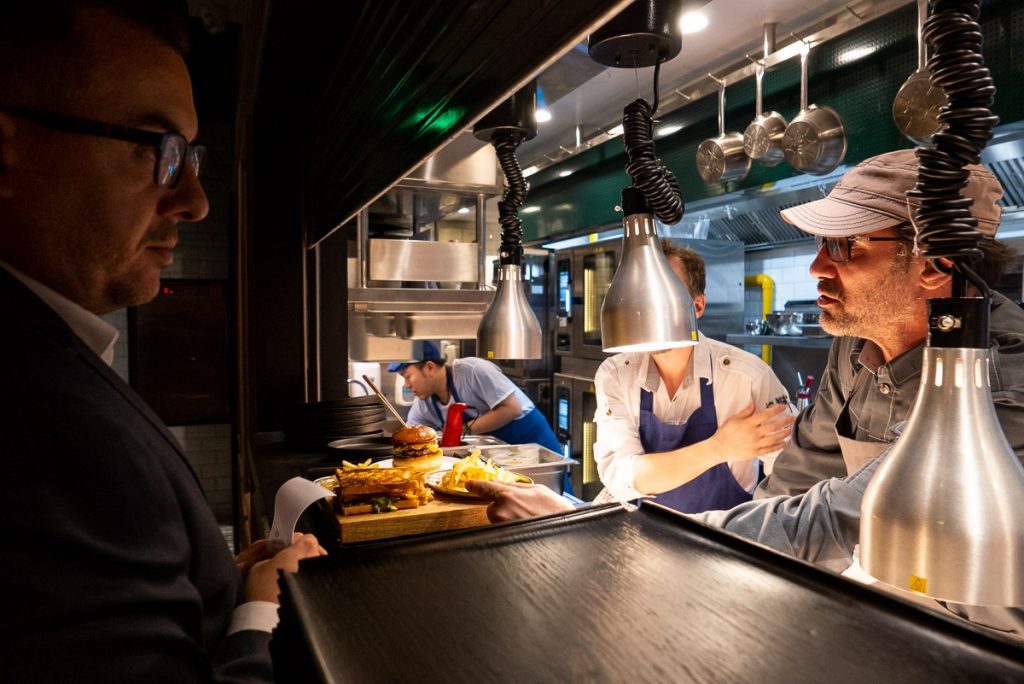 A burger, a croque monsieur, a club sandwich—when it comes to doing "the best" version of those, there's no such thing as simple for Paul Pairet.
The Real Double Decker Club Sandwich (¥110) is the staple, anchor dish that every café should have. The ratio of micro-thin crispy bacon to lettuce to tomato to chicken between toasted bread is precise. It's juicy, holds well, and tastes like either the best or second-best Club you've ever had.
It's served with Hand-Cut French Fries Allumettes, which are also available a la carte for ¥50.
How does a Paul Pairet burger taste, you ask? Frickin' divine.
The Polux Burger (¥110) is engineered for efficiency. The bottom bun is slightly hollowed, designed to cradle the charred, pink-centered patty in its cavity. It's uncanny how perfect it fits.
Choose a beef or pork patty and it comes topped with that crispy bacon, snappy lettuce, sweet tomato, and a thick slice of cheese. Add ¥10 for an egg. Served with fries. Insert synonyms for "scrumptious" right here.
Eggs, eggs, eggs
Egg-centric dishes go from breakfast to dinner. Some dishes overlap; some are only available during a certain time of the day.
Of course, there's an Avocado Toast (¥90), the food trend that ended up staying for good. Unlike other versions in Shanghai, this slice of sourdough is generously laden with chunky avocado, garnished with a healthy helping of coriander, and comes with a perfectly poached egg.
I'm a big fan of the Mushrooms Essential side dish at MMB, so the Mushroom Cheesy Toast (¥90) is right up my alley. Mixed mushrooms sautéed in butter, served with that grilled egg. Hearty.
Egg Mimosa Mama (¥80) is also a Mr & Mrs Bund favorite, but it's plated differently here. It's tuna, egg, and mayonnaise with pickled anchovies. I'm a sucker for anchovies.
Dinner, lunch and all the rest
The Onion Soup (¥80) is like a warm hug, rich with a deeply flavorful blend of caramelized onions in beef broth capped with melted cheese. Nostalgic and classic.
Steak Hache & Egg on Mash (¥130) is a beef patty served on top of mashed potatoes with a fried egg. Pink-centered like the burger. It's a very French comfort food.
Of all the dinner mains, the Beef Cheek Steak au Poivre (¥150) is my ultimate favorite. Crusted in black peppercorns, the seared beef cheek is fork tender, the muscle intertwined with wispy membranes of fat. It's insatiable. Served on top of mash with pepper sauce.
Second favorite? The Grilled Seabass Vierge (¥130). It is positively delicious, made to highlight the fillet's natural flavors. The pastis aioli sauce is a welcome bonus.
The Scorched Bone Marrow (¥110) is expertly done. Roasted to perfection, the prized, rippling fat swells with creamy, salty texture and flavor. The parsley and pineapple salad side cuts through the richness.
And here are a few more dishes: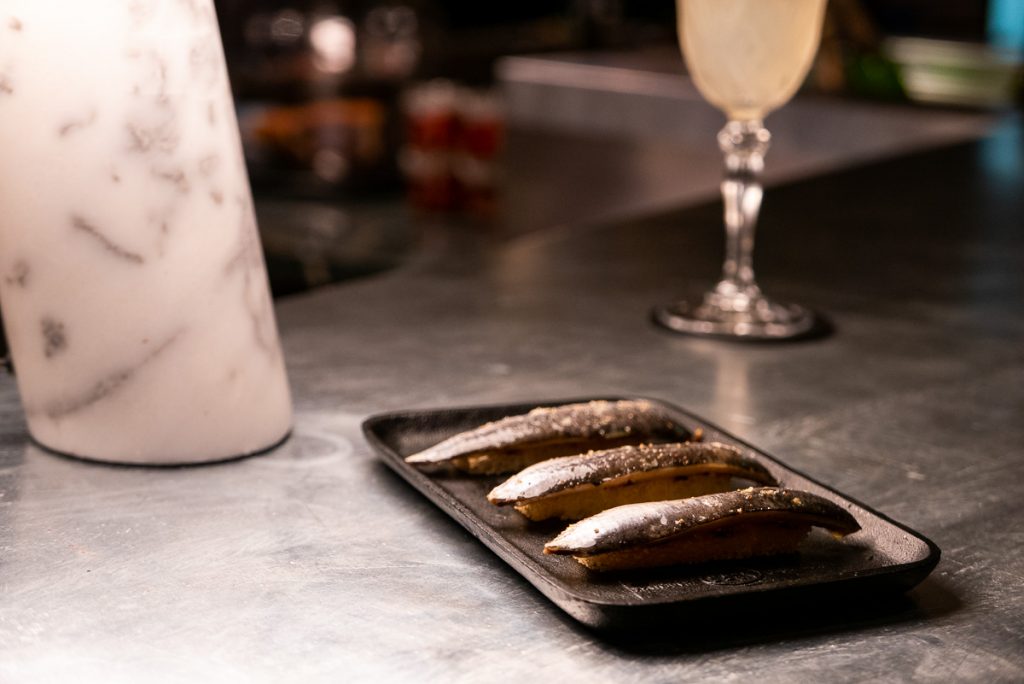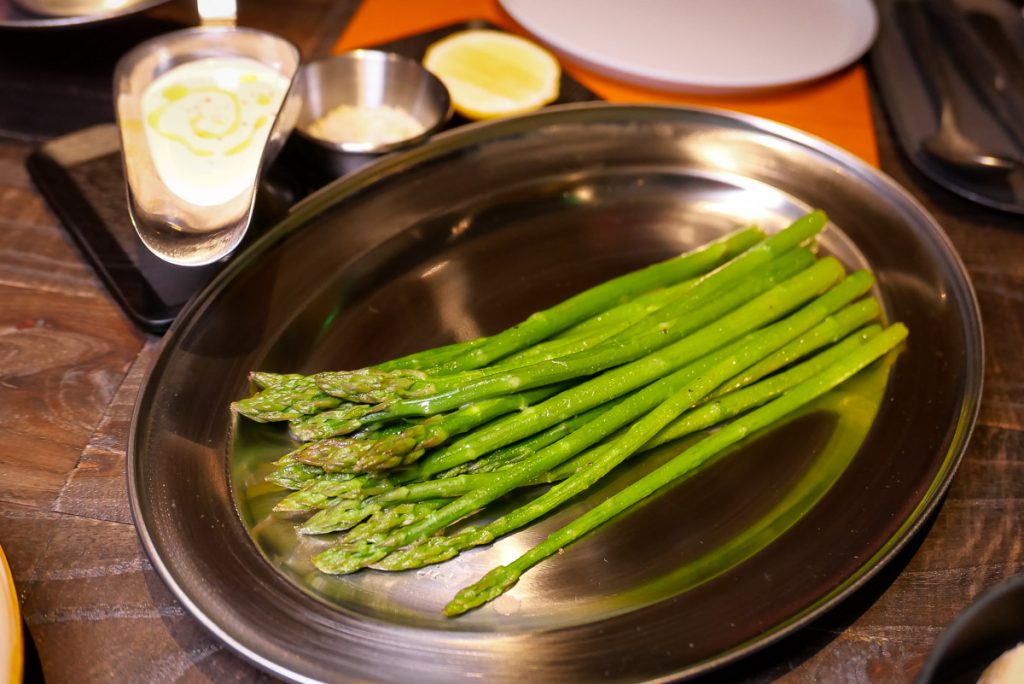 The Desserts
Finally, dessert. The Chilled Grapefruit and Pomelo (¥70) with granite also from MMB. The addition of thin strips of pickled ginger and tart orange grenadine broth is genius—a once plain fruit salad is now sophisticated.
Raspberries Essential (¥90), jerez (sherry), fresh cream, and burnt butter. Burnt butter and confit raspberries? How sinful.
The drinks situation
Espresso is ¥30 and double for ¥40, which just may be more expensive than Piazza San Marco in Venice, where a coffee may cost up to 4-5 Euros. French press for two to share is ¥100. We live in a city where people will line up for one hour at %Arabica and pay ¥55 for an iced matcha latte. If that's not enough, here's an out: Xintiandi rent. Fresh juice ¥40/glass or ¥90/jug (750ml) of orange, grapefruit, or watermelon.
Cocktails are very well-priced, starting from ¥60 for your standard drinks like Negronis, Mojitos, Piña Coladas, and Old Fashioneds.
The Bocktails are back from the Chop Chop Club, starting at ¥280 for the Negroni (400ml). In addition, there are also liter-jug cocktails, including the Bloody Mary for ¥350. Wines by the glass start at ¥45. New Zealand cider on tap for ¥80, Sapporo beer for ¥50.
The space
It's situated in what used to be first location of KABB, which opened in 2001 and was a landmark restaurant for Xintiandi; hugely popular in its early days.
French designer Baptiste Bohu has done a fantastic job with the interiors. Cement tiles bearing the patterns typical of French colonial homes brighten up the space.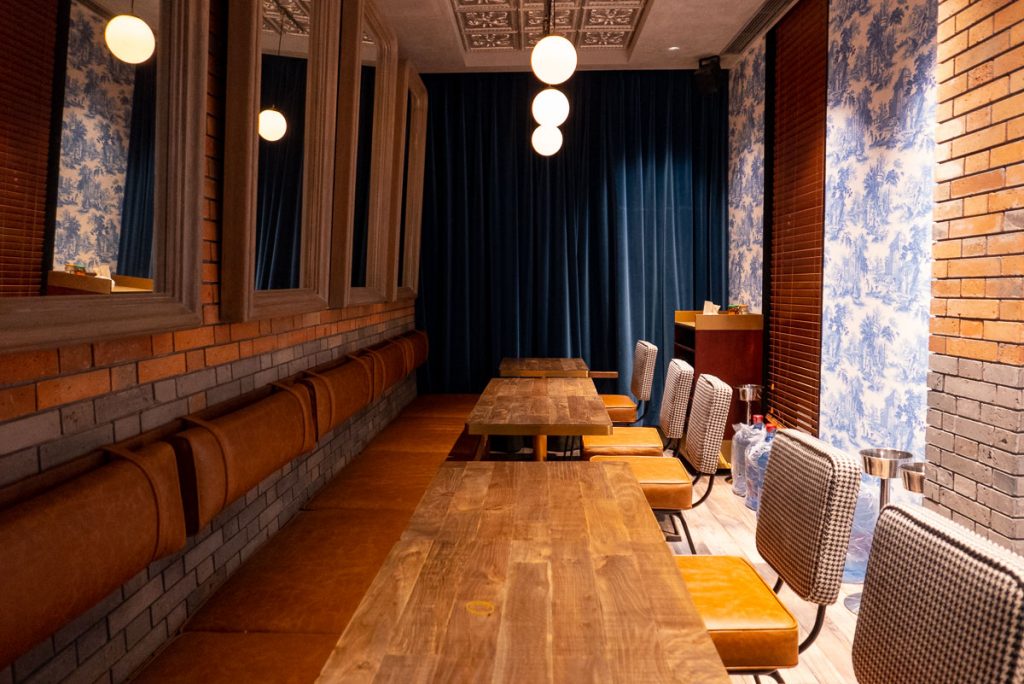 Reclaimed wood floors, oak wall panels, velvet curtains, dramatic lighting, brass shelves, and modern furniture give Polux its vintage-yet-modern Parisian café/bistro atmosphere.
The large terrace seats up to 50, inside seats maximum 80. An intimate private room upstairs seats 10.
The people behind Polux
Paul Pairet is the chef and founder of Ultraviolet, Mr & Mrs Bund, and now-closed Chop Chop Club. He and Mr & Mrs Bund's head chef Julien Hermida oversee Polux.
Shanghai-native Alex Shen is Head Chef. He was previously the sous chef at Ultraviolet and has worked with Paul for 10 years, ever since Jade on 36. He's joined by Executive Sous Chef Marco Chavez Jaime, who was previously at CCC.
Kelvin Zhou, from Suzhou, is the director. Previously Operations Manager of Mr & Mrs Bund, Kelvin has been working with VOL Group for 13 years, starting off in the F&B industry as a commis – the most basic, entry-level position within a restaurant – and now he oversees the operations of Polux, working alongside one of the world's most lauded chefs and a highly skilled team.
All of this is guided by Julien Moreno, the GM of Paul Pairet Restaurants.
Whoa. You've made it to the end of this (necessarily) long article
Polux is familiar, instantly likeable, comforting, and satisfying. It removes complexity but without sacrificing depth. It's not pretentious, and it's not trying to be anything other than a café/bistro with really good food. For me, it was also a journey of rediscovering why I love Mr & Mrs Bund so much.
I can count myself lucky to live just a few blocks away from it.
There's a phone number below. Call it for reservations.
(This was a pre-opening invite. Dishes and pricing may change.)
---
Polux
Address: No. 5, Xintiandi North Block, 181 Taicang Lu, near Huangpi Nan Lu 太仓路181弄5号新天地北里, 近黄陂南路
Tel: 63339897
Hours: Mon-Sun 10am-10pm
WeChat: PoluxByPP