UPDATE: Botanik has closed. Click here for more restaurants in Shanghai.
---
Botanik is a seasonal, mostly plant-based restaurant in Shanghai that serves a 12-course menu using ingredients sourced only from China.
The Concept and The Space
It takes residence on a rooftop garden in Taikang Terrace behind Tianzifang, and rises up from its concrete confines like an oasis.
The fairytale-like rooftop garden is lush, and is enviable of any green thumb in this city. But it is not just for show. This garden contains more than 100 varieties of edible plants, which are used in large in the creation of the 12-course menu at Botanik. (This garden even has a banana tree.)
In addition to nurturing this garden, chef Elijah Holland and his team source locally, using ingredients that are either native to or grown in China. The inspiration comes from the desire to use quality produce and to prove that you can get good products from China, and to serve wild-grown foods and meats from farm-raised animals.
EJ is young, ambitious, and has an infectious passion for foraging and sustainable dining. His team shares the same conviction, and after seeing what they're all about, you'd want to believe that it is possible for Shanghai/China to have more sustainable restaurants in the future.
The Experience
Before I go into detail about the food, of which there is plenty, there is a specific demographic that Botanik targets. Foodies will get a kick out of it, and people who love to learn about where their food comes will engage EJ in lengthy conversation.
It's an exploratory experience of new flavors and textures. Most of the dishes were very new to me, as were some of the ingredients.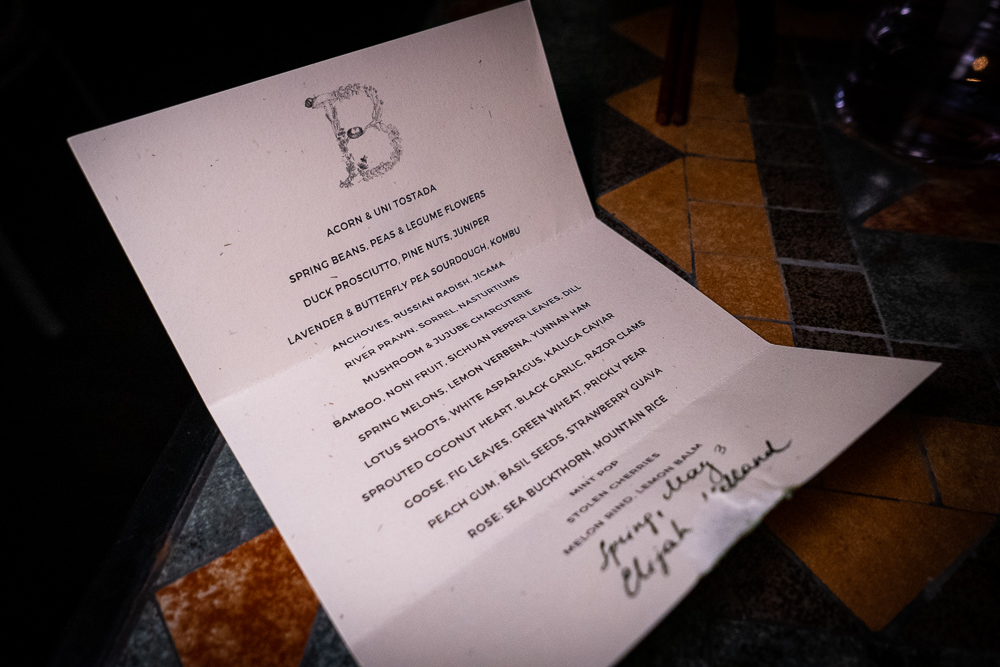 Is it enjoyable? Yes, for people who are keen on discovery and for those interested in their food's provenance. But if you're thinking this will be as satisfying as a steak dinner or all-you-can-eat hotpot, you're in the wrong mindset.
For seasoned diners, understanding the introduction of each dish is a challenge, and I can't imagine what it must be like for the average Joe—EJ might as well be speaking a different language. Suffice to say, it's very educational.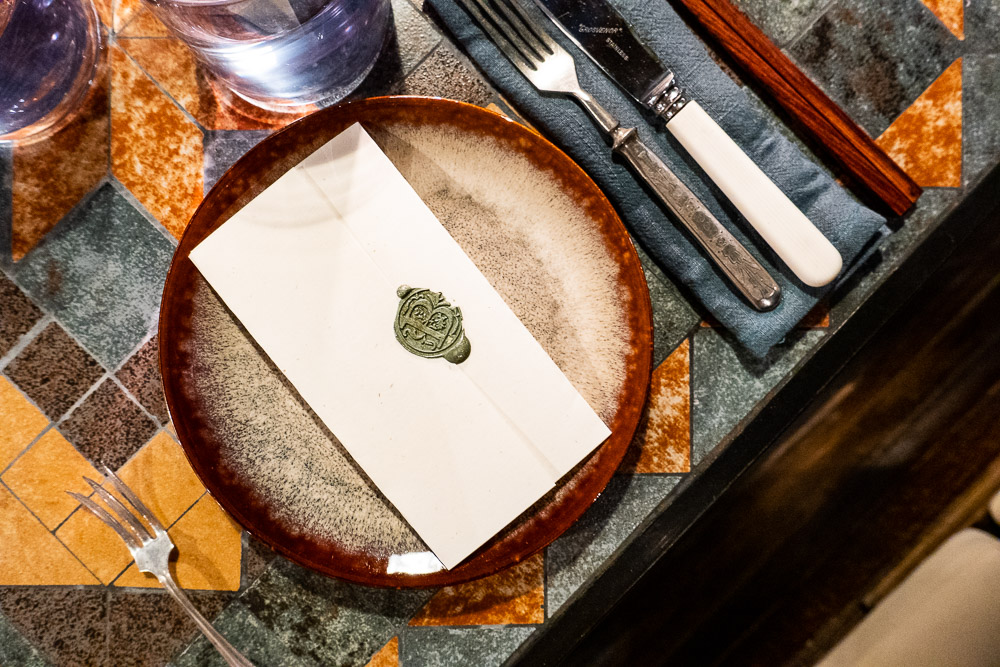 Is it sustainable? Food wise, absolutely. As a business? No. There's a staff of 12 to 20 diners per night, and they're only open three days a week.
But that's the beauty of Botanik—there is no way it would be possible, monetarily and as a business, were it not for the cash cows supporting it. It's an almost-charitable project that deserves to be applauded.
The Food: Dissecting the Menu at Botanik
The menu will change every three weeks or less, as dishes will be swapped out based on available products and seasonality. That said the following might be long gone by the time you visit.
To start are a flurry of small bites, all elaborate in design and plating. It's a marvel that so much work goes into these small bites. Spring beans and wild peas treated with a floral chamomile infused vinegar, served on a broad bean leaf and an acorn flour tostada with sea urchin, sour cream and chervil.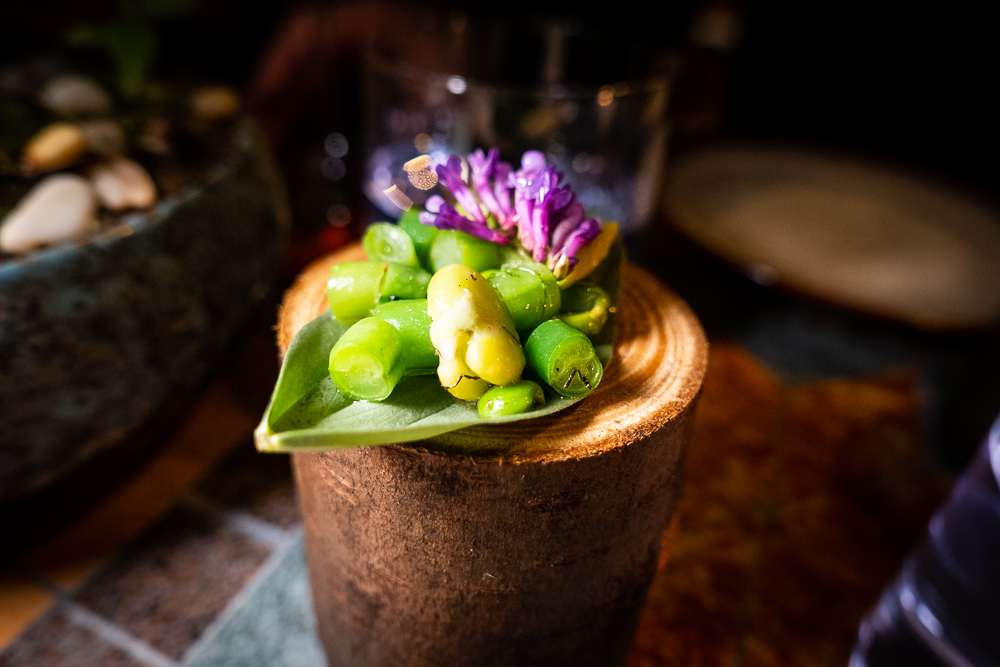 Next is a magnificently displayed dish, one that sets the tone for the evening and really emphasizes their garden to table aesthetic. Like baubles on a Christmas tree, two mulberry and juniper gelled duck prosciutto stuffed with raw pine nut puree hang from the wiry branches of a miniature juniper shrub. The mild juniper florals and sweet mulberry soften the intensity of the house made duck prosciutto.
Sourdough colored purplish-blue from butterfly pea, made with Chinese wheat follows. It's served with an umami-rich roasted kombu butter that tastes like salted, dried anchovies, mushrooms, and ocean spray on toast.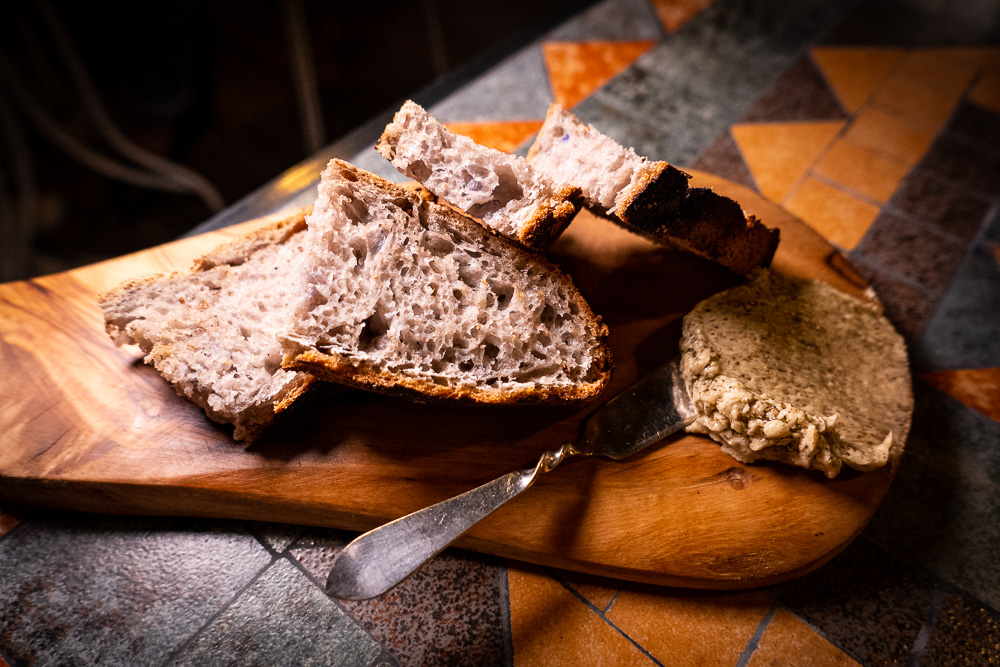 Fermented naan bread with anchovies from the South China Sea, dots of fermented radish, and jicama yam for crunch. It is a little flat, if not bland. But after this, the meal picks up, and quickly.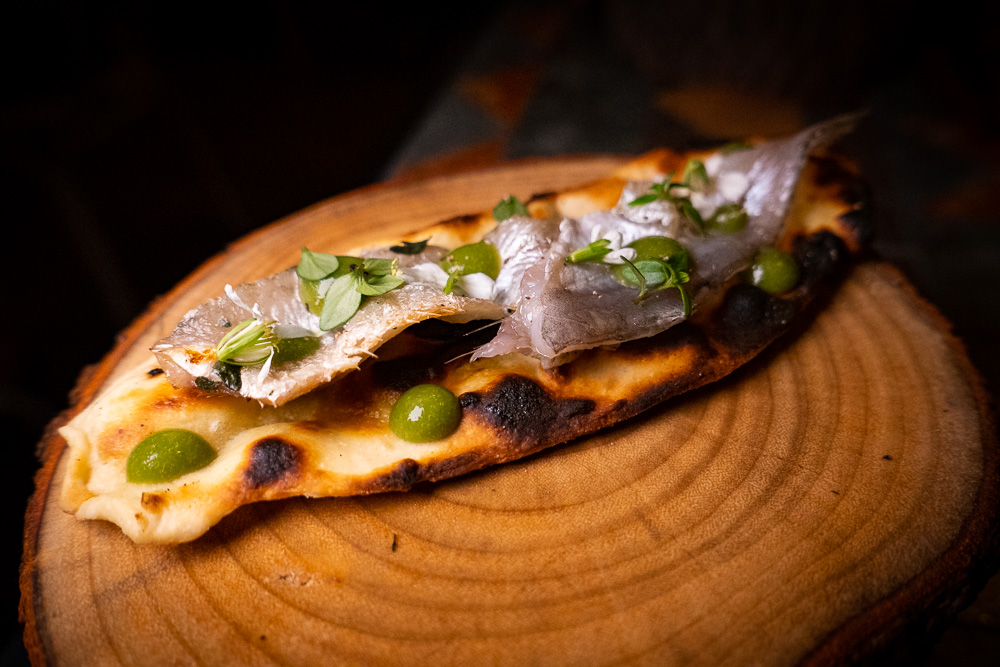 Teeny tiny laboriously de-shelled river prawns sit in a puddle of sorrel juice and soya sauce flanked by crunchy prawn heads. It's light, subtly sweet, mildly acidic, and absolutely delightful, even the flowers and sprigs lend sparks of flavor.
Best Dish of the Night: Mushroom Medley
This mushroom medley is the uncontested star of the meal. It's mushroom purée, smoked enoki "bacon", and jujube almond "salami" on a potato chip. The smoked enoki "bacon" packs more flavor than a piece of meat ever could with a complexity that goes way beyond a descriptor like "umami". All together, it's meaty, airy, chewy, bouncy, sweet, sour, and nutty.
To summarize: it is fucking mind blowing. Here's to hoping it'll still be on the menu by the time you go.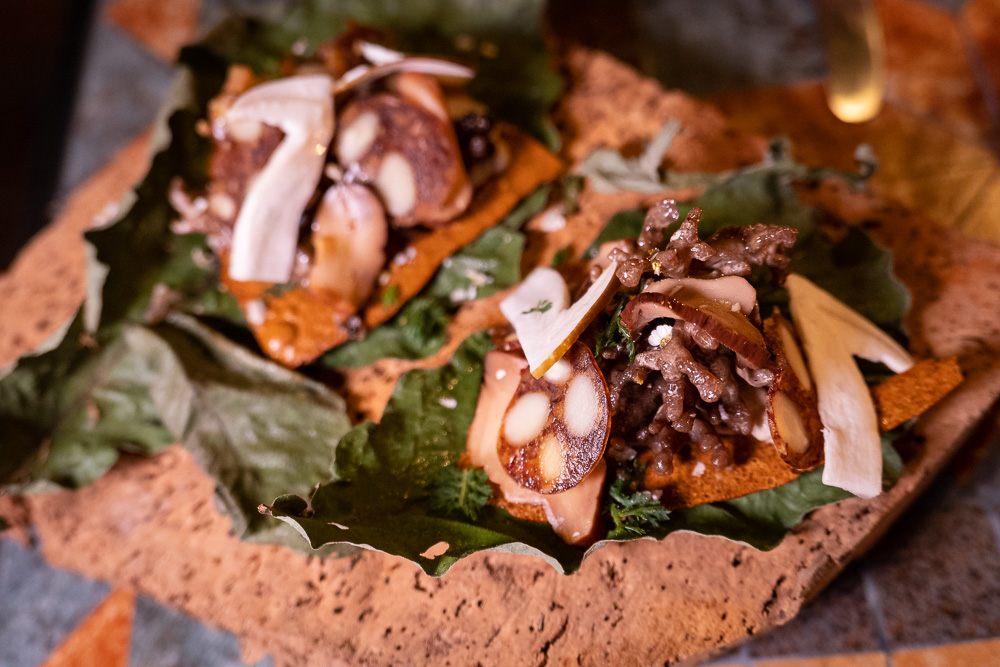 Next is a course of wild bamboo from Sheshan National Park. It's poached in bamboo leaf tea, then crisped in the oven with Sichuan pepper leaves. Wild noni fruit (Sanya) is used for the sauce. The noni fruit comes from a fruit-bearing tree in the coffee family and is native to Southeast Asia and Australasia. It is potent and stinks like blue cheese when ripe, but tastes sweeter than it smells, and carries a distinctly tropical aftertaste that is saccharine like overripe peaches and floral with hints of fermentation. It is fantastic.
A much needed palate cleanser is next, a spring melon soup. It looks simple, but nothing ever is at Botanik. Four kinds of spring melon infused overnight with ham and lemon verbena are used make this sparing concoction.
Moving on is a seasonal specialty, white asparagus from Shandong. The highlight is actually the smoked sturgeon (Yunnan), cured to a point where it resembles jamon. It's stringy and salty, chewy yet pliable. A thimble of Kaluga caviar for garnish because why not.
Another Favorite: Coconut Heart
The second most memorable course is the coconut heart. It's cooked in its own juices and then fire-grilled, dusted over with coconut "bottarga" that has been salted, smoked, and dried, in a sauce of coconut water thickened with razor clam jus. The heart itself is sweet, spongy like a piece of meat, almost like a sturdy mushroom. Dollops of black garlic send you over the moon.
The "main course" is a slow-roasted goose, sourced from a farm in Chaoshan. Crispy skinned strips of meat come with green wheat, which has a combined texture of Chinese barley and mung bean, and tiny hyper-citrus leaves. The sauce is sweet and earthy, made of goose jus and prickly pear.
Dessert arrives. Peach gum is another texture that is new to me, sourced from Hangzhou. This peach tree resin extract is gelatinous, gummy, and has a texture akin to agar-meets-bird-nest. It's very common in the south of China, commonly used for herbal soups, TCM, and desserts. Thai basil seeds enforce the jellied texture, which plump up with a translucent film like little tadpoles. (I know tadpoles are not appetizing, but that's exactly how they look like.) Mildly sweet, very enjoyable.
Finally, ice cream made from fresh buffalo milk from Guangdong and essence of roses from the garden. A sour strip of candied wild sea buckthorn (Jiangsu), crispy purple mountain rice chips (Kunming), and a scatter of rose chips prove to be pretty and functional. It is a formidable dessert, and probably the finest bowl of ice cream I'll ever eat.
Petit fours come in the form of stolen cherries cured in lemon kombucha, gazpacho pickled melon rinds, and a mint pop made with four kinds of mint.
For Drinks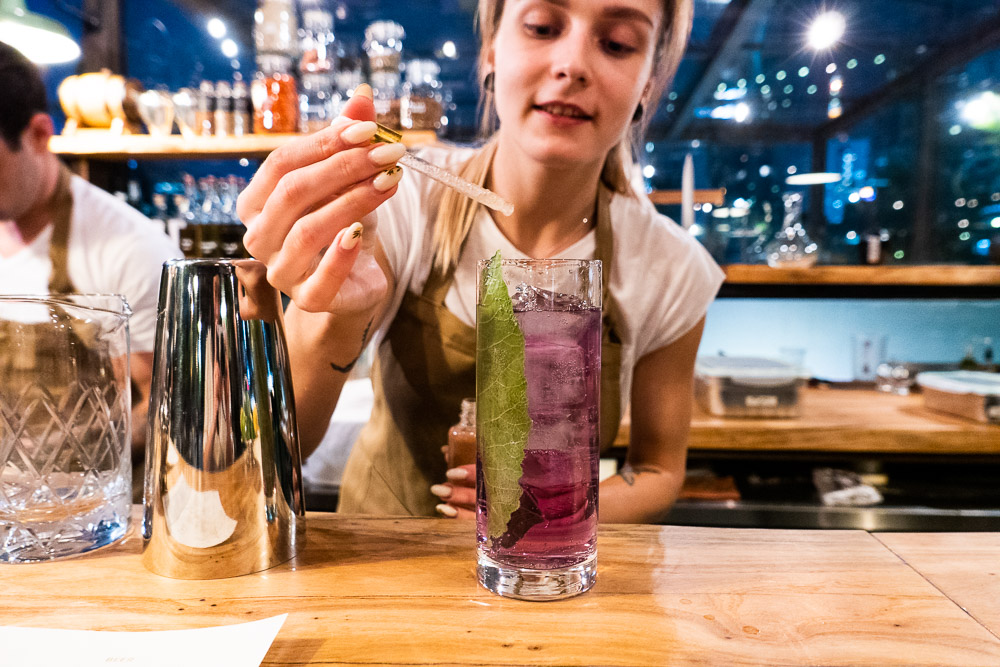 Wine selection, starting from ¥50 a glass. Cocktails, house gin and tonics made with botanicals from the garden, teas, beer, and non-alcoholic drinks.
Try the Parsley Daiquiri (¥80) made with parsley infused Kew Organic Gin, lime, simple syrup, and dill. It is garnished with fresh parsley seeds, which you chew for a sharp, grassy burst, and dill oil.
The Seedlip Butterfly Pea G&T (¥60) is a non-alcoholic mix that is light, fizzy, mildly floral, and not at all sweet. I had two.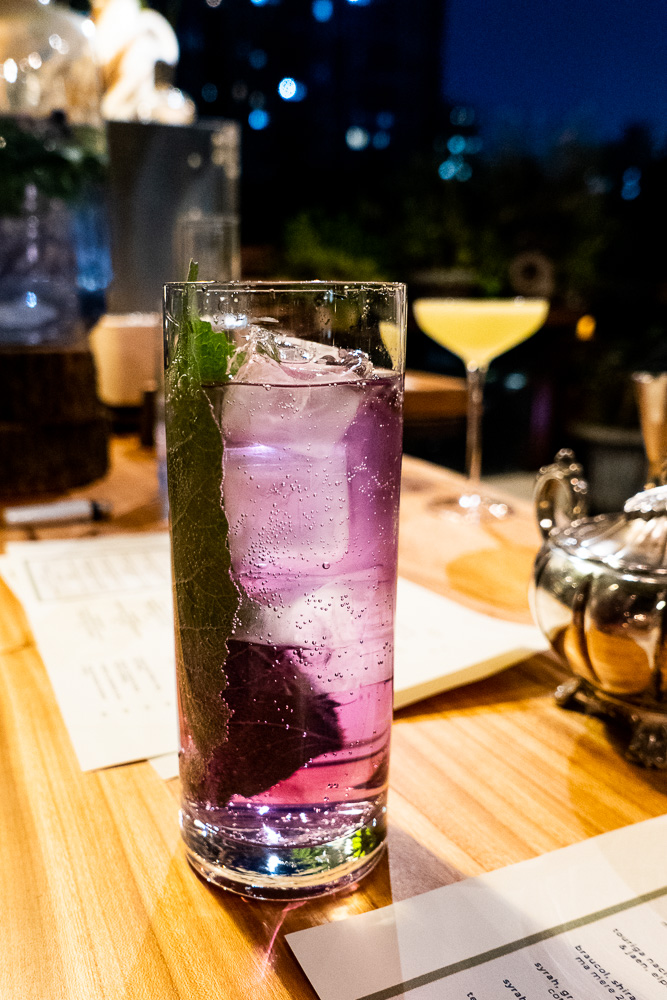 In Summary
If you're into food, this is something you don't want to miss.
Important Information
12-course menu is ¥688. Drinks not included.
A 50% deposit is required; 48 hours notice is required to get your deposit back.
There are four seatings a week (Thursday-Sunday) with a maximum of 20 people per evening.
Seating is from 6pm-7:30pm.
It takes roughly 3 hours.
If it rains, dinner will continue as planned—the dining area and bar are covered.
Botanik will run until October, or until it gets too cold to dine outside.
Botanik's bar is open to the public, no reservations necessary. Thursday-Sunday 5:30pm-late.
---
Botanik
Address: 4/F, No. 301, 169 Jianguo Zhong Lu, near Ruijin Er Lu 建国中路169弄301号4楼
Tel: 18616326327
WeChat: botanikshanghai
Hours: Thursday-Sunday, dinner seating from 6pm-7:30pm
No walk-ins, reservations only.
Botanik's bar is open to the public, Thursday-Sunday from 5:30pm.