Heritage by Madison closed in December 2022. For more restaurants in Shanghai, click here.
Heritage by Madison is one of those restaurants where you'll demand "one of everything".
It is the long-awaited manifestation of Austin Hu's prowess and diverse knowledge of cuisines. His background and upbringing is an odyssey of Americana, bound by his Asian legacy. Heritage by Madison is essentially Austin's heritage served on a plate, and the execution is seamless.
The Space and Location
Heritage by Madison is located at the Bund Financial Center, or as architects like to call it, the Foster/Heatherwick building.
Before you say it—it is NOT that far. Have you been to the Bund? Great! Now add two minutes to that Didi ride and you're at Heritage.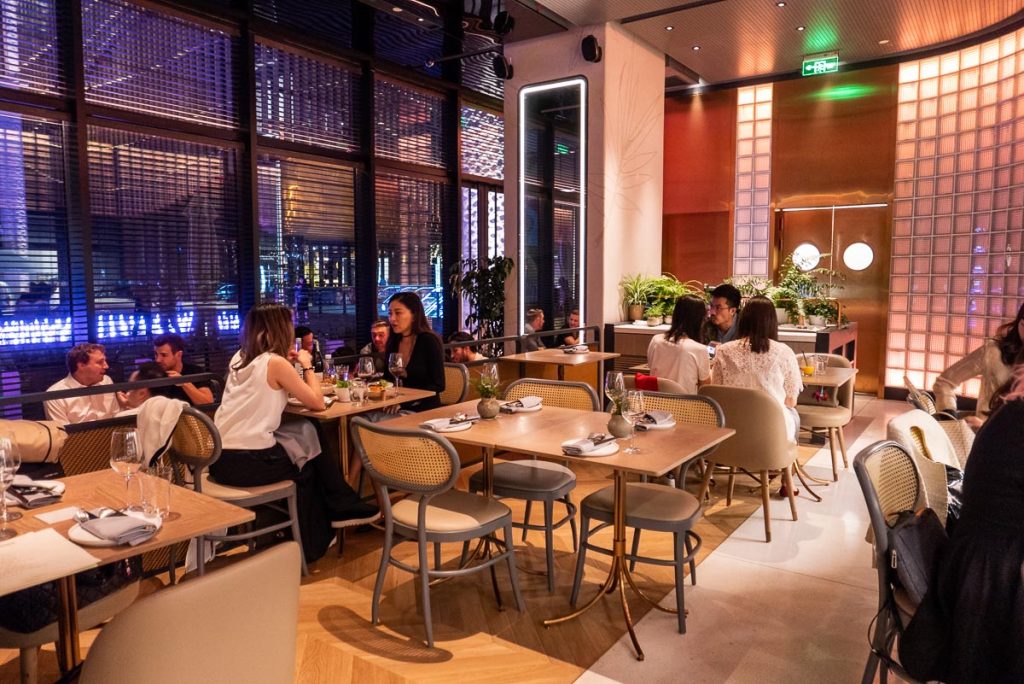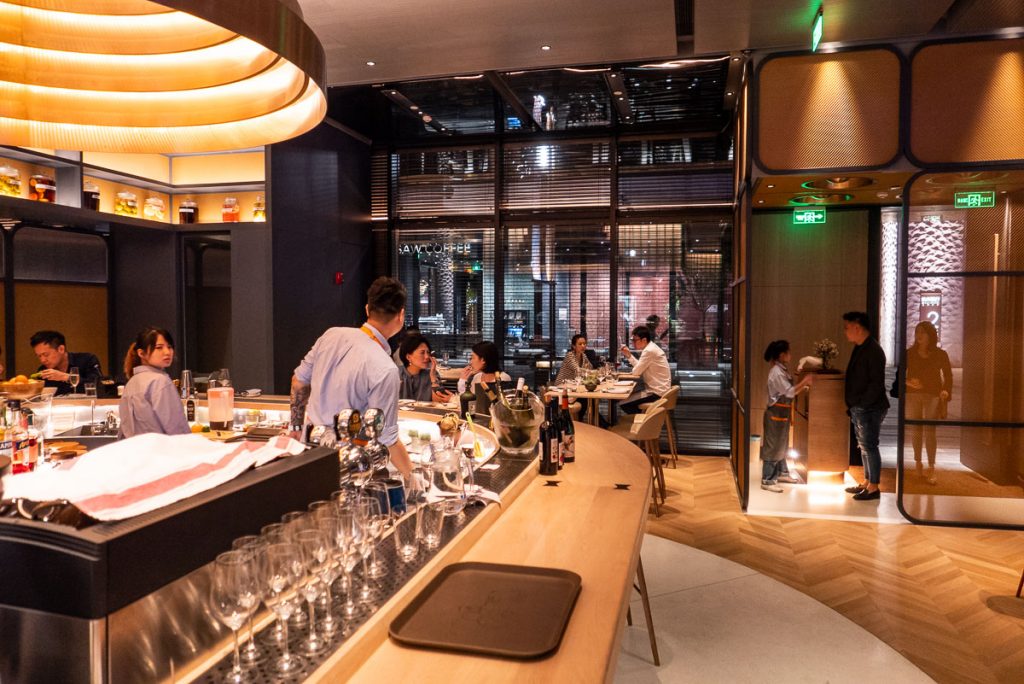 Capacity: 70 inside, 40 outside, one private dining room. Seats at the kitchen counter (my preference) and at the bar.
Design by MTM, who also did UP Shanghai, Mercado 505, Pirata/Latin Woo, and Hulu Sushi, to name a few.
The Food
The menu will be updated every two weeks. So don't be surprised to find dishes listed below no longer available.
Price point is great and dishes are made for sharing. Portions aren't massive—unless you go for the double aged kilo USDA prime rib eye (¥1,388)—but you'll feel like you get your money's worth. I certainly did.
Starters
To start, the Salted Duck Yolk Lotus Roots (¥32), peppered with curry leaf and dipped in butter, makes the perfect pre-dinner snack. The Smoked Xinjiang Almonds (¥32), brined and smoked with cherry wood, is more suited as a bar snack. I'm saving my stomach space for the mains.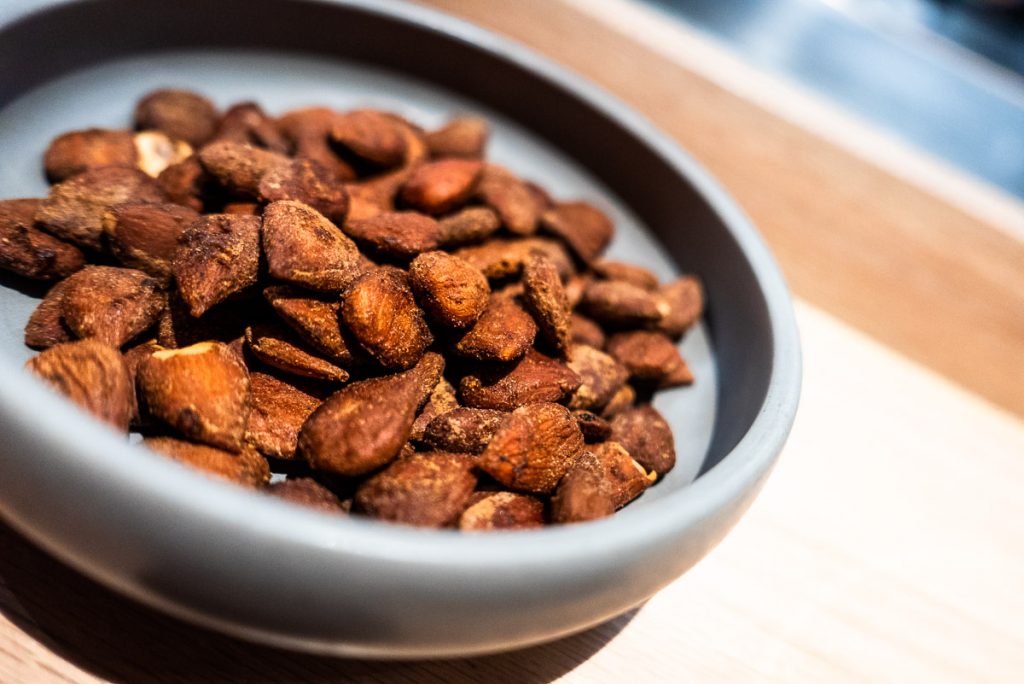 The House Pickles (¥32) is where it's at—Japanese pickled tomatoes that burst with flavor flanked by sweet-sour radish, and kimchi. It's a spicy-sour electric bolt that jump starts the appetite for the Tuhao Bacon (¥58).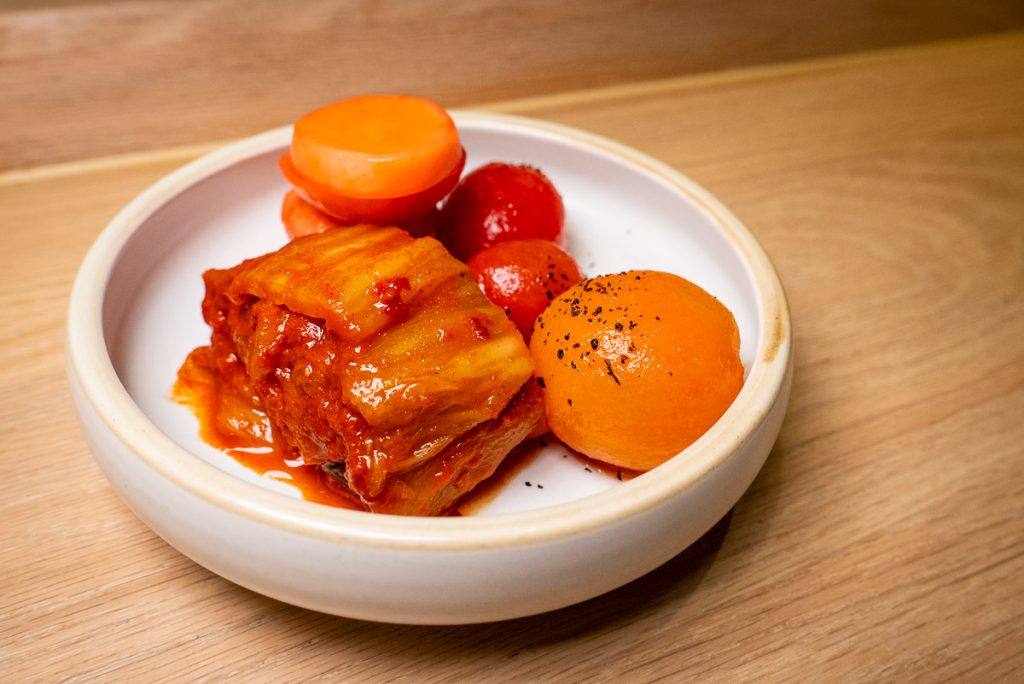 These sticky daggers of thick cut bacon are lacquered with a caramelized layer of raw sugar and Sichuan peppercorn, imbued with a smoky-sweet aroma and have a spicy kick. They're sturdy, addictive, and stick to your teeth. Gimme moar.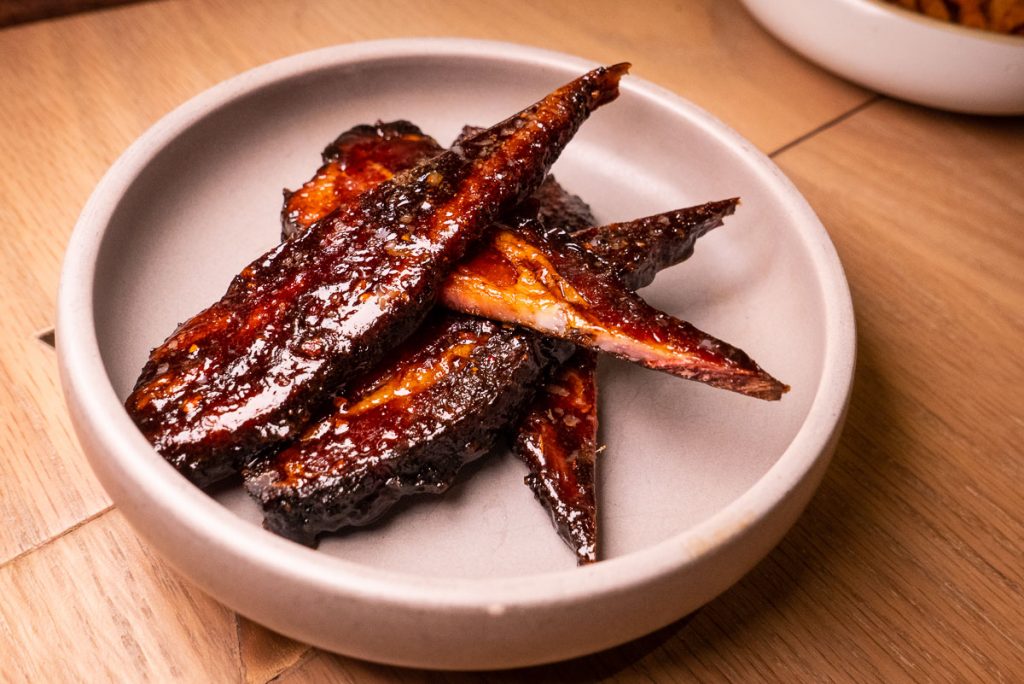 Another favorite is the Golden Rye Mantou (¥32). These sourdough rye ingots come with a spread of edamame hummus to dip.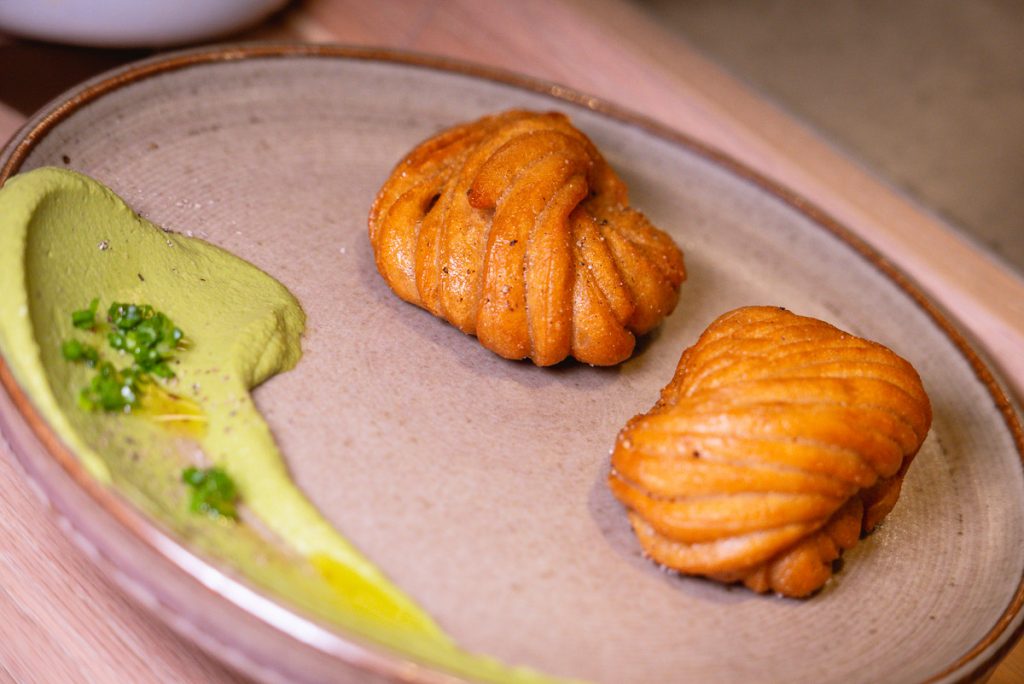 The Mains, Sides, and Everything Else
Like the starters, the rest of the dishes bear that same DNA of Western-Asian influence. And there's a satiable array of dishes to choose from.
Vegetables are sharply executed and are anything but boring. The highlight is General Hu's Cauliflower (¥58). Chewy, crunchy disks of battered cauliflower are given lashings of sweet and mildly spicy chocolate gastrique.
The Dragon Beans (¥72) is a close tie. An onsen egg and house made laoganma sauce binds the thinly cut dragon beans and butter beans, while strips of thin, crispy bacon does what bacon does best.
Next is the Shaved Heirloom Cucumber (¥45)—ribbons slick with a dressing of white soy, white balsamic, and touch of chili. Dollops of burnt feta add salty, tangy sparks in between bites.
The Potato Purée (¥88) is more than just a mere side dish. It's velvety, smooth, creamy, and desirably buttery. Potatoes appear twice, the other in the form of Beef Fat Fries with Saffron Aioli (¥88).
Then, there's the Beef Tartare (¥98). It's bright, citrusy, and fresh, and is the complete opposite of the heavy-rich traditional French tartare. The hand cut USDA prime comes with shaved macadamia, cured egg yolk, ribbons of snow pear, pickled shallots, sesame, ginger, and mustard.
Of the seafaring options, the Slow Roasted Salmon (¥98) reigns supreme. It's a solid block, and upon first spear into the filet, the flesh started sweating its flavor-sealed juices almost immediately. Flavors are fortified with kombu, brown butter, and soy. Comes with julienned snow peas and shiitake mushroom.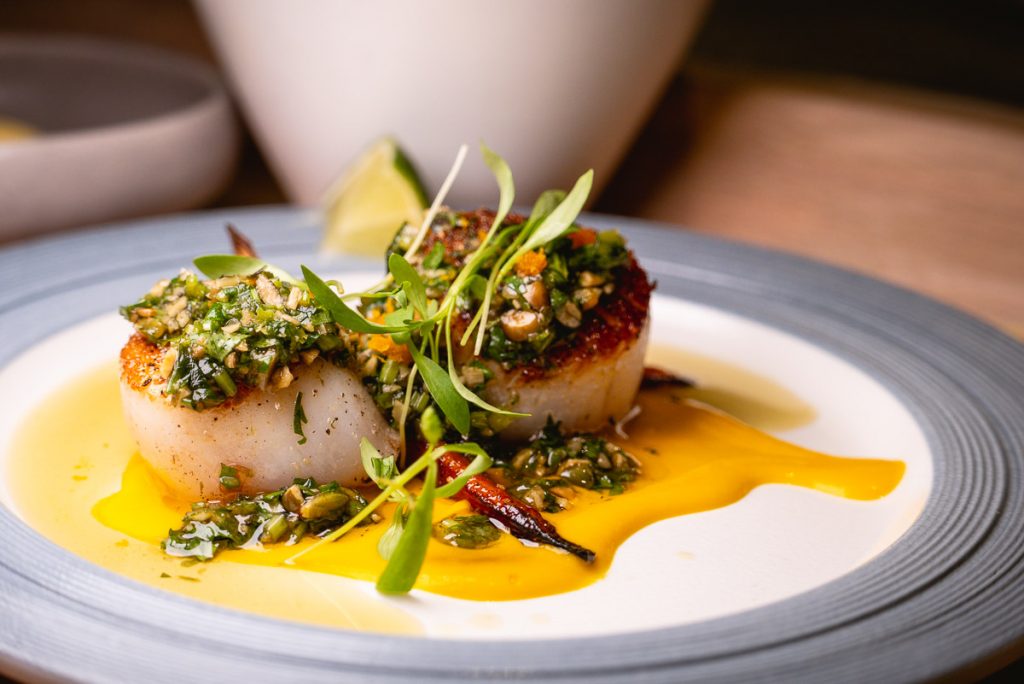 A definite favorite is the Chongqing Hot Chicken (¥88). Austin doesn't hold back from the spice, and calling this Southern fried chicken thigh "fiery" is an understatement.
I felt it in my ears, chest, and temples. And I'd order it again in a heartbeat. It's super craggy and juicy, laced with house chili oil, and supplemented with avocado crème. 11/10.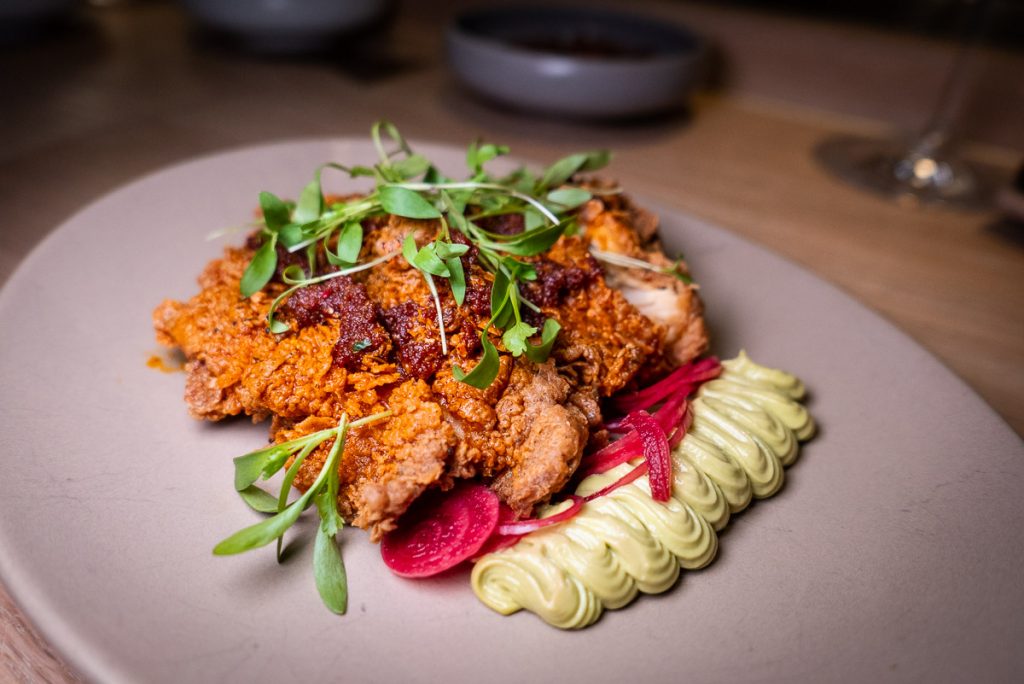 If that's too hot to handle, the Tea Smoked San Huang Chicken Supreme (¥98) with XO aioli and seasoned sesame salt is a more conservative option.
Oh, and there are pastas as well.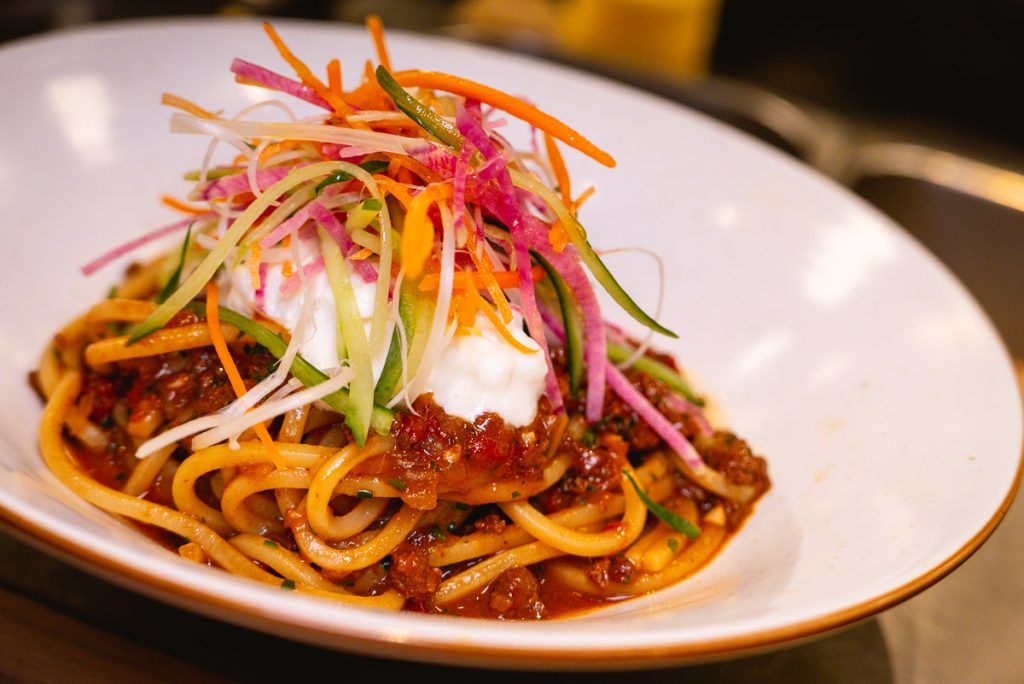 It's difficult to choose a clear favorite from all the four-legged beasties. The Crispy Pork Belly (¥108) is flawless. Three thick slabs of belly with crowns of crackly skin and layers of lip-smacking fat come with spicy kimchi and house made mustard.
The Aged USDA Prime Bavette (¥188) is divine, served with white miso chimichurri and beef jus. Bavette is a cut also known as flap steak or sirloin flap. It's tougher and more fibrous than sirloin, and has a decidedly more beefy flavor. I like my steak with a chew, and this checks that box.
Finally, there's the Aged Beef Burger (¥128). Griddle charred patty stacked with smoked cheddar, house mustard, saffron and arugula. Extra beefy flavor from the aging process. I'll be back to eat this solo.
The Drinks
Heritage by Madison has a dedicated bar that churns out house cocktails and classics. There's a sizable wine selection, which also features a few organic and biodynamic wines.
The Ginger and Lime (¥35) house made soda was my choice of the night.
Also recommend the Skyline of Gobi, Chardonnay, Xinjiang, 2016 (¥65/glass, ¥320/bottle). I had my first sip at Taian Table just recently and was glad to find it here as well.
In Summary
I'm a big fan of this kind of food.
Updates
Desserts are now on the menu: Chilled Saffron Rice Pudding, Hazelnut Chocolate Terrine, Almond Panna Cotta, and Angel Food Cake, all ¥48. Cheese plate for ¥128.
Also, Austin threatened to not serve brunch. (Hah!) Fear not. "Brunch" will be in a "completely new format", to launch in June/July.
---
Heritage by Madison
Address: 1/F, 600 Zhongshan Dong Er Lu, near Longtan Lu 中山东二路600号1楼, 近龙潭路
Tel: 63129089
Hours: 12pm-10pm