For when the weather is right, here are 10 terraces in Shanghai with happy hours/deals for you to drink al fresco.
Terrace 8
​Address: 8/F, The Portman Ritz-Carlton, Shanghai Centre, 1376 Nanjing Xi Lu, near Xikang Lu 南京西路1376号, 上海波特曼丽思卡尔顿酒店, 近西康路
Tel: 62798888 *5976
Hours: Thu-Fri 5:30pm-10:30pm, Sat 2:30pm-10:30pm, Sun 2:30pm-8pm
The Portman Ritz-Carlton at the Shanghai Centre has one of Jing'an's best-kept secrets: Terrace 8, a grass-lawn terrace, complete with cushioned lawn chairs and parasols, overlooking Nanjing Xi Lu for you to indulge in copious amounts of champagne.
Drink Deal: Every day, four hours of free-flow Chandon Brut NV is ¥415 and ¥585 for Moët & Chandon Imperial Brut NV when you book through this link!
---
The Bull & Claw
Address: 110 Fenyang Lu, near Fuxing Zhong Lu 汾阳路110号, 近复兴中路
Tel: 33567608
Hours: Tue-Sun 11am-midnight; closed Monday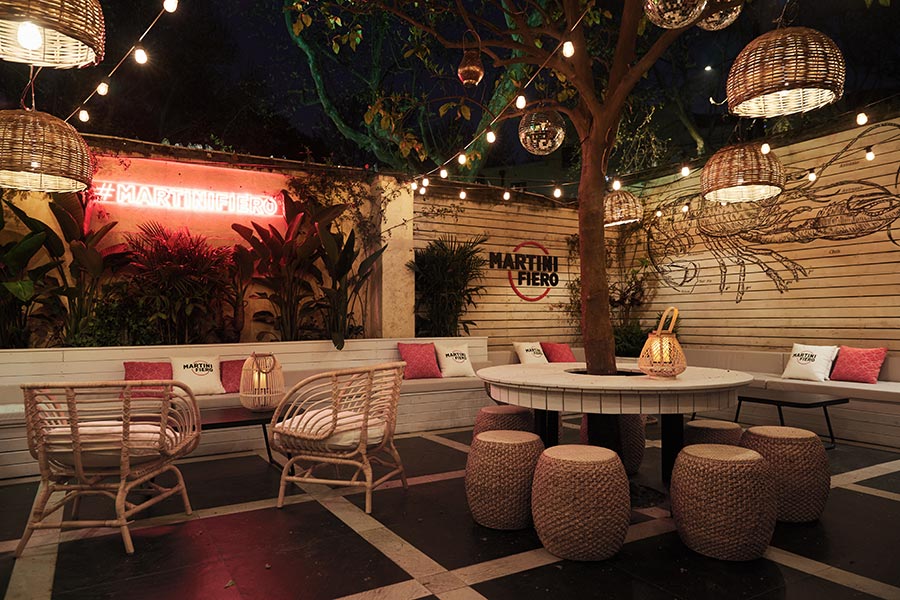 The Bull & Claw is one of Shanghai's favorite and longest-lasting brunch destinations. The venue is a gorgeous garden mansion in a quieter part of Xuhui, and terrace has just gotten an upgrade for spring. On the menu are steaks and lobsters alongside burgers and roasts. Additional terrace seating on the second floor. Dog-friendly.
Drink Deal: Tue-Fri from 4pm-7pm, ¥40 on Fiero Spritz, Mojitos, house wine and Bull & Claw Lager.
---
Cantina Agave
Address: 291 Fumin Lu, near Changle Lu 富民路291号, 近长乐路
Tel: 61701310
Hours: 11am-11pm
This popular Mexican spot has outdoor seating that toes the busy sidewalk on the corner of Fumin Lu and Changle Lu. Good atmosphere, frozen margaritas, and a satisfying range of tacos. Soft shell tacos ¥25-35 each, three hard shell tacos for ¥60. Try the Cali Burrito (¥70). Great for people watching. Dog-friendly.
Drink Deal: Mon-Fri, 4pm-8pm, drinks between ¥25-45. Boxing Cat Contender (¥25), Asahi (¥30), Margaritas (¥45), and Sangria (¥40). The Bloody Mary (¥60) is also excellent (not on happy hour but worth it).
---
Funkadeli
Address: 163 Yanping Lu, near Wuding Lu 延平路163号, 近武定路
Tel: 62456230
Hours: 12pm-2am
Next door to Cantina Agave is popular Italian drinking-hole Funkadeli. Also an excellent terrace that fills up fast. Get some cicchetti (Italian tapas) are one for ¥20, three for ¥55, five for ¥90; olives, ham and cheese, fritters, fries and other snacky things. Dog-friendly.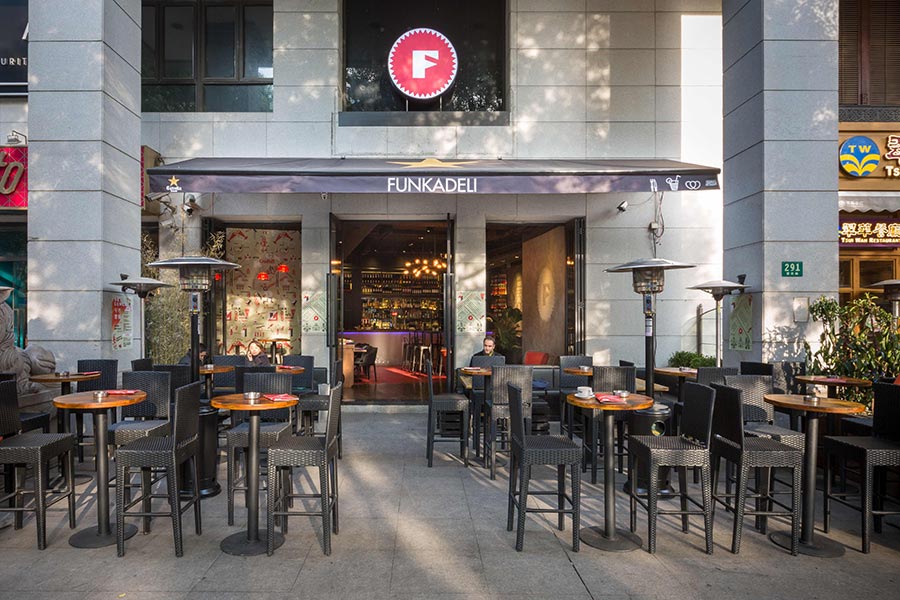 Drink Deal: Mon-Fri from 4-8pm, Sat-Sun from 4-6pm. Prosecco, cabernet sauvignon, sauvignon blanc, and Estrella lager for ¥30, beers Shanghai Love IPA and Baladin Rock'n'Roll for ¥45, and Superspritz, Negroni, Moscow Mule, and espresso martinis for ¥50.
---
Senso
Address: 142 Zhaohua Dong Lu, near Caojiayan Lu 昭化东路142号, 近曹家堰路
Tel: 62091635
Hours: 11:30am-midnight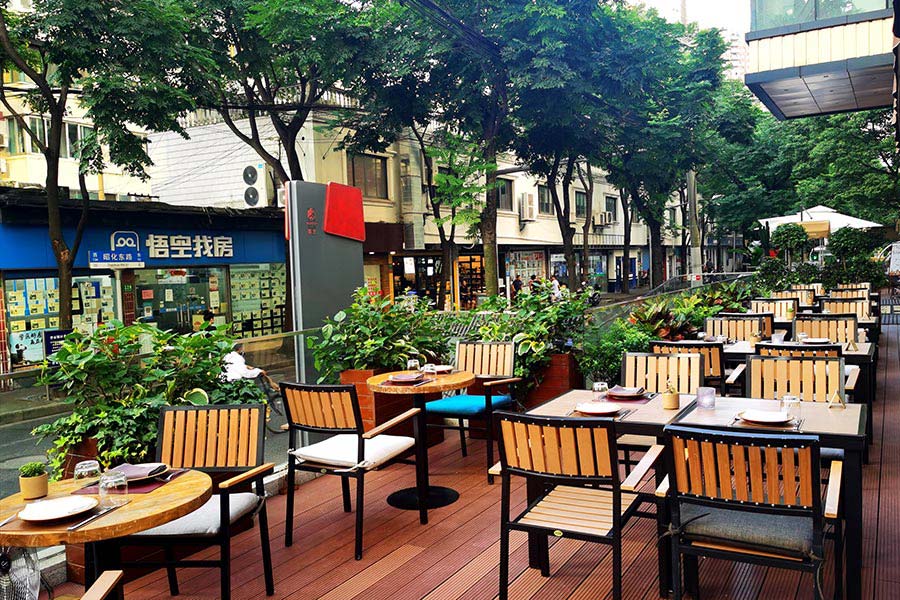 An Italian restaurant notable for horsemeat dishes and cicchetti, Senso has a wrap-around terrace raised off the street with a nice roadside feeling without the e-bikes getting too close. Good place for a drink and snacks, morphing into a late dinner. Dog-friendly.
Drink Deal: Mon-Sun from 2:30pm-7:30pm, ¥35 on select cocktails, draft beer, sparkling, rose, white and red wine. There's also a ¥168 deal on bottles of wine, which come with a box of four cicchetti.
---
Kartel
Address: 5/F, 1 Xiangyang Bei Lu, near Julu Lu襄阳北路1号5楼, 近巨鹿路
Tel: 54042899
Hours: 6pm-2am
Raised high above the leafy streets of Xuhui, Kartel's terrace provides an unparalleled all-round view. Go for a sundowner and some killer selfies. The music bumps up later at night, too. They also have a deal where you get two glasses of wine with a purchase of select dishes, which includes Angus Beef Sliders (¥88) and a Cajun BBQ Whole Chicken (¥188).
Drink Deal: Mon-Sun from 6pm-8pm, ¥35 for Ricard, Sangria, Aperol Spritz, sparkling, white, red and rose house wines, Vedett draft, Moscow Mules and Caipirinhas.
---
Café Gray Deluxe
Address: 3/F, The Middle House, 366 Shimen Yi Lu, near Weihai Lu 石门一路366号3楼, 近威海路
Tel: 32168088
Hours: 6:30am-12:30am
Café Gray Deluxe at The Middle House has a very picturesque terrace seating. It's a nice venue, so do your best to dress up for the 50% off champagne deal. Good for a classy drink above the bustle of Taikoo Hui.
Drink Deal: Every day from 5pm-8pm, 50% off select bottles of champagne. (The most affordable bottle on the wine list is the Charles Heidsieck Brut Reserve for ¥890.)
---
El Bodegon Panyu Lu
Address: 2/F, 326 Panyu Lu, near Fahuazhen Lu 番禺路326号2楼, 近法华镇路
Tel: 62260780
Hours: Mon-Fri 5pm-10:30pm, Sat-Sun 12pm-10:30pm
Can't recommend this unpretentious South American steakhouse enough. Both the one on Changshu Lu and Panyu Lu are great for great value Argentinian steaks, but the Panyu Lu one has a cozy, urban terrace space surrounded by high-rises. Get the striploin (¥165), or get involved in the ceviche (¥45/mediun, ¥80/large). Dog-friendly.
Drink Deal: Mon-Fri from 5pm-7pm, Sat-Sun from 12pm-4pm. Asahi for ¥30, gin & tonics for ¥38, G&T Argentino for ¥48, mojitos for ¥48, Aperitivo Spritz for ¥38 and ¥48 for Micheladas.
---
Perch
Address: 445 Jiangning Lu, near Wuding Lu 江宁路445号, 近武定路
Tel: 15221093094
Hours: Tue-Sun, 11am-12pm
Perch has a raised terrace providing a good view over whoever's passing by Wuding Lu, and they keep the wine flowing. Great for a casual catch up with friends. Go early so you can grab the couch seating. Double up on deals with BOGO pizzas on Tuesdays. Dog-friendly.
Drink Deal: Every day from 5-7pm, it's ¥88 for selected bottles of red or white wine. Thursday is ladies night, free-flow for ¥88 from 7-10pm.
---
The Cut Rooftop
Address: 6/F, iapm, 999 Huaihai Zhong Lu, near Xiangyang Nan Lu 淮海中路999号iapm广场6楼, 近襄阳南路
Tel: 54015519
Hours: Mon-Wed 2:30pm-11pm, Thu-Fri 2:30pm-late, Sat 11am-late, Sun 11am-11pm
Located on the top floor of iAPM mall, The Cut Rooftop is a little tropical oasis in the CBD. There's a Rooftop Sampler (¥498) if you want to splurge on food, comes with drunken clams, smoked salmon, Thai beef salad, pickled vegetables, Iberico ham and more.
Drink Deal: Every day from 5-8pm, Moscow Mules and Flora Aperols are ¥40, and six Coronas for ¥200.