A husband and wife bartending team open cocktail bars next to each other, Black Glove (gin) and Sugar Area (rum). Over in Jing'an is Cucurucu jumps on the coconut drinks trend, opening a café dedicated to healthy drinks.
---
Black Glove
Address: No. 116, 171 Jianguo Zhong Lu, near Ruijin Er Lu 建国中路171号116室, 近瑞金二路
Tel: 13391375363, 18317107077
Hours: Daily, 6pm-2am
Black Glove is a gin-forward cocktail bar and restaurant located in Taikang Terrace. The space is sleek and atmospheric, and the food is pretty good.
It's founded by Match Chan, an industry veteran of 17 years who's honed his craft behind the bar at countless establishments around China. He's also co-founder of Sugar Area, the rum-centric bar next to Black Glove, which is helmed by his wife and equally accomplished bartender Jackie Lo.
Black Glove is housed in a gorgeous lanehouse with high vaulted ceilings and exposed wooden rafters. There's also a tasting room on the lofted floor above the bar, which sports an intimate counter that will soon host a gin omakase menu. The omakase will be a pairing of gins, gin cocktails, and food. There are also two private rooms.
There are nine signature cocktails, all priced at ¥128; classic cocktails are ¥118. It's a little steep, but cocktails are good.
They also serve a full food menu. The dishes are well executed and it's plenty tasty. Though, like the cocktails, runs on the pricier side, too.
It's a beautiful space, and the acoustics are great, which makes it easy for conversation, be it a dinner date or for business talks.
---
Sugar Area
Address: No. 117, 171 Jianguo Zhong Lu, near Ruijin Er Lu 建国中路171号117室, 近瑞金二路
Tel: 18601719171
Hours: Daily, 6pm-2am
Sugar Area is a rum-focused cocktail bar led by bartender Jackie Lo. The vibe here is casual, playful even, with an upbeat "party" playlist to match.
The décor is very "havana bar" inspired with exposed brick walls, saloon doors, and iconic patterned floor tiles. The main seating area wraps around the bar, and there's a room that stretches backward for a more intimate setting, plus a few tables outside in the lane.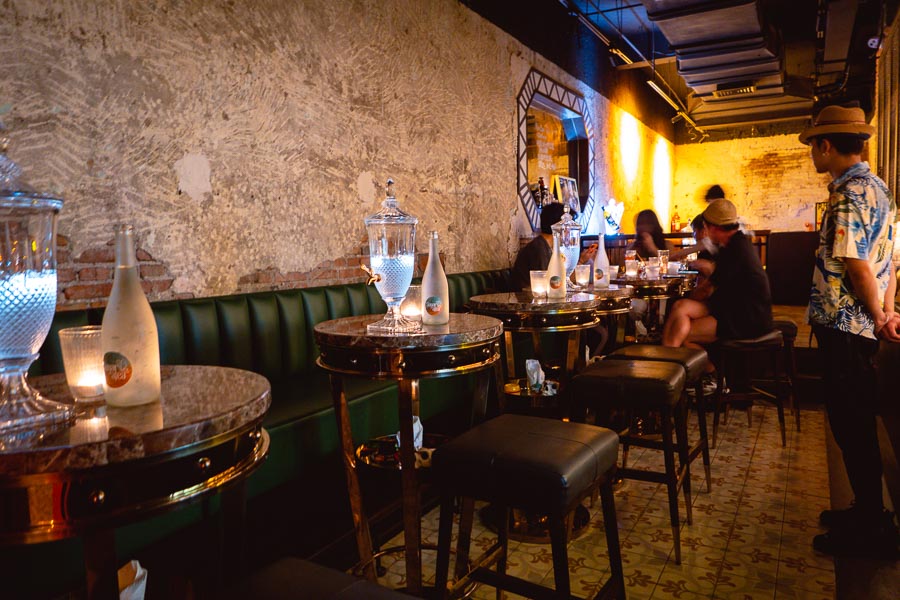 The bar stocks about 200 different rums, and it is no surprise that their best selling signature is the Sugar Area Daiquiri. Signature cocktails range from ¥98 to ¥118, or you can opt for bartender's choice—pick a spirit and citrus fruit, and the bartenders will craft one up for you.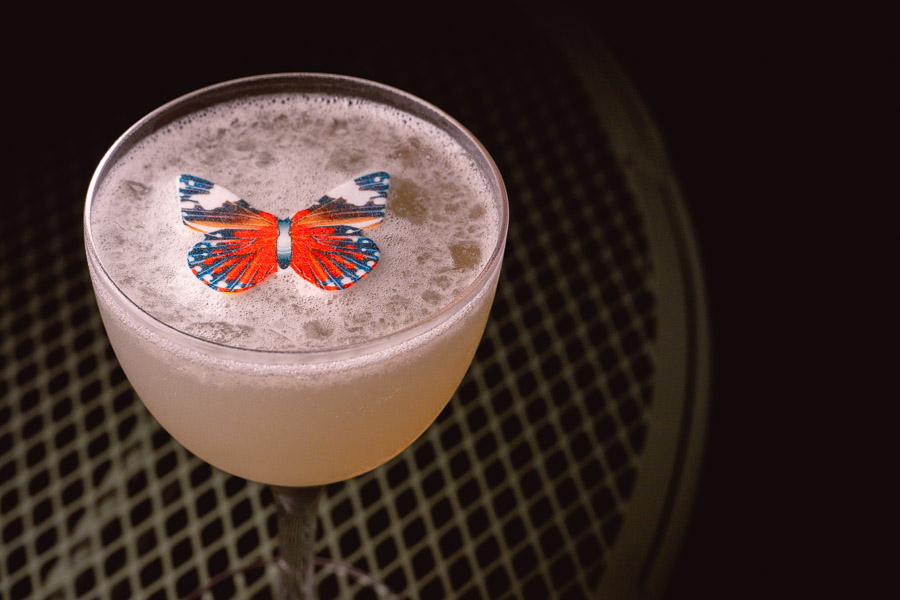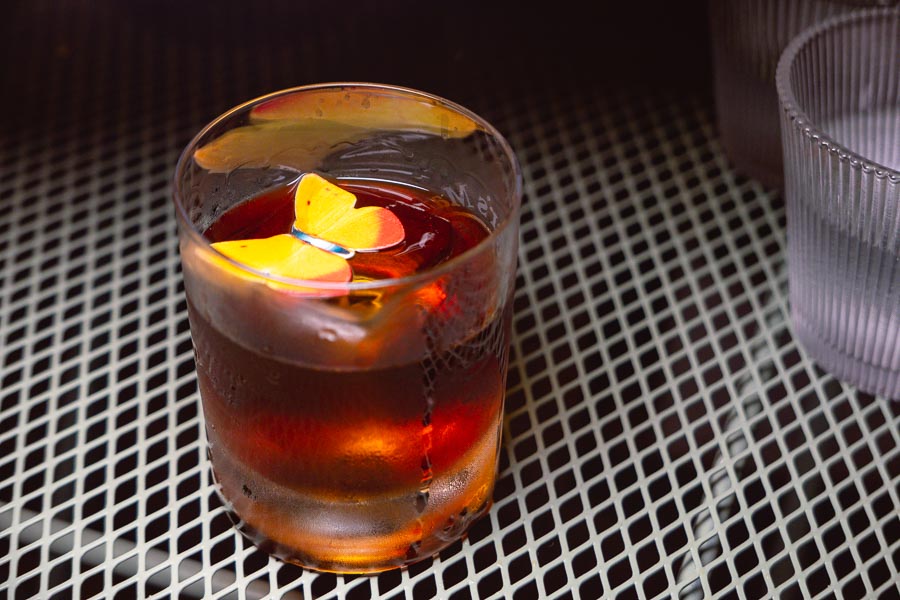 It's a nice, casual spot for an al fresco drink when you can snag one of the tables. Sugar Area is also known to host DJs and guest shifts, so depending on the night, it could be chill or a rager.
---
Cucurucu
Address: 88 Tongren Lu, near Yan'an Zhong Lu 同仁路88号, 近延安中路
Tel: 13816681634
Hours: Daily, 11am-9pm
Cucurucu is a café that does coconut water drinks. You've heard of juice bars, right? Well, this is a coconut water bar.
It's located in the space formerly housing Bloom on Tongren Lu in a beautifully designed space. The indoor seating feels more like a bar counter at an Apple store than at a café; it's comfortable but not cozy. The outdoor space is where its at, which is also dog-friendly.
On the menu are a multitude of coconut-based drinks, all non-alcoholic. The concept follows the health trend surrounding coconut water for its naturally sweet, mineral rich properties. The drinks are a combination of coconut water, coconut milk, milk, nut and oat milks, teas, and fruit, made with no added sugar or sweeteners.
They're all tasty and enjoyable. Some of the flavors are quite unusual, but most play to favorites like the hot almonds and coconut milk with crushed oats and salted frothy coconut cream. It could be a breakfast drink. Plus, I'd choose these concoctions over questionably sweet milk teas any day. Drinks range from ¥29 to ¥36, hot or cold.
I really enjoyed the almonds and coconut, but also the Jasmine Tea (¥32) with coconut water, salted coconut milk foam, and wheatgrass jelly, and the Black Sesame (¥32), made with black sesame paste, walnuts, coconut milk, fresh milk, shaved oat milk snow.
Cucurucu also has some open-faced sandwiches as snacks, the base of which are made with 大饼 (dabing), hardy and savory fried breads. The sandwiches are tasty but small, you'd need to order two for it to be a "meal".
The pork "cold cuts" is my favorite, doused in spicy chili crisp with cilantro, arugula, horseradish, and mayonnaise.
Cucurucu is good for a quick pop-in. It would have been an excellent working café, but power outlets are scarce. Plus, it can get crowded—it's popular with wanghongs. If you live or work in the area, it's a nice option to have for "healthy-ish" drinks.
Coconut water has always been popular, but is this the start of a new trend? There's Cococean, which first opened in Beijing in 2017 and now has multiple stores in Shanghai. Later this year, we're also getting Coco Crew, a new concept from the Bottega group, which will do alcoholic and non-alcoholic coconut beverages. Time will only tell if this will catch on.