High-caliber omakase lunch at Ochiyo 1710, modern Korean food at ZARI, and Spanish tapas at Pirata.
---
Ochiyo 1710
Address: 1710 Huaihai Zhong Lu, near Gao'an Lu 淮海中路1710号, 近高安路
Tel: 18301714918
Hours: Tue-Sun, 11:30am-1:30pm, 5:30pm-10:30pm; closed Mondays
Ochiyo 1710 is a Japanese restaurant that does high-caliber omakase, yakitori, and yakiniku, helmed by chef Sun-San. The omakase dinner (¥1,280) is excellent, and they also have an omakase lunch, which is a steal for ¥680.
Located on Huaihai Lu, Ochiyo 1710 has a somewhat speakeasy entrance—the façade is simple if not bare, and you wouldn't notice it if you passed by.
The interiors are sleek and refined with hardwood floors, textured stonewalls, lacquered countertops, and quirky artwork. There's even a little Japanese garden. There are three rooms, one each for omakase, yakitori, and yakiniku. The omakase counter seats 10.
I went for the omakase lunch (¥680), which I highly recommend. It's an incredible bargain! You get the same high quality sushi, sashimi, and hot dishes as you would dinner, minus a few premium ingredients like wagyu and oysters. When I went, I had about 20 bites for lunch.
Here's what I had:
Then comes the sushi. A quick succession of nigiri including scallop, sweet ebi, sea urchin, yellowtail, amberjack, tuna belly, squid, etc.
A couple of hot dishes are interspersed in between the nigiri; teriyaki-glazed sautéed beef with matsutake mushrooms and cuts of highly marbled beef.
---
ZARI
Address: 181 Jinxian Lu, near Maoming Nan Lu 进贤路181号, 近茂名南路
Tel: 32302595, 18017551176
Hours: Daily, 5pm-1am
ZARI is a modern Korean bistro by chef-founder Rosie, a proud advocate for Korean cuisine who's garnered plenty of accolades for her diverse expertise in the field. She's opened a handful of restaurants in Shanghai and often hosts private dinners, and was the co-founder for Halu Bistro (now moved to Shaanxi Lu).
The dining room at ZARI is smart and stylish, worlds apart compared to the mom-and-pop shops on Jinxian Lu. It still has a casual ambiance, one that's often lively, fueled by the chatter and clinking of glasses from die-hard followers of Chef Rosie.
Here's what to order:
On the menu are Korean favorites with a contemporary spin, mostly in presentation. The signature here is the octopus and beef intestine hotpot, a hotpot of tender octopus, beef intestines, shrimp, glass noodles, and a hefty scoop of house gochujang. Most, if not all tables will have one of these bubbling away next to a wall of Cass beers.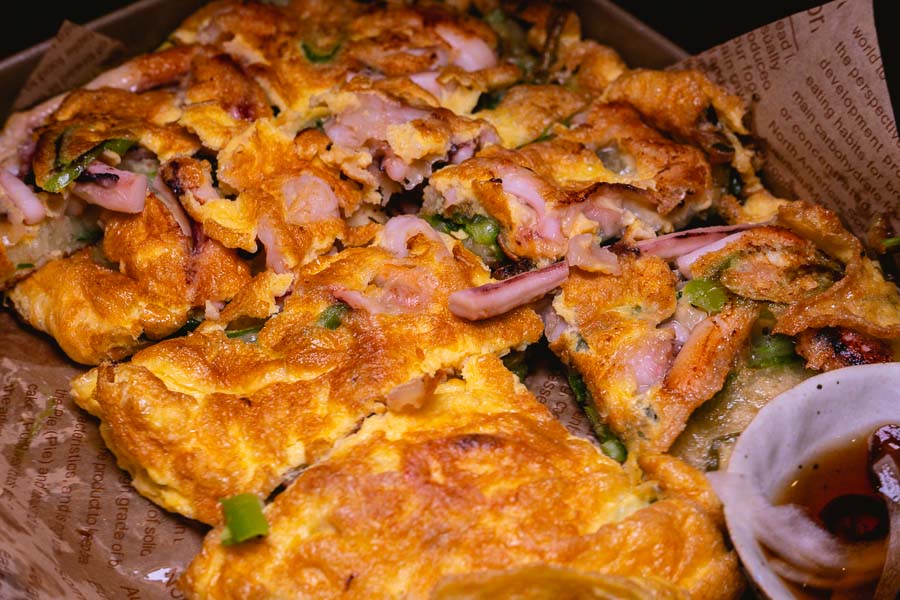 For drinks, start with a bunch of Cass beers (¥33/500ml), then move along to soju, bottles from ¥238. There's also wine, house red or white for ¥60/glass, and bottles from ¥198.
---
Pirata
Address: No. 101, 110 Xingfu Lu, near Fahuazhen Lu 幸福路110号101单元, 近法华镇路
Tel: 13501687096
Hours: Mon-Sat, 5:30pm-midnight
Pirata is a Spanish restaurant and tapas bar by Chef Ling Huang. First opened on Xinle Lu in 2014, Pirata is now in its fourth iteration on Xingfu Lu. It has returned in full force, serving pure, unadulterated tapas in an energetic space.
It's located on the ground floor of a mixed-use commercial building on the quiet side of Xingfu Lu. It's homey and bursting with character, each corner and shelf festooned with knick-knacks and keepsakes amassed over the years.
There's a cozy tapas bar for eight that overlooks the food assembly line, a deliciously dangerous pew that will entice you to order more than you should, a cluster of tables packed in the main dining room, and a small patio with outdoor seating.
At full capacity, it's busy and electrifying yet doesn't feel crowded. It's an energy that is reminiscent of Pirata's first location, a sincere and convivial atmosphere that is hard to find these days.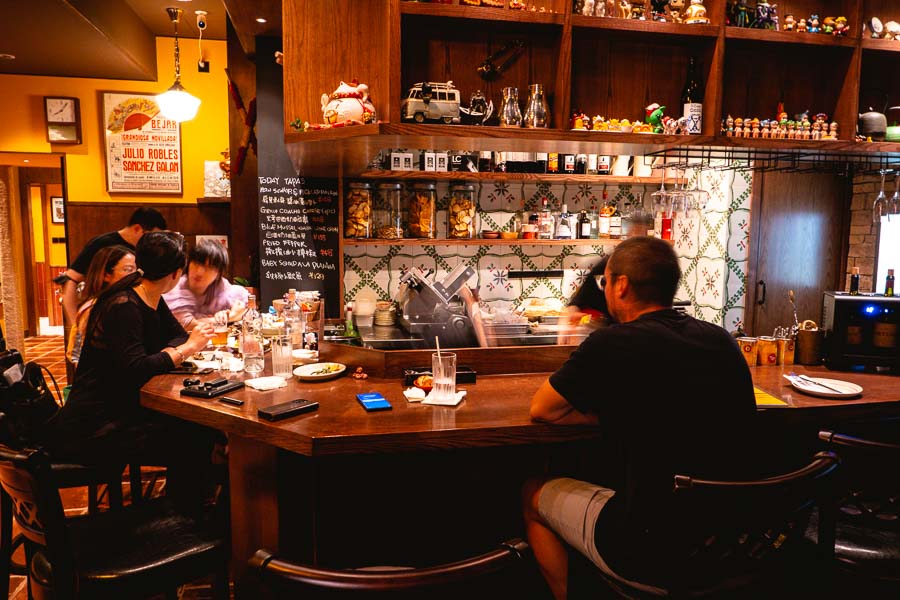 Tapas make up the bulk of the menu, of which most are Chef Ling's original "tins," the moniker given to the smart little bites made with preserved seafood and peppers imported from Spain. (Though, they're no longer served in tins, and are instead tastefully presented small plates.)
Overall, the tapas are comforting and simple, but simple is best when you're working with high-quality ingredients.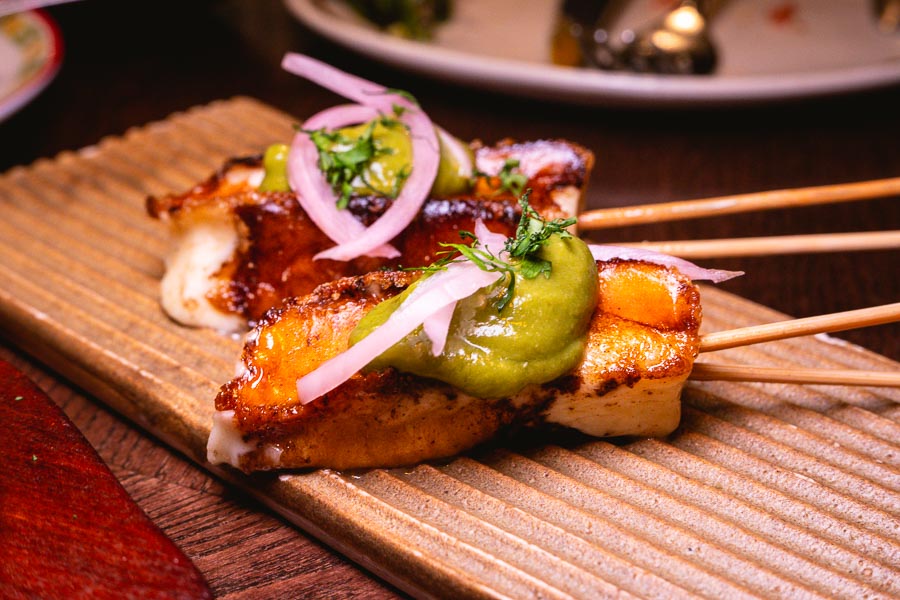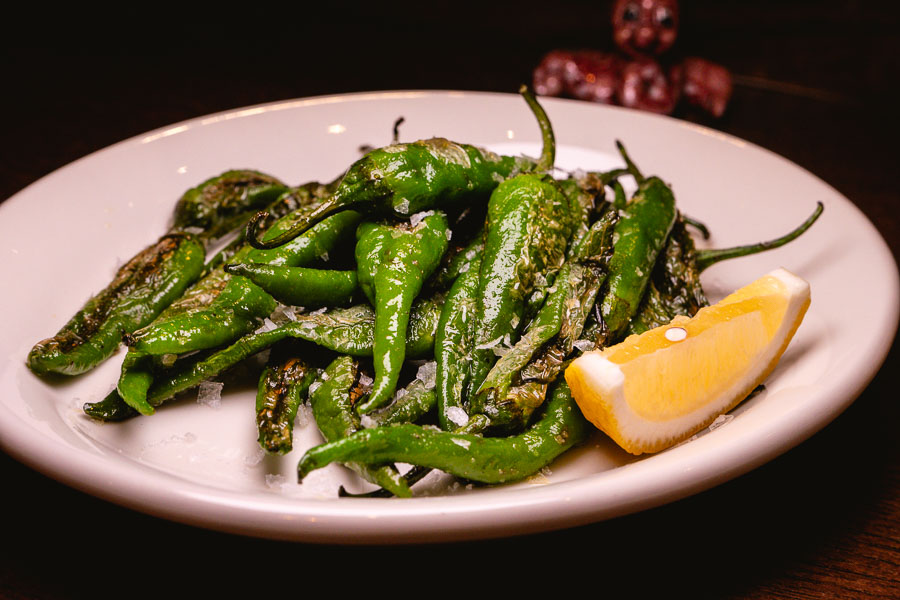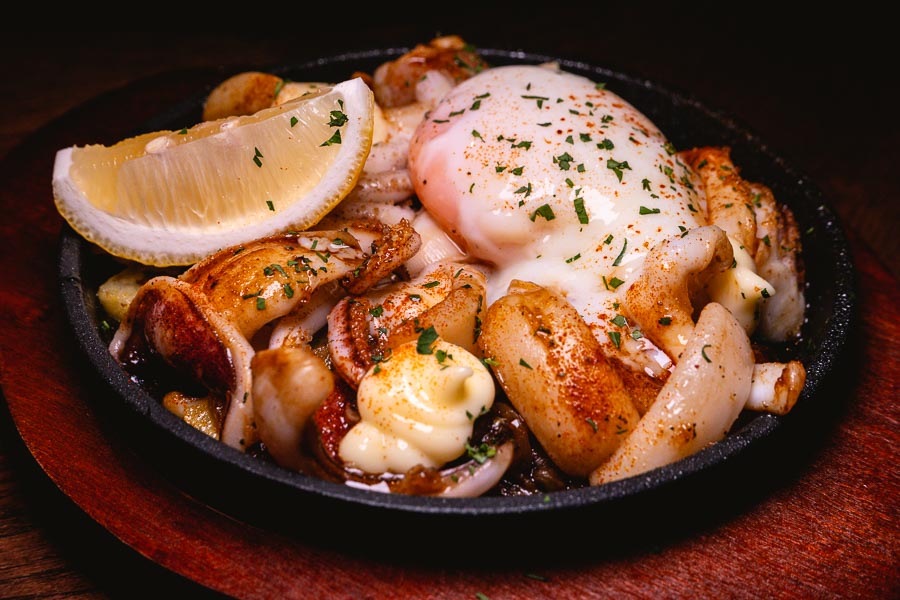 As for drinks, there's Estrella Gallicia on draft fro ¥25/¥45, wines by the glass starting from ¥50 and bottles from ¥185, and a handful of G&Ts from ¥65.