Written by Morgan Short
Operating in stark (and merciful) relief to your big mega dance clubs, your award-winning cocktail bars, and your fancy rooftop venues is Shanghai's underground bar and club scene, bursting in personality and unique flavor, to be sure!
Whether they're carving out communities on a shared love of a given genre of music, an offbeat gimmick, or simply standing as an alternative to the boring whatever-else, here's three super under-the-radar venues offering up some personality and uniqueness to your (night)life.
---
Tang 躺
Address: 141 Tai'an Lu 泰安路141号
Hours: Daily, 7pm-3am
Tang opened a year ago and is famous in scene circles as being that super neat pre-drinks and then after-hours place with beds.
It's a place that you just have to know about to be able to go to. Like, they're not even on Dianping, which is some next-level secrecy, considering that Dianping is the cornerstone of most venues' whole PR strategy in the F&B world.
But, yeah, it's a cocktail bar with basically the entire seating space taken up by interconnected, communal, Ming-style day beds. How's that for old school. Groups of friends (and people on dates during the week) take their shoes off, leave them in a pile on the side, and scooch to an empty table. It's almost like a fort you'd make when you were a kid.
There's even a bamboo swing that looks like a witches' broom. Great for WeChat Moments.
Arty installation business adorns the ceilings, some vintage wall decor and design elements, and a seated DJ at the back playing IDM, chill-out, down-beat tunes completes the look. It's chill, it's hip, it's bohemian. It's a scene, for sure.
The Ming-style day beds thing is not totally unprecedented. There was a place in Beijing called Bed Bar, which was like the first bar in that city. And even in Shanghai we had Tanghui before it turned into LOgO which had a similar thing. And, yeah, both of those places have been closed for almost 20 years now — GODDAMN I'm old. Moving on!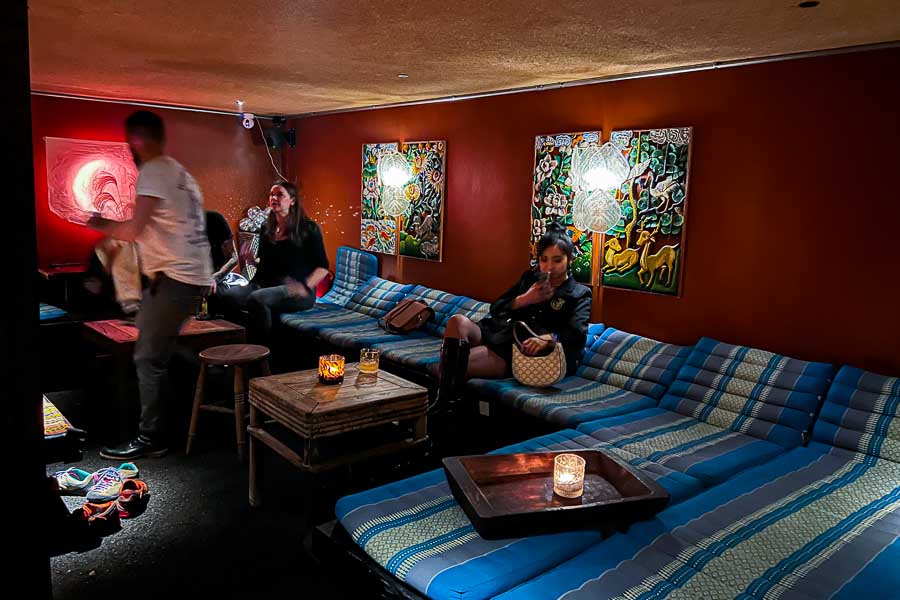 Tang is also open late. It serves up an after-hours come-down for kids coming from places like Heim, Elevator, ALL, and Abyss. It's even a haven for some of the bartenders that work in those places. At least that's what it seems like. Everyone seems young and cool and hip to the underground clubbing scene.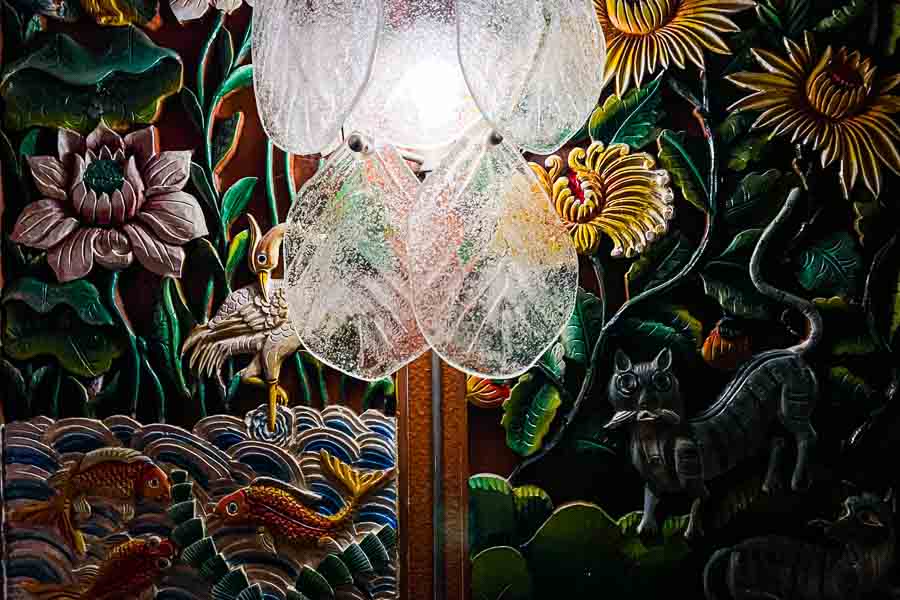 When they first opened, Tang used to stay open all night and people would straight-up just sleep there. I think they actually close now. Some days at least.
Drinks are original creations split by booze base — rum, gin, vodka, et al. Prices are on the steep end, it must be said — ¥88 to ¥118 for cocktails — so you might want to get something standard. Bottles and mixed drinks are more like ¥60. The Tsingtao, thankfully, is ¥30 for one of those baby bottles.
But if you're young, rich, and adventurous…
Yeah, fine. But ¥118 seriously hurts my feelings!
But there you have it. Tang, a really neat place.
If you want to sample some Shanghai underground nightlife and culture but want to come at it from a more bohemian, chill direction, check it out. Go on a weeknight for a more low-key encounter. They book a lot of interesting local DJs as well, who are free to do some interesting mixes that they couldn't do elsewhere.
To see what they've got scheduled, search WeChat ID: TangTangTang.
It's at 141 Tai'an Road. You won't see a sign. Just walk into that little corridor until you get to the door at the back.
---
CAVE
Address: 2/F, Bldg 1, 128 Anshun Lu 安顺路128号一号楼2楼
Hours: Sun & Mon-Thu, 7pm-2am, Fri-Sat, 7pm-4am
This one's red-hot off the presses! Opened on Halloween night is CAVE, a dedicated heavy metal dive bar smartly located right down the street from Yuyintang OG.
It's up on the second floor of a cluster of seafood/BBQ restaurants you've never seen or heard of before. Well, then! Horns up!
You can't really get too far talking about a metal bar in Shanghai without mentioning the originator of the genre in this city, Inferno, cruelly taken from us a few years back due to lockdown-related issues after over a decade-plus of service in three different locations and versions. None of the ex-owners or managers of Inferno are involved with Cave — this one's coming from an independent metal label/concert promoter. Their merch table is right at the front, you can't miss it.
But if we're making comparisons, there's a lot of similarity with this place and the third iteration of Inferno in United Valley on Changle Lu. There's some familiar design elements, materials, and colors — and the method of application is the same: It's a small room to drink beer in and listen to heavy metal music. Maybe this one is a bit gritty and dive-ier — old crust punk / thrash show flyers decorate the walls instead of proper Viking accoutrements.
The two most important questions are: What kind of metal are they playing and how much is the beer?
Expect a heavy mix of classic and contemporary death metal mostly — we heard Morbid Angel and Pestilence, among others — into Nordic black metal and symphonic genre offshoots. It's a cut deeper than the Slayer-rinse-wash-repeat that you sometimes get at metal bars, although, who doesn't like classic thrash or NWOBM, so I wouldn't be surprised to hear them here. They say they're going to host more proper genre-themed heavy nights in the future.
Beers are DIRT CHEAP. Like so cheap I feel these have to be soft opening prices and they're going to have to bring it up at some point: ¥20 for bottles of Asahi, Heineken, and Singa. It's ¥40 for Guinness, and ¥40 for mixed drinks, ¥25 for Jim Beam straight, and ¥60 cocktails. That's basically it.
We got a Long Island Iced Tea and a Negroni from a bartender wearing a brand new Death hoodie. Because what are we gonna do, take a picture of an Asahi?
Yep. These are fine. Tasted like someone wearing a Death hoodie made them. But hey, if you spend more than ¥100, you can a lucky draw prize!
We won a free song request! They gave us this piece of paper to write our request on: "METAL ONLY".
We went with Midnight – "You Can't Stop Steel" because they're right. You can't stop steel!
The beast will rise again!
To check out what Cave has on, search out "Cave" in the search field on WeChat.
---
The Hole In The Wall
Address: Room 103, No. 3, 653 Changping Lu 昌平路653弄3号西103室
Tel: 18516064875
Hours: Daily, 7pm-2am
The Hole In The Wall is actually quite a bit bigger than a hole-in-a-wall. When you're walk in you'll find a decent sized, straight-out-of-the-box, local pub, with a live music bent.
It's not reinventing the wheel with the design or look or anything — brick and dark red walls, framed photography (some are straight up pop-art vulvas), candles, and neon signs — but that's completely okay.
This is more one place to check out if you're looking for a relaxed open mic/musicians scene and to maybe meet some like-minded people who are into bands and performances in Shanghai. A more chill dive bar experience for musos with maybe a bit of self expression on the side.
The live music scene in Shanghai has always been an under-the-radar thing. Original live music exists to varying degrees of vibrance and consistency depending on what calamity-of-the-moment is affecting the world at large. For newcomers to Shanghai, you can get into it by checking out a show at Yuyintang, Mao Livehouse, JZ Club, or Shake if you want.
You can get into even more with even smaller, jam-ier, more niche places like Chair, I Love Shanghai, OkOk Bar, and The Hole In The Wall.
Look for their weekly Friday open mics — if that's what you're into. (Those are actually on pause for right now, but should be coming back shortly after they sort out some paperwork.) They also do more collegiate-style community bar events other nights of the week — a KTV ladies night Saturday, a 5k night run event, board games afternoon events — standard bar stuff. They cater to a mixed crowd, and is actually somewhat of a hangout for musicians from other venues who are off the clock and looking to relax.
For cocktails, they do their own variations on classics and obscure cocktails, ¥78 per drink. Here's a Staggering Gentleman and a Toronto — that second one reflecting the Canadian background of the owner who has two bars in that country.
Looking at my notes here: "Strong". Okay. I can stand by that.
Standard drafts and bottles are in the ¥38 to ¥58 range, and regular mixed drinks ¥40 to ¥60 or so.
To keep up on what they've got going on, they have a WeChat group you can join — ask at the bar. Or you can reach out "RayDio" on WeChat, the events planner of the venue. He run a deep WeChat game promoting his live music events at this venue and other in Shanghai, including C's and Yuyintang.