Stay on top of the churn of openings and closing in Shanghai. Here are five new restaurants you may have missed. For more F&B news, click here.
37 Steakhouse & Bar
Address: 507, 5/F, Plaza 66, 1266 Nanjing Xi Lu, near Xikang Lu 南京西路1266号恒隆广场5楼507室,近西康路
Tel: 62885037
Hours: 11am-2:30pm, 5-10pm
Book this restaurant now!
37 Steakhouse & Bar is an import from Tokyo, led by Hong Kong hospitality group The Food Story, located in Plaza 66.
One of the main draws is the rooftop SkyBar—killer views and designed for events.
Meats are from everywhere but Japan (unfortunately), serving Australian wagyu, American prime beef, Qingdao beef, and Argentinian, all cooked in a Josper grill. Other dishes are typical steakhouse accouterments like crab cakes, oysters, and an amalgam of other seafood and pasta fillers. The bar also does wine and sake pairings.
Lunch sets range from ¥98 for two courses to ¥158 for three courses.
In summary
37 Steakhouse & Bar is suitable for business lunches for nearby offices, entertainment, and events on the rooftop.
---
Dao Jiang Hu
Address: 3/F, 50 Taian Lu, near Xingguo Lu 泰安路50号3楼, 近兴国路
Tel: 32265680
Hours: 11:30am-2:30pm, 5:30-11pm
Book this restaurant now!
Dao Jiang Hu is a modern Chinese restaurant from the people behind Ginger, a long-standing contemporary Asian restaurant. It was previously located on Donghu Lu, a temporary pop-up of sorts, before moving into this space.
Food-wise, they've eased up on the contemporary touch, balancing out with a couple more crowd pleasers. The ambiance is warm and inviting, and makes it perfect for date nights. Service is on point.
In summary
Dao Jiang Hu is for fans of modern Chinese food. Suitable for groups and date nights followed by a nightcap at bars Heyday or Trio.
---
Da Yi Seafood Hot Pot
Address: 418 Dagu Lu, near Shimen Yi Lu大沽路418号,近石门一路
Tel: 53099819
Hours: 11am-3am
Da Yi is a Cantonese-style high-end hotpot restaurant on Dagu Lu, opened by the Oysterlicious Group (C Pearl, Botanik, Osteria, Plump Oyster). They have a large premium selection of seafood and meats to go with the bubbling soup bases. Like most new hotpot concepts, their main selling point is the premiumized soup bases.
Da Yi's signature Crabs and Clams (¥369) soup base is a meal in itself. The milky broth comes with shrimp, clams, abalone, and a whole crab, which simmers over the course of the meal and reinforces the seafood-rich stock even more.
Another is Italian Black Truffle and Mixed Mushrooms (¥299). It's an earthy cauldron of mushrooms snipped off the log, intensified with generous scoops of black truffle. It's luxurious to say the least. And to add premium meats and seafood to this is rather excessive.
To order are fresh oysters, sashimi, Australian wagyu beef (¥299 for a platter), fresh seafood from shrimp to tiger grouper and Korean geoduck, among other usual suspects.
The average check here is ¥500 per person. For reference, Hai Di Lao is about ¥150. But Hai Di Lao doesn't have wagyu beef, nor would you want to drink their soup base.
The soups at Da Yi are absolutely delicious, and I would come back for those.
In summary
Da Yi is for fans of luxe hot pot, business entertainment, and seafood lovers.
---
Hunter Gatherer Open Kitchen
Address: B1-E04 Hubindao, 150 Hubin Lu, near Ji'nan Lu 湖滨路150号湖滨道购物中心B1-E04, 近济南路
Tel: 53530622
Hours: 10am-10pm
Hunter Gatherer remodeled their Hubindao location, turning it into Open Kitchen. The concept? It's in its namesake.
There's also a Quick Cook Station, where you can make your own meals—cooking tools, instructions, and ingredients are all provided—and no clean up necessary. For drinks, they also have a fruit-and-vegetable-forward cocktail menu. There's also a Cooking Studio for community classes. The schedule rotates monthly, updated on their WeChat official account.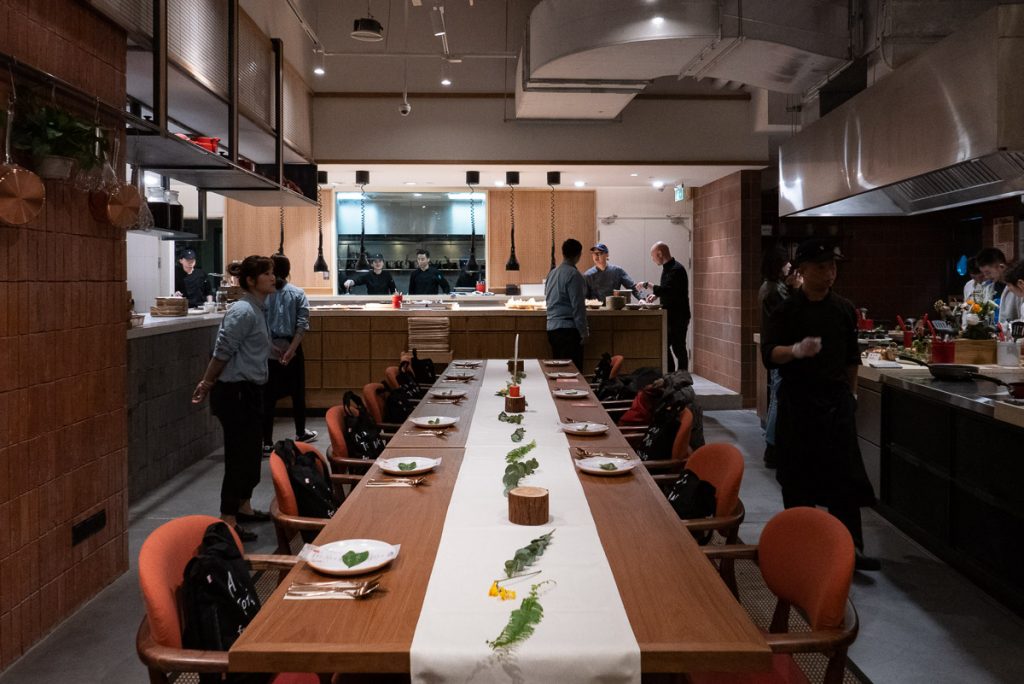 One of the great things about Hunter Gatherer is their diligent sourcing for fresh and organic produce from local suppliers and from their own farms. They use antibiotic-free meats and natural products, and really care about the stories, welfare, and quality of the products and farmers.
Salads from ¥58, pastas from ¥68, ribs ¥98, and whole chicken ¥298, for an idea of the pricing.
The front section of the space is dedicated to Yimishiji, an online farmers' market and grocer under the same ownership as Hunter Gatherer. They're all about environmentally friendly and sustainable options, and consumer education is a large part of their mission. These products are great, and the staff is sincerely knowledgeable about the items, how the products are made, and where the raw ingredients come from.
In summary
Open Kitchen is for health-conscious eaters, fans of Yimishiji's organic/healthy products, nearby offices, and aspiring cooks.
---
Le Xuan
Address: Rooftop Garden, L+Mall, 899 Pudong Nan Lu, near Shangcheng Lu浦东南路899号陆家嘴中心商场RG层,近商城路
Tel: 68876880
Hours: 11:30am-3pm, 5:30-11pm
Le Xuan is a yakiniku/steakhouse via Taipei, located on the top floor of L+ Mall in Pudong. Here, they only serve Australian beef with a marble grade of M9 and above. The meats are cooked tableside over binchotan (white charcoal), and come with pepper yuzu sauce, raw onions, and perilla salt.
Interiors don't quite match the class of beef. Tables with white tablecloths surround a stage where live performances of jazz and sultry covers echo throughout the restaurant. The experience leans stuffy.
Only sets are available, from ¥818 to ¥1080 per person, minimum two people per table. Appetizers, salads, rice, and soup join cuts of beef tongue, rib eye, fillet, blade steak, truffled sirloin, and lobster.
Following is the ¥888 set: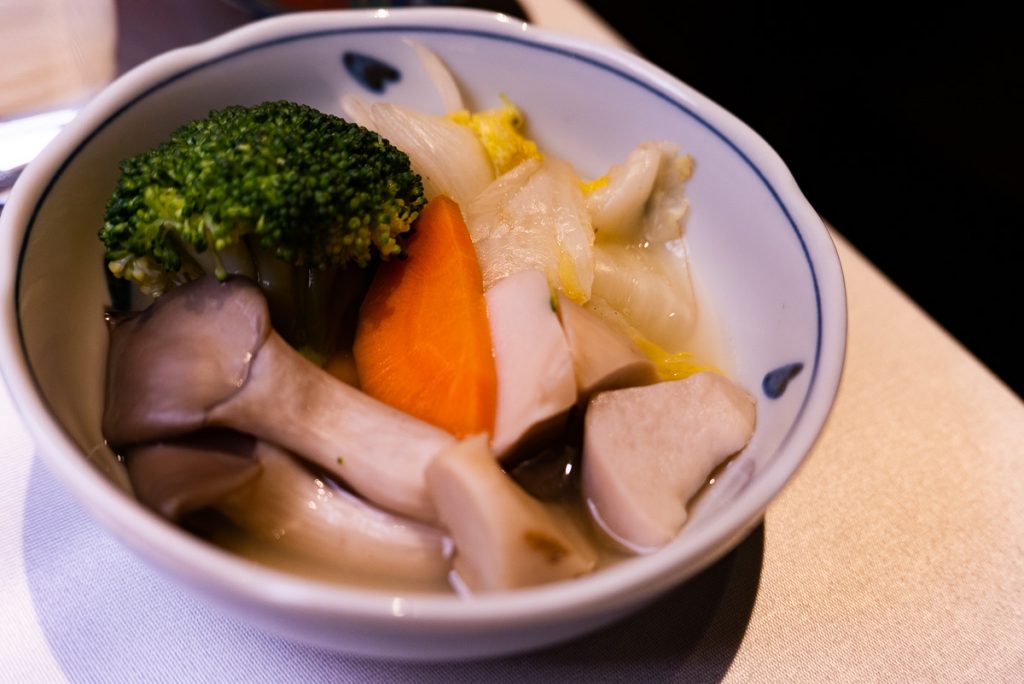 It's high-end meats. The price point matches the taste and quality, and the flair of presentation and table side serving adds to pomp you'd expect for a premium restaurant.
In summary
Le Xuan is suitable for business entertainment in Pudong.