Recapping all the latest cocktail bars and drinking holes that have opened in the last few months. Happy hours included, too.
The Broken Dagger
J. Boroski
Lucky Mart
Dead Poet
---
The Broken Dagger (TBD)
Address: 93-1 Xiangyang Bei Lu, near Xinle Lu 襄阳北路93-1号, 近新乐路
Tel: 13917042097
Hours: Wed, Thu, Sun 7pm-3am, Fri-Sat 7pm-4am
The Broken Dagger aka TBD is a speakeasy cocktail bar that is all about flair bartending. It's the brainchild of Geo Valdivieso, an illustrious bartender-about-town.
The specialty cocktails are showy, tasty concoctions, but if that isn't your kind of tipple, they'll gladly pour you a vodka soda. It's a small, cozy space and the atmosphere is upbeat—you'll most likely end up chatting with your neighboring table. Cocktails range from ¥88-120.
It's speakeasy in the sense that the entrance is hidden. That said, click the link below to find out how to enter.
Good for: Girls' night out, dates, or a long session with friends.
Click here to read more about The Broken Dagger.
---
J.Boroski
Address: 179 Fumin Lu, near Julu Lu 富民路179号, 近巨鹿路
Hours: 7pm-2am or until last guest leaves
Tel: 54565266
Bookings: shanghai@jboroski.com
Reservations only, no walk-ins
J.Boroski is a secluded cocktail bar that is known for its high-caliber bespoke drinks, house-infusions and distillations, and exclusivity. The bar's calling card is that it does not have a menu, dubbing their bespoke drinks as a "cocktail concierge service," and tailors each drink to the guest's preference.
The drinks are alluring, especially due to the house-infusions, which runs the gamut from bitters to spirits, cordials, liqueurs, shrubs, and sodas. It's very nerdy stuff.
Cocktails start at ¥100 and can go to ¥200, sometimes higher if you're going to mix-and-match even more premium spirits.
Good for: Drink nerds and entertainment.
Click here to read more about J.Boroski.
---
Lucky Mart
Address: 158 Fumin Lu, near Julu Lu 富民路158号, 近巨鹿路
Tel: 13162091342
Hours: 3pm-4am
Lucky Mart is a cheap and cheerful drinking hole slinging highballs and easy-going Japanese-skewed drinks. It's inspired by the konbini (Japanese convenience store) culture—a casual place for a quick drink without breaking the bank. It's a tiny place, and crowds of people are already spilling onto the street during the weekends or otherwise.
First-tier whiskey highballs are ¥58. Whisky labels one level up are ¥88, and there's also top-shelf stuff.
There's also a simple menu of Japanese snack foods like oden, onigiri rice balls, cup noodles, and sandwiches from ¥20.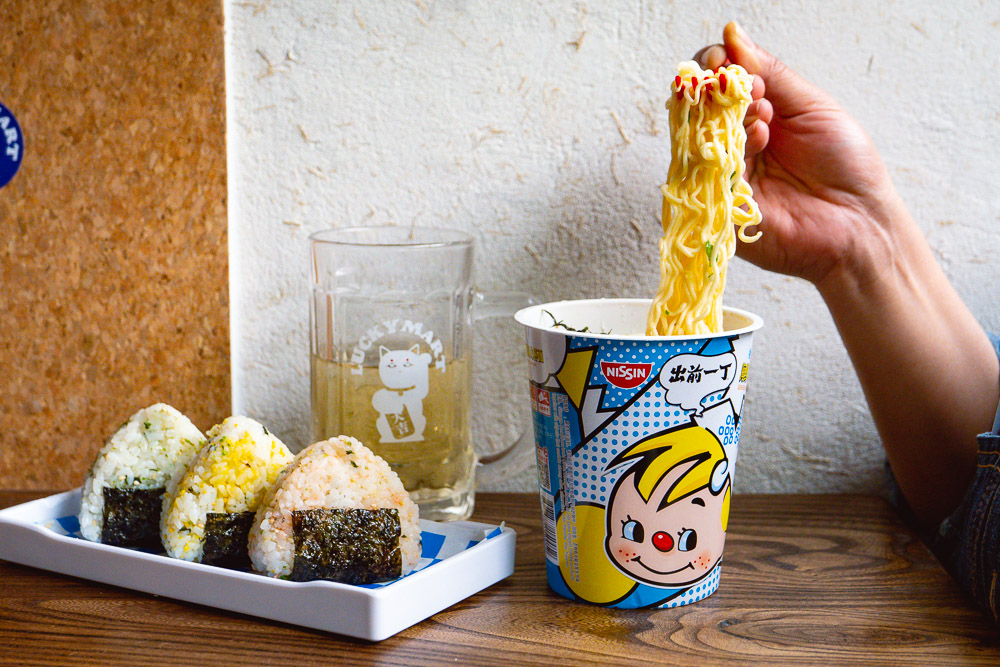 Good for: Cheap, no-frills night out.
---
Dead Poet
Address: 158 Jinxian Lu, near Maoming Nan Lu 进贤路158号, 近茂名南路
Tel: 17301675623
Hours: Mon-Thu 5pm-2am, Fri-Sat 5pm-3am, Sun 5pm-1:30am
Dead Poet is an chic cocktail bar from the OHA Group, which also runs Bar No. 3, OHA Eatery, and Pass Residence. The design-forward space is courtesy of the group's expertise in architecture and interior design. (Dead Poet opened in September 2019, but I only just visited.)
The bar is so named for a poet that once lived upstairs. And so, the menu is rife with poetry—cocktails have provocative names like "Greatest Silence" and Burning in Water Drowning in Flame," each with its own stanza.
Cocktails include signatures from their other venues, including the now-closed Blackbird. These are creative drinks, some more so than others, and the ones I samples proved to be stiff pours. Cocktails range from ¥95 to ¥138.
Good for: Dates, sophisticated humans who like poetry.