You might have seen some articles going around about Shanghai having more coffee shops than any city in the world (more than 7,000 of them).
And just so happens that coffee shops in Shanghai tend to cluster; while that might not be great for their competitiveness, it's great for fans of coffee: so many options, all on one street!
One of those streets is Ruijin Lu, right around where it turns from Yi to Er. In the last year or two, it has exploded with cute little street-side coffee shops, rarely seating more than half a dozen people. If you're in the mood to go on a caffeine-fueled adventure (and get a glimpse at what Shanghai's coffee scene is up to), this is a great six-block stretch to stroll down.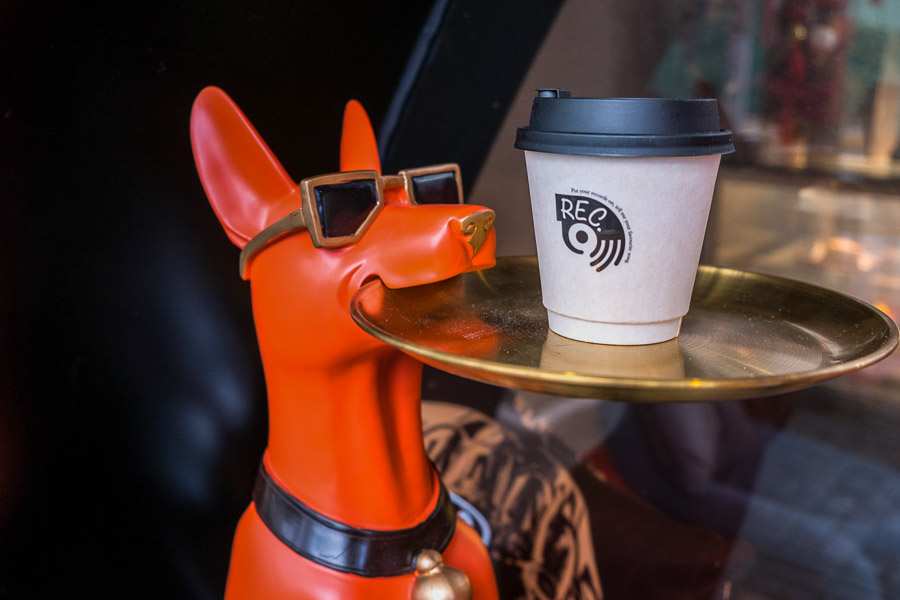 ---
8 Coffee Shops on Ruijin Lu
hi REC.COFFEE
Address: 115 Ruijin Yi Lu, near Changle Lu 瑞金一路115号, 近长乐路
Tel: 18956566118
Hours: Mon-Fri 9:30am-6:30pm, Sat-Sun 10am-7pm
Just around the corner from Found 158, this coffee shop was apparently designed by a fan of Corinne Bailey Rae's 2006 hit "Put Your Records On." It might come across as all looks and no substance, but it's actually a comfortable spot to sit and enjoy a—very selfie-friendly—coffee.
What to Order: Honduras or Costa Rica hand-drips from ¥45-58, specialty drinks like a Pumpkin Latte for ¥45, but you can also just grab an espresso-based drink for about ¥28 and not be disappointed.
---
DAY NIGHT 朝夕智镁咖啡
Address: 153 Ruijin Yi Lu, near Changle Lu 瑞金一路153号, 近长乐路
Tel: 18580488210
Hours: 7:30am-7:30pm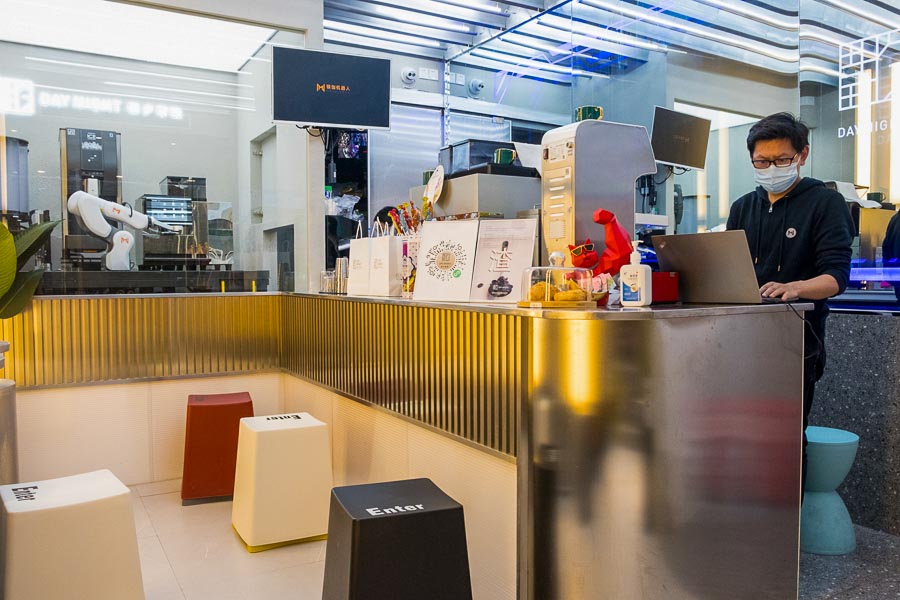 A futuristic little spot with a glassed-off coffee-making robot arm. There are only about five comfortable seats, and they prefer you to order using their Mini Program, where you can get deals like half-price or more off coffees, and some pastries.
What to Order: There are options from matcha to orange tea flavors, but just stick to a flat white or whatever else is on discount for ¥15.8.
---
叁叁coffee (Sansan Coffee)
Address: 179 Ruijin Yi Lu, near Huaihai Zhong Lu 瑞金一路179号, 近淮海中路
Tel: 13601640872
Hours: Mon-Fri 8:30am-6pm, Sat-Sun 10am-7pm
Strong Japanese aesthetic at this coffee shop; quiet atmosphere, comfortable seats and a beautiful interior. Their coffee is on the weaker side, but they'll diligently introduce what roast options they have (in Chinese, as is the menu). Plus, they always give you free cookies when you're leaving.
What to Order: Depends on your taste, but try the ¥40 Ethiopia hand-drip if you're into grape and tea notes, or just a ¥20 Americano: it's pretty good.
---
米仓POP
Address: 136 Ruijin Yi Lu, near Huaihai Zhong Lu瑞金一路136号, 近淮海中路
Tel: 18521768672
Hours: 10am-9:30pm
This chain started as a vintage furniture store plus lunch food. The original gimmick was making these foam kitten and bears that'd float in your cup, but a couple of years ago this Micang Pop opened up and stayed open because they have good desserts. The inevitable result? It's usually packed.
What to Order: The ¥58 soufflé pancakes, if you can, but if you're here for a coffee or just feeling twee, try the ¥40 tiramisu latte.
---
Septem Coffee石藤咖啡
Address: 134 Ruijin Yi Lu, near Huaihai Zhong Lu 瑞金一路134号, 近淮海中路
Tel: 13761922069
Hours: Mon-Fri 8am-7pm, Sat-Sun 10am-8pm
You'll probably only find them on Dianping as "石藤咖啡." Septem's third location just opened officially on April 28. Their coffee is fine, and they also have decent creative drinks, if you're adventurous enough for them. Not great for a sit-down unless you get the coveted street-side seat, or one of the tables in the secluded back room.
What to Order: The soy sauce latte for ¥32, if you think you can handle it. If not, cappuccinos are ¥25 and Americanos are ¥15.
---
ESCAPE咖啡
Address: 39 Ruijin Er Lu, near Nanchang Lu 瑞金二路39号, 近南昌路
Tel: 15272762198
Hours: 8am-6pm
This minimalistic little cube of a one-man coffee shop carries particularly good beans. They have this lightly sweetness to them that's very appealing. It's also probably the least cramped spot on this list. I'm partial to the street-side outdoor bench for people watching.
What to Order: Costa Rican hand-drip form ¥38, or the ¥28 latte.
---
NamedCup
Address: 117 Ruijin Er Lu, near Fuxing Zhong Lu 瑞金二路117号, 近复兴中路
Tel: 13761891790
Hours: Mon-Sat 8am-6pm, Sun 9am-6pm
The original location of this three-spot chain, NamedCup is tiny but comfortably laid out (especially now that summer is here, good-looking and dirt cheap: basically everything is ¥20 or less.
What to Order: Espresso-based anything, a milkshake, Valrhona hot chocolates… at ¥20 a cup, it's all great value.
---
COFFEE AROMA
Address: 272 Ruijin Er Lu, near Taikang Lu 瑞金二路272号, 近泰康路
Tel: 16601799818
Hours: Mon-Fri 8:30am-5pm, Sat-Sun 9am-5pm
This one is quite a ways down from the others, and isn't what you'd call a destination spot, but it does sort of mark the last of Ruijin's coffee shops; past here, not much worth noting. Plus, it has a nice window-counter and a soothing blue aesthetic, and their bean mixes are clearly introduced on cards by the counter.
What to Order: The Sakura Fall in its simplest ¥28 Americano form is a nice and aromatic choice. Otherwise, try the Seattle blend in a ¥30 oat milk latte.