Chef de Cuisine Rosarin Sriprathum from Celadon Restaurant at The Sukhothai Bangkok is in town for a pop-up, serving authentic modern Thai food at URBAN Café, The Sukhothai Shanghai from now until late November.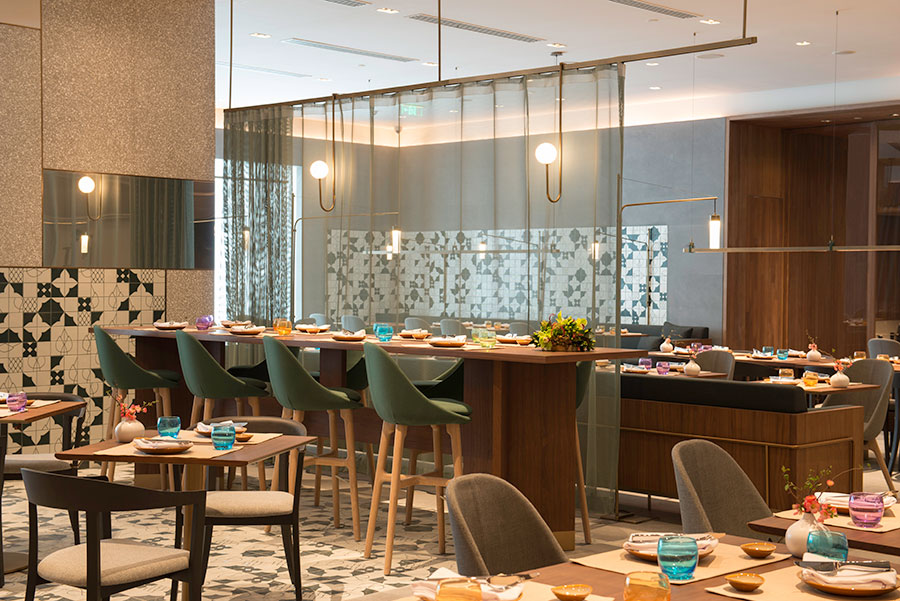 Modern Thai With Authentic Flavors
This is unlike any Thai food you'll find in Shanghai.
The flavors are bold and punchy, and it's elevated. Think sushi-grade tuna with Thai herbs, crab meat wrapped in rice dumpling, a confit chicken leg soaked in sweet-sour tamarind sauce, and whole curried lobster. The curry bases are all made using fresh ingredients and herbs, and it's a difference you can taste.
This is certainly a menu for special occasions, and there's nothing like it in Shanghai at the moment. It's a taste of what contemporary restaurants in Thailand are doing, a Southeast Asian country illustrious for its ascent in the fine dining food world.
Interview with Chef Rosarin
Behind the menu is Chef Rosarin, who has been cooking Thai cuisine for over 20 years in some of the most prestigious restaurants and hotels in Thailand. She's currently the Chef de Cuisine at Celadon, The Sukhothai Bangkok, a Michelin Plate restaurant praised for its exceptional quality and genuine authenticity.
I sat down with Chef Rosarin to find out more about the modern Thai trend, and about her pop-up menu.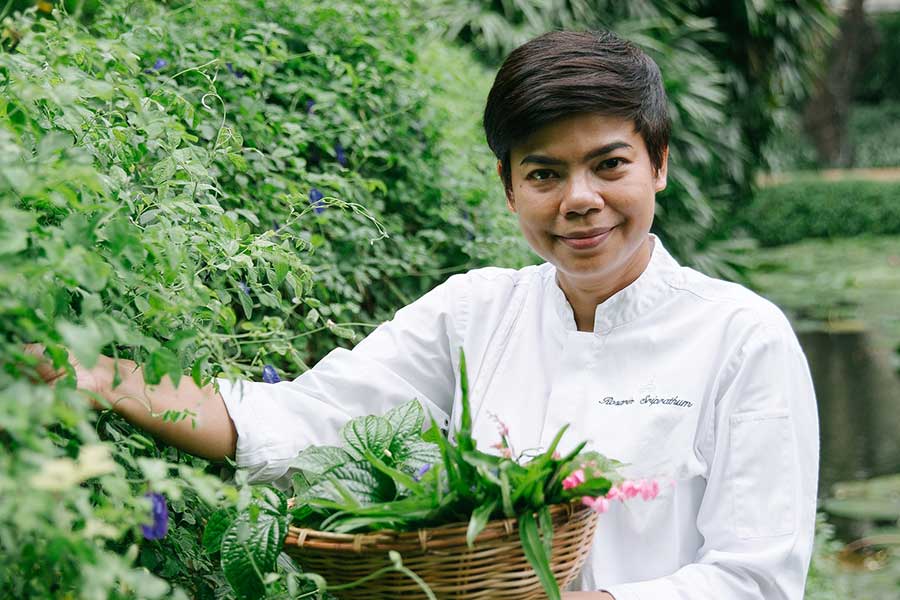 You've talked a bit about "authentic Thai flavors" in many of your interviews. How do you integrate this into modern Thai cooking?
Thai food is a cuisine that has many flavors. When you have 5-7 flavors combined in one dish—sweet, sour, salty, herbs, spice—that's real Thai food.
Take the tuna for example. It's not a Thai dish, but the ingredients for the flavor and seasoning are all Thai. I made a Thai sauce into caviar, and I added herbs that are distinctly Thai. It's taking Thai flavors and presenting them in a modern way.
I want to upgrade Thai food. This is next trend in Thai cuisine, to modernize it using French cooking techniques and elevated presentation.
Do you think it's difficult to elevate Thai food?
I think it is quite hard. When people go to Thailand, they have street food, and it's quite cheap. But when you go to a Michelin star restaurant (in Thailand), those restaurants can be even more expensive than those in hotels.
For example, there's Bo.Lan (Michelin one-star), that gives a fine dining experience. They cook a lot of "lost recipes" from King Rama V's era. I also have a lot of these "lost recipes," but I cannot implement them in Shanghai, because those ingredients are so difficult to find.
With this menu, I want to start things easy. I want to educate people first, and let them know what is real Thai food.
Is it difficult to find the ingredients you need here?
The ingredients I use in Celadon are direct from small businesses and farms, and are usually organic. But in Shanghai it is more difficult and complex to do that.
The products here are different. So I try to find the ways to cook with the ingredients I can find to achieve the same flavors as in Thailand.
For example, the tamarind here is too sour, and there are many kinds of fish sauce, most of them too salty. In Thailand, I also use fresh coconut milk, but the fresh coconut milk here not nice, they add milk powder to it. So, I use the boxed coconut milk, but I use two brands, one for curry and one for dessert. There's no kaffir lime leaves here, it's just lime leaf, but they call it kaffir lime. You have to spend time adjusting the recipes to get it as close to the taste of back home.
What's your favorite dish from the menu?
The dumpling. It's a nostalgic dish for me. We have a large Chinese population in Thailand, and I enjoyed eating dumplings when since I was young. I was inspired to combine the dumpling with Thai flavors. I added soya sauce, pineapple vinegar, and sugar to make the sauce. I even brought a steamer from Thailand.
Homemade Steamed Rice Dumpling (¥178) filled with crabmeat marinated in garlic and coriander roots, served with a mildly spicy sauce of soya sauce, pineapple vinegar, and sugar.
---
Chef Rosarin's menu is available at URBAN Café from now until late November, lunch and dinner.
There's also a six-course chef's tasting menu for ¥598 per person, minimum six persons. Reservations required in advance.
---
URBAN Café, The Sukhothai Shanghai
Address: 1/F, The Sukhothai, 380 Weihai Lu, near Shimen Yi Lu 威海路380号1楼, 近石门一路
Tel: 52378888
Hours: 12pm-9:30pm