The Bloody Mary is by far one of the best hangover cures by my count. It's also my favorite drink. I think the reason I like them so much is because its closer to a food than it is to a cocktail. (Hah!)
Here's a bunch of tried-and-tested Bloody Marys at some of my favorite spots in Shanghai. And since it's a brunchy drink, I've weaved in a few brunch recommendations, too.
Restaurants & Bars in Shanghai For Great Bloody Marys
Co. Cheese
Gotta love the Cheese. I made that clear in an ode to them via my Shanghai sandwich guide.
They do great Bloody Marys and Bloody Caesars (¥50 for either). I prefer the Caesar, which uses Clamato juice (tomato juice with added dried clam broth) and a vinegar-based Louisiana hot sauce for heat, garnished with pickled green beans and olives.
Plenty of other hot sauces on the bar if you feel the need to amplify the spice.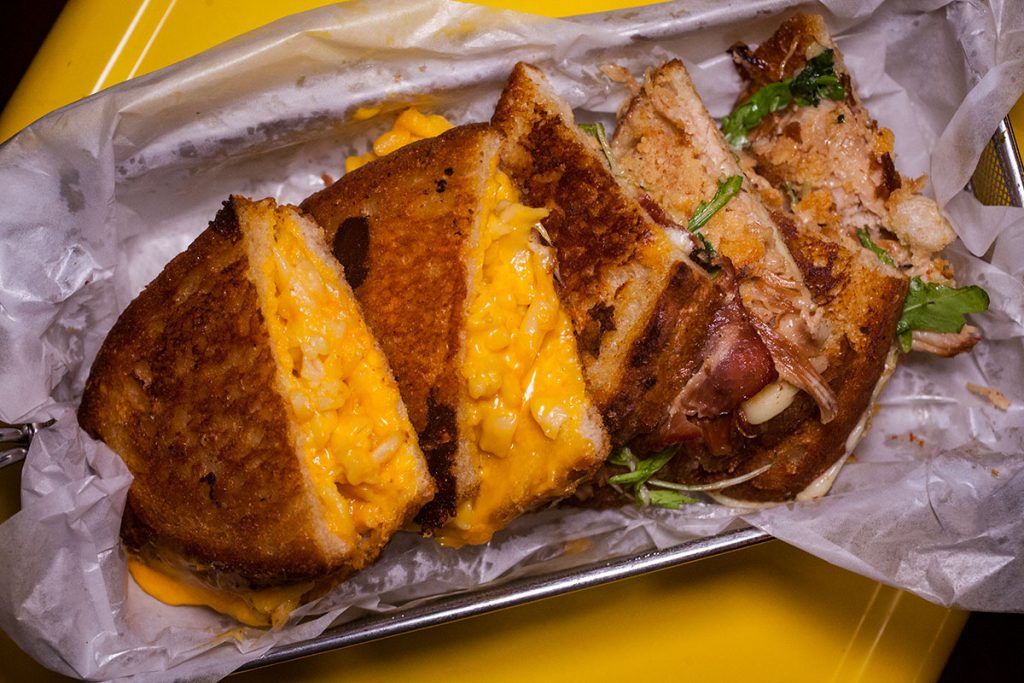 Line your stomach with a regular (¥50) or large (¥65) grilled cheese—they have more than 25 kinds of grilled cheese sandwiches you can work through.
Co Cheese is more of a nighttime hangout, but if you want to start day drinking, there's no better place to do it.
The Hop Project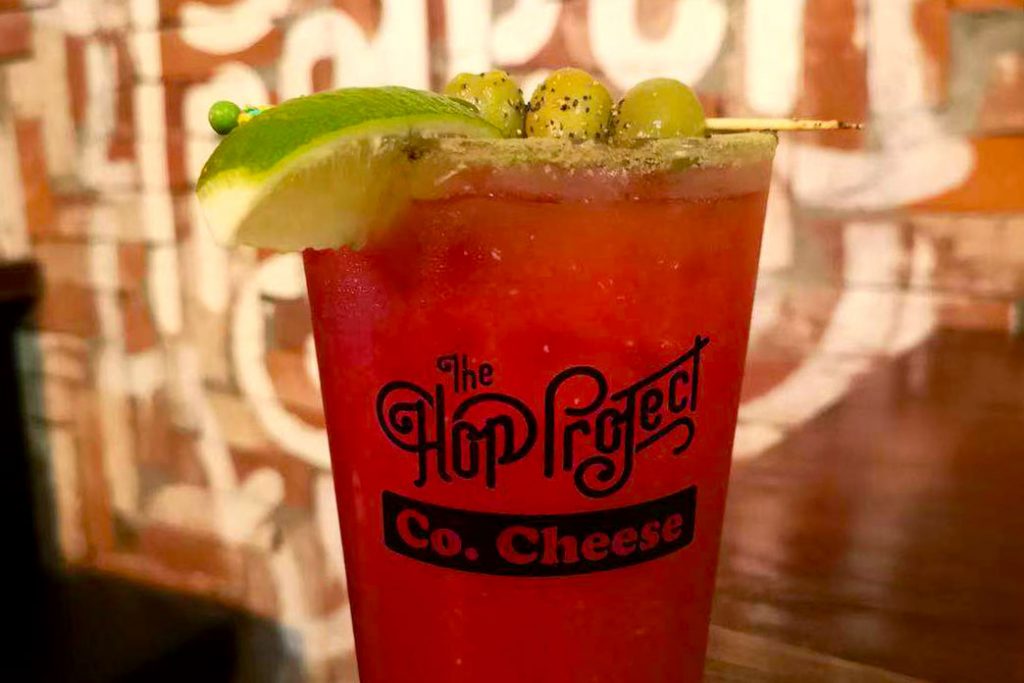 Co. Cheese grilled cheese sandwiches are also available at The Hop Project. They have Bloody Caesars too, for ¥50. Clamato juice, double shot of Absolute vodka, celery salt, lime, Worcestershire sauce, two olives, and rimmed with celery salt.
Highline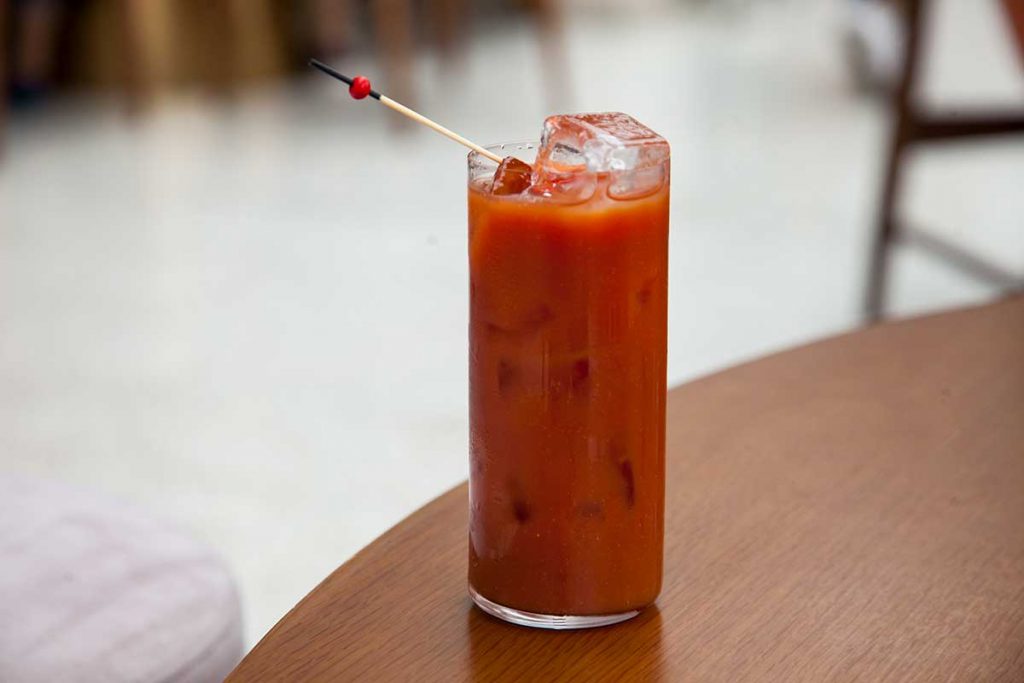 Highline is one of my favorite spots for brunch in Shanghai. The menu changes seasonally, and there's plenty of fresh new dishes to try from lobster omelettes to beef brisket Benedicts.
I almost always get the Bloody Mary, which is available as a two-hour free-flow for ¥188 on Saturday and Sunday.
The Cannery
The Cannery does Bloody Caesars, too. Pete's Caesar (¥98) uses vodka with clam nectar, a blend of fresh cherry tomato, carrot, red pepper juice, spices, and Mary mix, served with an oyster.
Brunch is ¥198 for three dishes, plus plenty of a la carte to choose from. Outdoor seating available, plus it's pet-friendly.
Bull & Claw
Bull & Claw is a perennial brunch spot—lobster, eggs Benny, and free-flow. They have two Bloody Marys. One comes with a whole lobster claw, perched atop the glass of Beluga vodka and house Bloody Mary mix (¥158).
If the claw is a bit much, they also have a normal version for ¥70 with Tito's vodka.
Brunch rec? Get the English breakfast.
Hooked
The same Bloody Marys at Bull & Claw are also available at Hooked. Great beer-battered fish and chips here. Get the Icelandic Cod (¥108), comes with salad and rice or chips.
El Santo
El Santo's Bloody Mary (¥70) is the spiciest on this list. It's the kind of drink you definitely need stomach lining fodder before consuming. Load up with tacos and burritos before diving into the deep end. Olmeca, pickled onion and a rim of dried chili, salt and pepper.
Good for tacos, burritos, and daytime drinking.
Polux
Polux is a gorgeous French cafe in Xintiandi by luminary chef Paul Pairet (Mr & Mrs Bund, Ultraviolet). It's great for people watching and the food is stellar. The Bloody Mary (¥60) is more than affordable, made with vodka, tomato juice, lemon juice, Tabasco, pepper, and Worcestershire sauce. It's punchy, spicy, and comes with two fat olives.
Maya
This is actually a Mezcalada (¥98). It's a hoppy cocktail of more than 20 ingredients including quality Mezcal, MAYA's Bloody Mary mix, Sol beer, fresh lime juice, and jalapeno puree. The rim is Tajin, a spice mix of chili, lime, and sea salt.
They also have a killer breakfast burrito.
Update: Maya has an all-you-can-eat taco brunch deal for ¥98. Saturdays and Sundays. Free-flow sangria for ¥150, Margaritas for ¥185
Funkadeli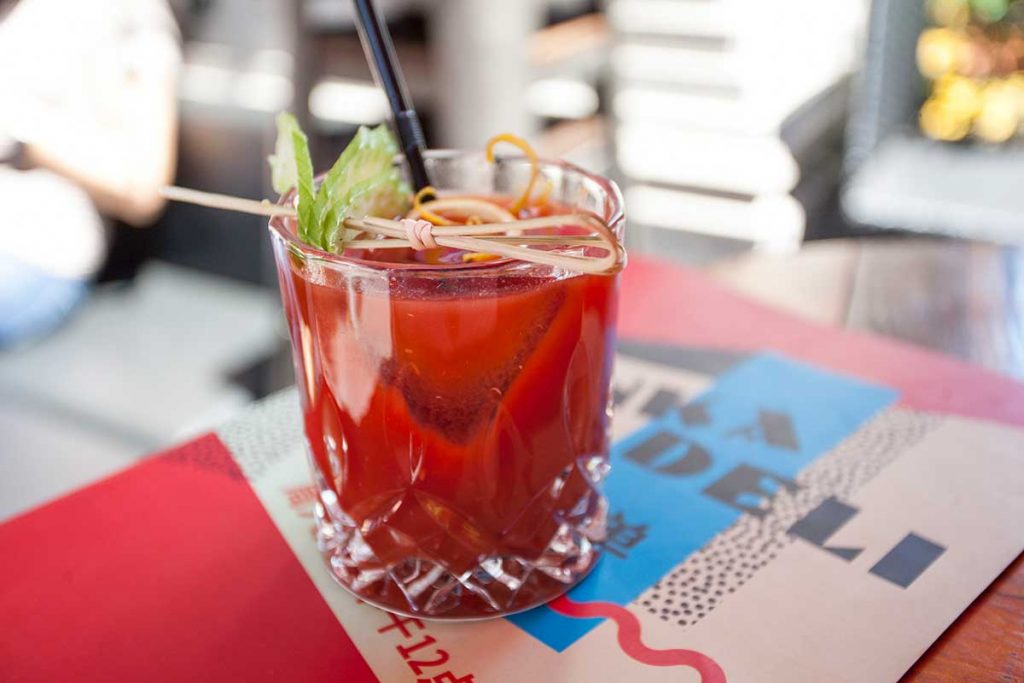 Funkadeli does free-flow Bloody Marys for ¥158 on Saturday and Sunday during brunch. Brunch pickings are pretty good too—the menu courtesy of Austin Hu. Plus: outdoor seating. Reservations necessary—it gets packed.
Brunch is ¥88 for one main and one side. Recommended brunch dishes: poached eggs, beef tartare, smoked salmon avocado toast, pumpkin ravioli.
Diner
Diner, the all-day brunch spot serving next-level American diner food. Their Bloody Mary (¥68) has generous splash of vodka and garnished with a spear of homemade Spam, piquillo peppers and olives. Also available at their other locations.
The Nest
The Nest does a classic Bloody Mary (¥78) with Grey Goose vodka (duh), garnished with a sprig of basil.
Brunch is the same deal as Cannery, except a different spread—three courses for ¥198, plus a free welcome drink. Get the blini!
St. Regis Bar
The St. Regis Bar is known for their Bloody Marys—they have five variations on the menu, recipes taken from the hotel bar's other city locations.
The Shanghai-inspired Bloody Mary, the Mary Jing (¥108) is quite unlike a traditional BM, but quite lovely. It's sweeter, light bodied, and floral due to the fresh yellow tomato juice, fig infused vodka, and osmanthus honey. It's easy to drink and suitable for a light nightcap.
---
Directory
Bull & Claw
Address: 110 Fenyang Lu, near Taiyuan Lu 汾阳路110号, 近太原路
Tel: 33567608
Hours: 11am-11pm
The Cannery
Address: Rm. 106, Bldg. 1, 1107 Yuyuan Lu, near Jiangsu Lu 愚园路1107号1号楼106室, 近江苏路
Tel: 52760599
Hours: Mon-Fri 5:30pm-1am, Sat-Sun 11:30am-1am
Co. Cheese
Address: 32 Yuyuan Dong Lu, near Changde Lu 愚园东路32号, 近常德路
Tel: 13032118036
Hours: Tue-Sun 11:30am-11pm
Diner
Address: 145 Wuyuan Lu, near Wulumuqi Zhong Lu 五原路145号, 近乌鲁木齐中路
Tel: 64161678
Hours: 8am-10pm
El Santo
Address: 158 Julu Lu, near Ruijin Yi Lu 巨鹿路158号, 近瑞金一路
Tel: 63332181
Hours: Mon-Thu 5pm-12am, Fri-Sun 11am-late
Funkadeli
Address: 291 Fumin Lu, near Changle Lu 富民路291号, 近长乐路
Tel: 61701318
Hours: Mon-Sun 12pm-2am
Highline
Address: 6/F, 282 Huaihai Zhong Lu, near Huangpi Nan Lu 淮海中路282号雅诗阁公寓6楼, 近黄陂南路
Tel: 63330176
Hours: 11am-2pm, 2-5pm, 5pm-1am
Hooked
Address: 158 Julu Lu, near Ruijin Yi Lu 巨鹿路158号, 近瑞金一路
Tel: 63332198
Hours: Mon-Wed 5pm-12am, Thu-Sun 11am-late
The Hop Project
Address: 372 Dagu Lu, near Chengdu Bei Lu大沽路372号, 近成都北路
Tel: 13817950274
Hours: Mon-Thu 4pm-midnight, Fri-Sun 11am-late
Maya
Address: 2/F, Club House, Shanghai Grand Plaza, 568 Julu Lu, near Shaanxi Nan Lu 巨鹿路568号四方新城俱乐部2楼, 近陕西南路
Tel: 62896889
Hours: Mon-Fri 5pm-late, Sat 11am-4pm, 5pm-12am, Sun 11am-4pm
The Nest
Address: 6/F, 130 Beijing Dong Lu, near Yuanming Yuan Lu 北京东路130号6楼, 近圆明园路
Tel: 63087669
Hours: Mon-Fri 5:30pm-late, Sat-Sun 11:30am-3pm, 5:30pm-late
St. Regis Bar
Address: 1/F, 1008 Beijing Xi Lu, near Jiangning Lu 北京西路1008号1楼, 近江宁路
Tel: 62579999
Hours: 4pm-1:30amnull