There's nothing more comforting than a cup of hot cocoa in the winter to warm up. Here are some places where you can the best cup of hot chocolate in Shanghai.
Bakeries, cafes, and restaurants in Shanghai to get a good hot chocolate

Awfully Chocolate
If there is a mall near you, chances are there will be an Awfully Chocolate located somewhere in there. Their hot chocolate (¥36) comes with a dollop of cold, fresh cream that melts with each sip, and a cube of rich, bittersweet dark chocolate for dipping. The drink base is sweeter than others, and milkier without being overly creamy. Great for something on-the-go.
Hooked
Not only does Hooked do some of the best fish and chips in Shanghai, their Death by Chocolate (¥48) is a looker. It's made with white and dark Belgian chocolate, coconut cream, and topped with toasted marshmallows, nuts, and chocolate. If that isn't sinful, I don't know what else is.
Hunter Gatherer
Healthy restaurant/grocer Hunter Gatherer has a rather unusual (but very lovely) hot chocolate made with beetroot. The Red Velvet Hot Chocolate (¥35) is made with creamy Oatly, a dairy-free drink, and is naturally colored pink from beets. I'm a fan of bitter and earthy flavors, so this is definitely up my alley. Plus side, my calorie intake includes an extra dose of antioxidants.
Polux
The Polux Hot Chocolate (¥70) is a splurge. It comes served in its own little tray with a generous side of high quality freshly whipped cream. It's so thick, creamy, and luscious, it's as though they melted the entire bar into your cup. Get a Mini-Viennoiseries (¥25) of two small croissants or pain au Chocolat.
Ocean Grounds
Ocean Grounds is the hippest café in Shanghai. They do fourth wave coffee, combining coffee with mixology techniques. At night, the café turns into a bar.
My favorite coffee drink to get is the OG New Orleans Style Iced Coffee (¥58). It's an ice ball that takes 36 hours to make with cold drip chicory root spice mix, served with vanilla spiced milk. It's equivalent to four espressos or something.
They also do a lovely spiced hot chocolate, the Mexican Mocha (¥39/43), combining dark and white chocolate with frothed milk, spiced with ancho chili, cinnamon, and nutmeg. Oh, and a shot of espresso. Be sure to swirl the drink or ask for the spoon, as the spices end up at the bottom after a while.
Maya
Maya is great for brunch. Cozy atmosphere, great for large groups, and they have a great free-flow deal (¥125 for sangria, ¥165 for margaritas).
They serve a Mexican spiced hot chocolate (¥45) that's only available during brunch. It's spiced with chili, ginger powder and cinnamon, condensed milk and fresh milk, and 75% cocoa powder. It's milky, smooth and mild spiced. Pro tip: you can spike the hot chocolate with tequila. Just ask.
Bread ETC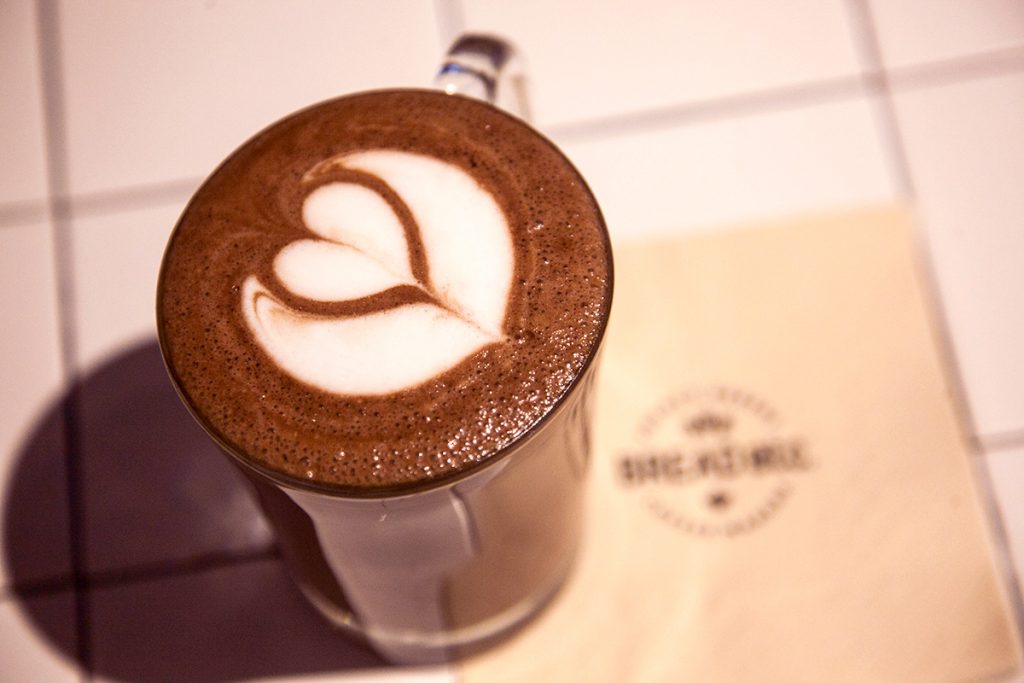 Bread ETC's hot chocolate (¥30) is decent. It's creamy, smooth and thick. Despite it's dark, rich color, it's not extremely sweet. Good spot as an alternative work space.

Kommune
This friendly wine bar is the reason anyone would think to go into Tianzifang for boozing. The owner and staff are thoughtful and accommodating, and will offer hot bottles and blankets to patrons sitting outside in the winter and will turn up their outdoor burners to make you feel welcome.
Kommune's hot chocolate (¥48) is served in a huge enamel cup, a chocolate covered marshmallow dangling on the end of twine steeped in mix of milk and cocoa powder. Dunking the chocolate ball is half the fun, but a little messy.

hoF (Update: Closed March 2019)
hoF is one of the most underrated venues in Shanghai. It's been around for some time (reportedly the first chocolatier in Shanghai), and while it may have lost that new cafe smell, it still has the best quality and selection of hot chocolates (and desserts).
Of the five hot chocolates on offer, their Italian Thick Hot Chocolate (¥40) and the Caraibes Single Origin (¥35) are standouts. The Italian is not too sweet, not too bitter, with just the right amount of acidity, while the Caraibes has an underlying bitterness to it. Pro tip: Order it "extra thick." You can thank me later.
---
Directory
Awfully Chocolate
Multiple locations: iapm, Taikoo Hui, Grand Gateway, Raffles, IFC, Cloud Nine, Reel Mall, others.
Bread ETC
Address: 500 Xiangyang Nan Lu (near Jianguo Lu) 襄阳南路500号 (近建国路)
Tel: 5419-8775
hoF
Address: 30 Sinan Lu (near Huaihai Lu) 思南路30号(近 淮海中路)
Tel: 60932058
Hooked
Address: B1/F, 158 Julu Lu, near Ruijin Yi Lu 巨鹿路158号B1楼, 近瑞金一路
Tel: 63332198
Hunter Gatherer
Address: 135 Yanping Lu, near Wuding Lu 延平路135号, 近武定路
Tel: 52281860
Kommune
Address: No. 7, Tianzifang, 210 Taikang Lu (near Sinan Lu) 泰康路210弄7号 (近思南路)
Tel: 64662416
Maya
Address: 2/F, Club House, Shanghai Grand Plaza, 568 Julu Lu (near Shanxi Nan Lu) 巨鹿路568号四方新城俱乐部2楼 (近陕西南路)
Tel: 62896889

Ocean Grounds
Address: Rm.1-09A, 1/F, North Tower, Hong Kong Plaza, 282 Huaihai Zhong Lu (near Songshan Lu) 淮海中路 282 号香港广场北座 1 楼 NL1-09A (近嵩山路)
Tel: 63139050
Polux
Address: No. 5, Xintiandi North Block, 181 Taicang Lu, near Huangpi Nan Lu 太仓路181弄5号新天地北里, 近黄陂南路
Tel: 63339897
Hours: 9am-10:30pm (last order) daily
WeChat: PoluxByPP