​When the weather is as hot as it was today, I get a hankering for cold noodles, more specifically, for Korean cold noodles. So I hopped into a cab to Minhang for the best Korean cold noodles in Shanghai at Pojeong 庖沃丁.
There is no shortage of cold noodles in Shanghai. Do a quick search on Dianping for 冷面 and you'll find 2,300 venues listed for it. But which ones are any good? And which ones have icy Korean cold noodles? Answer: Pojeong.
I first had these excellent noodles on a food tour with UnTour (Beyond Bulgogi K-Town Tour). The last stop on that three-hour eating and drinking trip was to Pojeong—it was the highlight. I've been back a couple times since then. More people deserve to know of its existence.
The Signature Cold Soup Noodles
The signature at Pojeong is mul naengmyeon (咸興冷面 xian xing leng mian), cold soup noodles (¥40).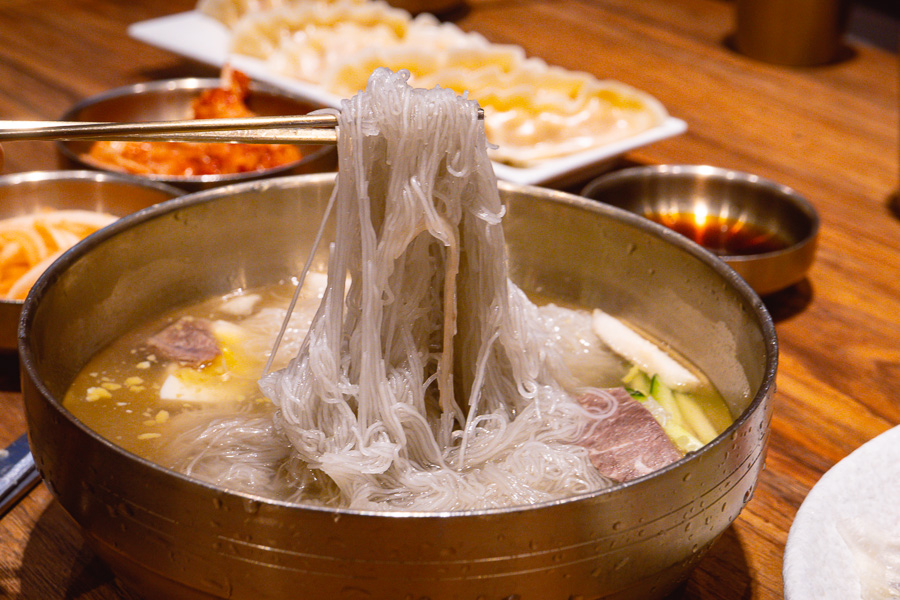 The thin, stringy noodles are made with a combination of buckwheat flour and potato starch. The noodles are made fresh daily, extruded through a custom noodle press in the restaurant's compact kitchen. These are delightfully chewy, elastic noodles are chilled to an icy finish, served in a clear broth akin to beef consommé. It's topped with slivers of cucumber, radish and pear, thin slices of beef, a sprinkle of sesame seeds, and half a hard-boiled egg.
To best enjoy the noodles, cut them up. Attempting to chew through them without doing so is not very pleasant. A pair of scissors arrives as the noodles are served. It also comes with condiments of white vinegar and hot mustard. A splash of sourness and a dab of spicy mustard completes the experience.
Oh, and you can add extra noodles for ¥15.
Let's not forget the complimentary banchan, which will be replenished if you ask.
There's also a spicy red noodle (¥50, 斑鳐冷面, ban yao leng mian), which tastes more sweet than fiery. It has all the same toppings as the cold soup noodles, except the beef. Instead, it has dried skate. It's good, but I'm married to the beef broth.
Coincidentally, Pojeong just opened a second location in Xuhui at the end of April. However, they don't have those cold soup noodles there. (At least not yet.) They do have this beef short rib soup (¥65, 庖丁王牛排汤) that comes with rice that's pretty darn good.
But I'll take a trip to Minhang for that cold soup noodle any day. #worthit
The Minhang location does get busy. Recommend to go after the lunch/dinner rush.
---
Pojeong
Minhang: Rm 3, 78 Yinting Lu, near Hongquan Lu 银亭路78号3室, 近虹泉路
Tel: 34712581
Hours: 10:30am-10pm
Xuhui: 113 Xingeng Lu, near Tianyaoqiao Lu 辛耕路113号, 近天钥桥路
Tel: 54106558
Hours: 11am-2pm, 5pm-9:30pm