Giving credit where it's due. Here are the best new restaurants in Shanghai that opened in 2019.
Minus these exceptionally fantastic four, which are now closed: Nakama (reopened as High Yaki), Botanik, Perch by The Nest, and Birds of Paradise.
Top 9 New Restaurants in Shanghai 2019
BOR Eatery
Address: 2/F, #11, 322 Anfu Lu, near Wukang Lu 安福路322号11栋2楼, 近武康路
Tel: 62667909
Hours: Mon-Fri 11am-2pm, 5:30-10:30pm; Sat-Sun 11am-4pm, 5:30-10:30pm
Book this restaurant now!
A casual dining restaurant that revolves around a seasonal chef-driven menu led by Danish chef Kasper Pedersen. The open kitchen is something other chefs only dream about. Highlights include the charcoal grilled beef oyster blade (¥238) and the radicchio (¥90) with burrata, imbued with the smoky aromas from the Josper grill.
Read the full write up of BOR Eatery here.
CHARCOHOL
Address: 1/F, Fengshengli, No. 18, 245 Maoming Bei Lu, near Nanjing Xi Lu 茂名北路245弄18号1楼, 近南京西路
Tel: 32265752
Hours: Sun-Thu 5:30pm-1am, Fri-Sat 5:30pm-2am
Book this restaurant now!
Opening at the end of 2019, CHARCOHOL is a gastrolounge in Shanghai that serves craft cocktails and global cuisine inspired by the charcoal grill. The food is relatively new in comparison to what's around town. Signature dishes like the whole-grilled baby napa cabbage, maple & applewood smoked chicken, and black & white scallops are original, inventive and memorable. Cocktails are also top of their class, created by award winning mixologist Cross Yu.
Read the full write up of CHARCOHOL here.
Garlic Barbecue
Address: L107-108, 285 Jianguo Dong Lu, near Madang Lu 建国东路285号L107-108,近马当路
Tel: 13818336837
Hours: 11:30am-3pm
Garlic Barbecue is an American barbecue restaurant in Xintiandi. It's run by a group of Turkish friends, including the owner of Garlic, a popular Turkish restaurant in Xuhui. They customized and built their own 1,000-gallon wood-fire smokers, smoking meats for 18 hours in the drums. The brisket is beautiful. The fat-rendered meat is juicy and flavorful. The sides could use an upgrade, otherwise, it's a great spot for barbecue. Open from 11am until sold out.
Read the full write up of Garlic Barbecue here.
Heritage by Madison
Address: 1/F, 600 Zhongshan Dong Er Lu, near Longtan Lu 中山东二路600号1楼, 近龙潭路
Tel: 63129089
Hours: 12pm-10pm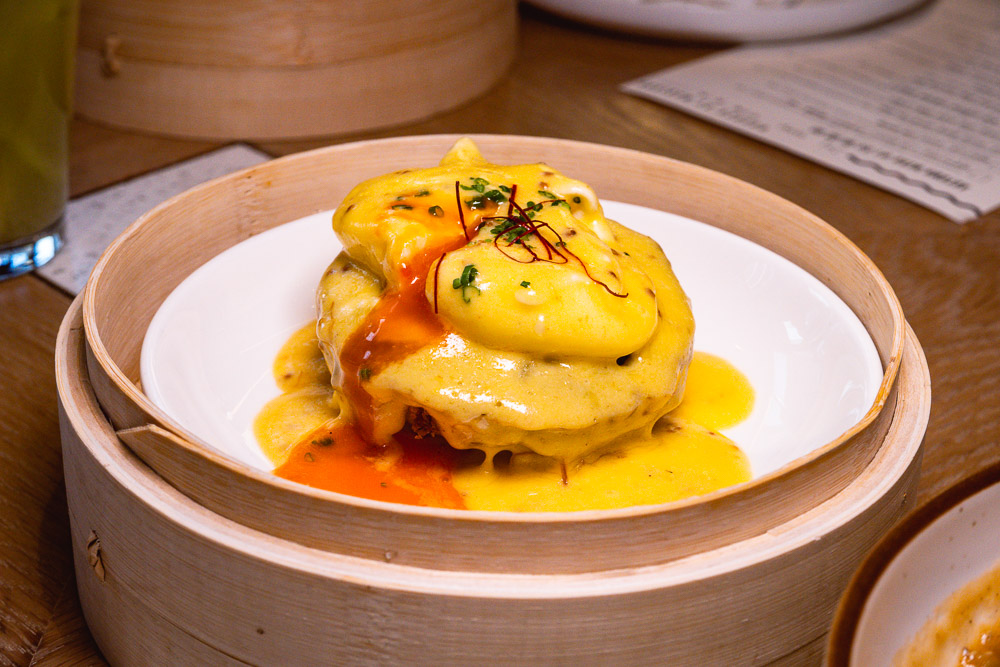 Heritage by Madison is essentially chef-about-town Austin Hu's heritage served on a plate—American, contemporary, and with Asian flourishes. Expect sharply executed vegetables, flavor-packed meats, and sauces that you'd want to bottle up and take home. Brunch is a whimsical marriage of east and west, assembling Benedicts atop a dim sum trolley. That too, tastes as good as it looks.
Read the full write up of Heritage (dinner) here.
Read the full write up of Heritage (brunch) here.
JUJU
Address: 2/F, 17 Guangdong Lu, near Zhongshan Dong Yi Lu 广东路17号外滩三号2楼, 近中山东一路
Tel: 63305005
Hours: Mon-Thu 5:30pm-1am, Fri-Sat 5:30pm-2am, Sun 5:30pm-midnight
JUJU is a Korean barbecue restaurant and ganbei joint located at Three on the Bund. It's a fun and funky Bund-side destination that does unlimited Korean BBQ, has a comparatively low average check, and is open late. Don't miss the Korean Fried Chicken, Tuna Kimchi Jigae, and of course, the barbecue. Go on Monday for all-you-can-eat for ¥198.
Read the full write up of JUJU here.
Polux
Address: No. 5, Xintiandi North Block, 181 Taicang Lu, near Huangpi Nan Lu 太仓路181弄5号新天地北里, 近黄陂南路
Tel: 63339897
Hours: Mon-Sun 10am-10pm
Polux is an all-day French cafe in Xintiandi by the legendary Paul Pairet (Mr & Mrs Bund, Ultraviolet). It's worth the hype. The high volume restaurant does a massive menu of brunch dishes and casual French bistro fare, including a fan favorite mushroom cheesy toast, beef cheek, and classics from Mr & Mrs Bund.
Read the full write up of Polux here.
Ramen Mitsuyoshi
Address: 501-6 Liyuan Lu, near Jumen Lu 丽园路501-6号, 近局门路
Tel: 13917639393
Hours: 11am-3pm, 5:30pm-9:30pm
Ramen Mitsuyoshi is a tiny ramen shop on the border of Xintiandi and what's left of Old Town. It's a small restaurant that seats customers around the open kitchen. You're here for the super rich tonkotsu broth with extra al dente noodles.
Read the full write up of Ramen Mitsuyoshi here.
Sushi Naoki
Address: 46 Yancheng Lu, near Xizang Nan Lu 盐城路46号, 近西藏南路
Tel: 63120655
Hours: Mon-Sat 6-11pm
Sushi Naoki is a high-end Japanese restaurant in Shanghai that does a nigiri-based omakase menu, served over an intimate bar counter. This is the second outpost of the popular kaiseki restaurant of the same name in Gubei. The omakase here is mostly nigiri sushi-based. It's a wide variety of sushi from the usual suspects of mackerel, yellowtail, sea urchin, tuna belly, and squid to the more obscure and equally moreish Triton's trumpet sea snail and puffer fish milt.
Read the full write up of Sushi Naoki here.
Tak Lung Siu Mei
Address: 422-423, 4/F, East Block, Raffles City Changning, 1195 Changning Lu, near Kaixuan Lu长宁路1195号, 长宁来福寺广场4楼东区422-423, 近凯旋路
Tel: 63159555
Hours: 11am-9:30pm
Tak Lung Siu Mei is a fast casual Cantonese restaurant that specializes in roasts and barbecue, located in the Raffles Changning mall. To ensure the authenticity of their Cantonese barbecue, they've employed a master chef with 20 years of roasting experience in Hong Kong. The barbecued meats ring true, and it's all affordably priced.