Sponsored by The Bund Finance Center

Since (officially) opening in December 2019, The Bund Finance Center (BFC) has developed into a vibrant hub for food, drink, lifestyle and entertainment.
You know BFC by its façade of golden bamboo-like curtains, from its weekend markets or the recent Heritage Eats Food Festival, and might have even graced the doors at the Fosun Foundation (re: Yayoi Kusama exhibition and Alter parties).
There are more than 70 eateries in this complex. Some have celebrated their one-year anniversaries, a select few have even received Michelin stars, while others are newly minted. That's a lot to navigate! So here's a short and sweet run down of what's good.
Fancy Feast: Restaurants of Michelin Fame
Following the announcement of the Michelin Guide Shanghai 2021, BFC now has two restaurants that hold Michelin stars. These are newcomer restaurant one-star Meet The Bund and two-star Da Vittorio, which moved up from one-star.
Meet The Bund 遇外滩 – One Michelin Star
3/F, BFC South Block
Tel: 63777668
Hours: 11:30am-2pm, 5:30pm-10pm
Meet The Bund or Yu Wai Tan is a high-end Chinese restaurant that specializes in Fujian cuisine. It was awarded one Michelin star in the 2021 Shanghai Guide.
Chef Chen Zhi Ping is a disciple of Fujian cookery having trained in his hometown of Quanzhou, Fujian under masters who have honed the craft for generations. He was received the Michelin Young Chef Award during this year's ceremony.
Buddha Jumps Over The Wall, a slow-simmered soup that includes costly ingredients like abalone, sea cucumber and scallops, is one of the most typical dishes from Fujian. They serve it here for ¥398. That's an individual portion.
One of their signature dishes is the Xiamen Steamed Glutinous Rice with Mud Crab. (Seasonal pricing applies, when I went it was ¥638.) This is a dish worth trying. Raw glutinous rice is wok-fried with spices, scallion, pork belly, dried squid and soya sauce for nearly an hour before it's set to steam. The result is an aromatic base for the roe-rich mud crabs, which by the way, are imported directly from Fujian.
DA VITTORIO SHANGHAI – 2 Michelin Stars
3/F, N3, BFC North Block
Tel: 63302198
Hours: 12-2pm, 6-10pm
DA VITTORIO SHANGHAI is a restaurant serving luxe Italian fine dining, helmed by chef Stefano Bacchelli. The restaurant was awarded two Michelin stars in this year's Guide, up one star from the previous year. The original in Bergamo, Italy opened in 1966 and holds three stars.
The signature is paccheri pasta (¥198), served tableside in a house tomato sauce with parmesan and olive oil. Another signature is the Flower Pot (¥198), a dessert of camomille panna cotta, biscuit and peach foam.
There are other restaurants here that also garner Michelin fame via their celebrated sister outlets.
Amazing Chinese Cuisine 菁禧荟
S401, 4/F, BFC South Block
Tel: 62677177
Hours: 11am-10pm
Amazing Chinese Cuisine's Changning location received its first star in the 2018 Michelin Guide and has held onto it for four consecutive years. The BFC location of Amazing Chinese Cuisine serves the same high-end Chaozhou cuisine, ranging from classics to the creative, including Chaozhou-style marinated raw mantis shrimps and crispy sea cucumber.
While this outpost might not carry the same weight as the Changing location, it probably comes close to the same quality and precision. All you're missing is the villa locale.
Xin Rong Ji 新荣记
3/F, N3, BFC North Block
Tel: 63037977
Hours: 11:30am-2pm, 5:30pm-10pm
BFC also has Xin Rong Ji. There are currently four locations of this high-end Taizhou and Cantonese restaurant, the Nanyang Lu branch holding the highest standing with two Michelin stars, followed by the Nanjing Xi Lu branch with one star.
While this location has not gained the acknowledgment of the Michelin Guide, it's still run by the same rhythm and meter as its counterparts.The restaurant also boasts sweeping views of the Pudong skyline.
Signature dishes include the deep-fried hairtail (¥179/small portion), braised silver pomfret with sticky rice cake (¥598) and braised sea anemone with black truffle, aged duck and glass noodle (¥228), the latter of which I could eat for days on end.
---
Gold Standard Restaurants
Of course, fancy feasting might not cater to your everyday needs. Here are some other more affordable restaurants and cafes.
Heritage by Madison
N1, 107, BFC North Block
Tel: 63129089
Hours: 10am-10pm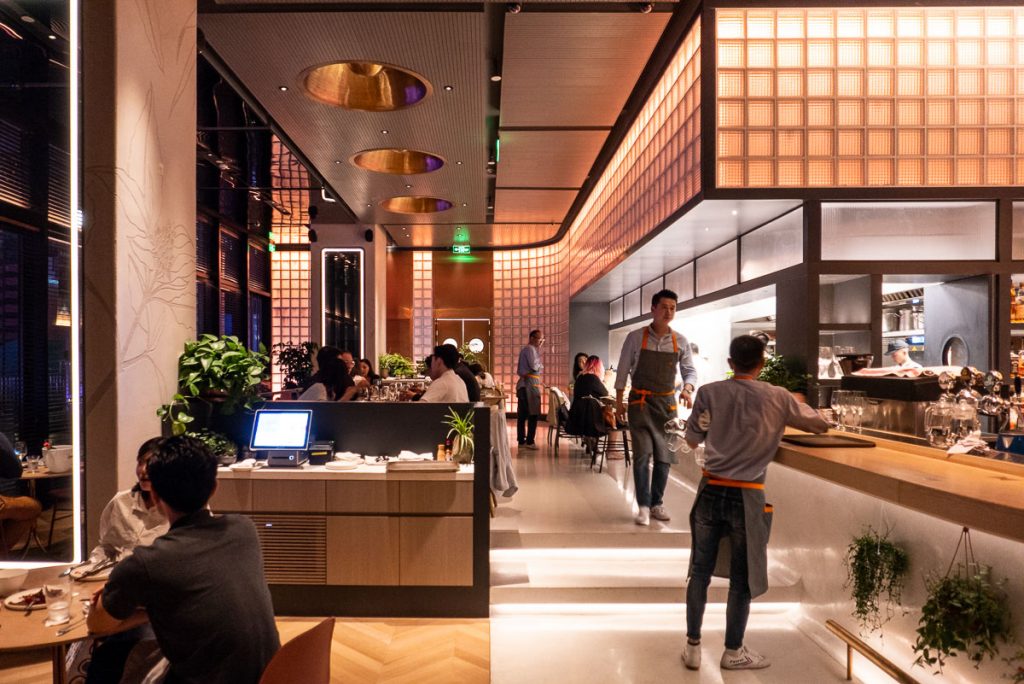 Heritage by Madison recently celebrated its one-year anniversary. It also carries the weight of late chef Austin Hu's legacy. I've raved about Heritage ever since it opened.
This kind of East-meets-West fusion caters to the glutton in me. Be it the multiple iterations of brunch, the one-two-punch dinners I've lost count of, or the belt-busting burgers, Heritage will always have a place close to my heart.
La Parisienne 巴黎蜜语
115, 1/F, BFC South Block
Tel: 63350825
Hours: 8am-10pm
For something grab and go, there's La Parisienne. This is a small French bakery and deli with roots in Pudong.
The counters are lined with rows of fresh breads, sandwiches and pastries while the kitchen churns out salads and breakfast sets. Good for stopping in if you're working in the area or to get fresh bread from.
Pilipala 傣烧烧
B234, BFC North Block
Tel: 13611693564
Hours: 10:30am-10pm
Pilipala is a Yunnan restaurant dedicated to the cuisine of the Dai minority peoples. It's cheap and cheerful here—dishes are ¥20-78.
Signature dishes include the roasted fish with lemongrass (¥58/tilapia or ¥68/seabass), fried potatoes (¥25), grilled goat cheese with rose jam (¥36), and shredded chicken breast salad with lime and fresh chilies.
---
Halloween Party @ Sky Garden
Halloween is around the corner and if you don't have plans yet, BFC is throwing a party on their Sky Garden, a slick rooftop terrace with stellar views.
The Halloween party runs for two nights, October 30 and 31. Each entry ticket includes one selected cocktail or soft drink, one snack food, and complimentary face make-up. DJs for music entertainment.
Club Creepy Halloween Party
Oct 30 & 31, Fri & Sat, 6pm-10pm
BFC South Block – 5F Rooftop
¥90 early-bird tickets, ¥120 at the door
---
The Bund Finance Center (BFC)
Address: 600 Zhongshan Dong Er Lu, near Fengjing Lu BFC外滩金融中心, 中山东二路600号, 近枫泾路