Sponsored by Colca We Room
Crowd favorite Peruvian restaurant Colca opened a second location at North Bund earlier this year. They also opened Colca We Room, a multi-functional space for private events and catering just across from the restaurant.
About Colca We Room
Colca We Room is located at Sinar Mas Plaza, a new mall opposite the W Shanghai hotel. While the restaurant has an expansive dining room and plenty of outdoor seating, Colca We Room is a large hall with high ceilings and flexible layout, and is well equipped for private, corporate and commercial events.
Their capacity for events spans birthdays, networking events, buffet dinners, gala dinners, baby showers, wedding receptions, team building, and even bingo.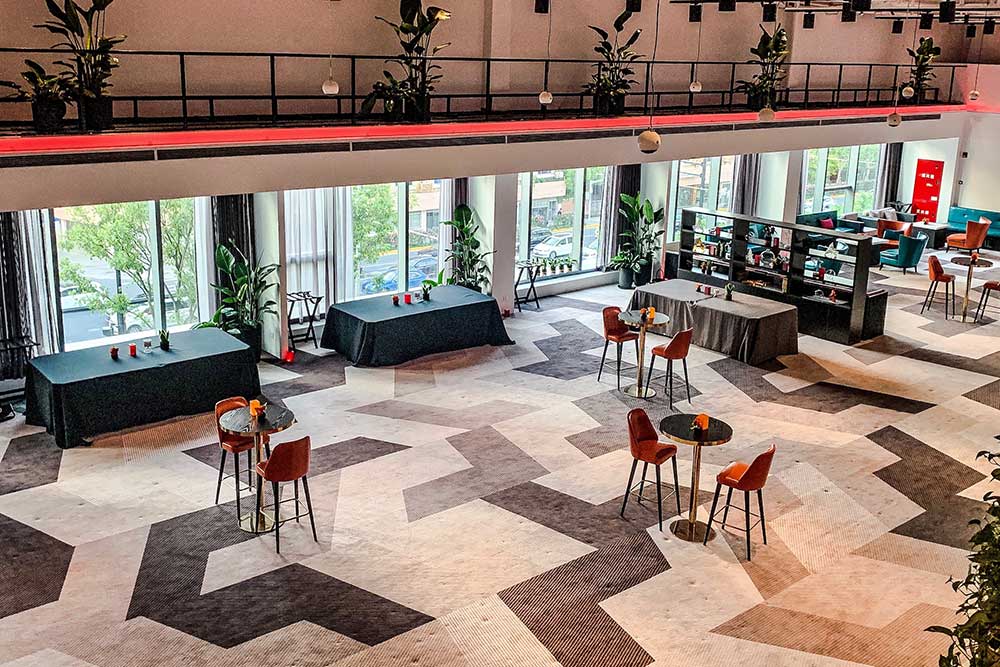 The long room has six open chambers that can also accommodate additional seating or product displays. There are two additional rooms, one with glass windows that could be used for conferences and meetings and another with a closed door for more privacy. It's a neutral, flexible space.
We Room also has a stage, projector, sound system, microphones, and basic lighting set up. For music entertainment, they are also able to provide DJs, live bands and musicians.
Details – Colca We Room
Maximum capacity standing: 200 pax
Maximum capacity seated: 150 pax
Audio Visual: Stage, sound system, projector, microphones
Layout: Round and/or long tables, buffet, conference/presentation, markets
Food & Drink Packages
Food and drink catering available through Colca, details below.
However, if you'd like to have outside catering, that's perfectly doable as well.
Finger Food & Drinks – ¥150 to ¥200
Two drinks and pass around finger foods
*Standing event good for farewell parties, birthdays, company events, seminars
Buffet – ¥300 to ¥400
Free-flow drinks and buffet station.
Food: Cold starters, Josper-fired meat station, seafood, rice, side dishes, dessert
*Sit down party, free seating, buffet station for food and drinks
Individual Plating Set Menu – From ¥200
1 Selected drink, 3-course menu
*Sit down dinner, round or long tables, service to the table
Day Rates (Just The Space)
¥10,000 – 8 Hours
¥6,000 – 4 Hours
Tailored events available upon request.
Full food & drink menus available on the inquiry page.
---
Colca We Room
Address: Sinar Mas Plaza, 3/F, 588 Dongchangzhi Lu, near Xinjian Lu 东长治路588号白玉兰广场3楼, 近新建路
Tel: 65933666
Hours: 11:30am-10pm