Three new openings in Shanghai. Slavic restaurant and bar Borsh & Kompot, Cages opens a second location at One East mall near West Bund, and O'Mills has another outpost in Xingfu Lu.
---
Borsh & Kompot
Address: 1411 Yuyuan Lu, near Dingxi Lu 愚园路1411号, 近定西路
Tel: 18930659944
Hours: 11am-midnight
Borsh & Kompot is a casual Slavic restaurant and bar on Yuyuan Lu. It's a cozy space that does home-style Russian and Slavic food, kompot drinks, and house-infused vodkas.
The name represents an important food and drink in Slavic cuisine. Borsh or borscht is the famed beetroot vegetable soup served with sour cream, and kompot is a fruity, non-alcoholic beverage. Founders and close friends Jenya Boyar and Xenia Sidorenko started their Slavic food affair as most people do, through the joys of feeding others. They've partnered up with Priscilla Young, co-founder of Brut.
It's a small restaurant and bar with a café-like vibe. During peak hours, it's a bustling little space that's intimate and friendly, like a mom-and-pop neighborhood diner.
The food is Slavic, mostly Russian and Ukrainian after the founders' heritage and expertise. It's homey, comforting, and easily enjoyable, and more than just borscht.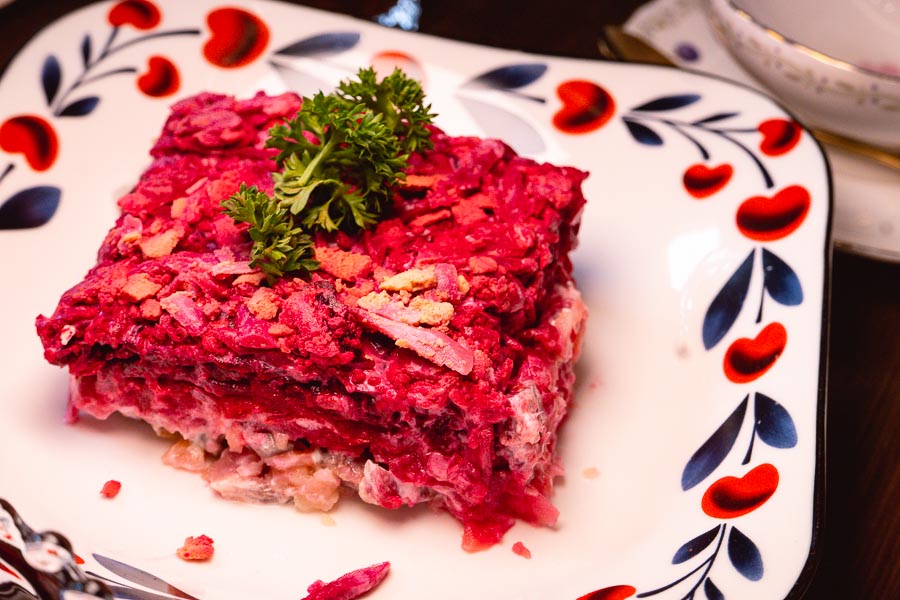 In addition to the teas and kompots, there's Georgian wines and enough vodka to make any Slavic uncle proud. In addition to entry level and premium vodkas, there are half-a-dozen house-infused vodkas with more on the way. The infused vodkas are a specialty, created by Jun Wu, Brut's other co-founder.
Most interesting was the horseradish vodka (¥35/shot, ¥175/carafe).
Borsh & Kompot is a homey café bar for those who want to entertain a bit of nostalgia. Either way, it's worth exploring. The food is tasty, the vodkas are (dangerously) enjoyable, and service is very accommodating. It's also dog-friendly.
---
Cages Huangpu
Address: B1, One East Mall, 788 Zhongshan Nan Yi Lu, near Mengzi Lu中山南一路788号博荟广场B1楼, 近蒙自路
Tel: 63152316
Hours: 10am-10pm
Cages Huangpu is an all-in-one sports bar and entertainment destination near West Bund. This is the second location of the Cages brand; it's a lot smaller and compact, but still oodles of fun.
Located in newly opened One East mall, this location of Cages is a lot smaller than the Jing'an one. It has 384 seats spread across multiple dining areas and two VIP rooms. There's only one batting cage, but there's also ping pong, hoops, punching bags, Frisbee, and more, all gamified, of course.
To play, you have to download the Cages App and buy coins. The more coins you buy, the bigger the discount. It ranges from ¥5-20 per game, the batting cage is ¥20 per game. If you're constantly playing, expect to spend upwards of ¥100 per hour. The games are super fun. I'd probably spend all my time playing ping pong.
There is also a dedicated kid's play area, toddler-sized tables, and kid-friendly/kid-sized games.
On the menu are sports bar requisites (elevated, obviously) and American fare. It's similar to what Cages Jing'an has, but features more new dishes, ones that'll be implemented at the flagship location shortly. Photos for reference below from the buffet.
It's a fun destination for those who live in the area, even more so for companies that want to host team buildings and events. However, if you live closer to the Jing'an location like me, you'll end up going to the flagship rather than to West Bund.
---
O'Mills Light Brunch & Bistro
Address: Xingfu Li, 381 Panyu Lu, near Xingfu Lu 番禺路381号幸福里, 近幸福路
Tel: 62379299
Hours: 8:30am-10pm
Bakery and restaurant O'Mills expands to Xingfu Li, making it the brand's third location in Shanghai.
It's a small space. There are two booth seats in the back, a brighter main dining area, and outdoor seating. It's dog-friendly outside.
O'Mills Light Brunch and Bistro, as the name suggests, is a lite version of O'Mills. No fresh baked breads and loaves here, but there are cakes by the slice. Food wise, it's a selection of healthy bowls, salads, and sandwiches. There's also a dedicated plant-based section on the menu with tempeh burgers and tempeh salads.
O'Mills has always been consistent with their fresh, healthy options, and it's no different at this new location. The Xingfu Li area is looking up! There have been quite a few new additions to the neighborhood, and O'Mills, in addition to new-ish neighbors Papito Pancakes and Alimentari Piccolo, are certainly important tenants that will liven up the area.