The purveyor of Neapolitan pizzas Bottega is now open in Shanghai! More than an Italian restaurant, this hip new spot is now pumpin' out Italian comfort bites at KWAH on Xiangyang Bei Lu.
This highly anticipated opening was well worth the wait. Fantastic Neapolitan style pizzas and awesome vibes. The pizza gods have heard your call and have bestowed upon Shanghai the Neapolitan pizza place to rule them all.​
About Bottega Shanghai
Bottega was founded in 2014 with one mission: to bring Neapolitan pizzas to China.
It opened its first location in Sanlitun Beijing, followed by a second in 2017, also in Beijing. Opened late 2022, Bottega Shanghai is the brand's first location outside its home city.
Bottega has been highly lauded since its conception and has won the recognition of the most prestigious order of pizza professionals. The brand claims the title of being "Asia's most awarded pizzeria," bestowed the honor of Best Pizzeria in 2021 Asia Pacific by 50TopPizza, the world's premier guide to the best pizzerias in the world.
It is also the only pizzeria in China and one of 15 globally to receive a three-slice rating in 2022 from Gambero Rosso, a global authority on Italian food and wine.
According to the powers that be, Bottega is as good as it is in Italy. And they do this by using high quality imported products, which includes everything from the 00 flour to the Italian-made three-ton pizza oven.
To ensure the consistency of their product, some of the key team members have even moved to Shanghai, and they've relocated their eight-year veteran chef to ensure that pizzas are done to standard.
The Shanghai space is majorly cool.
The dining room is stylish with high ceilings outfitted with disco balls, eye-catching wall art, and striking photography inspired by 1950s Italian advertisements. There's a glittering long bar, a wine cellar, a DJ booth, and plenty of seating for large groups.
It also has outdoor seating, and the venue is pet-friendly in and out.
The Food
Neapolitan-Style Pizzas, Deep-Fried Snacks, Pastas & More
Bottega specializes in Neapolitan-style pizzas. According to co-founder and chef Paolo Salvo, their 24-hour fermentation dough base has an astounding 80% hydration. That's 800ml of water for every 1kg of flour! The pizzas are fired in their three-ton domed brick oven, a majestic Stefano Ferrara branded beast also known as the "Ferrari of pizza ovens."
The result is a pizza that is light and soft, thin on the base with a fluffy, char-speckled crust that's airy with a nice chew. The charred black spots are also known as "leoparding," the mark of authentic Neapolitan pizza that also adds flavor.
Bottega Shanghai currently has 19 pizzas (all 12-inch) and four calzones on the menu (including one that's deep-fried). They also have 10 pastas and risottos, and like the pizza selection, include plenty of options from meaty to vegetarian.
In addition, they have an array addictive deep-fried bites, hearty mains, salads, and desserts. Most of the dishes are the same as in Beijing, however, there are a few Shanghai specials, including the beef carpaccio, Polpette al Ragu, Montanara, and Salsiccia e Friarielli, all of which are must-orders.
Pizzas & Calzones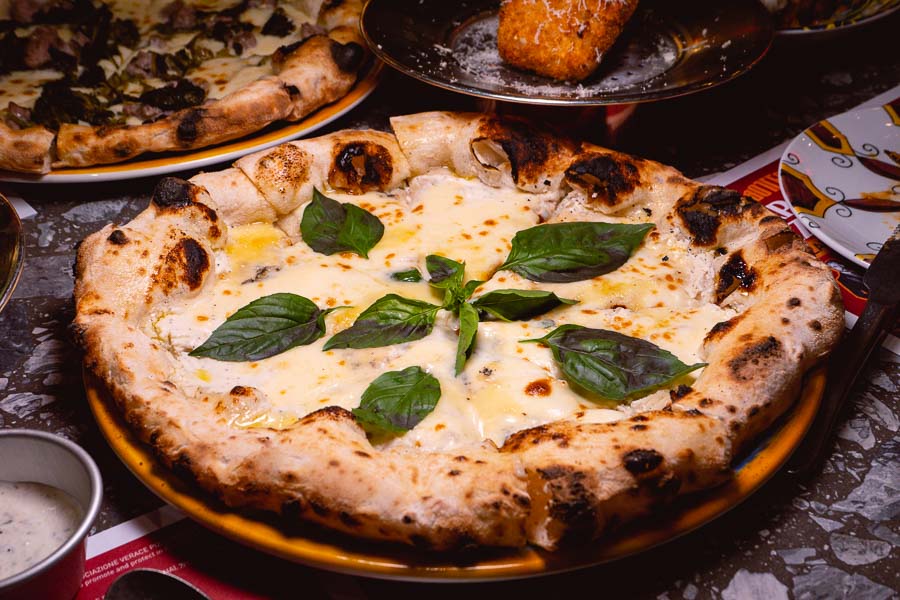 Deep-Fried Appetizers and Starters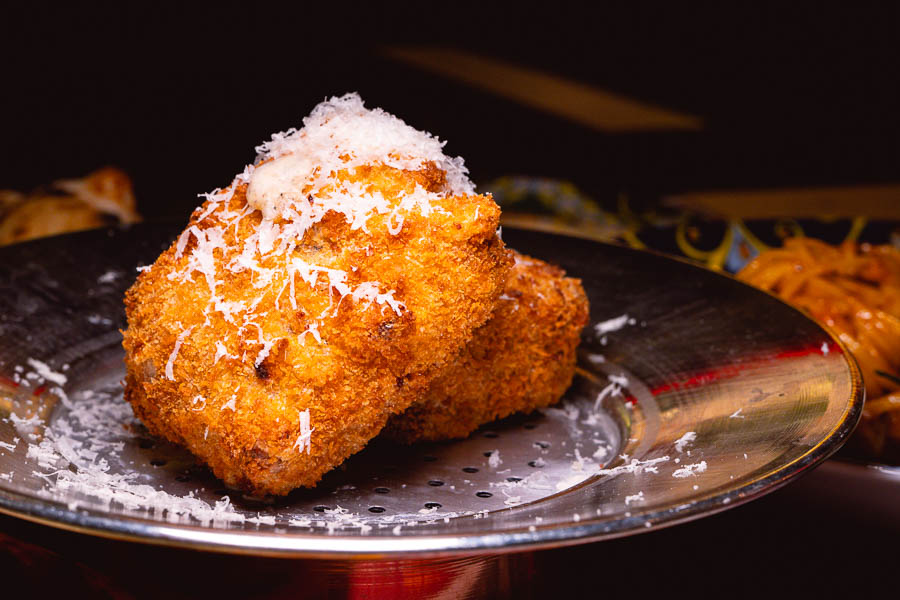 Pastas & Hearty Mains
Dessert
For dessert, it's all classic Italian sweets, most of them chocolaty or loaded with Nutella.
For drinks, there's wine, which ranges from affordable (¥260/bottle) to splurge (upwards of ¥900/bottle); by the glass is ¥60.
Cocktails are currently Italian classics, starting from ¥60, and beer from ¥30. More drinks will be added after soft opening.
In Summary: I Love It
19 different pizzas is a lot of pizza, but I pledge to try every single one by the year's end. That's how much I love Bottega.
The food and drink are extremely well priced, and they've managed to create a fantastic atmosphere that's suitable for any demographic. On a busy Friday evening there were families, couples, and a large group of 14. It was packed to the gills. The DJ started his set and a people started jiving by the bar. The pizza party goes late too—kitchen closes at 11pm.
Great pizzas, great vibes.
---
Nomfluence Readers Deals
Become a BFB Bottega Member to get some Nomfluence Readers Deals! Deal is valid until February 19.
Complimentary Aperol Spritz* or Americano coffee.
*Minimum purchase of ¥100 per person.
Scan the QR Code below to Become a BFB Bottega Member to claim your deal voucher.
Bottega is currently in soft opening and will extend lunch hours after Chinese New Year. Bottega will also be open everyday throughout CNY!
---
Bottega Shanghai
Address: 101B, KWAH, 108 Xiangyang Bei Lu, near Huaihai Zhong Lu 襄阳北路108号嘉华中心1楼101B, 近淮海中路
Tel: 62621223
Hours: Daily, 5pm-midnight