​Sponsored by The Cheesecake Factory

Oh that's right, folks. The Cheesecake Factory is opening in downtown Shanghai at HKRI Taikoo Hui on April 13. Time to put on your eating pants and indulge in some true blue 'Murican food! More than 20 kinds of cheesecakes! Whut! Details below.
Located on the third floor of Shanghai HKRI Taikoo Hui, this marks the world-famous restaurant chain's second Shanghai location. It comes a full five years since first opening at the Shanghai Disneytown.
About The Cheesecake Factory
The Cheesecake Factory is one of those beloved chains that command a fanfare frenzy that spans across continents. From the Mall of America to the city oasis of Saudi Arabia, from the heart of Mexico City to the shores of Shanghai, The Cheesecake Factory's 200-plus locations worldwide beckon devotees to its doors. Shanghai chefs swear by their cheesecake and diners lose their minds just talking about them. The hype is real. The cheesecakes are legendary.
For those unfamiliar with The Cheesecake Factory and its menu, fair warning: it is a tome of more than 200 dishes, including the 20-plus varieties of cheesecake. If you order like me—ahem, "one of everything"—you'll need an army to back you up. Not only is the selection diverse, but the portions are enormous. Gargantuan. Titanic. Bring friends, lots of them, and apologize to your waistline later.
The Food: What To Order
So what should you eat when you go? Here are some must-orders:
The Cheesecakes
Let's get real: some of you are only here for the cheesecake. Those who endeavor to consume a slice of cheesecake on your own… power to you! There'd be no judgment here. The Cheesecake Factory has more than 20 kinds of cheesecakes for you to luxuriate in, plus other specialty desserts.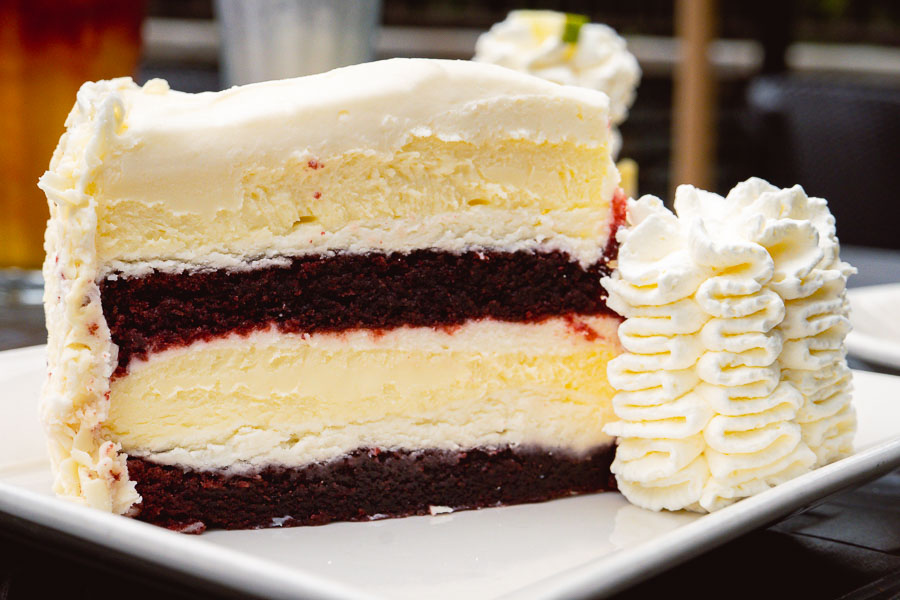 The Cheesecake Factory also has over a dozen specialty cocktails from ¥68, draft and bottle beer from ¥38, wines by the glass from ¥69 and bottles from ¥288.
In Summary: Exceeds Expectations
The Cheesecake Factory exceeded my expectations. It's really quite good—I understand why some people gush about it at every opportunity. It's an excellent dose of classic American calorific comfort food.
Favorites: Cheeseburger Spring Rolls, Luau Salad, Shrimp and Chicken Gumbo, Factory Burrito Grande, Key Lime Cheesecake.
The menu will be staying the same for the new opening. The HKRI Taikoo Hui location will also have a weekday lunch menu.
Mark your calendars: opens April 13.
Note: Cheesecakes and some dishes will be available via delivery in May/June.
---
The Cheesecake Factory @ HKRI Taikoo Hui
Address: L366-370, 3/F, HKRI Taikoo Hui, 789 Nanjing Xi Lu, 南京西路789号兴业太古汇3楼L366-370, 近石门一路
Tel: 62890078
Hours: Mon-Fri 11am-10pm, Sat-Sun 10am-10pm