Two new cocktail bars to check out. Bund-side rooftop bar The Upper Room to serve a revolving menu of cocktails by the J.Boroski team, and Dentree, a sustainable project with drinks by Hope & Sesame.
---
The Upper Room
Address:7/F, 190 Beijing Dong Lu, near Sichuan Zhong Lu 北京东路190号7楼, 四川中路
Tel: 13248388738
Hours: Sun-Thu, 7pm-midnight; Fri-Sat, 7pm-2am
The Upper Room is a slick Bund-side destination with two concepts—an indoor cocktail bar serving a revolving menu inspired by "great travels," and a rooftop terrace bar shaking up tropical rum-based drinks. Note: the latter is not a tiki bar.
It's the latest from the Shanghai Oud group (J. Boroski, MOST Izakaya, Bistro 11), and the drinks program is curated by none other than group bartender Mark Lloyd. Shanghai Oud also has a western restaurant within the same building, The Living Room, which serves a western menu for lunch, brunch, and dinner.
The Upper Room is located on the top floor of Shamei Mansion, a historical building on Beijing Dong Lu that was largely disused the last couple of decades. The building has since been remodeled to accommodate a hotel (ZHotel), restaurants, bars, and an exhibition space. The first floor is home to Yunnan bistro Dian Fu, the company that brought Shanghai Oud into this project, which is why The Upper Room has dedicated the first revolving menu of cocktails and bites to Yunnan.
The "great travels" menu at the inside bar will change every three months. Following Yunnan will be Spain in February, and Colombia after that. The bar bites will also mirror the drinks in theme.
All the signature cocktails are ¥120 each. Below are drinks from the Yunnan menu.
Passion Fruit Chili Daiquiri – Passion fruit infused light rum with lime and chilies. This packs a hell of a punch. It is quite spicy and will wake you up. Still, it is balanced, with crisp citrus notes of passion fruit and lime coming through.
Yunnantini – Fermented bamboo infused gin, dry vermouth. A dry martini laced with the distinctive aroma of the fermented bamboo. A must-try for martini enthusiasts.
There's also a Bloody Mary inspired drink, Da Jiu Jia with pickled quail eggs that also sounds delicious.
These are from the outdoor rum bar:
Coffee Estate Punch – Cascara infused dark rum, plum, soda, nutmeg. A strong kick of coffee with a smooth finish.
1% Probability – Mushroom infused dark rum, apple, and fig leaves. Velvety and earthy with a hint of umami.
The Gem – A split base cocktail of rum and cognac with pineapple juice and angostura bitters, dusted with cinnamon powder.
As for the food, it's simple bar snacks.
Truffle Chips (¥68) – Highly addictive housemade truffle chips with truffle dipping sauce.
Yunnan Milk Fan (¥48) with rose dipping sauce – Milk fan is a type of cheese from Yunnan, traditionally eaten with sweet rose jam. Served here with rice crackers.
Yunnan-Style Fried Chicken (¥88) – Easy-going fried chicken with served with a spiced dip.
Yunnan Rice Noodles with Beef (¥88) – A comforting bowl of noodles topped off with thinly sliced beef and chili crisp.
The Upper Room has become a destination for Bund-side drinks with a mixed crowd of cocktail enthusiasts delving deep into the menu and selfie snappers looking to get a rooftop photo op. If you're looking to do business drinks, either go earlier or later. Reservations recommended.
---
Dentree
Address: Anken Air, 465 Zhenning Lu, near Xinzha Lu 镇宁路465弄, 近新闸路
Tel: 18964993024
Hours: Daily, 6pm-late (soft opening)
Dentree is a sustainable cocktail bar driven by a superstar team. It has a drinks program by award winning team Hope & Sesame, is powered by Rémy Cointreau Group, is operated by MUSE Group with bar bites from group chef Conrad, and has interiors done by OHA Design. Pow! And the investment shows.
It's a gorgeous bar that aims to be eco-friendly and carbon-neutral with minimal waste while also serving tasty cocktails. Dentree will also host seminars and programs on sustainability.
It's located in Anken Air, in the former Egg 2 space. Later on, it'll also be a café by day, when full hours extend. It also has an outdoor seating area.
As for the sustainability angle, it's all itemized in the menu. It lists their ambitions of reducing use of plastics, working with conscientious and like-minded suppliers, and to minimize their carbon footprint by installing solar panels on the rooftop garden, where they'll also grow herbs for the drink and food. The accountability of these mission statements falls to their "head of sustainability," and they promise to produce an annual report of their progress.
Cocktails are courtesy of Hope & Sesame, a bar and consultancy group (Spirits Architects) with roots in Guangzhou and Shenzhen. Hope & Sesame is #18 on the Asia's 50 Best Bars list. There are just over a dozen signature cocktails, half of them in the style of highballs, priced from ¥98 to ¥128. The drinks are not only pretty, but are also very delicious.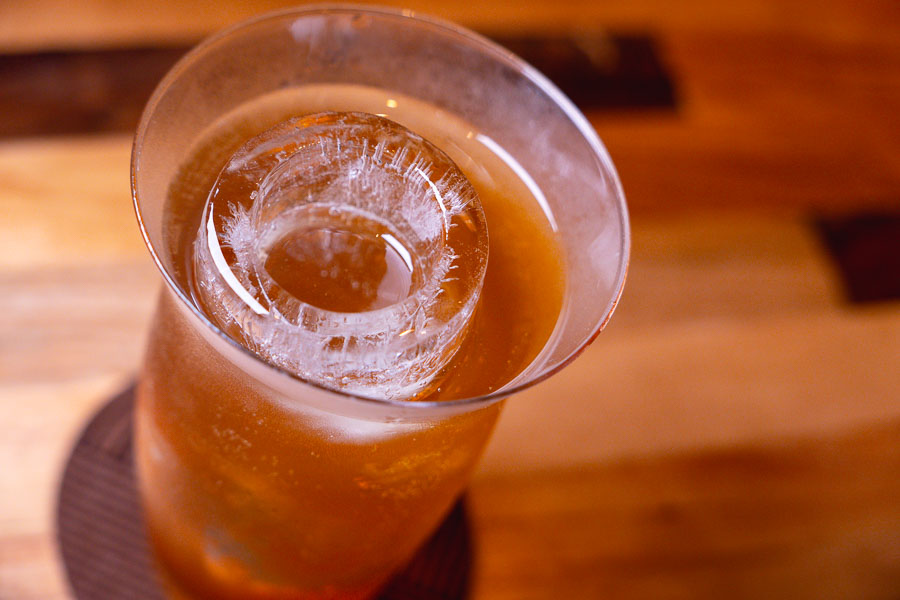 As for the food, it's a bar bites menu of odd ends that would otherwise be discarded or left unused, as well as insects. Yep. Bugs! Many believe that insects will be the food of the future and will be a solution to the impending food crisis. Makes sense that a sustainable bar would want those on the menu. It's only a matter of time until we see larvae the same way we do lobster.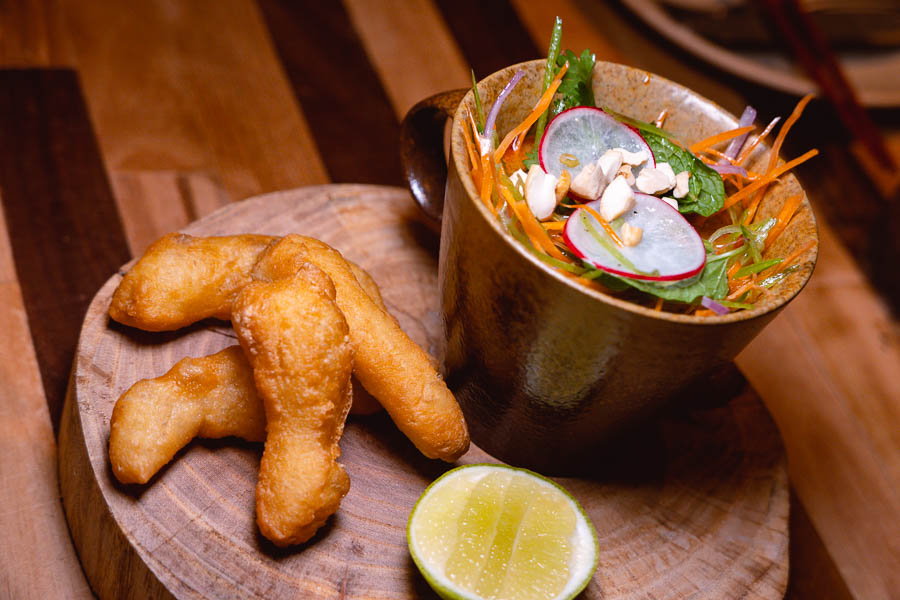 ​Currently in soft opening, Dentree is very quiet, so there's not much of a vibe to tell about. If anything, it's intimate. The cocktails are very good, and I implore you to check it out.