​Sponsored by LatinLand

LatinLand is a new restaurant, lounge and club in Jing'an. Get this—heavy hitting Latin food, namely, Colombian food, coming your way!
To celebrate their opening, LatinLand is giving Nomfluence readers 20% off your bill—food and drink! Keep reading.
The Concept: LatinLand Restaurant-Lounge-Club
You might have heard of LatinLand. Before the restaurant/lounge/club opened, the name was (and still is!) associated with the recurring Latin food, music and culture festival. The founders wanted to give their community a permanent destination, and have teamed up with The Bourbon Group (Shanghai Brew House, Bourbon Cookhouse, etc.) to make it happen.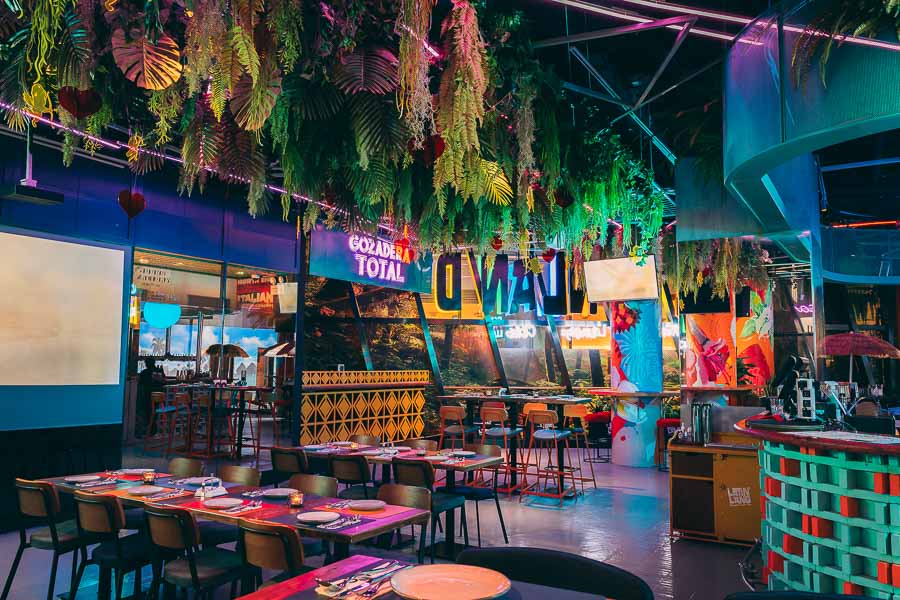 LatinLand Restaurant-Lounge-Club resides on the second floor of Wheelock Square, above Shanghai Brew House, Jing'an. It's a restaurant during the day, lounge as the evening comes, and then turns into a club (playing mainly Latin music) that goes into the early hours of the morning.
The powers that be have invested heavily in the space, namely on the sound system and some top-of-the-line projectors at the entrance. Those projectors are actually really cool—they emulate the incoming ocean tide.
The Food: Colombian Specialties & Grill
The food is Latin, but mostly Colombian. It's heavy stuff, but oh so good. Colombian-native and LatinLand head chef Hugo Sazón loads up meat platters with house made chorizo and blood sausage, alongside festive plates of beef, beans, and yuca fries.
Supplementing those dishes is a selection from the grill—steaks, sausages, seafood and vegetables. And while they do have tacos on the menu, the Colombian specialties like the Bandeja Paisa, Picada, patacones, and Colombian empanadas are the things to eat. Other dishes from Latin America like ceviche, quesadillas, and seafood rice also pepper the menu. Bring friends, and an appetite.
Here are the highlights: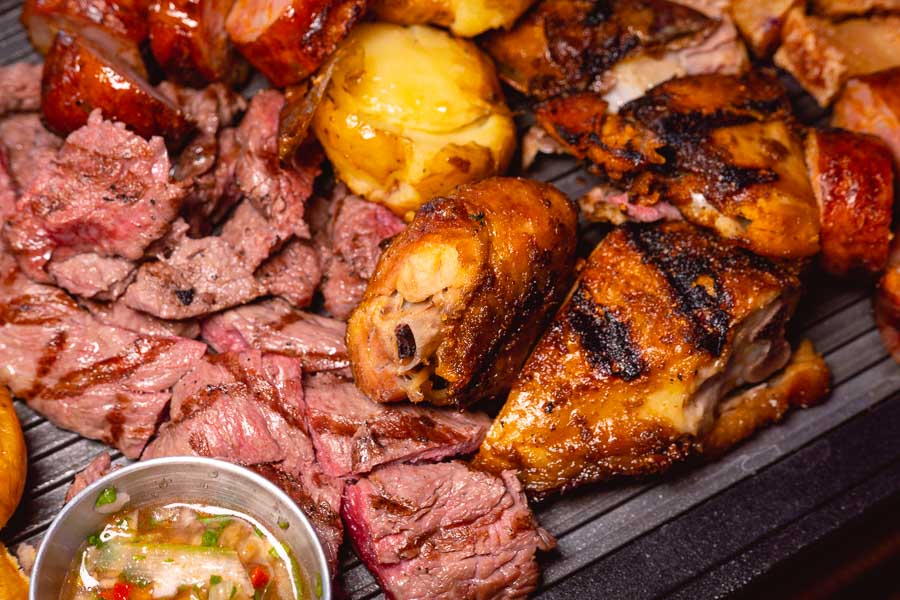 As for the cocktails, they're as expected—fun, fruity, and colorful—20 signature cocktails by bartender Artem Zuev. Most of the drinks are rum-based, but they have a bunch with whisky and gin as well; and they do lean on the sweet side. Cocktails are ¥68-88, reasonably priced.
Overseeing the operation is group chef Hugo Rodriguez. He's working on some really cool things for LatinLand, namely a list of frozen products and ready-to-eat foods. Those amazing empanadas? You'll be able to buy them to stock your fridge and fry them up whenever.For more updates on this, follow them on WeChat!
Brunch/lunch hours will start after their grand opening, June 5.
Favorite dishes: Patacones, empanadas, Bandeja Paisa, chorizo, seafood rice.
Nomfluence Readers Deals
Get 20% off your bill at LatinLand when you book via the link below. Valid until June 30, 2021.
Deal is not applicable in conjunction with other promotions; happy hours, lunch sets, etc.
---
LatinLand Restaurant Lounge Club
Address: 2/F, Wheelock Square, 1717 Nanjing Xi Lu, near Huashan Lu 南京西路1717号2楼, 近华山路
Tel: 62153076
Soft Opening Hours: Sun-Thu, 5pm-2am; Fri-Sat, 5pm-3:30am
Grand Opening is June 5, after which hours will be Sun-Thu, 11am-2am; Fri-Sat 11am-4am.
Last order for food is 10:30pm; late night menu available until 1am.