The Way of The Dragon is a massive Sichuan hotpot restaurant on the second floor of the House of Roosevelt on the Bund. Extravagant doesn't even begin to describe its excessiveness.
Elaborate interiors, performances on the hour, water features, and unnecessarily complex plating await intrepid hotpot fanatics.
If you're looking to enthrall overseas guests with the crazed splendor of Shanghai's/China's fascination with entertainment dining, this crazy extra hotpot on the Bund is for you! It would also be the place to impress "face" upon business clients—deals done and sealed with a round of baijiu in one of the restaurant's many private rooms.
A Look Inside: The Way of The Dragon
The Way of The Dragon (小龙翻大江火锅酒楼) is a high-end Sichuan style hotpot chain from the chili-obsessed city of Chengdu. This is their first location in Shanghai, and the interiors are in accordance with its Chengdu and Xi'an venues.
The decor is a particular style. I believe they're going for "subtle elegance".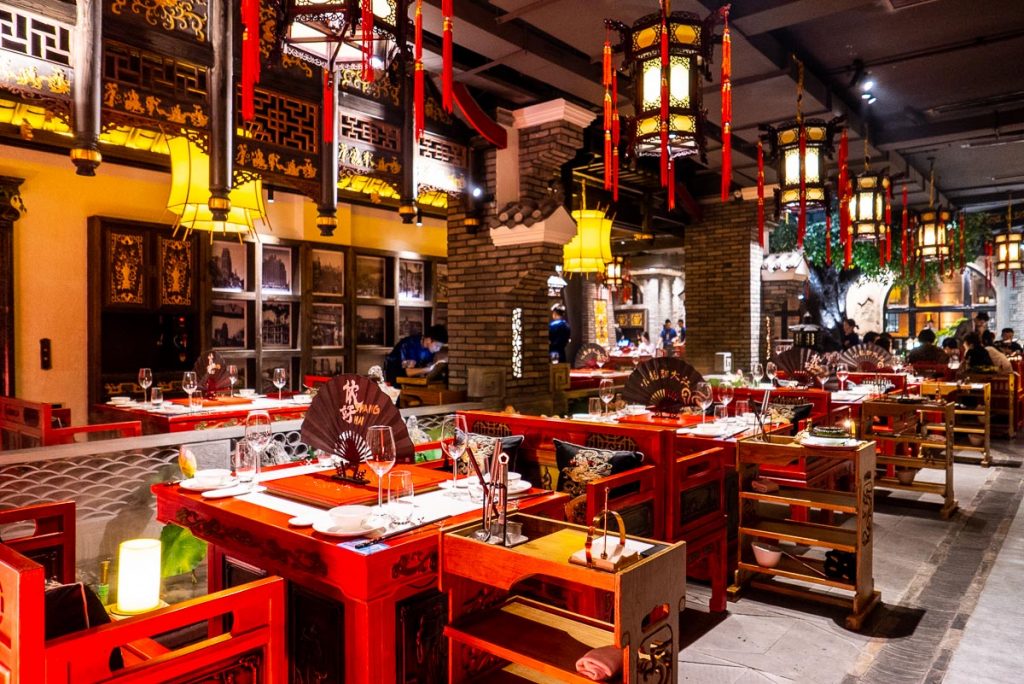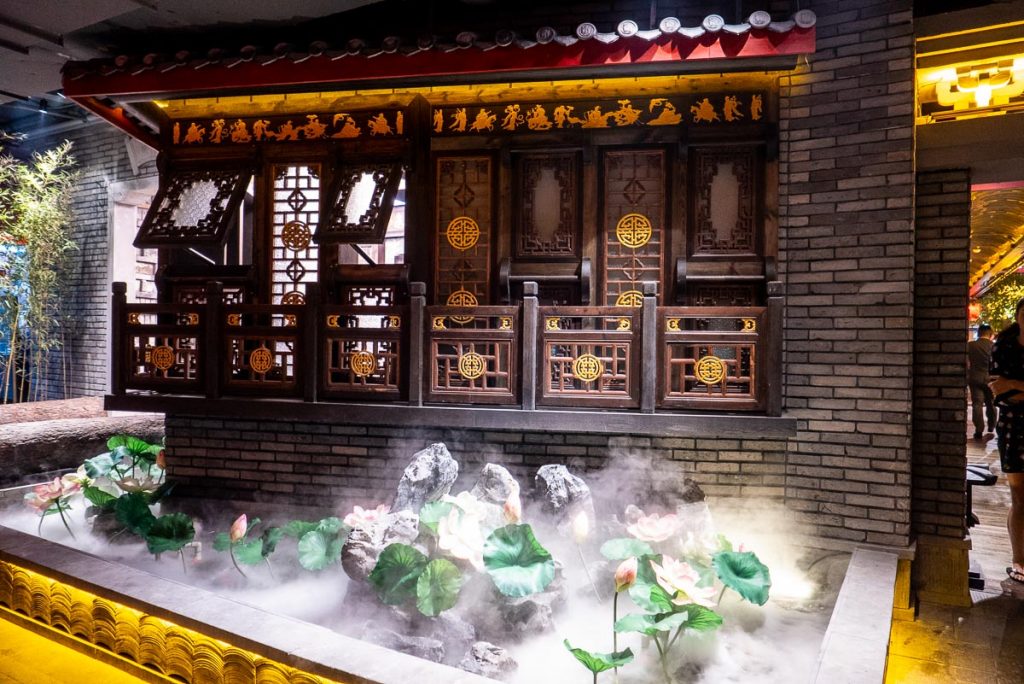 How was the food?
Their literature states their objective is to "create an international restaurant, make a long-living brand," to bring "new cultural hotpot to the world."
Riveting stuff, but the hotpot was only OK.
One gripe is that you don't get to build your own sauces, you pay extra for either sesame oil, a house soy sauce mix, and Sichuan-chili powder, each ¥12.
Don't get me wrong. I like hotpot, mostly for its convivial nature and drinkable soup bases. But after so many peppercorns and gallons of chili oil, it all tastes the same, especially after dipping into the requisite sauces.
And while I've been assured that the classic spicy soup base (¥128), one of six options, has been tempered for the local market, it'll still blaze a trail through your innards like fire-spitting chopper. No offense to the people of Sichuan or those who love a good burn—perhaps I haven't trained my body enough for this heat. Let's say the morning after was a little intense.
On the menu are usual suspects of meatballs, fishballs, sausages, thinly shaved meats, vegetables, etc. It also has a varied selection of other animal parts like goose intestines and cow stomach.
There are premium items, of course. But does it matter that the beef is wagyu? Not really. I bet the Yunnan-sourced mushrooms are fantastically earthy, but they taste more or less the same after its fiery bath.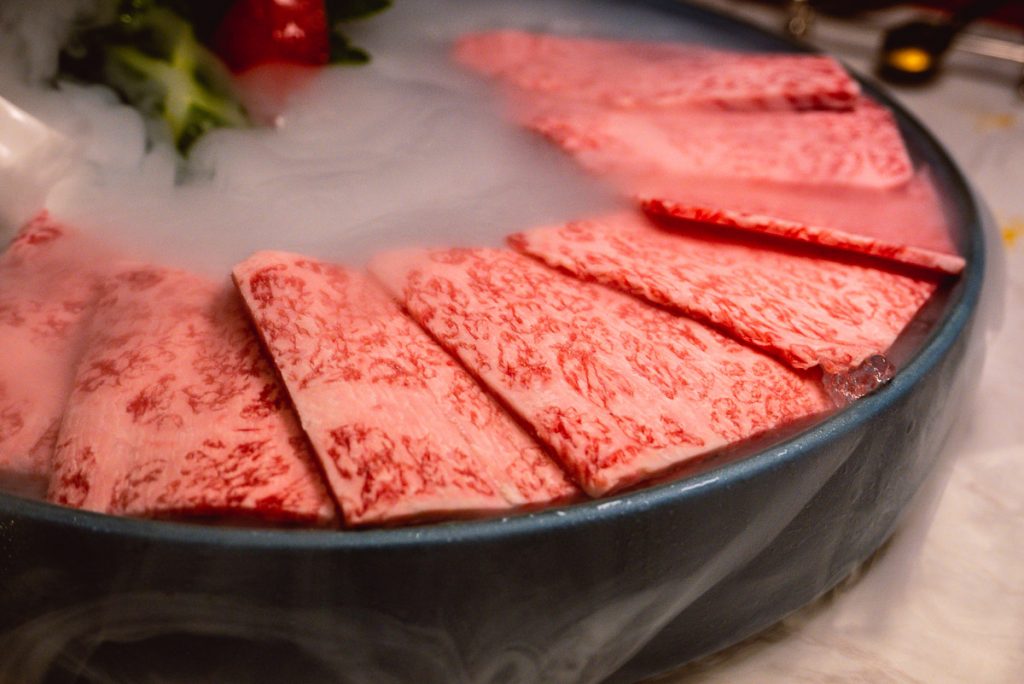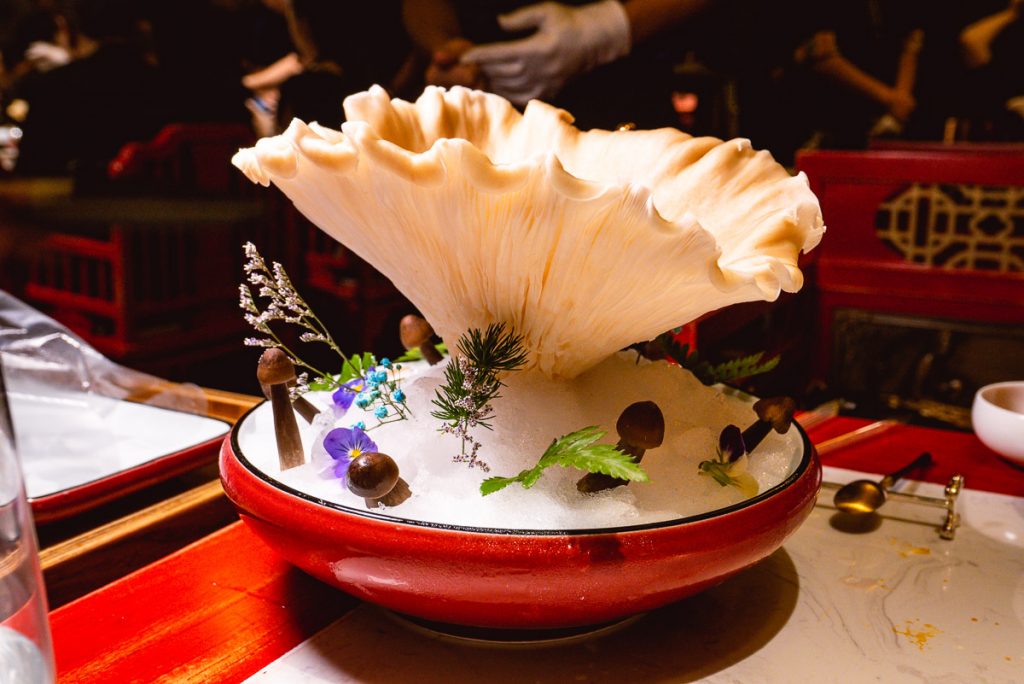 Some of the plating is such a waste.
I.e.: fishballs each served balanced upon individual roses. While others, like the fish dish below, are jarring, and would turn the stomachs of those unaccustomed to such displays.
Every table also gets a dedicated server that cooks everything.
In Summary
China loves entertainment dining. A show, some fanfare (or lots of it in this case), interactive or photo/video-friendly interiors or food/drink, costumes, etc. are all part of a wave of concepts looking to grab diners by the shoulders and shake out every last jiao possible. Often, food becomes secondary.
Is there a market for this kind of restaurant? Absolutely.
Is it for me? Nah.
The average check at The Way of The Dragon is upwards of ¥400.
---
The Way of The Dragon 小龙翻大江火锅酒楼
Address: 2/F, 27 Zhongshan Dong Yi Lu, near Beijing Dong Lu 中山东一路27号2楼, 近北京东路
Tel: 33308888
Hours: 10am-2am