A Chinese restaurant is a requisite for any hotel in China. To be specific, a contemporary Cantonese restaurant with a by-the-book menu, save for a few token regional delicacies.
Sui Tang Li, a restaurant of the aforementioned category, is in newly opened Middle House hotel on Nanjing Xi Lu, located behind Taikoo Hui mall.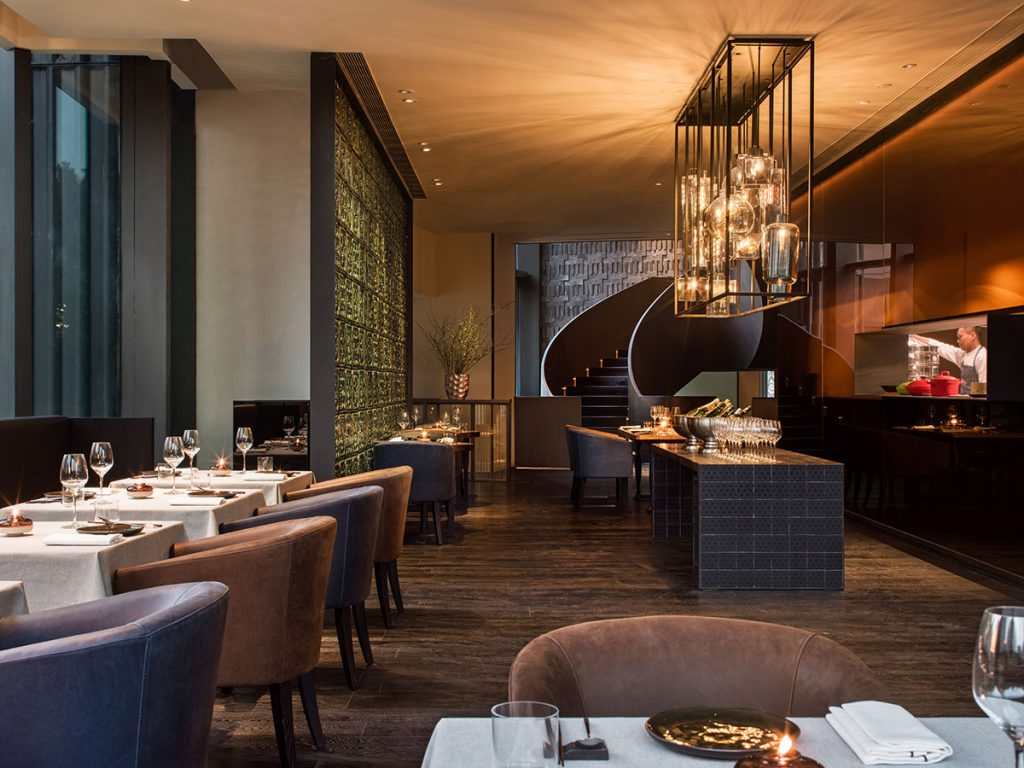 If all new Cantonese restaurants follow the same ebb and flow, what makes Sui Tang Li different?
For one, the cocktail program is ambitious as it is unique. It goes a step further with the use of Chinese ingredients (also quite common nowadays), pairing them with rarely seen combinations.
One such drink is the Tofu Colada, which is made with soft tofu, white rum, coconut, and yogurt. The taste leans towards the sour spectrum with yogurt. There's also the diced soft tofu, which gives a mouth feel of jelly teas you'd find in Southeast Asia, making it more dessert than cocktail. I didn't dislike it, but I'd say it's an acquired taste.
Other drinks play around with the usual suspects—Tie Guan Yin tea infused whisky with plum syrup, shao xing yellow wine with tequila and Yakult, huangjiu with Benedictine Dom and lavender bitters, etc.
On the food side, Sui Tang Li has Chinese Head Chef Tony Ye. He started off in dim sum, spent time in Singapore, and was previously the Sous Chef at Michelin one-star Yong Yi Ting. Before Yong Yi Ting, he was at Jin Sha, Four Seasons Hangzhou, also a highly lauded restaurant.
Lunch at Sui Tang Li

For lunch, it's largely dim sum, noodles, and a few signatures while dinner is mainly a la carte sharing-style.
I missed the Dong Po Rou, as it's only available on the dinner menu. (Dong Po Rou: soy braised pork belly that's sliced up into a pyramid.)
Iberian Ham Shallot Oil Cake (¥98) with crunchy hazelnut foie gras – One of the more contemporary dishes on the menu. I'm indifferent.
Hairy Crab Xiaolongbao (¥52) – Pretty damn good when it comes to flavor, however, the skin is a little thicker than I'd like.
Quail Egg Siu Mai (¥66) – Quail egg with runny yolk inside. Quite the feat to achieve this.
Jasmine Tea Smoked Pomfret (¥138)—favorite of the lot. The secret of this dish is in the sauce, traditionally made with shaoxing wine, soy sauce, and rock sugar (plus a handful of other spices). The fish is coated in the sauce and fried. It's crispy, sweet, juicy, and lip smacking.
Pan-Fried Foie Gras Chicken Dumplings (¥52) – Beautifully fried, crisped bottom, and tasty.
Braised Beef Short Rib, Beef Tendon, and Beef Puff (¥288) — Tender, juicy, and flavorful cubes of short rib, with a sauce that you'd want to polish off with rice. Lovely dish. The plating could use some work though.
Abalone Congee, Chicken, Mushrooms (¥78) – I didn't understand this dish, and it wasn't what I pictured congee to be. It's more like rice with sauce, which is thick but not heavy. It's not as appetizing as the rest of the dishes I had. However, the portion size is generous, and would make a good affordable lunch option.
In Summary

Sui Tang Li positions itself as a modern Chinese restaurant. Some dishes lean towards a contemporary nature, while others are deliciously executed traditional dishes with a light modern touch.
The prices are also fair.
The lunch clientele are mostly from the nearby offices, which is exactly what it should be.
Lunch is about ¥200-¥250, dinner from ¥450 per person without drinks.
Would return for dinner.
---
Sui Tang Li
Address: The Middle House Residences, 2/F, 366 Shimen Yi Lu, near Nanjing Xi Lu 石门一路366号2层, 近南京西路
Tel: 32168068
Hours: 11:30am-2:30pm, 5:30pm-10pm