Here is how you can cook up the infamously abundant Shanghai lockdown vegetable ration: Cabbage. Stuffed with seasoned beef and seared on a pan.
If you haven't already finished eating your cabbage rations, cabbage rolls is an easy, satisfying recipe that you can make with very few ingredients.
Stuffed Cabbage Rolls
I have to say you do need a little bit of patience when rolling these up, especially with the smaller leaves, and you might accidentally rip holes in the cabbage if you're not careful.
For the cabbage stuffing, I used minced beef seasoned with ssamjang (I have plenty of it and I love it), soy sauce, and garlic oil. I was very happy with the outcome, which resulted in super juicy and satisfying cabbage rolls.
What You'll Need
Ingredients:
Hard cabbage
Minced beef
Oil for frying
*I would have also added finely minced garlic but I'm running out and that's as precious as gold during lockdown.
Seasoning Sauce:
Equal parts Ssamjang, soy sauce, and garlic oil.
*You can use any sauce/seasoning of your choosing. Though, I would recommend a not-so-watery sauce, so your filling holds better in the cabbage leaves.
Kitchen Equipment:
A non-stick pan with a lid is preferred.
A large pot to blanch the cabbage.
Instructions
1. Processing your cabbage. Gently peel the leaves off the head of cabbage. Fill a large pot with water and bring to a boil. Blanch the leaves in boiling water for about a minute or until softened but not falling apart. Remove from water and set aside to let cool.
2. For large cabbage leaves, separate the hard center stems from the leaves. This is so you can roll them up easily. Finely chop the stems and add them to your minced meat. For smaller leaves, you can leave them as is.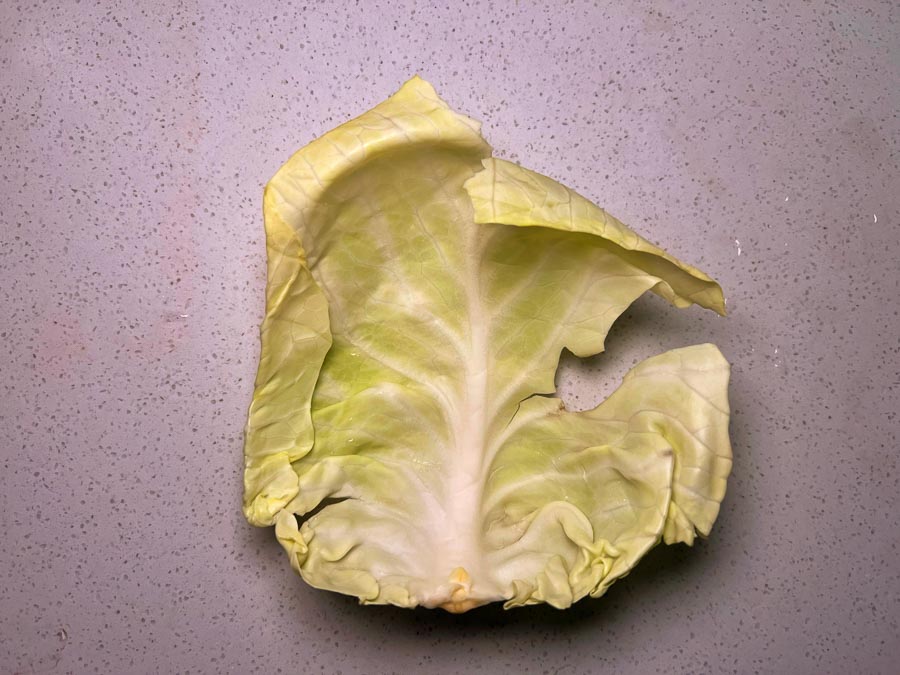 Use any kind of stuffing you'd like!
3. Mix minced meat, chopped stems (and other cabbage trimmings), and sauce. Combine well.
4. On a work surface (or chopping board), compress meat into little log-sized pieces to fit your cabbage leaves and roll them. For smaller leaves, you'd want the stem to be facing vertically and for your filling to be placed across the center. Be sure to tuck in the sides so there's no spillage when you fry them.
5. In a non-stick pan, add a little oil on medium-high heat. Place cabbage rolls fold-side down to seal them. Let them fry on medium-high heat for a minute or two, then flip to sear the other side. Don't be afraid to give them a nice char.
6. Then, add a little bit of water to the pan, and cover with a lid to let steam on low-medium heat to cook the meat. Add more water if necessary.
Note: I'm using high-quality beef, so I didn't over steam them, just to medium doneness. If you're using pork or chicken, please make sure you steam them until they're properly cooked through.
7. Serve with a chili dip! I'm using Thai sweet chili sauce with a splash of Cholula.
---
Gotta love that cabbage!
Stay safe & stay sane, Shanghai!