Fafu is a Korean barbecue restaurant in Jing'an. If you're looking for good KBBQ downtown that's just as good as the ones in K-town, this is it. Opens till late.
[ Update March 2023: Fafu now has a second location on Dagu Lu. Addresses below. ]
Located on the corner of Yuyao Lu near Tacolicious, Fafu is bustling restaurant that specializes in Korean barbecue. The queue for dinner starts forming when it opens at 5pm—numbers are doled out and guests usually wait about on the ground floor.
They don't take reservations. Though, I'm not saying it's impossible—you can try calling.
You could aim for a later seating, after 8:30pm. The wait time will be greatly reduced or you'll have no wait at all. You could just take a number and grab a drink around the corner (Tacolicious or Glory) in the meantime. Also, Korean owner-operator Jacob is at Fafu every night to ensure things go off without a hitch. Though, he'll mostly be busy running service.
The main dining area is on the second floor. Each table has a dedicated grill. Seating is mostly for groups of four or six. There's also a private room for 10, or 12 at a squeeze.
The Food
It's inexpensive, extremely good Korean barbecue—Iberico pork, high quality beef, attentive service. As some of my dining companions and regulars of Fafu say, it is almost as good as the ones in K-town but located in Jing'an. Also, unlike most KBBQ restaurants in K-town, Fafu is open until late.
The menu is pretty straight-forward. A range of cuts for beef and pork, plus side dishes, a couple noodle dishes, some stews, and a ton of sojus. If you haven't had Korean barbecue (this is unlikely), just order 70% meats and 30% sides, and pair that with crisp beer and/or soju.
Here's what you should order: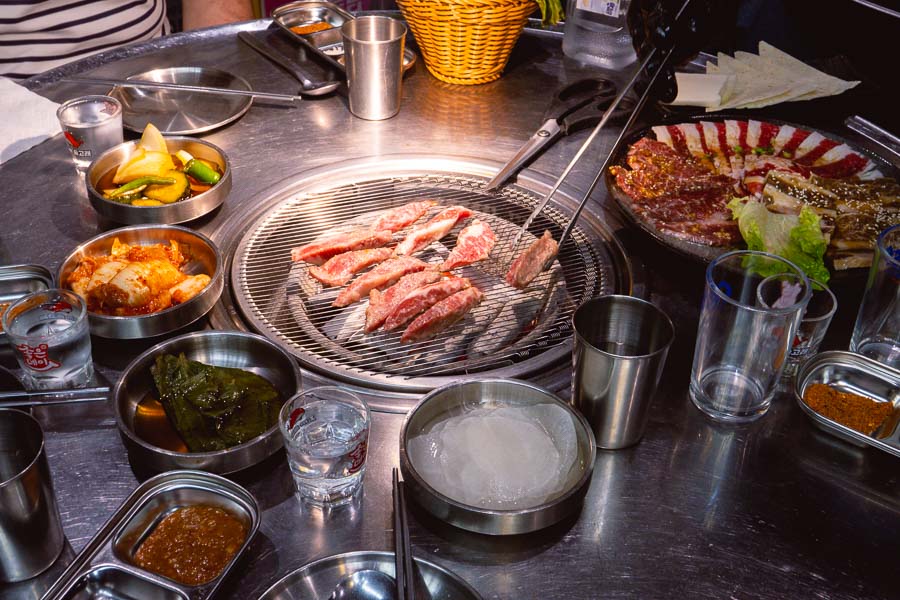 As for side dishes, here's what you should order:
As for drinks, there's a dozen sojus, traditional and flavored, Korean sake, fruit wines, beer (¥30/Cass beer), and soft drinks. There are also Soju Slushies (¥42), bottles that have placed in the freezer to ice up, and are traditionally hammered (on the base) to "loosen" them. Soju Slushies are available in six flavors, watermelon, peach, green grape, grapefruit, raspberry, and calamansi. The price of a non-slushie soju is the same.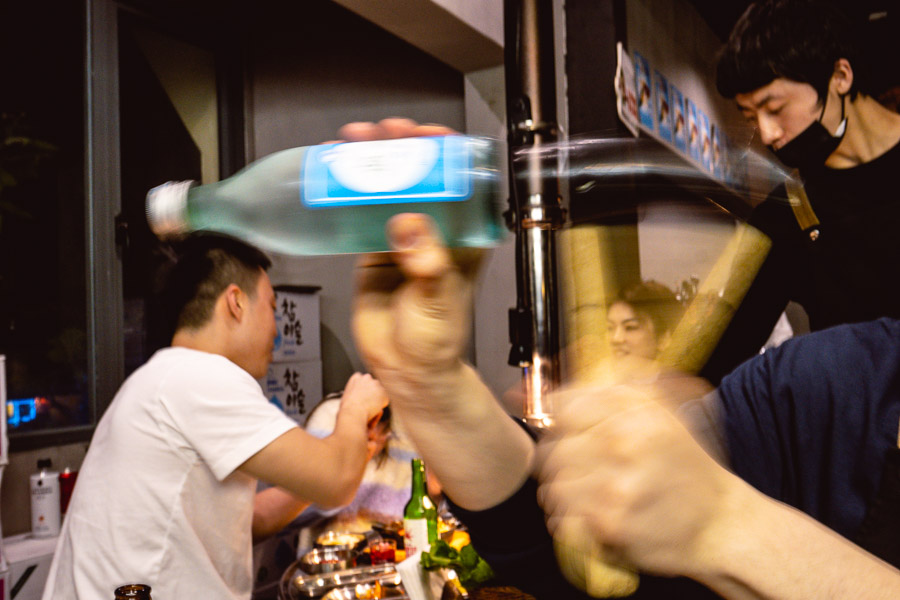 Come March, Fafu has plans to expand with a second downtown location on Dagu Lu.
There you have it, the answer to: "What's a good Korean barbecue in (downtown) Shanghai?"
---
Fafu 发福韩家
Address: 10 Yuyao Lu, near Xikang Lu 余姚路10号, 近西康路
Tel: 13764716707 13764716707
Hours: Sun-Thu, 5pm-1am; Fri-Sat, 5pm-2am
Address: 411 Dagu Lu, near Chengdu Bei Lu 大沽路411号, 近成都北路
Tel: 13062733876
Hours: Daily, 5pm-1am