The funny thing about happy hours is that despite having "happy" in the name, most of them don't put a lot of effort into filling you with joy. Alcohol, certainly—twice as much alcohol, usually—but not joy.
Here are five that make an effort!
Toss The Boss Tuesdays @ The Rooster
Address: 455 Shaanxi Bei Lu, near Beijing Xi Lu 陕西北路455号, 近北京西路
Tel: 15618808692
The Rooster is home to fans of four things: dogs, sports, sidewalk get-togethers and happy hours. It just so happens that they've found a way to elevate the staid, rote, formulaic happy hours you see elsewhere around town.
The Deal: Win Your Drink!
Every Tuesday during happy hour (3-8pm), beat the bartender in a coin toss and get your glass of Easy Jack IPA for free. Lose and pay the regular ¥50 price. You can play against any bartender, as many times you want during the happy hour.
Plus, it coincides with their wings deal: 50% off chicken wings all day, with signature sauces. Wings are ¥45/six, ¥80/dozen; so on deal days that's ¥22/six, ¥40/dozen.
Where's The Fun?
According to the laws of averages, you're getting a buy-one-get-one deal, but why not introduce a little anarchy? Upset the establish order? Maybe you'll come out of it with a bunch of free beer if Lady Luck is smiling on you.
Worst case, you've spent an afternoon drinking with The Rooster's bartenders.
---
Hakkatini Wednesdays @ Hakkasan
Address: 5/F, Bund 18, 18 Zhongshan Dong Yi Lu, near Nanjing Dong Lu 中山东一路18号5楼,近南京东路
Tel: 63215888
Contemporary Chinese restaurant Hakkasan is back, and so is its Wednesday Hakkatini nights.
The Deal: Cocktails From ¥48
Every Wednesday, Hakkasan brings in a different guest bartender to present a spirit. It kicks off with a presentation of the brand (a masterclass of sorts) at 7:30pm. Then from 8pm, there's a special cocktail list available at the restaurant's second bar.
These special cocktails are ¥48-68! There's also a short menu of dim sum small plates—order one dish (¥88-148) and it comes with a cocktail from the guest shift list. Don't worry, the Hakkatini, the event's namesake drink, is still available.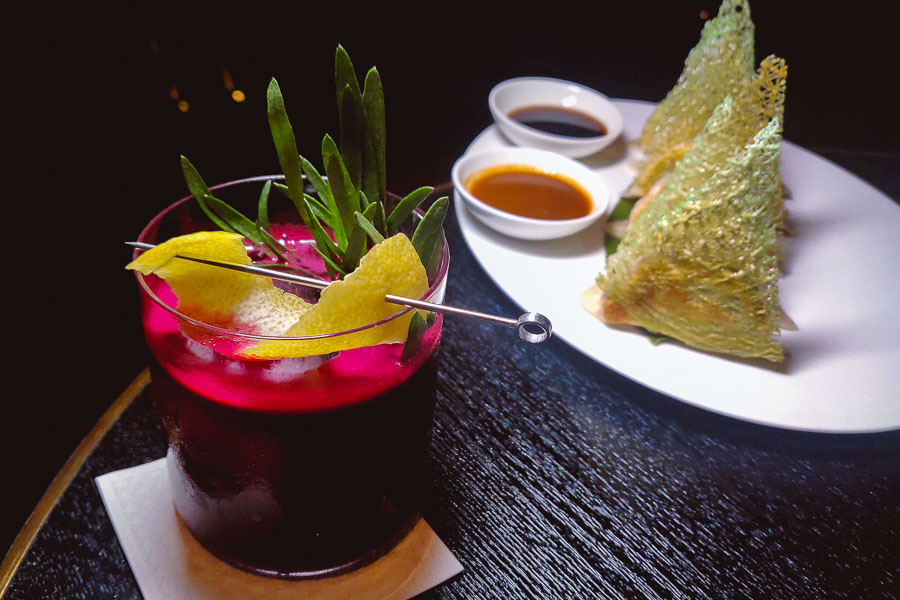 They also have live music, for example, a DJ with a terrific live pipa accompaniment.
Where's The Fun?
Apart from live music, great cocktails, excellent dim sum, a stunning dining environment and fabulous views out the window?
Considering the location, the environment and the quality of what's on offer, this is one of the best drink and food deals in town, and they have the service team to match. Absolutely worth your Wednesday evening.
---
Uncorked Thursdays @ The Cannery
Address: 1107 Yuyuan Lu, near Jiangsu Lu 愚园路1107号, 近江苏路
Tel: 52760599
If you want a vignette that represent what The Cannery is about…how about a half-off bottle of wine vibrating its way across the bar because Biggie Smalls is playing at volumes that'll make the furniture shiver? Every Thursday, they pair a 50% off deal on bottles of wine with some live music.
The Deal: 50% Off Bottles of Wine
Every Thursday from 8pm onwards, it's half-off select bottles of wine. Recently, they've been on a bit of a natural wines trend.
The bottles are lined up on the bar with the (full) prices written on them. Prices start at ¥700 and go to over ¥1,000.
Where's The Fun?
The Cannery does a great job of giving you a glance at, maybe, what life in an income bracket above yours might look like. Oenophiles can revel in the opportunity to taste some really good vintages without breaking the bank. A recent evening had bottles of natural wines like Charpindo from Carlito, Partida Creus SK, and Pedres Blanques. Do those names not mean anything to you? Go try them on a Thursday!
And if your budget won't suffer a second bottle, that's fine: glasses start at ¥90 (currently for Norfolk Rise, a very nice cabernet sauvignon).
The vibe ranges from chill and classy to "party go time". Really depends on what crowd ends up at the bar.
---
Morton's Power Hour @ Morton's Grille Changning
Address: Raffles City Changning, Bldg H4, 1195 Changning Lu, near Kaixuan Lu 长宁路1195号长宁来福士4号古建, 近凯旋路
Tel: 60881699
The Power Hour at steakhouse Morton's Grille is legendary. It's not quite the free-for-all bonanza it once was, but the steak sandwiches have improved since the last time you had them.
The Deal: Free Steak Sandwiches
Every day from 4pm-7pm there are special prices on drinks and bar bites. Order a drink and you get to indulge in complimentary free-flow steak sandwiches. They come in pairs for as long as the happy hour lasts.
Beers and bar bites are ¥28, wine, mocktails and cocktails—including their infamous martini, with blue cheese olives—are ¥38 (all prices subject to a 10% service charge). It's only valid at the bar and on their terrace seating in the green courtyard. The deal is valid at the Morton's Grille at Changning Raffles City.
Where's The Fun?
The days of a hundred plus people packing the bar and using steak sandwiches to soak up a decadent amount of martinis are a thing of the past. (People would sit by the kitchen doors to get first dibs on those sandwiches.)
But the deal has gotten better: the steak sandwiches have gotten a touch up, most notably, a bun that doesn't fall apart in your hands. The atmosphere is more laidback, too, partly because it's in Changning.
If you can get there early, this is a great way to wind down in the garden with one, two or seven martinis, and as many steak sandwiches as you can stomach.
---
Slider Happy Hour @ Rye & Co
Address: 6-7/F, Xintiandi Plaza, 333 Huaihai Zhong Lu, near Huangpi Nan Lu 淮海中路333号新天地广场6-7楼, 近黄陂南路
Tel: 63391993
If you haven't been clued in, Rye & Co is a steakhouse now, which works out very nicely, as the excellent cocktail list has been supplemented with free-flow steak sliders.
The Deal: Free Steak Sliders
Weekdays from 5:30pm-7pm, get free-flow steak sliders with the purchase of cocktails or wines. Classic cocktails start at ¥78, signature cocktails from ¥88, wines by the glass from ¥60.
Bite-sized steak sliders come in threes.
Where's The Fun?
The deal is valid at their downstairs mall seating as well, but Rye & Co's CBD rooftop bar is one of the better places to drink in the area. Plus, being the little brother of The Nest/The Cannery, Rye & Co's excellent playlist makes for a classy place to enjoy a drink. Take a date: the steak sliders are just a bonus.
Happy drinking!