After much teasing, world famous burger chain Five Guys is finally opening in Shanghai, China, on Monday, April 26.
Here's an exclusive look inside Five Guys Shanghai and what to expect.
Burgers, Fries, Hotdogs & Milkshakes
Five Guys is known its four classic items: hamburgers, fries, hotdogs and milkshakes, and the option to fully customize your order with any of the free toppings.
There are 15 free toppings, which include grilled onions, mushrooms, jalapeños, green peppers, barbecue sauce, steak sauce, and more.
They also love to emphasize that they don't have freezers in any of their outlets, highlighting the freshness of their products, which are prepared daily before the start of service.
Other hallmark standards include serving hand-formed beef patties (80:20 lean-to-fat ratio), and deep-frying with peanut oil. (However, they don't use Idaho potatoes, and source potatoes from China instead.)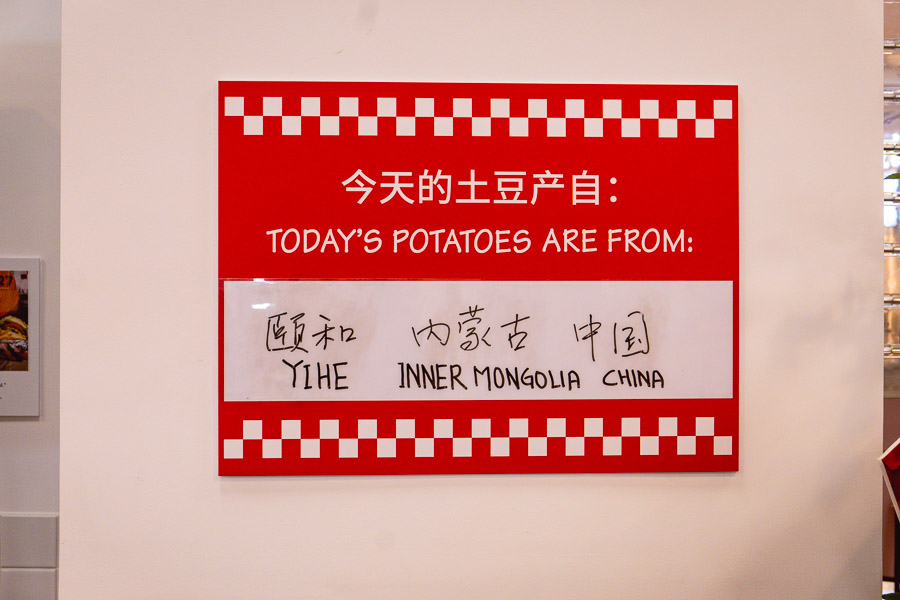 All orders are wrapped up and served in paper bags. (Bear with me—the rest of the photos are a bit messy.)
There are eight burger options listed on the back board. A hamburger is (¥60), cheeseburger (¥70), bacon burger (¥75) and bacon cheeseburger (¥85), alongside four "little" versions of those.
Not sure what toppings to get? Order an "All The Way", which has eight toppings: mayo, lettuce, pickles, tomato, grilled onions, grilled mushrooms, ketchup and mustard.
You can also get it without the bun, just say "no bread".And yes, there is a Veggie Sandwich (¥35), as well as a Grilled Cheese (¥35) and BLT (¥55).
Two kinds of fries served: traditional "Five Guys style" or "Cajun style." Available in three sizes: little (¥32), regular (¥42) and large (¥52).
Milkshakes (¥45) are served with or without whipped cream, and there are 10 "mix-in" combos. You can add as many mix-ins, including vanilla, chocolate, coffee, peanut butter, malted milk, salted caramel, banana, strawberry, Oreo cookie pieces and bacon. (No milkshakes available when I went today. #sad)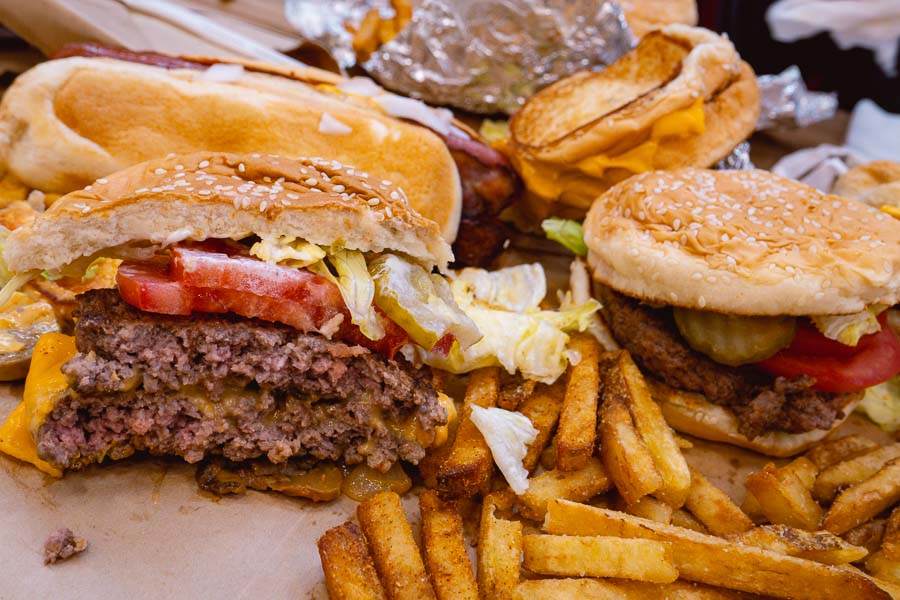 Will Five Guys Shanghai have a secret menu? It is uncertain. But I'll keep asking for the Patty Melt (Swiss cheese, caramelized onions and griddled rye bread) until they notice.
But you can build your own Instafamous burgers like The Presidential, Barack Obama's order of a cheeseburger with lettuce, tomatoes, jalapenos and mustard.
I asked for Nacho Style Fries, an order of fries smothered in melted cheese with bacon, and or jalapeno. I was politely declined. Will they have that in the future? Maybe.
Future Plans For China
The franchisee plans to open 50-80 locations in China within the next 5-7 years. Maybe a second one in Shanghai in September; and Beijing will be the next city.
In Summary
It's worth trying. In summary, it's aite. I was a bit disappointed in the lack of char on the patties from the burgers I got. However, I do want to return for the milkshakes, and a single cheeseburger for when I don't have to eat the entire menu in one sitting.
Expect…a long line.
Opens at 11am on April 26.
---
Five Guys Shanghai
Address: 1/F, Printemps mall, 939-949 Huaihai Zhong Lu, near Shaanxi Nan Lu 淮海中路939-949淮海中路, 巴黎春天1楼, 近陕西南路
Tel: 54526298
Hours: 11am-10pm
Opens April 26, 2021