Newly opened in Putuo district is Hong Shou Fang (鸿寿坊), a dining destination and commercial hub that boasts more than 60 food and drink establishments.
It officially opened early October and is quickly becoming a popular draw for residents in the area.
About Hong Shou Fang (鸿寿坊)
Hong Shou Fang is located at the intersection of Xinhui Lu and Xikang Lu, stretching to Changshou Lu. It's part of Putuo district, but it's only a couple blocks shy of Jing'an.
The development encompasses a substantial 80,000sqm, with a significant 15,000sqm devoted to an assortment of commercial enterprises, mostly restaurants, cafes, bakeries, and bars.
It is an "urban regeneration" project by Shui On, the commercial development company that also did Xintiandi. The shikumen buildings and lanes that originally stood here back in 1933 have been restored to house food and drink establishments.
Hong Shou Fang prides itself on being a pet-friendly complex. Some of the restaurants are also pet-friendly indoors.
In addition, the space boasts an edible garden, and planters cultivating Buddha's Hand, kalamansi, and other citrus fruit can be found throughout the complex.
Though, I'm skeptical about how management plans on making sure these plants remain unscathed.
---
Restaurants, Bars & Cafes in Hong Shou Fang
Foodie Social
A cornerstone brand of Hong Shou Fang is Foodie Social. This is the third iteration of the food court concept. The first one was in Xintiandi, and the second at Ruihong / Hall of the Sun mall in Hongkou.
The Foodie Social space is impressive. It's a two-storey standalone building with vaulted ceilings and a glass panelled roof.
The ground floor is stuffed full of kiosks, selling everything from artisanal chocolate to marinated whole duck to Chinese snacks to coffee. The selection of foods and cuisine is exclusively Asian, except maybe for the poke bowls.
On the periphery, restaurants and to-go stalls serve more substantial meals from sushi to fusion food to Cantonese roasts.
Restaurants on the second floor are all easy-going, fast-foody-types — nearly each Chinese regional cuisine represented, plus noodles and saucy stir-fried dishes that go with rice.
First floor restaurants:
Second floor restaurants:
Phew! Plenty! And that's just inside Foodie Social.
---
Piazza Restaurants with Terrace Seating
There are plenty more venues around the piazza, and within the buildings that wrap around the block, plus more on the upper levels.
And what feels like a dozen bakeries…
Obviously, there's gotta be hotpot.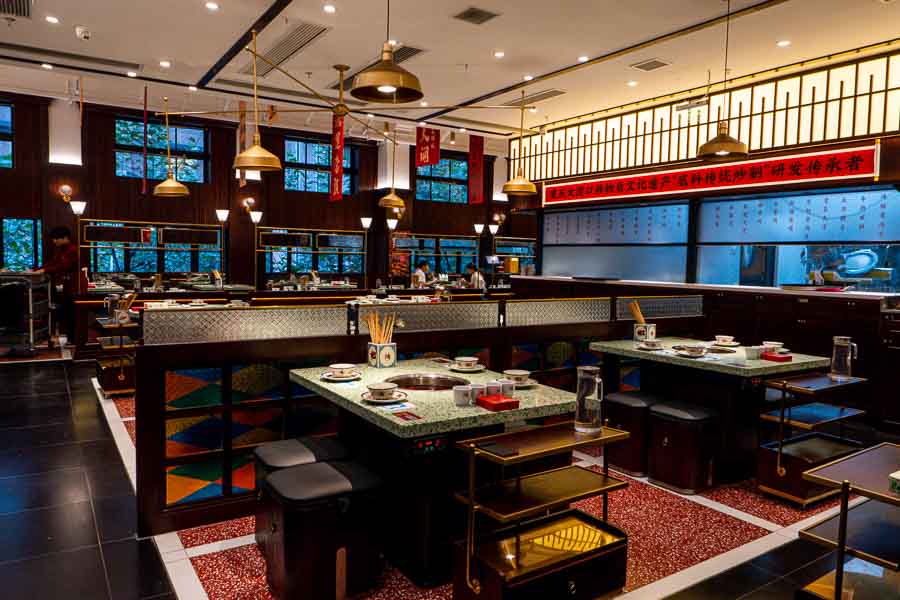 And the requisite wine bar and restaurant:
And so much more:
There are a bunch more I missed out, but there you have it! An overview of what to expect.
Restaurants are mostly in the mid-range price point. Nothing particularly fancy, but all serviceable.
A couple more venues have yet to open, including Commons Sakaba (鸟铺), a yakitori by the upscale yakitori restaurant Torisawa.
What's really cool is that there's plenty of open space. Most of the restaurants, bars, and cafes have terraces, even the ones on the second floor. And kudos to them for making it dog-friendly.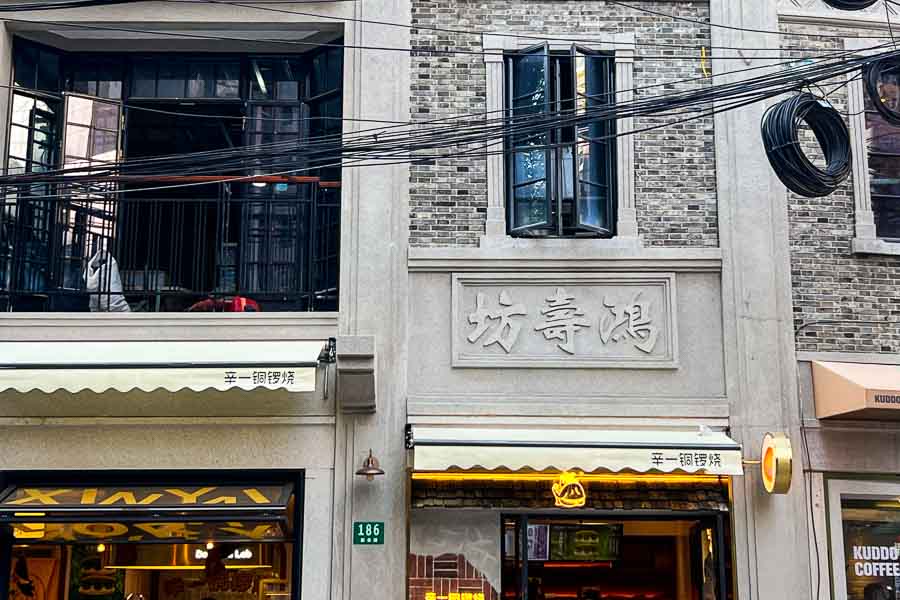 ---
Hong Shou Fang 鸿寿坊
Address: 236 Xinhui Lu, near Xikang Lu 新会路236弄, 近西康路