Perch is a pop-up dining experience led by the creative culinary and bar team of The Nest, namely chef Freddy Raoult on the bites and mixologist Michael Chen on the drinks. It's located in the rooftop garden space formerly housing Botanik.
If you thought Botanik was great, you have got to try what chef Freddy has got going on.
The dining experience at Perch by The Nest has the same magical atmosphere as Botanik—it is, after all, in the same gorgeous rooftop garden.
I won't compare the food. These are two different chefs with very different cooking styles, personalities, and backgrounds. Though, I can say with certainty that you should book yourself a seat at Perch before the season ends.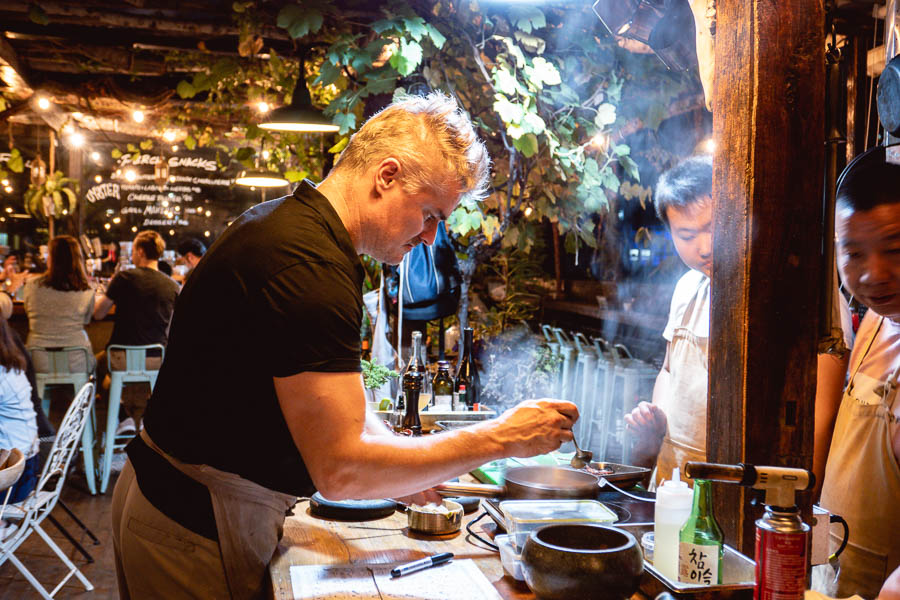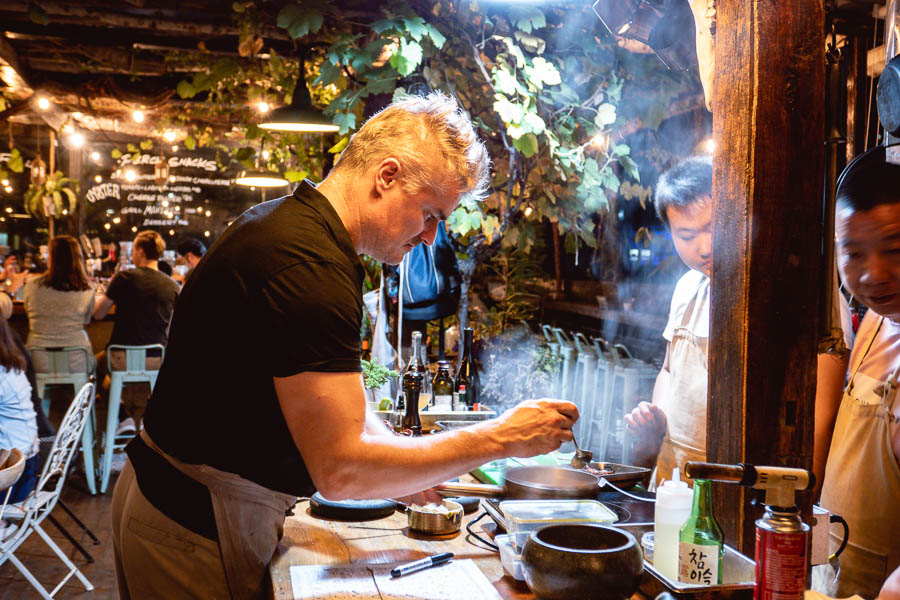 Freddy Raoult is the Executive Chef at The Nest. The Frenchman spent a decade cooking in Helsinki, Finland, immersed in Nordic cooking. His interpretations of Scandinavian cooking are well sought after at The Nest, though he remarks that dishes have been adjusted to evoke a more subtle representation of the cuisine for the mass market. His menu at Perch, however, is bold.
There are also cocktails by The Cannery mixologist Michael Chen. I'm not much of a cocktail person, but I've only heard good things. Plus, the venue stocks a wide selection of natural wines.
The following is from the late-September menu
The first bite, a crunchy flax seed cracker with salmon roe, uni, and pickled cucumber and shallots with dill, delivers a wondrous bolt of flavors—briny, nutty, and grassy with a hint of bitter. It's enough to make me sit upright, expectant for the next course.
Scallops in oyster jus, gribiche and plankton oil are decorated with translucent petals of deep-fried fish scales, ice plant, and herbs from the garden. The emerald green plankton oil coats the palate with deep-sea umami like the smell of fresh seaweed. It's floral and sweet sake pairing is so perfect that it's symbiotic.
A sheer of purple sorrel guards a mound of beef tartare. These petals act as natural scoops to pinch portions of well-seasoned tartare and the bright spinach and watercress spread.
Next is an onion soup. A stock made of burnt onion, kombu, and black miso shines with thin bits of onion that have been cooked in zesty, milky whey. A blanket of sharp cheddar caps the soup. I could eat this for days on end.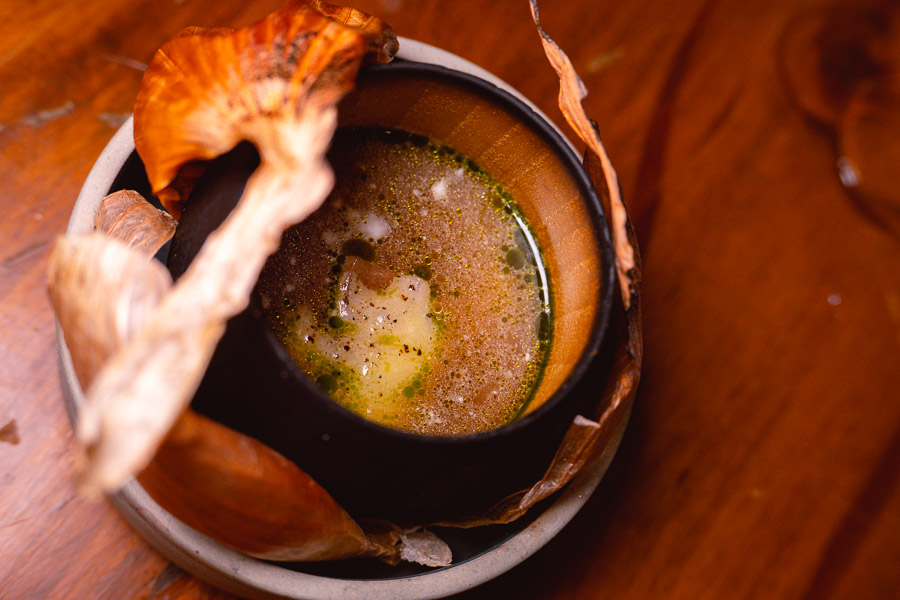 A sliver of lightly grilled garfish is laid over a length of toast soaked in gazpacho. Basil, oregano, and a sharp round of green chili teases the palate with a fresh herbal burst and a light prickle. An orange wine from Shangri-la quells the heat with the roundness of a Chardonnay.
Venison heart and lacto-fermented vegetables are joined by the smoky saltiness of a charred bone marrow. The vegetables are crunchy and mildly tart. One of my favorites of the meal.
A roasted pigeon comes with hen-of-the-woods mushrooms and an extremely rich and fatty round of black pudding. The grassy watercress and apple cider vinegar sauce cuts through the luxuriant black pudding and tender pigeon. I gnaw on the pigeon leg to get the best parts.
Dessert is an unforgettable bowl of icy beetroot. It's an explosion of fresh raspberries, mildly earthy shredded beetroot, and the gentle sweet-sourness of yogurt. It's a savory dessert, one I'll beg to have again.
Then, a tempura marigold dish with a strong eggnog dip. It is my least favorite on this menu of greats. (A similar dish is served at Noma.)
A final and again savory dessert is a bowl of chewy oat porridge with beer-molasses cream and caramel.
In Summary
Overall excellent. Highly recommended.
Generally tasting menus gradually ease you into the meal. This isn't the case. Freddy's 10-course meal pulls no punches. The dishes are thoroughly enjoyable, uncomplicated yet not simple, and each with its own unique twist and surprise.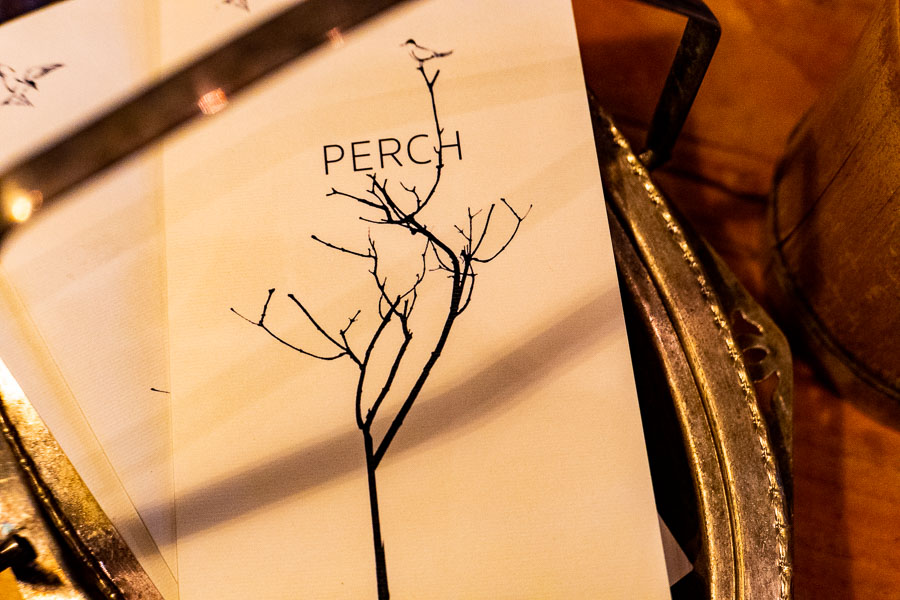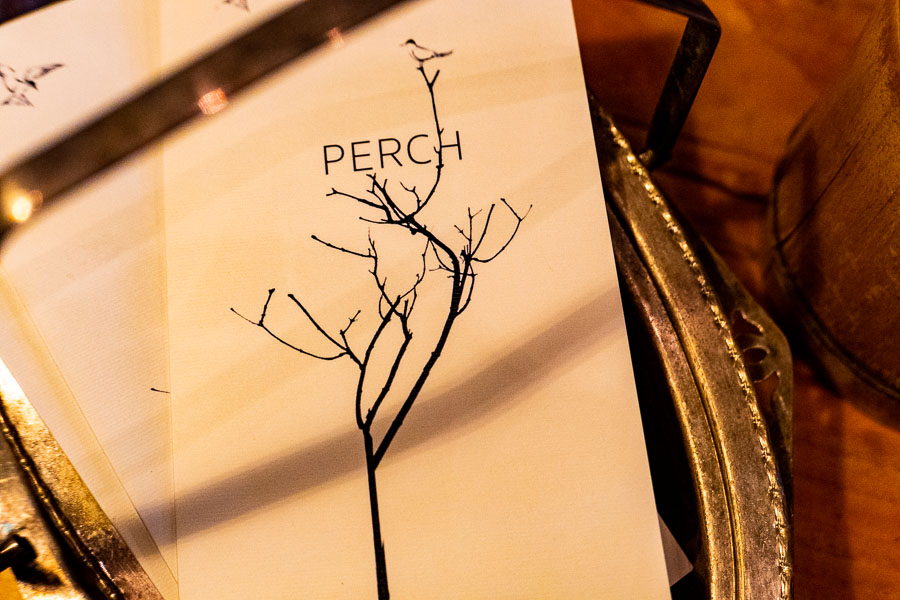 When & How Much
Dinner at Perch by The Nest is ¥688 for a 10-course tasting menu. Dishes on the menu change according to availability, but changes are subtle. Beverage pairing (¥388) is recommended.
Serving every Thursday to Saturday evening until early November, or as long as weather permits.
Bookings via The Concierge WeChat account. Details below.
---
Perch by The Nest
Address: 4/F, No. 301, 169 Jianguo Zhong Lu, near Ruijin Er Lu 建国中路169弄301号4楼
Hours: 6pm-11pm, Thursday-Saturday
Reservations, add WeChat: The_Concierge-2015