The COVID-19 pandemic has brought crushing losses for the food and beverage industry. Shanghai is recovering from the aftermath as social distancing rules are relaxed due to low infection rates.
What is the impact of COVID-19 on the restaurant industry in Shanghai? Here are the survey results from 488 respondents.
This is a follow-up to the first one published on February 5, when the outbreak first began in China.
What's the situation really like right now? Here are the results of the recent survey.
Nomfluence is run by me, Rachel Gouk. I am only one person and I'm not a sociologist. Nor am I an expert at creating and dissecting surveys. I just wanted to take the temperature of the city and understand its attitude towards food and restaurants in light of the pandemic.
Consider these results a snapshot of what people are feeling at the moment and not statistical proof of anything. Hopefully it will be instructive for people working in the F&B industry in Shanghai and help them plan for the coming months.
---
Survey Data: The Impact of Coronavirus on Restaurants in Shanghai
Conducted on April 11-12, 2020
Total Respondents: 488
Diners and restaurant operators
Results from a survey done by Nomfluence on April 11-12 provides a snapshot of how diners and restaurant operators feel about the situation more than two months after the outbreak began.
Many people are echoing, "China/Shanghai is the safest place to be right now," but are they going out?
Less than 75% say that it is safe to return to a restaurant/bar now, while 20% are uncertain, and 5% think it is still not safe to return to a restaurant/bar.
Early March, life started to return to Shanghai and certain regulations were relaxed (50% capacity and one-meter rule). Brunch and venues with outdoor seating are popular again, and more people seem to be going out. Let's see numbers.
484 respondents answered this question. Nearly 18% dined out at least 11 times in the last month, while the majority of people (51%) ate out once or twice a week (1-3 times, 4-6 times) in the last month.
According to the last survey, 42% of respondents dine out at least 11 times during a regular month. (See chart below.)
Many are cooking at home—be it to limit their going out habits (social distancing during the coronavirus) and to save money. More than 58% of people are preparing most of their meals at home.
If they're not cooking, they're ordering delivery. The chart below shows that 24% have ordered their meals at least 11 times in the past month.
The quarantine period is over (14-day self-quarantine upon reentry, and the temporary suspension of foreigners to enter China announced on March 28) and businesses have resumed work. People are ordering a similar amount of groceries and dinner meals.
Here's an important one: Will people change their spending habits due to the coronavirus and economical impact? Paycuts, downsizing, and less new opportunities are the largest factors driving reduced spending.
A majority (39%) said that they will cut down spending moving forward, while 24% said maybe. The other 37% said that they will not change their dining out habits.
Finally, what will motivate diners to go to a restaurant/bar? (Apart from safety and the all-clear.)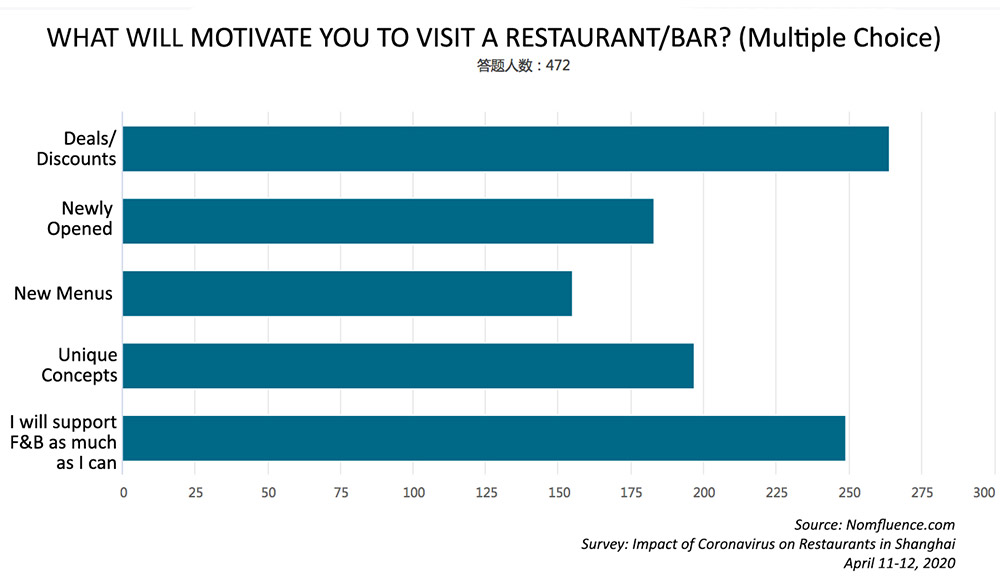 "Good service" and "venue loyalty" are other motivating factors.
Insights: F&B Industry Operators on the Impact of COVID-19
Restaurants and bars have been hit hard. Despite things slowly "returning to normal," there is a stark contrast in revenue now compared to the same period in 2019.
160 respondents answered this question.
20% of restaurant and bar operators are making less than 30% of revenue compared to the same period in 2019 due to the impact of the coronavirus.
A majority (63%) are making 30%-60% compared to last year.
Only 4% of F&B operators are back to normal revenue following the lift of quarantine/social distancing.
For those who have not yet recuperated, the next question is a projection of when operators think business will return to normal.
Optimistically, 49% say business will return to normal by July 2020. More than 10% think it won't be until 2021 when things would return to normal.
The same question was asked in my first survey—22% had said by March, 37% said by May, 13% said later than July, while 28% said they didn't know.
To adapt to the current situation, most venues have increased in-store promotions/deals, offered delivery, reduced their menus and operating hours, and reduced salaries. Basically anything that could motivate people to spend and everything to lower cost.
Operators have noticed the following new diner habits since March 2020/the COVID-19 outbreak. With the weather improving, more people are finding time for brunch (outdoor venues are very popular), but dinner is still slow, and people are cautious about how much they spend.
What Are The Long-Term Effects of COVID-19 on the F&B Industry?
My last question was to F&B operators:
"Are the measures you've taken to adapt to the current market working? What are the long-term effects of the coronavirus / the impact on F&B?"
These are some of the write-in responses, edited for clarity:
I worry that people will continue to stay home and cook instead of going out for an extended period of time. The trend is turning away from fine dining and instead towards simple comfort food, as we saw after the US recession in 2008. Another is the long-term impact on office working, decentralizing / making CBDs less dense and therefore changing the way restaurants can rely on office worker spending.
Everyone took a pretty big hit caused by the coronavirus. Not being able to operate for more than a month time has caused great damage to our cash flow. Some of our staffs are still stuck in their hometowns. It's hard to say when everything will be back to "normal", but seems like it's longer than expected.
Changed products are drawing new delivery customers and increasing profitability of delivery. In-store events have a limited impact.
For Taian Table, it is working and our guests returning back. Impact will be huge for those having difficulties with cash flow and if the landlords are not helping by decreasing rental fees. We also try our best and did also a cross promotion with a wine supplier and give back for diners who came to support us in March with 20% discount on the menu from May. Lots of business dinners will be cancelled or their budgets will be decreased and the spending will be less than before. Many will look for deals in town to get the best value for money. It's difficult as we won't start buying different or cheaper ingredients, and therefore, we hope that our guests appreciate the quality we serve.
I am very afraid the long-term effects will impact the whole restaurant system. It might cancel all middle level restaurants forever.
I think the measures are working but as a business owner, we need to be responsible and care more about the safety of the diners and staff versus the returns at this point. If we can show that the restaurant is safe to guests and keep gaining the confidence throughout the F&B community, everyone will come out of this quickly. Some people think this is over but they need to be careful and responsible as well, i.e.: not getting too drunk in a public place and causing problems.
I would think it will take local spenders more time to recover to their original dining habits than expats, especially families with children.
Increased opening hours and choices during lunch drives more business but unfortunately can't compensate the loss.
The measures we've taken are saving costs short-term, but realistically these measures only work if volume improves significantly, which likely won't until the situation outside of China improves, as fear will still be the most prevalent factor rather than what's the best deal. Though there could be a market segment for fresh innovative concepts as there will be a lot of places shuttering in the coming months and the wise will lap up the lingering consumers. It will 100% be survival of the fittest over the next two years.
Key to everything is revenue now! Profit does not matter yet. Because people are still accepting delayed payments, it is possible to survive if even paying in installments. But soon as people run out on the buffer provided by their deposits, we will see more shops making the calculation if they can stay open or not. And those that try to stay open without paying will be selected to survive or terminated by landlords. Most hopeless thing is no government assistance has been provided. Everything is riding on the backs of owners and staff at the moment.
Less international travel and thus fewer customers for western food concepts.
There will be new opportunities for more versatile concepts, i.e. smaller venue, lower cost, stronger focus on concept, branding and niche market.
Not really working, almost all of our Chinese customers are not dining out during this period, and are cooking at home. Many expats who made it back only go out once a week. Some teachers work during the day using our Wi-Fi, but only spend very little money. The hotel next to us has been turned into a quarantine hotel, and this decimated any recovery from the Chinese market. Delivery is up, but many are cooking from home. There are also issues with employee health care and insurance, which will result in higher premiums. There is also an underlying feeling of racism against foreigners, which will not disappear quickly. Many Chinese are upset over the West's aggression regarding the virus and trade. Hygiene will be extremely important for many customers and therefore your "smiley face rating" may be more important in the future.
Partial success. Just that this virus is squeezing everyone from business owners, employees, employers, and retirees to control spending. There is no help from the government and landlords. Someone needs to screw the landlords. Landlords are the ones who are still having steady stream of income every month.
Toughest period will probably be from now as no more rent or government relief or salary cuts, and a reduced expat community. Chinese clientele are slower to come back, and people are financially affected from salary cuts or job loss, plus lack of business travelers or tourists.
We are considering closing some shops and wait it out.
Customers want to see trust with their favorite establishment. Trust is brought by professionalism, good service, rigor, surprise, recognition of each customer, hygiene, measures in terms of hygiene for the Covid-19.
Conclusions?
I was reading an article on Eater, San Francisco entitled, "Restaurant Promises 'Special Place in Hell' for People Who Write Yelp Reviews During the Coronavirus Crisis."
It is more accurate to say: "There should be a special place in hell for people who write bad reviews during the crisis."
I have written bad reviews over the years. I standby what I've said in those bad reviews. However, in light of the current situation, writing bad reviews (or negative comments on platforms like Dianping, etc.) is really, bad fucking form.
Everyone is trying to survive this crisis. Just so happens that restaurants and bars can be scrutinized by the public. Do you need to voice your opinion? Please give your feedback to the managers and restaurant & bar staff! They want to know, they want to improve.
But be kind, be humane, and be compassionate. Restaurants and bars are still understaffed—many people are stuck in hometowns and overseas. Those you see working have been on 12-16 hour shifts nearly everyday since "things got better". They eat their meals in five minutes while standing, and they are trying their best to keep every guest happy while shouldering the burden that, if business is bad, they'll lose their jobs. They have families, they have feelings, and this is their livelihood.
Conclusion? Not every business will survive this, but they won't give up without a fight.
So dammit, if you can, go support your favorite restaurants and bars.
---
The first survey was conducted on February 3 and 4. You can view the results here and compare with the current findings. For restaurant and bar operation guidelines during the coronavirus, click here.