The Roof (恒基·旭辉天地), aka the "Red Building" in Xintiandi, is a newly opened lifestyle hub on the corner of Madang Lu and Jianguo Dong Lu that houses restaurants, bars, cafes, boutiques, and offices.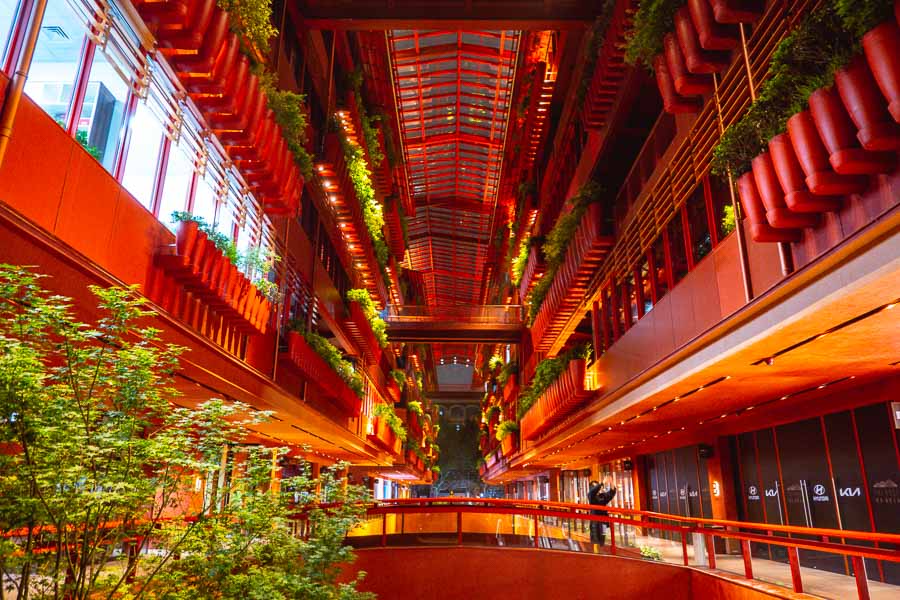 The architecture and design was inspired by Shanghai's longtangs, conceptualized Aspect Studios and Ateliers Jean Nouvel. (The vertical gardens, imposing atrium, and overall design has attracted quite a few selfie snappers.)
The Roof, which officially opened on May 1, has a total area of nearly 45,000sqm, with F&B and lifestyle spread across the ground floor and the two cascading lower levels. The upper levels are reserved for offices.
There are nearly 20 restaurants, cafes, and bars here. So here's a long (but hopefully useful) directory of The Roof.
Restaurants, Bars, Cafes at The Roof
Address: 458 Madang Lu, near Jianguo Dong Lu 马当路458弄, 近建国东路
Ground Floor
---
Ad hoC
Tel: 18016003067
Hours: 10am-10pm
Ad hoC is an ultra-hip coffee shop that looks more like a cocktail bar than a cafe. Even the staff are dressed like they should be holding shakers.
This is the brand's first location. And it's all very "third-wave coffee-esque" with beautifully designed menus, upselling on single origin hand pours, and high service. Americano ¥34, flat white ¥40, Chinese teas from ¥43, some cakes from ¥39.
Brut Eatery Wine Bar & Restaurant
Tel: 63295787
Hours: 10am-midnight
Brut Eatery Wine Bar & Restaurant is an upmarket version of the popular eatery. Brut Eatery expands their cafe menu to include a wider range, featuring Asian dishes like Korean-style pork ribs (¥158) and Sichuan mala fried calamari (¥65) and Western fare like wine-braised beef cheek (¥158) and steaks (from ¥168).
Wines by the glass from ¥50. They also have cocktails. Covered outdoor seating available. There's also a dog-friendly area inside the restaurant.
Caminetto
Tel: 17126677323
Hours: 6pm-10pm
Caminetto is an Italian bistrot led by chef-patron Kelvin Chai (former executive chef at Mercato). Fresh pastas, modern Italian classics (some dishes have an Asian twist), and a curated fine wine selection.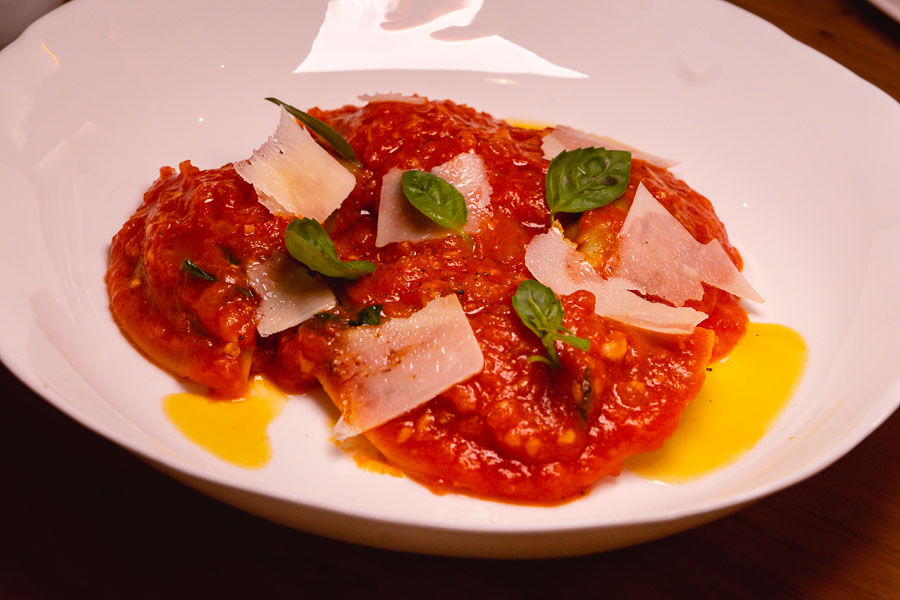 Currently in soft opening. Outdoor seating available. Average check is around ¥350.
Chocday
Tel: 18939889098
Hours: 10am-10pm
Chocday is a tiny store selling soft serve ice creams. It's ¥22 for a cone of milk, chocolate, or mix of both flavors; ¥28 for a cup.
Gentle by the Artist
Tel: 63330133
Hours: 10am-10pm
Gentle by the Artist is a restaurant and bar serving Western dishes with a Japanese influence. In the kitchen is chef Hiro-san, who also opened HTO and Dr. Curry. Dishes like beef carpaccio (¥68) and steak (from ¥168) stand alongside Japanese escabeche (¥78) and mentaiko spaghetti (¥58).
Daily happy hour from 2-6pm; Jim Beam highballs for ¥20. Outdoor seating and private room available.
Moofin
Tel: 60404915
Hours: 8am-10pm
Moofin is a cozy bakery and café that specializes in fresh baked goods and English muffin sandwiches.
The sandwiches are really good. They're smaller, more like breakfast or midday snack-sized portions. The house-made sausage patty in the Egg & Sausage (¥45) is aromatic, juicy, and tasty. For breads and pastries, they have the necessities: baguette (¥15), apple chausson (¥22), croissants (¥16), sourdoughs, etc. Americano ¥25, flat white ¥30, teas from ¥25, smoothies ¥45, beer ¥35, cider ¥40, and there are also some wines. Outdoor seating available.
Kidono 喜都乃
Tel: 18916737703
Hours: 11:30am-1:30pm, 5pm-10pm
Kidono is a Japanese restaurant that serves everything from yakitori to oden and sashimi to izakaya bites. Average check is around ¥200.
warming.
Hours: 8am-9pm
Coffee chain warming. is has the cheapest coffee in the whole building. Espresso ¥10, americano ¥15, flat white ¥20. They also carry Oatly. Get ¥5 off if you bring your own non-disposable cup.
Lower Floors
---
Algebraist Coffee
Tel: 18151191763
Hours: 8am-9:30pm
Algebraist Coffee is a new coffee chain brand founded in Suzhou. (It was previously known as matrix coffee.) They've also just received a crazy amount of RMB of funding, so expect to see them popping up all over China soon. There are already 8 locations in Shanghai.
It's one of the nicer coffee shops here, and surprisingly, it's also quite quite affordably priced. They also do some funky coffees by adding fruit and herbal jelly. Espresso/Americano ¥20, flat white ¥24, osmanthus brew americano ¥24, uji matcha latte ¥29, hand drip ¥26, pear & herbal jelly latte ¥33.
En Vie
Tel: 15821034125
Hours: 10am-1am
En Vie is a wine bar. Wines by the glass from ¥45 to ¥95. Outdoor seating available.
Rich & Light
Tel: 13023107868
Hours: 10:30am-8:30pm
Rich & Light is a fast-casual eatery serving healthy food like "superbowls" (from ¥58), salads (from ¥48), grilled meats (from ¥68), pastas (from ¥65), and low-carb dishes with cauliflower rice. Fresh juices and smoothies from ¥35.
Shaker Logic
Tel: 13918970651
Hours: 11am-1am
A cocktail bar and restaurant opened by the people behind Mr. Shaker on Danshui Lu. Signature cocktails start at ¥75. For eats, it's crowd-pleaser bar food like tacos (from ¥60 for two), burgers and fries, snacks, and steaks. Daily happy hour is 11am-6pm (damn!): Asahi draft and house wine ¥25, selected cocktails ¥35.
Spice Bazaar
Tel: 53530603
Hours: 11am-9:30pm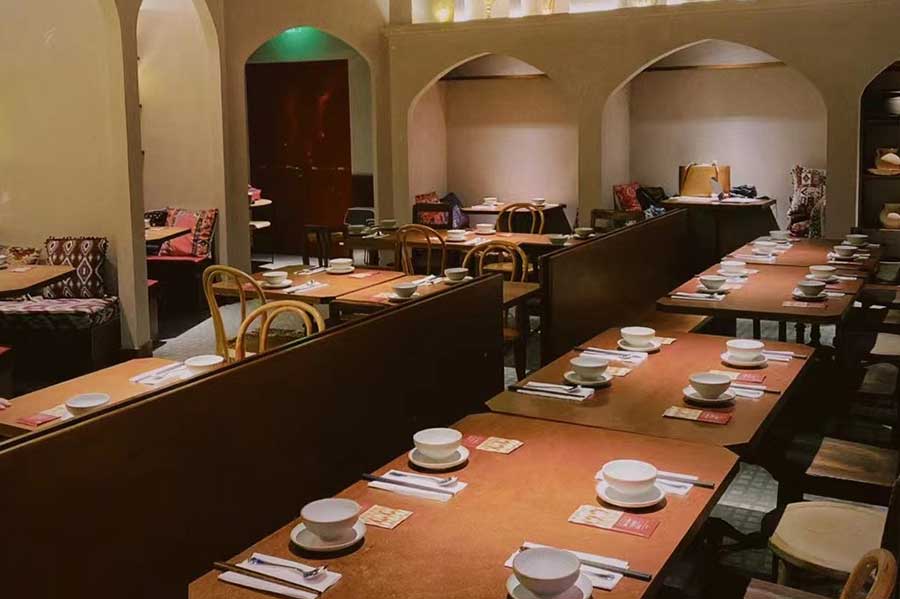 Spice Bazaar is a long-running Xinjiang restaurant chain in Shanghai. Favorites like Dapanji aka "big plate chicken" (¥138), skewers (¥10/stick), deep-fried lamb ribs (¥82), and oodles of noodles on the menu.
Socii
Tel: 13472864759
Hours: 10am-10pm
Socii is a restaurant cafe and creative space that serves a fusion Western menu, and hosts wine dinners and events.
On the menu: Mexican style steak tacos (¥78), duck confit penne (¥78), kimchi risotto with pork neck (¥88), Angus rib-eye steaks (¥188), etc. Wines by the glass from ¥48, bottles from ¥280. Plenty of outdoor seating.
Soupublic
Tel: 63356853
Hours: 10am-10pm
A soup-based eatery serving renditions of the stuff from different countries like Japanese-style pork curry, Tom Yum soup, Sichuan-style dandan soup, Mexican-style bean soup, etc. Bowls of soup for ¥48, set with rice or bread and a drink for ¥58.
Witchcraft
Tel: 17301745380
Hours: 11am-midnight
Witchcraft Brewing is a craft brewery based in Jinshan, Shanghai. This is their downtown taproom. There are 22 beers available on tap with about six of them being beers from other breweries. Beers start from ¥32 for a 330ml glass. Bottled beer also available. They also serve beer-friendly food like nachos, burgers, pizza, and fries.
Yuzu
Tel: 61259188
Hours: 6pm-10pm
Yuzu is a Japanese omakase restaurant with an 18-seater bar counter. The menu is ¥980. Apparently it's quite popular, having achieved some kind of wanghong status shortly after opening. Lunch menu to launch soon.
---
There's also a bookstore, and a branch of Green Massage (coming soon). The outdoor areas on the ground floor are also dog-friendly.