Here are some crazy good drink deals in Shanghai, featuring buy-one-get-one free cocktails to 50% off all kinds of drinks, including one that's ¥10 for a glass of champagne.
Before dishing out info on happy hours, this is just a quick reminder for those taking advantage of deals:
Be kind to the people serving you.
Do buy a bar snack or stay for a meal!
These are great deals and the venues might get busy. Patience is a virtue.
Stay classy.
---
Special Deals in Shanghai This March
CHARCOHOL
Address: 1/F, Fengshengli, No. 18, 245 Maoming Bei Lu, near Nanjing Xi Lu 茂名北路245弄18号1楼, 近南京西路
Tel: 32265752
Adjusted Hours: Sun-Thu 2pm-12am, Fri-Sat 12pm-12am
CHARCOHOL is doing buy-one-get-one cocktails for the entire month of March. Choose from six signature cocktails for ¥88 a pop. BOGO is from 2pm to 10pm every day. They also have a beautiful terrace for those who wish to imbibe during the day.
Click here to read more about this new gastrolounge!
---
Heritage by Madison
Address: 1/F, 600 Zhongshan Dong Er Lu, near Longtan Lu 中山东二路600号1楼, 近龙潭路
Tel: 63129089
Adjusted Hours: 11:30am-9:30pm
Heritage by Madison is doing 50% off the entire beverage menu for the month of March from 5pm every day. Like, the ENTIRE beverage menu, meaning coffees (from ¥30), fresh juices (¥88), cold pressed juices (¥68), cocktails (from ¥80), house pours and spirits, wines by the glass, heck, wines by the BOTTLE. All 50% off. Time for a boozy lunch or dinner.
What's good at Heritage? Click here to read more.
---
UP Shanghai
Address: 2/F, 688 Shaanxi Bei Lu, near Kangding Lu 陕西北路688号2楼, 近康定路
Tel: 18317131910
Adjusted Hours: 6pm-midnight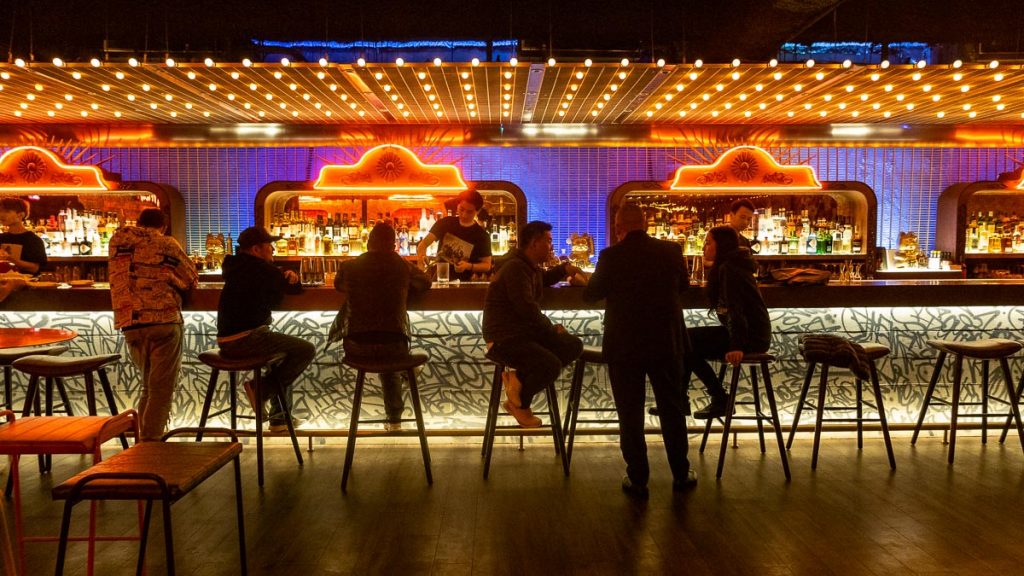 UP Shanghai has buy-one-get-one free drinks everyday from 6pm to 10pm. Beer and wines are ¥60 and house pours are ¥70, all BOGO. House pours include Absolut, Beefeater, Jameson, Tequila Ocho, and Chairman's Réserve.
PLUS, their regular deals are still running: Tuesdays 50% off Broadway Burger, Wednesdays 50% off hotdogs, Thursdays 50% off Chicken Takeaway Box. And the terrace is open!
Click here to read more about UP Shanghai.
---
Bird & Bitter
Bird: 50 Wuyuan Lu, near Changshu Lu 五原路50号, 近常熟路
Tel: 13501726412
Adjusted Hours: 11:30am-3pm, 6-10pm
Bitter: 58 Wuyuan Lu, near Changshu Lu 五原路58号, 近常熟路
Adjusted Hours: 9am-10pm
Bird and Bitter have just turned two! To celebrate the occasion, they're doing promos all March long. Order two drinks from the cafe menu at Bitter and get a cookie on the house or get two Spritz/Sbagliato (¥58) and get one of the same for free.
Meanwhile, Bird has just kicked off their new lunch-counter "Bird Buns" menu, serving from Monday to Friday, 11:30-3pm. Get any two buns (from ¥55/sandwich) and get a complimentary order of yam fries (¥18). Go with a friend for brunch or dinner and get two glasses of sparkling on the house.
---
Cotton's
Anting Lu: 132 Anting Lu, near Jianguo Xi Lu 安亭路132号, 近建国西路
Tel: 64337995
Hours: Mon-Fri 5pm-12am, Sat 11am-12am, Sun 11am-10pm
Xinhua Lu: 294 Xinhua Lu, near Dingxi Lu 新华路294号, 近定西路
Tel: 62826897
Hours: Mon-Fri 5pm-12am, Sat 11am-12am, Sun 11am-10pm
Cotton's is offering buy-one-get-one free gin and tonics all March long. G&T's start at ¥50 a pop and go up to ¥128 for Monkey 47. Terraces are open!
---
Colca
North Bund: Sinar Mas Plaza, 2/F, 588 Dongchangzhi Lu, near Xinjian Lu 东长治路588号白玉兰广场2楼, 近新建路
Tel: 65933666
Hours: 12pm-11pm
Colca's brand new second location at North Bund is offering a free cocktail and a complimentary bite for all diners, from open until 10pm all March. Plus, they've extended their happy hour (drinks are all ¥38) to all-day for the rest of the month.
---
Mr & Mrs Bund
Address: 6/F, Bund 18, 18 Zhongshan Dong Yi Lu, near Nanjing Dong Lu 中山东一路18号6楼,近南京东路
Tel: 63239898
Adjusted Hours: Tue-Sat 5:30pm-10:30pm
Mr & Mrs Bund is offering half-priced wines and cocktails for all dine-in guests. After half-off, cocktails start at ¥40, beers are ¥25, and wines by the bottle start from ¥210. Prices are subject to 10% service charge.
---
M on the Bund
Address: 7/F, 20 Guangdong Lu, near Zhongshan Dong Yi Lu 广东路20号7楼, 近中山东一路
Tel: 63509988
Hours: Mon-Fri 11:30am-2pm, 6-9pm, Sat-Sun 11:30am-3pm, 6-9pm
So this is intense. M on the Bund has an insane deal—¥10 for champers and caviar. That's Tattinger Champagne and a Mandarin Baluga Caviar-studded canapé.
WHAT? 10rmb! Oh, ok. They limit it to 1 order per person. And it's only available with bookings for lunch, brunch, or dinner. Meaning: you gotta sit down for a meal. Still worth the cab ride though. Secret code: "M's Delicious New Deal" when you book (scan the QR code).