The Michelin Guide Shanghai 2023 selection was announced today, December 15, awarding a total of 50 restaurants with stars. This marks the seventh edition of the guide.
Taian Table and Ultraviolet continue to hold three stars from the previous year. New in the two-star category is 102 House.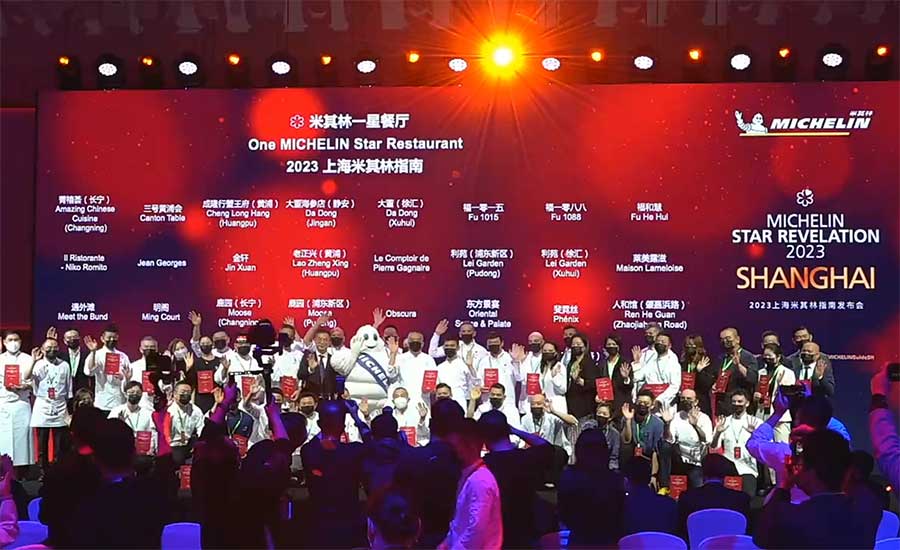 Three new entries made it into the one-star ranking, Fu 1039, Lu Style, and Yong Fu (Hongkou). Le Patio & La Famille dropped out of the one-star category into the Michelin Selected Restaurants category.
For Bib Gourmands, there were seven new entries. Two venues were removed from the Bib list, Old Jesse and Lan Ting.
Three Stars
Taian Table | 泰安门
Ultraviolet by Paul Pairet
Two Stars
*102 House | 壹零贰小馆
8 1/2 Otto e Mezzo BOMBANA
Bao Li Xuan | 宝丽轩 (Bvlgari Shanghai)
Canton 8 | 喜粤8号 (Runan Jie)
Da Vittorio
Imperial Treasure | 御宝轩 (Huangpu)
Ji Pin Court | 吉品轩
L'Atelier de Joel Robuchon
Xin Rong Ji | 新荣记 (Nanyang Lu)
One Star
Amazing Chinese Cuisine | 菁禧会 (Changning)
Canton Table
Cheng Long Hang | 成隆行蟹王府 (Huangpu)
Da Dong | 大董 (Xuhui)
Da Dong | 大董 (Jing'an)
Fu He Hui | 福和慧
Fu 1015 | 福一零一五
Fu 1088 | 福一零八八
*Fu 1039 | 福一零三九
il Ristorante – Niko Romito (Bvlgari Shanghai)
Jean Georges
Jin Xuan | 金轩
Lao Zheng Xing | 老正兴 (Huangpu)
Le Comptoir de Pierre Gagnaire (Capella Shanghai)
Lei Garden | 利苑 (Pudong)
Lei Garden | 利苑 (Xuhui)
*Lu Style | 鲁采
Maison Lameloise
Meet The Bund | 遇外滩
Ming Court | 明阁
Moose | 鹿园 (Changning)
Moose | 鹿园 (Pudong)
Obscura
Oriental Sense & Palate | 东方景宴
PHENIX | 斐霓丝 (The Puli Hotel & Spa)
Ren He Guan 人和馆 (Zhaojiabang Lu)
Seventh Son | 家全七福 (Jing'an)
Shang-High Cuisine | 迷上海 (Jumeirah Himalayas)
Sheng Yong Xin | 晟永兴
Sir Elly's | 艾利爵士 (The Peninsula Shanghai)
T'ang Court | 唐阁 (The Langham, Xintiandi)
Tea Culture | 逸道 (Beijing Dong Lu)
Xin Rong Ji | 新荣记 (Nanjing Xi Lu)
Yi Long Court | 逸龙阁 (The Peninsula)
Yong Fu | 甬府 (Huangpu)
*Yong Fu | 甬府 (Hongkou)
Yong Yi Ting | 雍颐庭
Yongfoo Elite | 雍福会
Yu Zhi Lan | 玉芝兰
Bib Gourmands
A Niang Mian | 阿娘面
*Chun | 春
Da Hu Chun | 大壶春 (Sichuan Lu)
Easeful Cuisine | 逸采
Four Seasons | 文兴酒家
Gong De Lin 功德林 (Huangpu)
Hao Sheng | 豪生酒家
*Ho Hung Kee | 何洪记
Lan Xin | 兰心 (Jinxian Lu)
Lu Bo Lang | 绿波廊Mao Long | 茂隆
Mi Thai (Anfu Lu)
Nanxiang Steamed Bun | 南翔馒头店 (City God Temple)
Polux
Rong Cuisine | 荣小馆 (Huangpu)
Rongshu Noodle Soup with Yellow Croaker 荣叔黄鱼面
*Tasty Congee & Noodle Wantun Shop | 正斗粥面专家
*The Lakeside Veggie | 临湖素食
*Wu You Xian | 屋有鲜
*Xiao Tao Mian Guan | 小陶面馆
Yangzhou Fan Dian | 扬州饭店 (Huangpu)
Ye Olde Station | 上海老站
Yongfu Mini | 甬府小鲜
*Yunhe Noodle | 云和面馆 (Huangpu)
Michelin Selected Restaurants
1515 WEST Chophouse (Jing'an Shangri-La)
Arva (Amanyangyun)
Beef & Liberty (Jing'an)
Canton 8 (Nanjing Dong Lu)
Canton Disco (Edition Hotel)
Cellar To Table (Donghu Lu)
Char (Indigo Hotel)
*Chic 1699 | 远洋私厨
Coquille
Cuivre
De Xing Guan | 德兴馆 (Guangdong Lu)
Ding Te Le | 顶特勒粥面馆 (Huaihai Zhong Lu)
The Dining Room (Park Hyatt Shanghai)
*Dong Ping Chao | 东平潮
Epices & Foie Gras
Frasca (The Middle House)
*Hakkasan
Hang Yuen Hin | 恒悦轩 (Xuhui)
*Hong 0871 | 泓0871
Jade on 36 (Pudong Shangri-La)
*Jamoteca
Jardin de Jade (Nanjing Xi U)
Kanpai Classic (Bund)
*Kiina
Le Patio & La Famille | 南麓·浙里 (Huangpu)
Legend Taste (Jing'an)
*Les Nuages | 云
*Lin Family of One-The Bund
Lin Jiang Yan
Madam Zhu's Kitchen
Maison de L'Hui (Sinan Mansions)
Mercato
Mr & Mrs Bund
*Nan Xing Yuan
*New Wave by Da Vittorio
Oxalis
POP
Prego (The Westin)
River Drunk
Royal China Club
Scarpetta
Shan Shi Liu
Shanghai (Jiujiang Lu)
Shanghai Club
Shanghai Tavern
*Shi He Yuan (Pudong)
Stone Sal
Sui Tang Li
Summer Palace
The Commune Social
The MEAT (Kerry Pudong)
Villa Le Bec
Wan Yan
Wei Xiang Zhai
Xin Yuan Lou
Xindalu (Hyatt on the Bund)
Ye Shanghai
Yong Xing
*Yue Hai Tang
*Yunhe Jinting
Zan (Gaoyang Lu)
*Zhou She
Zifu Hui (Hongqiao Lu)