Monkey 47 gin is launching Monkey 47 Supper Club, an on-going dinner series that pairs cocktails with food.
Monkey 47 brand ambassador Zachary Connor de Git is teaming up with Oha Eatery chef Blake Thornley for the first edition on Monday, November 8.
A six-course dinner paired with cocktails for ¥488. Limited seats available!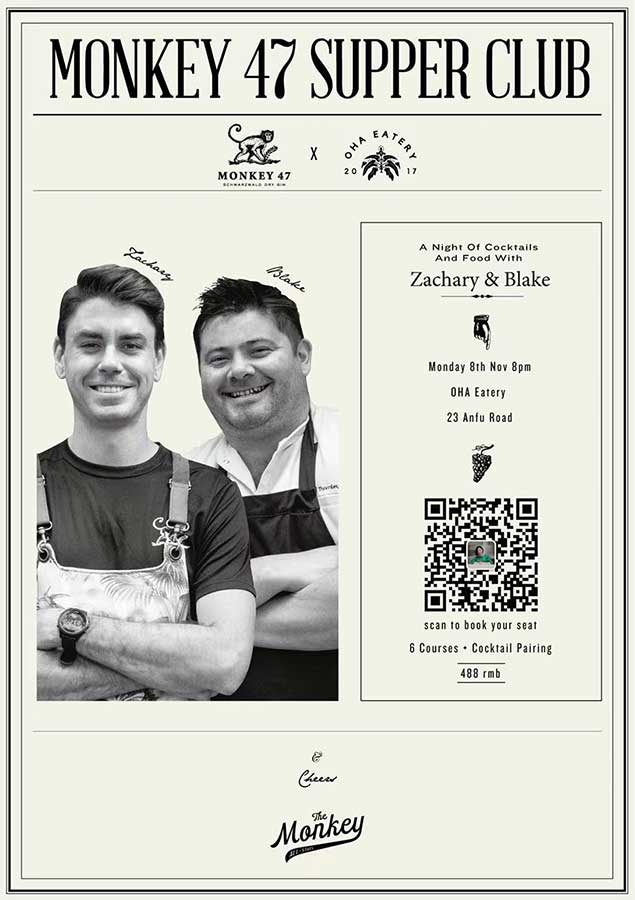 About Monkey 47 Supper Club
The concept of pairing food and wine is universal. It's a means to compliment aromas and flavors, and a great way to enjoy a night out. Cocktail pairing is less commonplace, but is being explored by chefs and bartenders more in recent years.
The origin story of Monkey 47 Supper Club—and this particular dinner series—began a decade ago at Tippling Club, Singapore. The award winning bar was Zachary's old stomping ground, and it was where he first experimented with pairing cocktails and food. It was also, coincidentally, how he and Blake first met.
This dinner series aims to explore the world of flavors and aromas through a culinary journey with an exciting food menu and diverse cocktails that have been paired and crafted with care and purpose. It's adventurous, fun, and all about enjoyment, with personalized service from both chef and bartender.
What's On The Menu
The first edition combines the unique flavors of Guizhou with chef Blake's contemporary style, paired with unique Monkey 47 cocktails. It's a six-course dinner, each dish paired with a cocktail, plus a welcome drink for ¥488.
Here's what to expect:
Limited Seats – Book Now!
Seats for the first edition of the Monkey 47 Supper Club at Oha Eatery are limited! Dinner starts at 8pm on Monday, and it's ¥488 per person for the six-course cocktail pairing dinner, plus a welcome drink.
Scan the QR Code in the poster to book now!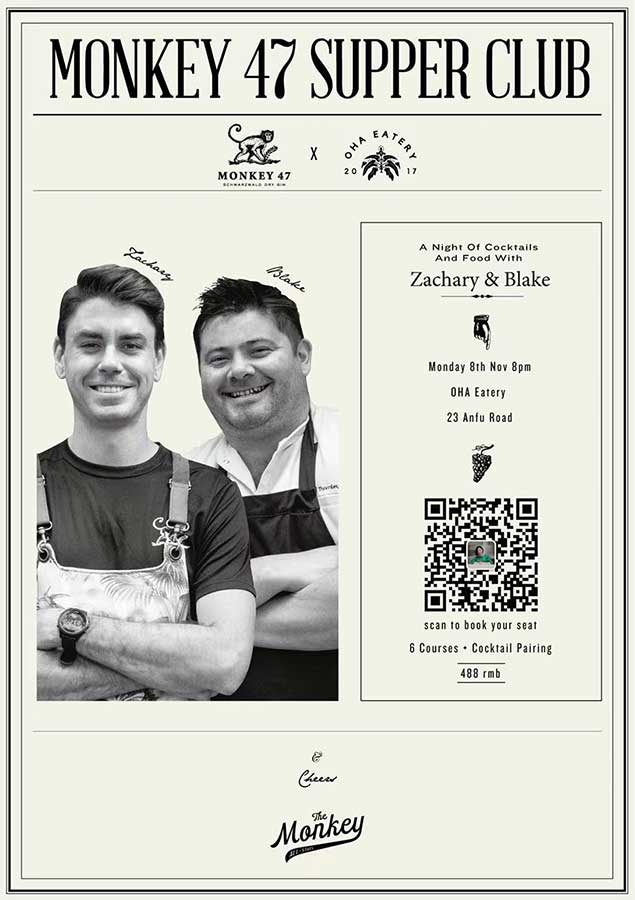 ---
Monkey 47 Supper Club @ Oha Eatery
When: Nov 8, Monday, 8pm
Address: 23 Anfu Lu, near Changshu Lu 安福路23号, 近常熟路
Tel: 13621647680