New on Yuyuan Lu is Mystique, a sultry, dim-lit restaurant and wine bar serving continental cuisine and curated wines at competitive prices.
It's a new entry that fills a gap in this part of the neighborhood, and serves as a warm and welcoming destination for escapism.
Read more to book and get 10% off your bill.
About Mystique
To get to Mystique, patrons must walk through the casual ground floor café-lounge and up the stairway. Upon arrival, you're greeted by the towering wine display, an impressive centerpiece that also has an open invitation for wine connoisseurs to enter to select bottles.
Early evening, it's bright and awash with light, but it soon changes to a warm, incandescent dining room after sunset.
It's a cozy, casual space with a clean design and furnishing to match, highlighted by natural concrete pillars and tropical plants. There is a large private room that seats up to 14 people and a more intimate room for six.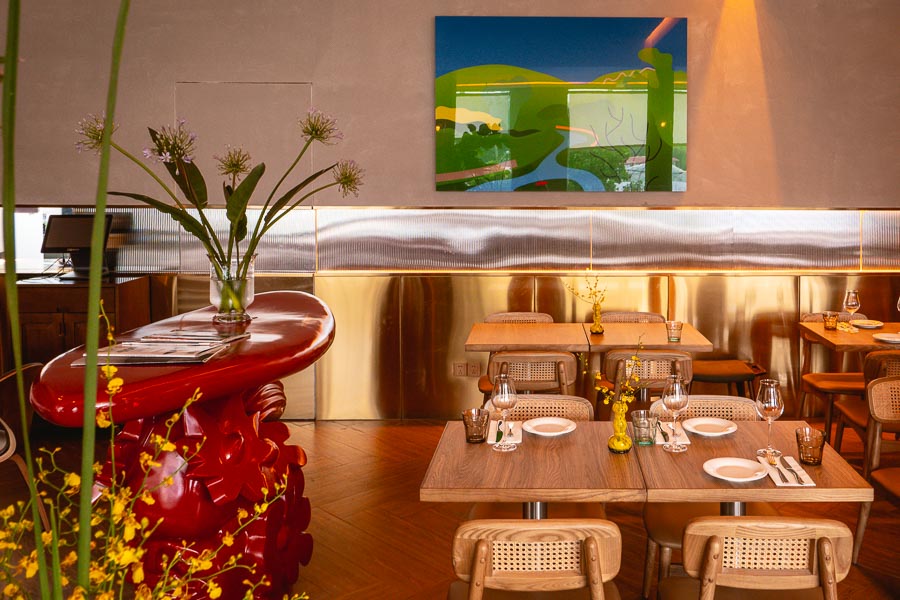 Mystique is the first foray into wine and dining for its founders, all of whom are young Chinese entrepreneurs that come from creative industries of architecture, design, jewelry, and art. Speaking of art, there is plenty interwoven into the space, some even original pieces.
Food & Wine
The food is continental cuisine accented with Chinese spices. There is a selection of small bites like the mini burgers and mustard shrimp, full dinner plates like the mushroom risotto and the roasted chicken. It is all very competitively priced, which gives you more leeway to splurge on wine.
As for the wines, the wine list caters to mostly classicists with a few natural wines snuck in. Currently, it's a modest selection with more labels on the way.
It is a quality-first curation. To iterate that, the house pour Riesling is ¥78 a glass, ¥388 a bottle. It's a proper trocken from Villa Wolf, Germany that's dry, crisp, and fruity.
Other wines start from ¥58 a glass, bottles from ¥258, more than reasonable.
In Summary: There is not much else happening in this corner of Changning, apart from stalwarts further down the street like The Cannery and Commune Reserve. Mystique is a worthwhile option for those seeking a more intimate destination and experience, one that's easy on the eyes and on your wallet.
Nomfluence Readers Deals
The deal below is valid from now until August 31, 2022 for Nomfluence readers when you book via the QR Code below!
---
Mystique 觅醍
Address: 2/F, 1429 Yuyuan Lu, near Dingxi Lu 愚园路1429号2楼, 近定西路
Tel: 13585884006
Hours: Daily, 4:30pm-11pm