URBAN Café at The Sukhothai Shanghai welcomes new Thai Chef Anchalee Luadkham, who's just launched a new menu of Chiang Mai delicacies featuring soulful sauces, piquant and zesty flavors, and rich curries that beg to be eaten with rice.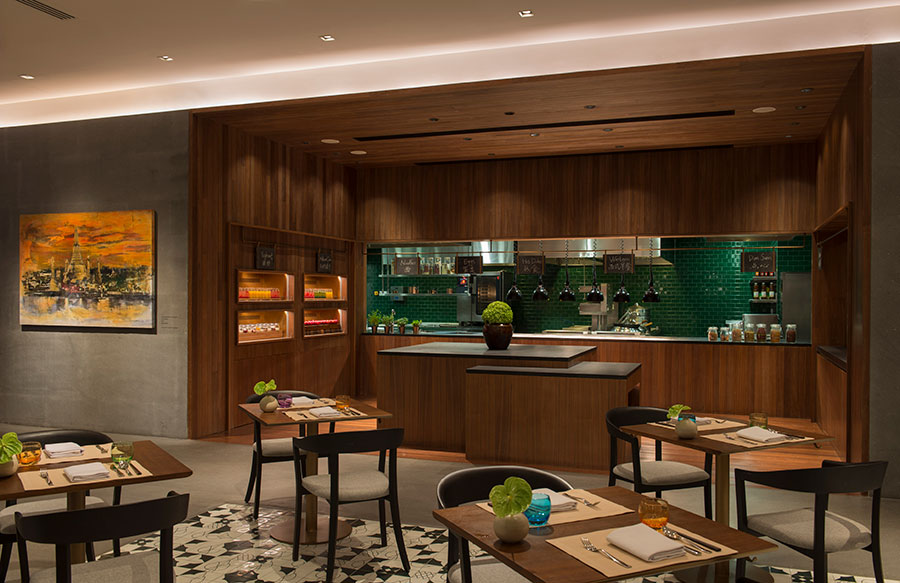 Anchalee hails from the culture-rich city of Chiang Mai, and has brought with her the secret to unlocking flavors from Northern Thailand, populating the menu with 40 new dishes.
Read on for Nomfluence Readers Deals!
Also, if you missed it, The Sukhothai Shanghai recently upgraded their terrace, transforming it into a Thai-inspired garden complete with gazebo and water features that extends from URBAN Café to The ZUK Bar. Al fresco dining for those balmy nights.
About Chef Anchalee Luadkham
Chef Anchalee Luadkham is a proud proponent for authentic Thai flavors, but presents it in a modern style that befits stylish venues like the Sukhothai Shanghai. She's had an impressive career in 5-star hotels, previously at the Mandarin Oriental and Four Seasons Chiang Mai.
"I want to capture the essence of classic Thai dishes. Modern presentation but traditional taste. However, I've had to recreate a lot of recipes, because ingredients are hard to find," remarks Anchalee.
She's actually a self-taught chef and has never gone to culinary school, though she came close. On that fated morning when she was to enroll at Le Cordon Bleu, the call came for the Mandarin Oriental. Torn between studying and wanting to work, she chose the latter.
"Chefs from my mother's generation were not chefs in restaurants or hotels, but cooks in the village. Whenever there was a celebration, everyone would contest to be the leader in the kitchen, to be the boss. My mother was one of those people, and I was pulled in to help. I fell in love with the smells, the colors…I just loved it. I didn't go to school, I only learned how to cook Thai food from my family members," said Anchalee.
When asked about her personal cooking style, Anchalee said, "My style is quite spicy. I'm a bit crazy about chilies. But don't worry, not all the dishes are my level of spicy. I also don't use MSG or bouillon and make everything from scratch."
From Chiang Mai To Shanghai
Food from Chiang Mai is distinctly different from Thailand's eastern and southern regions. Located close to the borders of Laos and Myanmar, Chiang Mai cuisine is influenced by its neighboring countries, even borrowing some flavors from China.
Defining differences between Chiang Mai's food and other Thai regional cuisine is that it is sweet, coconut milk isn't used in curries, the sauces drier, and curries less soupy. It's vibrant and eclectic.
Other drinks include Thai-style milk tea, wines by the glass from ¥80, bottles from ¥400, and Singha bottled beer for ¥60 or a bucket of six for ¥320.
URBAN Café also has a weekday lunch set for ¥185, serving smaller portions of their a la carte dishes for variety. Two sets are available, one with papaya salad, tom yum soup, green curry chicken, rice, and mango sorbet, the other with pomelo salad (Yum Som O), chicken breast, pad thai, and Tub Tim Krob.
All prices are net.
In Summary
Compared to other Thai restaurants in Shanghai, it is pricey. Can you get this kind of food anywhere else in Shanghai? No. The food is delicious and worth its salt. It's definitely worth trying, and I endeavor to return again.
Nomfluence Readers Deals
The deal below is valid from now until August 31, 2022 for Nomfluence readers when you book via the QR Code below!
Complimentary glass of prosecco or Thai-style milk tea. Limited one per person. Valid for dinner only.
---
URBAN Café, The Sukhothai Shanghai
Address: 1/F, 380 Weihai Lu, near Shimen Yi Lu 威海路380号1楼, 近石门一路
Tel: 52378888
Hours: 12pm-9:30pm