The OHA Group opens a traditional Cantonese restaurant on Dagu Lu, The Flask Group expands with a bistro-bar, and upscale Spanish food at Huata.
---
Restaurant Fu 福餐厅
Address: 431 Dagu Lu, near Shimen Yi Lu 大沽路431号, 近石门一路
Tel: 15921709033
Hours: Tue-Sun, 11:30am-2:30pm, 5pm-10pm; closed Monday
From the OHA Group comes Restaurant Fu (福餐厅), a traditional Chinese restaurant dedicated to Cantonese cuisine located on Dagu Lu.
Unlike the group's other Chinese restaurants Maolago and Oha Eatery, which both serve a contemporary style of Guizhou food, Restaurant Fu is strictly traditional Cantonese.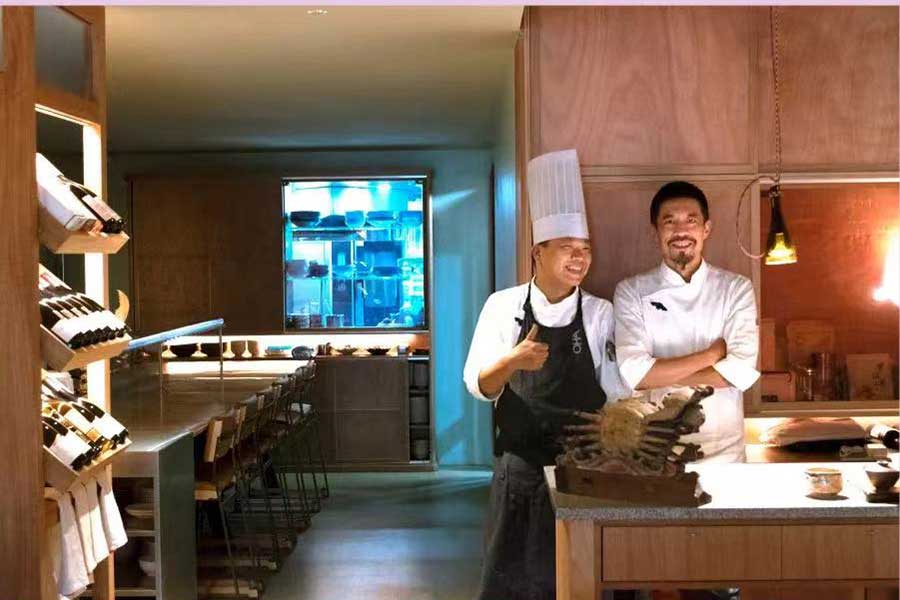 Specifically, Restaurant Fu aims to revive lost or soon forgotten recipes from Guangzhou, delving deep into the foods found in Shunde, Chaoshan, Taishan, and beyond.
Leading the research behind those dishes is venue manager Gavin, who has more than 20 years of experience working in traditional Chinese fine dining restaurants. Upholding the quality is head chef Kong, who has been cooking traditional Cantonese for 17 years, and his brigade of Canton-native chefs.
As for the ambience, it's cool, understatedly chic, hip, and casual. The same could be said about the crowd that Restaurant Fu has attracted.
Signatures at Restaurant Fu are classic Cantonese dishes of crispy pigeon, claypot rice, and double boiled soups, all of which are excellent and delicious, ones I would return for time and again.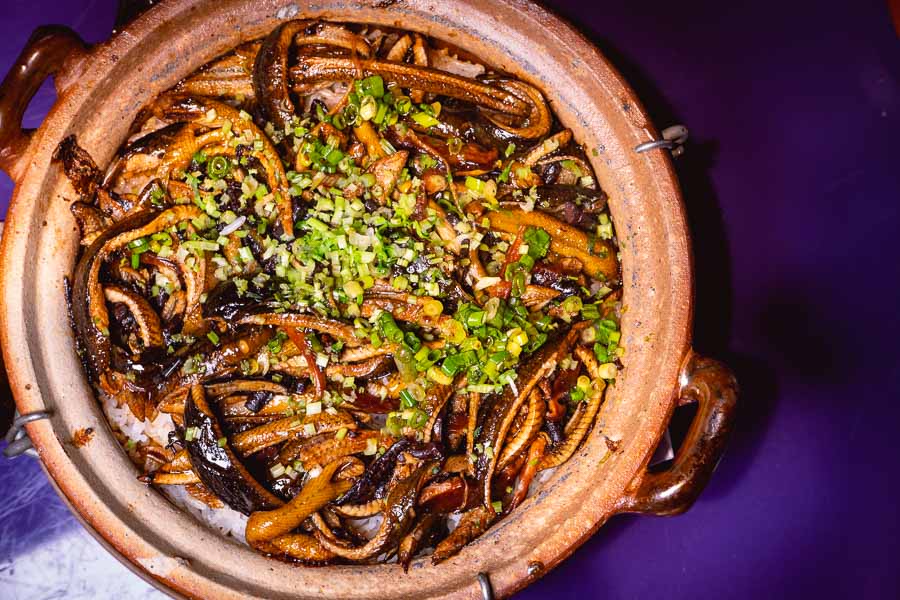 For drinks, there are a couple simple cocktails from ¥68, drip wine from ¥69, wine from ¥85, and Chinese teas from ¥38.
Having tried Restaurant Fu, it's clear that the OHA Group can do both modern and traditional with aplomb. The food is delicious, it's more than affordably priced, and the vibe excellent. Highly recommend.
---
KRU On Tap
Address: 850 Xikang Lu, near Haifang Lu 西康路850号, 近海防路
Tel: 58388866
Hours: Sun-Thu, 11:30am-midnight; Fri-Sat, 11:30am-1am
Located in M+ Jing'an, KRU On Tap is a bistro-style bar that's café by day, bistro by night, serving Taiwanese food with a modern twist, flame-grilled bites, and draft wines and cocktails.
It's the latest from The Flask Group, which has a proven track record of running some quality drinking establishments in Shanghai, including but not limited to Botanist (cocktails), KRU (wine), and its namesake Flask (cocktails). This is the group's first foray into the bistro category.
The vibe is "low-key cool" with a light color scheme of pale wood tones and warm lighting. It's a comfortable, airy dining room with a cozy bar counter, and a standing bar area. It's also dog-friendly inside.
The food at KRU On Tap is mostly flame-grilled and features dishes that are heavily influenced by Taiwanese flavors. It is somewhat fusion, but I find it leans more Taiwanese than Western. On the menu are a myriad of side dishes that act as appetizers and elegant bar snacks, steaks, comforting rice bowls, and a slew of house pickles that you won't find anywhere else in Shanghai.
I do recommend getting some of their house pickles, which are an uncommon ensemble of more fruit-based pickles rather than vegetables. I haven't seen pickled red guava anywhere else, and welcome the tangy, crunchy, appetizing triangles.
Drinks on tap include cocktails, beer, and wine, all priced at an affordable ¥68/glass. The draft cocktails were a highlight, most of which are, as far as I could discern, easy drinking and low-ABV.
I highly recommend the "pistachio, guava, tie kuan yin oolong tea," "white miso, litchi, chamomile," and the "pickled green chili, pineapple, coffee." Mocktails and coffees also available on the menu.
Great for a casual dinner or date night. Good for popping in for drinks too, that is, when drinking openly is allowed again. Do call ahead to ask, but mind you, if the venue says they can't serve you alcohol, it is not their decision. As for daytime, I can imagine it to be a lovely café for lunch or as an alternative workspace. (I've also been told their breakfast sandwich is excellent.)
---
Huata
Address: No. 201, Block A, Bldg 5, 8 Hengshan Lu, near Wulumuqi Nan Lu 衡山路8号5号楼A座201室, 近乌鲁木齐南路
Tel: 16621795767
Hours: Daily, 5pm-midnight
Huata Holiday Plan is an upscale Spanish restaurant in the newly opened Hengshan 8 complex.
I had some reservations about venturing to Huata. Their press line, "to create a Spanish-style resort in the city, the all-round experience from space, products to meals is an aesthetic journey from body to soul," wasn't in the least convincing. Thankfully, I stand corrected, as the food proved to be tasty and well executed, and the service attentive and commendable.
It's located on the second floor of the new Hengshan 8 complex, a colossal building on the corner of Hengshan and Wulumuqi, one that will soon be home to multiple F&B outlets, including High Yaki The Sea, Il Laboratorio del Gelato, and a dozen others. The interiors at Huata are feminine with a clean, design-forward aesthetic.
What's more impressive is the terrace, which has been decked out to evoke, as I understand it, a "Barcelona beach vibe." Come winter months, the theme will change, as I'm told.
As for the food, it's mostly Spanish fare with the usual suspects of grilled mains like steaks, ribs, and whole filets of fish. It's a huge menu of nearly 30 tapas, supplemented by the aforementioned restaurant staples, as well as a dozen renditions of pasta and paella, and the coveted suckling pig.
For drinks, it's primarily wine, which is available from ¥98 by the glass, and high-end whiskies from ¥108/glass. Beers from ¥58.
The food is good, and the price, well, is a little bit upmarket. What was really lacking in my experience was the ambiance. The near-empty dining room on a rainy weekday didn't provide the optimum setting for such a meal. If you're looking for an occasion restaurant in the area, this is another option.