Sponsored by Colca

Azul is popping up at Colca North Bund, serving their popular weekend brunch menu for the next three months.​
Conceptualized by serial restaurateur Eduardo Vargas, the Azul brand has been around since 2003, serving a menu of Spanish, South American, and Mediterranean-inspired dishes. It is perhaps Peruvian-native Eduardo Vargas' most successful concept to date.
Fans of Azul may have already heard—the restaurant on Wukang Lu closed before Chinese New Year due to high rents. It had called Wukang Lu its home since 2013.
Brunch Details: Azul's Pop-Up Brunch
Azul is currently looking for a new place to roost, but meanwhile, they're running their popular brunch menu at Colca North Bund every Saturday and Sunday from 12:30pm-3:30pm.
¥168 for two courses (starter or dessert & main)
¥198 for three courses (starter, main, & dessert)
Each set includes one beverage (house cocktail, smoothies, juice, or lemonade) AND a coffee/tea.
Make it boozy: Two hours of free-flow cava for ¥150.
To Start
Mains – Eggy Dishes
Ah, the brunch staple—Salmon Benedict. House-cured salmon, poached organic eggs, spinach, potatoes (both baby potatoes and purple potatoes), roasted tomatoes, and hollandaise on toast. Fantastically bountiful, perfectly poached eggs, delicious salmon.
I'm a big an of lamb, and the Brunch in Morocco (+¥8) hits the spot. The tender pieces of cubed lamb loin and chunks of Merguez (spicy mutton) sausage are mixed in with a spice-rich tomato-harissa sauce with kale, chickpeas, and labneh. Crowned with a poached egg and crispy flatbread. Highly recommended.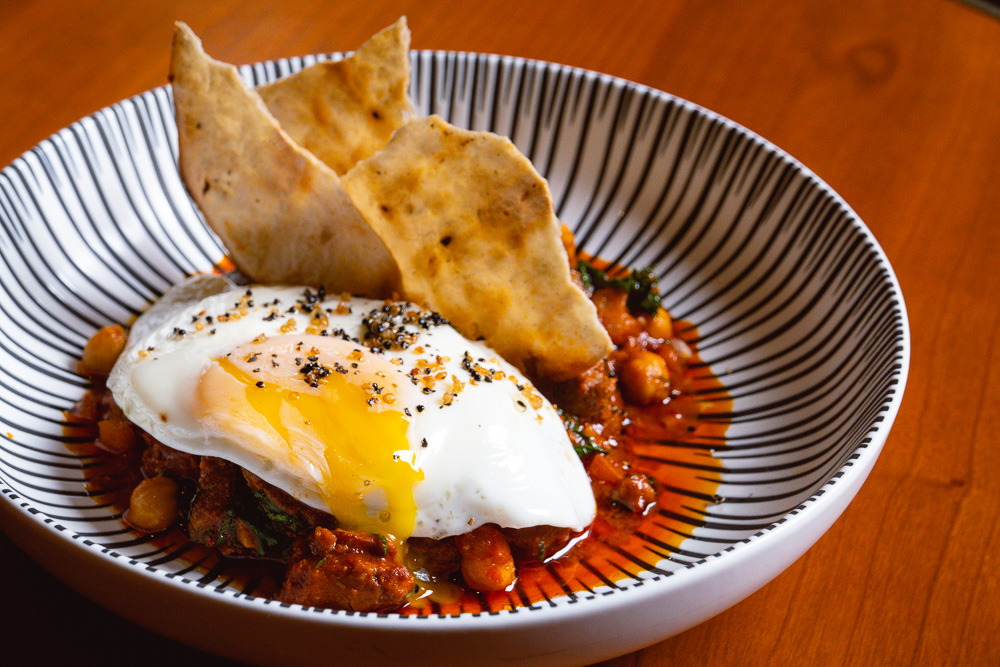 Mains – Lunchy Stuff
The Cuban Chicken is one of my favorite lunch dishes at Azul. It's a grilled chicken thigh with tomato relish, yellow chilli sauce, potato confit, quail eggs, and olives. It's not spicy, rather fragrant. The thighs are juicy and flavorful, and the sauce addictive.
Vegan Options!
The Vegan "Chorizo & Egg" is a completely vegan dish made with Just Egg for the scramble and Z-Rou vegan "chorizo" with potato hash. Kale, black beans, avocado, and arepas compliment this hefty breakfast plate. There's one other vegan main, a portobello mushroom quinoa-risotto. There are also a handful of vegan starters.
Desserts
For dessert, there's a Tiramisu (+¥18). As the menu reads, "It's not latino, but it's so good!" Instead of a mix of liquor and espresso, this version uses tequila coffee liqueur.
Don't miss Chef Abel's Apple Cake. This is Colca executive chef Abel Matos' flourish on desserts—a divine slice of caramelised granny apples and custard served with milk ice cream. Highly recommended.
---
Azul Pop-Up Brunch @ Colca North Bund
Address: Sinar Mas Plaza, 3/F, 588 Dongchangzhi Lu, near Xinjian Lu 东长治路588号白玉兰广场3楼, 近新建路
Tel: 65933666
Hours: 11:30am-10pm, Brunch Sat & Sun 12:30-3:30pm