Here are recipes for a delicious three-course meal with sobrassada pasta as the main event. Read on to get ¥50 off your total bill when you shop with The Good Food People.
These recipes are done in collaboration with The Good Food People, who were kind enough to sponsor some products. They are an importer and distributor in China specialized in premium foods and wines (of mostly Spanish origin)—and they deliver!
On The Menu
Olive & Cheese Plate with Pesto
Octopus Salad with Artichokes
Sobrassada Fusillata Casareccia
Recipes below are for four servings.
The Good Food People Shopping Cart
Sarvecchio Parmesan ¥88
Green Olives ¥59
Sobrassada ¥98
Octopus Legs ¥148
Cynara Artichoke Heart ¥48
To Start: Olive & Cheese Plate with Pesto
Olives, cheese, pesto and pita are a great finger food to start the meal.
Fresh pesto is extremely easy to make if you have a food processor. The traditional recipe calls for pine nuts (and to use a marble mortar and pestle), but pine nuts are pricy, so I use cashews. Obviously, you'll also need fresh basil—you can get it from the Avocado Lady on Wulumuqi Zhong Lu.
Pesto Recipe
2 cups fresh basil
½ cup cashew nuts
1 cup grated Parmesan cheese
3 cloves garlic
½ cup olive oil
1 teaspoon of salt
Instructions
1. Remove basil leaves along with the young, soft stems (the soft stems are edible and have flavor). Wash and dry them as much as possible.
2. Blend pine nuts in food processor.
3. Add in basil, salt, and olive oil and blitz/pulse. You'll need to mix the contents a couple of times. Try not to over process them.
4. Stir in grated Parmesan cheese.
Note: Pesto can be kept for at least 2 weeks in a seal-tight jar. Pack pesto into jar and top off with olive oil so it covers the top completely.
I got my pita from Mediterranean Bakery.
---
Appetizer: Octopus Salad with Artichokes
Ingredients
2 octopus legs (250-300g)
1 can of artichoke hearts
2 bunches of lettuce
1 carrot
1 cucumber
Olive oil
Balsamic vinegar
Instructions
The octopus leg from Good Food People is ready to eat! The legs are steamed in its own liquid and are vacuum-sealed for consumption. You can just take it out of the bag, slice it up and adorn your salad.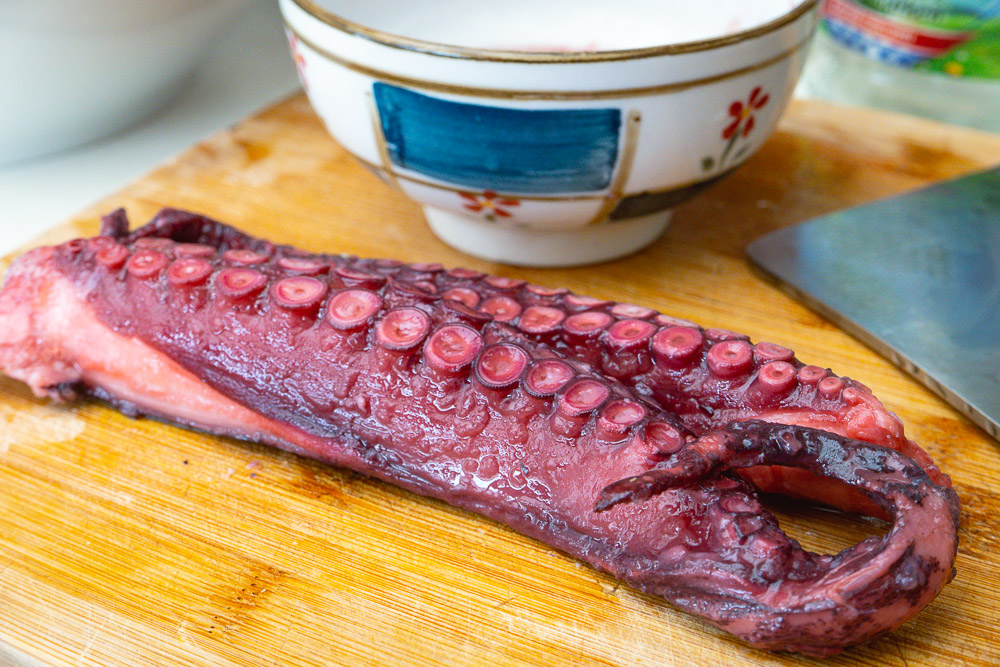 1. Carefully remove octopus legs from the bag, and save the juices in a small bowl and set aside. Slice octopus into thin, bite-sized pieces.
2. Artichokes are also ready to eat. Cut the artichokes in half, lengthwise.
3. For the salad base, I used lettuce, carrots, and cucumber.
Octopus Juice Salad Dressing
What about the octopus juice from the bag? It's also edible! Make it into salad dressing.
Instructions
Add 3 tablespoons of balsamic vinegar, a pinch of salt and pepper, and 3 tablespoons of extra virgin olive oil to the juice and stir it up.
The Highlight: Sobrassada Pasta
Sobrassada is a raw, cured sausage from the Balearic Islands in Spain. It's a soft, paprika-spiked sausage similar to the Italian Nduja. It's traditionally spread on bread or added to stews and pasta. To coax out the flavor and oils, the best way is to pan-fry it.
Ingredients
Sobrassada 350-400g
6 cloves garlic
½ large red onion
Fusillata Casareccia 500g
Olive oil for frying
Instructions
1. Chop onions and garlic and set aside.
2. You'll only need a third of the whole sobrassada—about 350-400g. Remove meat from casing and chop the meat up. Try to break it up as much as possible.
3. Fry the chopped sobrassada in a non-stick pan on medium-low heat. We want to coax out as much of that glorious oil as possible, without drying out the meat. Cook for 8-10 minutes until chunks darken and oil is extracted. Transfer into a bowl and set aside.
4. Take 1 tablespoon of extracted sobrassada oil and add 3 tablespoons of olive oil back into the pan. Add in garlic and onion and a pinch of salt and fry until browned.
5. Add in the cooked sobrassada and remaining oil and fry for a minute or so. Leave in pan and set aside.
Note: I'm using fusillata casareccia pasta, which is great for ragus and dry sauces. But really, you can use any kind of pasta you like.
6. When cooking your pasta, make sure to add salt to the water. It's about 4-4.5 litres of water for 500g of pasta and about one tablespoon of salt. In a stockpot, bring water to a boil, add in salt and pasta. Keep boiling on high for 8-10 minutes. Taste the pasta to see if you like it al dente or softer. Strain pasta with a colander and set aside.
7. Heat up sobrassada in the pan on high heat until it sizzles and then add in pasta. Give it a good quick mix and turn off the heat.
8. Serve pasta immediately with grated Parmesan cheese.
---
Get ¥50 off with Nomfluence
Get ¥50 off your total bill when you spend more than ¥200 with The Good Food People. You can shop via the WeChat account "thegoodfoodpeople" or scan the QR code below.
Enter the discount code "NOMFLUENCE" (yes, all caps) when you make your purchase to get ¥50 off. The discount is valid until March 31, 2020.
Delivery is available every Monday to Friday. Free delivery to all of Shanghai; a delivery fee will apply for other cities in China. Same day delivery for orders received before 5pm. Orders received after 5pm will be delivery the next working day.