Mercado 505 is a deli, grocer, restaurant, and bar backed by importers Jiarui Fine Foods.
It commands a three-story stronghold on the corner of Wulumuqi Bei Lu and Huashan Lu, and boasts an expansive terrace with plenty of outdoor seating.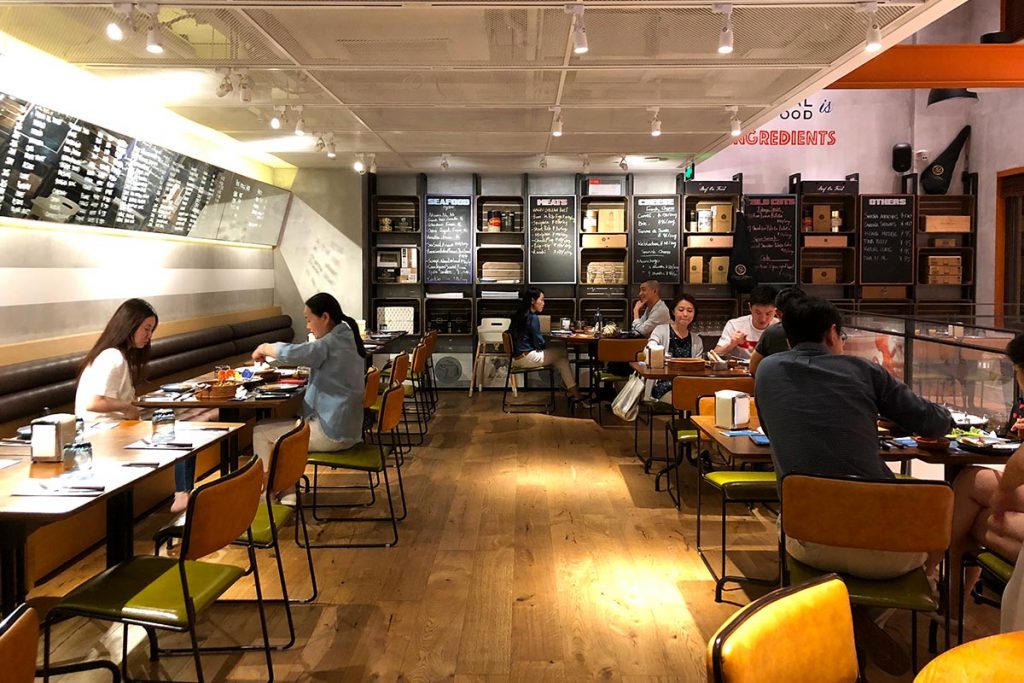 The first floor is dedicated to counter space, raw seafood bar, product displays, and high tables, while the second floor is reserved for proper sit down meals, and the third for two private rooms to fit about 10 pax each.
The Concept & Who's Behind It
Mercado 505 is actually the second location of Mercado de Waima. Waima, located at the Cool Docks, is comparatively smaller and does not have as large a menu as 505.
The concept aims to be a one-stop shop for over the counter, take away, dine-in, boozing, and events, also acting as a showroom of Jiarui's products.
We're told that because the importer is supplying the venue, you're actually getting these high end products at a much cheaper rate. (I haven't seen the P&L, but I'll take their word for it.)
Despite being known as a pricier option, many restaurants stock Jiarui wares, decidedly choosing brand and quality over minimizing cost.
With that in mind, if you're one to frown at the price of lobster, carabinero, and caviar, this place will not appeal to your good nature.
Over The Counter
In addition to deli meats and cheese, you can also buy pre-packaged jamon, Rougie foie gras, steaks, and artisanal flavored butters (black pepper and seaweed, to name a few). These items can be taken to go, or consumed at the venue. Currently there is no additional dine-in charge.
Choice-cut steaks are full blood M7 Chilean Wagyu; cuts from striploin to bone-in rib eye, all dry-aged at the venue. They also have burger patties and plenty of 5J Cinco Jotas, the highest class of Spanish ham.
A parade of high quality seafood supplies the raw bar with a heaving selection of oysters, plump Spanish carabinero prawns, lobster, Hokkaido scallops, and more.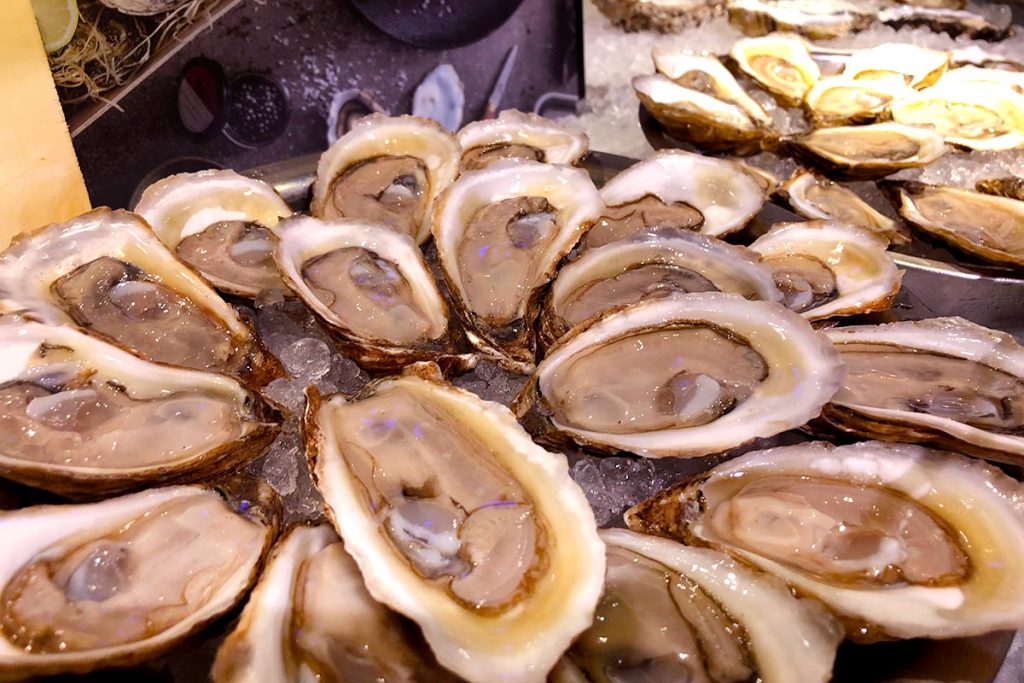 My favorite is the French Kiss (¥328/12 pieces) from New Brunswick, Canada. They're like smaller, punchier, brinier Kumamotos and are subtly sweet with notes of seaweed and a buttery finish.
A quick comparison with Osteria, a reputably fair go-to for quality oysters, shows that prices are lower at Mercado 505.
Spanish wines dominate the wine list, with a third being French. By the glass starts at ¥30: four reds, three whites, one rose, one sparkling, and Moet.
A Spanish-Inclined Menu
Mercado 505's Executive Chef Juan Campos (also Chef/Owner of RAW and Malabar) and Head Chef Ferran Andreu (formerly Tomatito) focus their talents on maintaining a Spanish-inclined menu, which incurs frequent changes based on available products.
To start, go for the terrine of Wagyu ham and Rougie foie gras (¥188). It is a sinful block that combines two hedonistic ingredients and blankets it with the rich sweetness of port.
The Scampi Carpaccio (¥198) comes with crunchy garlic-almond praline, drizzled over with basil oil, best savored sparingly.
Roasted Wagyu Brisket Salad (¥108) might seem like a simple dish, but there's more behind the scenes. The brisket requires a six-day brine and one day marinating in dry rub before it's cooked for 22 hours at 62 degrees Celsius. Pine nuts and balsamic added over the spinach. Opt to use your hands to consume this one.
Grilled in the josper oven, the Manchego Cheese (¥158) is a sight to behold. The Greek thyme-flavored honey is crusted over from baking, paired with a juicy roasted fig.
The Mont St Michel Mussels (¥108/300g) highlights Mercado's aptitude on handling seasonal produce. These pillowy morsels come steeped in a fine elixir of prosecco, butter, cream, peppers, and kaffir lime.
Fat tubes of Paccheri Pasta (¥298) come slathered in black truffle cream, topped with iberico ham, and, because we chanced upon the season at the time, thinly sliced white alba truffle. Thickened cream oozes into the hollows of the pasta, adding to the decadence of each bite.
Paellas range from ¥188-248, depending on toppings, suitable for two to share.
And there are a handful of desserts, including  torreja, the Spanish equivalent of French toast—bread soaked with cream and milk and then pan-fried.
In Summary
Taste, presentation, execution, technique, and quality are all sound. If you want to entertain quality, I would definitely recommend stopping in.
It's also casual enough, and you're not required to dress to the nines. Not everything on the menu is pricey. Just order smart. Cheese boards and tapas aplenty if all you want is a drink and bites.
Juan himself says that Ferran is expert at "spooned dishes". So keep an eye out for slow-cooked stews and soups this winter. A brunch menu is also available.
[ This was an invited tasting. ]
---
Mercado 505
505 Wulumuqi Bei Lu, near Huashan Lu 乌鲁木齐北路505号,近华山路 // Tel: 62488505