Following the success of The Waldorf Astoria Shanghai's Sunday brunch, the team have decided to continue their sea-faring theme by launching a Seafood Market Dinner Buffet.
Choose fresh seafood and have it cooked to order, plus free-flow.
Nomfluence Readers Deal! Get 25% off the dinner buffet! Details below.
Seafood Market Buffet Dinner
The Seafood Market Dinner Buffet is every Friday and Saturday evening at the Grand Brasserie at The Waldorf Astoria Shanghai.
There are three highlights to dinner: fresh seafood made-to-order, a cold platter, and trolley service.
The main event is the fresh seafood counter at the buffet line, whereby guests can pick and choose from an array of options and have it cooked to order.
Featured are Dungeness crabs, prawns, clams, mussels, red and black snapper, grouper, and soft-shelled crab. You can have them cooked with white wine, lemon, butter, garlic, or deep-fried. Orders can be placed at the buffet line or at your table. I suggest doing this before you dig into the cold seafood platter.
Each table receives a cold seafood platter laden with a premium selection not found on the buffet spread. Featured are freshly shucked oysters, poached lobster, scampi, and caviar. Portions are based on the number of people at the table.
And like brunch, there are interactive trolleys that roam around during dinner. Be sure to catch the one carving up grilled meats, which have a rotating selection from tomahawks to whole rib roasts.
There's also additional chilled seafood like sashimi cuts of salmon and tuna, as well as mussels and prawns on ice.
The rest of the buffet features a salad station, cold cuts and cheese, fresh baked breads, hot and cold dishes, and desserts.
Plus, free-flow is included; house red and white wine, selected cocktails, beer, and mocktails.
Nomfluence Readers Deals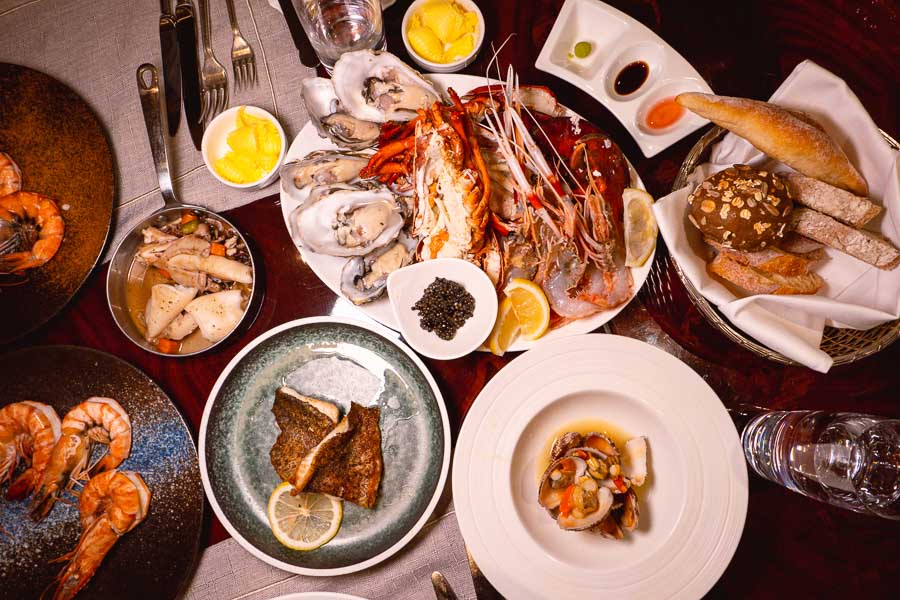 The Seafood Market Buffet Dinner is ¥698 plus 15% service charge per person. It is served every Friday and Saturday from 6pm to 9pm.
Nomfluence Readers get 25% off!
The deal below is valid from now until May 28, 2023 for Nomfluence Readers when you book via the link below!
Seafood Market Buffet Dinner for ¥598 nett per person.
---
Grand Brasserie, The Waldorf Astoria Shanghai
Address: 2 Zhongshan Dong Yi Lu, near Guangdong Lu 中山东一路2号, 近广东路
Tel: 63229988
Hours: Every Friday & Saturday, 6pm-9pm