​Sponsored by BANDIT

The BIBIMI Group has opened a second location of BANDIT on Julu Lu. It looks like it'll be this season's popular destination for sun-worshipers and terrace hunters.
An All-Day Creative Space
Like the first installment, the inspiration behind BANDIT is for it to be an all-day creative space with food and drink. Unlike the one on Xinzha Lu, this location has different themes for each of the five floors. The best spaces, in my opinion, are upward.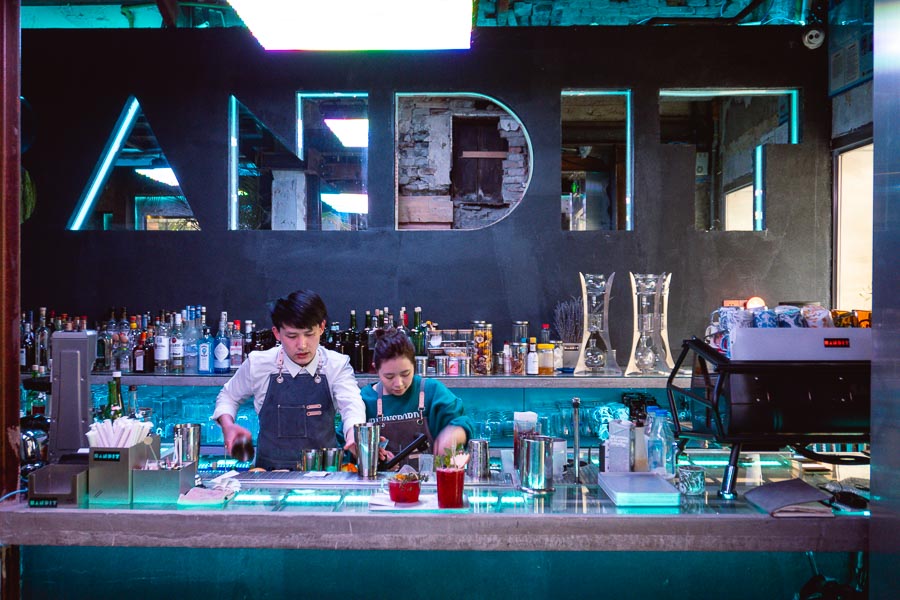 The ground floor is futuristic, similar to what they have at BANDIT 1. There's also a semi-outdoor area on the ground floor. (It's currently covered in the photos below, but the canvas roof opens up.)
The second floor takes a page out of Barbarian, one of the group's popular resto-bars, while the third is more Moroccan boho-chic. The fourth floor is in a similar vein, but it has a terrace and outdoor bar.
If that's not idyllic enough, there's the rooftop—lawn chairs and low-slung tables on turf.
The Food: What's On The Menu
The menu draws from much of the group's strengths—sandwiches, all-day brunch options, and lots of meat-heavy dishes, plus a new American smokehouse and grill selection. Smoked meats available a la carte or as mixed platters—excellent pork ribs, juicy peppered kielbasa sausages, whole spring chickens and smoked brisket.
The Tailgate Party Platter (¥577) includes four pork ribs, two sausages, four grilled shrimp, smoked spring chicken, garlic bread, smoked corn and three sides. Good for 3-4 people to share. There is a smaller option, the Dos Banditos Platter (¥368) includes four pork ribs, one sausage, and brisket (230g) with garlic bread, smoked corn and a choice of two sides.
The Garden Bandit (¥77) is one of the best value dishes on the menu. It's a vegetarian dish, and it's mighty tasty. It's a hefty serving of smoked falafel, baba ganoush, tzatziki, beet fried rice, cucumbers and grilled mushrooms on a massive laffa bread.
They also have a number of sandwiches; each comes with a choice of one side.
Sides include truffle mac & cheese, Bandit Slaw, French fries, garlic bread sticks and veggie fried rice.
The Drinks: Mocktails, Cocktails & Natural Wine
BANDIT has the usual signature and custom cocktails, but also highlights a large selection of mocktails and natural wines.
Peanut Butter Sour Cocktail (¥66)
The mocktails (all ¥45) are made the same way they make their custom cocktails: you choose your base (sparkling, still or cold brew tea, or coffee) and the flavor profile (sweet/bitter/sour/fruity/herbal/spicy-spiced), and they'll concoct one for you.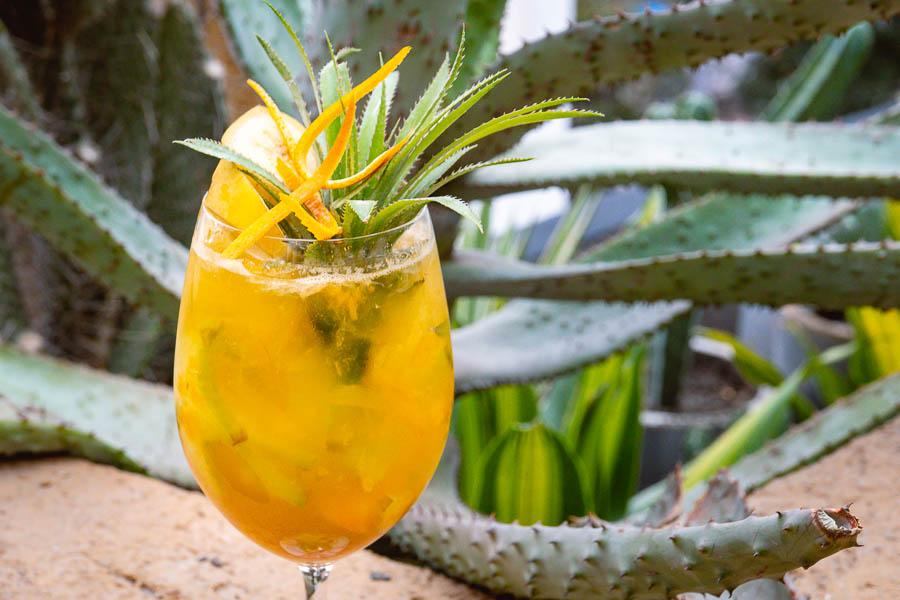 The mocktails (400-500ml) are more like refreshing coolers, a different take on the often syrupy-sweet mocktails around town
They've also stocked up on natural wines, adding a "funky monitor" label on bottles to help newbies choose wines. Classical, balanced, and funky. Bottles marked closer to the green/funky scale are, well, funkier. If you're not used to the taste of natural wine, you might think the wine is corked, but fear not, that's how it's supposed to taste.
And some natural wines, like this orange wine, may contain some sediment. Completely normal!
BANDIT 2's rooftop will most certainly be this season's hot spot. If the "entry fee" to lounge on the terrace is a couple mocktails or a bottle of wine, that place will be packed.
Nomfluence Readers Deals
Order 1 Dos Bandidos and get two complimentary mocktails
Order 1 Tailgate Party Smoke Grills Platter and get natural wine half-off.
To claim these deals, just show this article at the venue.
---
BANDIT (Julu Lu)
Address: 423 Julu Lu, near Shaanxi Nan Lu 巨鹿路423号, 近陕西南路
Tel: 18117573490
Hours: 10am-11pm