CHARCOHOL is a gastrolounge in Shanghai that serves craft cocktails and global cuisine inspired by the charcoal grill.
The Space & Location
It's located in Fengshengli, a lifestyle development rife with restaurants, bars, and cafes, right by the West Nanjing Road metro.
The cocktail bar takes center stage, seating 11 around the counter with a view of the kitchen. The dining room is spacious, seating a total of 75 people in the main room and atrium sections.
CHARCOHOL also commands an expansive terrace, sharing it with coffee car Number. The outdoor seating wraps around the building and extends to the back.
Cocktails at CHARCOHOL
Drinks are courtesy of Cross Yu, a talented mixologist with showman flair to rival the city's hardiest performers. Shanghai born and bred, the world-class bartender has been in the circuit for nearly two decades. He was recently honored with the prestigious title of Bartender of the Year and presented the Founders Award by DRiNK Magazine Asia at the DMBA 2019.
There are 16 signature cocktails at CHARCOHOL, all beautiful and stylish, with a spectrum of flavor profiles to woo every varying palate. Each cocktail is ¥88. Cross employs a few crafty methods to amp up his spirits, fashioning fat and butter-washed bourbons and clarified milk punches for his drinks.
I have two favorite cocktails, which lean towards my preference of "sour, not sweet, and savory." These are the Black & Co and Pickle Bramble.
The Black & Co is made with tequila, hazelnut syrup, and lemon juice, colored black with squid ink, and foamed with egg white. A dusting of rose sea salt gives it the savory profile. The Pickle Bramble is similar in that it's savory, but with an earthy aroma from beetroot juice. The gin base is completely masked, elevated by lemon juice, pickling juice, and litsea oil.
Global cuisine from the grill
The food is inspired by the charcoal grill and borrows from American, Asian, and French cuisines, set to grilling, fermentation, and smoking. It's a full menu with ample selection for a hearty dinner, followed by a late-night menu of bar-appropriate snacks. Lunch and brunch to launch soon.
Starters double as bar snacks, which include mini crab cakes (¥58) made with jumbo lump crab and shrimp, a spreadable chicken liver parfait (¥78), and hunger-sating guabao with smoked iberico pork belly (¥58/two).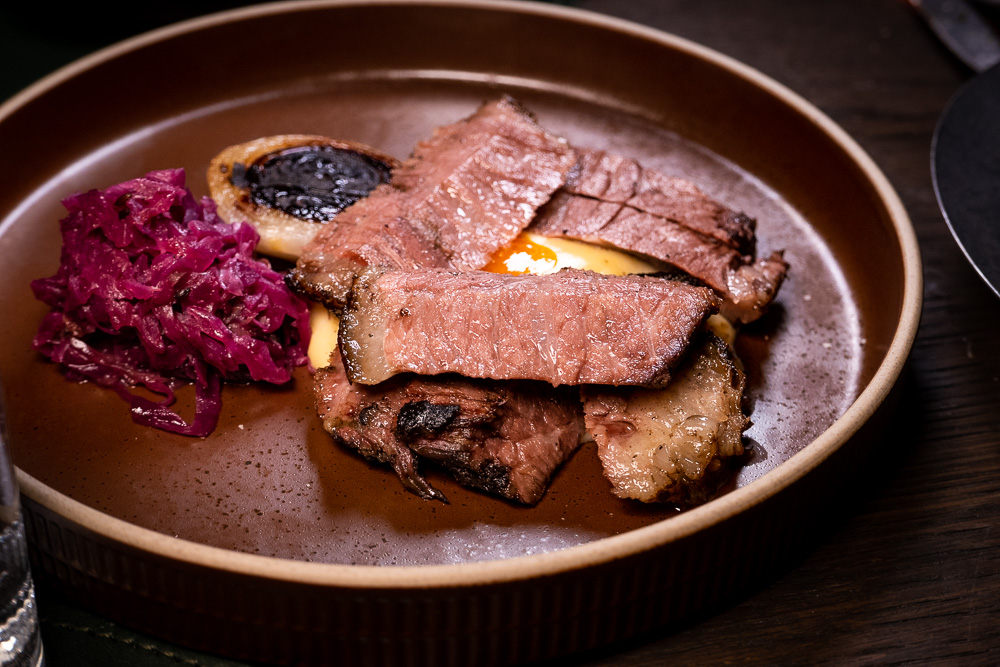 In Summary
The cocktails are unmistakably world-class.
As for the food, most is relatively new in comparison to what's around town. Signature dishes like the whole-grilled baby napa cabbage, maple & applewood smoked chicken, and black & white scallops are original, inventive and memorable.
Great for groups, entertaining, and smashing a ton of cocktails.
Favorite dishes: Venison tartare, guabao, baby napa cabbage, smoked chicken, cod.
Favorite drinks: Pickle Bramble, Black & Co.
---
CHARCOHOL
Address: 1/F, Fengshengli, No. 18, 245 Maoming Bei Lu, near Nanjing Xi Lu 茂名北路245弄18号1楼, 近南京西路
Tel: 32265752
Hours: 11:30am-11:30pm, Brunch: Sat-Sun, 11:30am-3pm