Update: This venue is now closed. For more brunches in Shanghai, click here.
Birds of Paradise is a tiki bar and restaurant that serves Polynesian-inspired food and Asian fusion bites. And they now do brunch!
Shanghai F&B luminaries Yao Lu (Union Trading Co.) and Austin Hu (Heritage by Madison, Union Trading Co.) steer the whimsical wheel of this fun, quirky, laidback establishment on Yanping Lu.
It's a cozy space with the bar taking center stage; casual seating wraps around to the right, and a counter table looks out onto the street. It's kid-friendly, strollers are a squeeze, but you can manage. It's also dog-friendly.
Brunch other yummy things
The Loco Moco (¥98) is a Hawaiian cult classic. The rice is fried with onion and charred beef bits, and is served with two beef patties, egg, and black pepper gravy. I think what really makes a loco moco is the gravy, and the one at BOP is ace.
Another must-try from the regular menu is the Okonomiyaki Fries (¥58). The fries are given lashings of Kewpie mayo and Bull Dog tonkotsu sauce, topped with shoga (like pickled ginger), nori (seaweed), and wisps of bonito flakes.
For brunch, there's the Egg Salad Sando (¥68). Not only does it have creamy chopped egg sandwiched between butter-toasted bread, there's also a halved onsen egg in the center of each serving.
Spam Eggs N Rice (¥68) with crispy fried spam, furikake, and scrambled eggs. You could make this at home, but if you're having kids in tow when you go to BOP, they'll dig this.
My favorite of all the things is the Morning After Sliders (¥78), stacked with chicken katsu, egg, cheese, and sausage gravy. It tastes as good as it looks.
The Breakfast Burrito (¥78) is wrapped to bursting with kimchi fried rice, cheese sausage, and scrambled eggs. Comes with chipotle cream. I recommend sharing the half so you can try more dishes.
Poached Eggs (¥88) are available with soft shell crab, terikayi salmon, or avocado. The yuzu kosho (chili peppers and yuzu peel) hollandaise is a refreshing twist.
Don't miss the Banana French Toast (¥78). Trust me, expletives of delight will ensue. These fluffy milk-soaked triangles of bread are rolled in cornflakes and fried, and are topped with oatmeal streusel and sticky miso caramel.
The Drinks
I hear great things about the drinks, but cocktails are not my forte. So take it from my peers, captions below. (I can attest that they do a bloody good Bloody Mary.)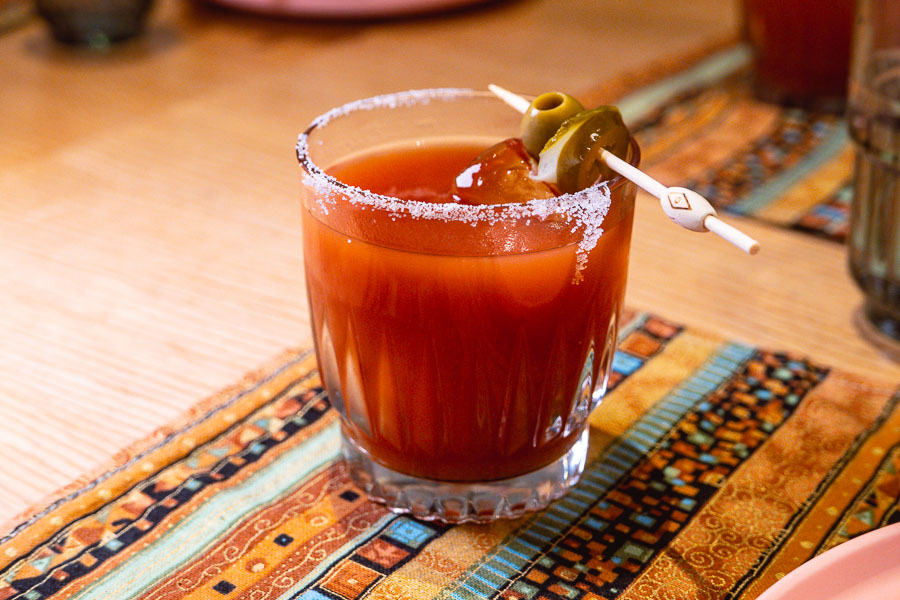 "My morning-after-drinking cure to reflect my morning-after-drinking mood: more sour than usual, pleasantly spicy, salty, and just overall sassy." — Elysia Bagley, Editor, DRiNK Magazine on the Bloody Tiki.
"The Starboard Cooler is smooth. It's equal parts wake up and chill da f*ck out." — Cristina Ng, Food & Drink Editor, That's Shanghai.
Selected cocktails at Birds of Paradise during brunch time are ¥50, same with their regular happy hour, which runs from 3-8pm daily. Prices for regular cocktails have also been reduced since opening.
In Summary
Top three brunch dishes: Morning After Sliders, Breakfast Burrito, and Banana French Toast.
I'm a big fan of Austin Hu's take on east-meets-west flavors. So naturally, the food at BOP is right up my alley. It's great comfort food, unfussy, and affordable—it's my jam.
PS: Hawaiian shirts are not mandatory to gain entry into Birds of Paradise, but it might earn you a high five.
---
Birds of Paradise
Address: 98 Yanping Lu, near Wuding Lu 延平路98号, 近武定路
Tel: 62607587
Hours: 12pm-2am, lunch weekdays 12-3pm, brunch weekends 12-4pm