Shanghai Burger Month is an entire month dedicated to burgers! Do you like burgers? Are you a connoisseur of the stacked beefy beauties? Now's your time to shine.
From September 1 to 30, grab your Burger Passport and eat your way through 12 burgers at 12 restaurants. Complete your Burger Passport and win up to ¥2,000 in CASH and dining vouchers worth ¥1,000!
This has been two years in the making, and finally, I'm going to see it through this September! All for the love of burgers.
Read on for more information about the Burger Passport, Lucky Draw Rules, More Giveaways, and Participating Restaurants & Burgers below!
---
Official Title Sponsor – Curtice Brothers
Shanghai Burger Month would not have been made possible without Curtice Brothers, the official title sponsor of Shanghai Burger Month 2021.
Founders Edgar and Simeon Curtice opened their first grocery store in 1868 where they sold fresh fruit and vegetables. Soon, they began to develop sauces using fresh produce from their store, thus developing the recipe for their famous Tomato Ketchup, which was said to have the richest flavor—like red-ripe tomatoes in a bottle.
Today, Curtice Brothers uses ripe Italian tomatoes, onions and apples—not flavors from a bottle or tin. Their signature tomato ketchup retains the full-bodied flavor of fresh tomatoes and is also low in sugar and salt.
The sauces have variously won the UK's Great Taste Award three consecutive years in 2018, 2019 and 2020. Curtice Brothers also produces Dijon Mustard and free-range Mayonnaise, all made without additives, preservatives or stabilizers. Curtice Brothers sauces are available from their official WeChat Store. Curtice Brothers will also be doing giveaways on their WeChat official account—follow them and win some free sauces!

---
Design by Kollektiv Creative Hub
Thank you to Kollektiv Creative Hub, one of the leading F&B branding, design, and photography studios in Shanghai. Credit to Kollektiv for designing the Shanghai Burger Month logo and visuals.
---
---
SHANGHAI BURGER MONTH 2021
Burger Passport & Lucky Draw Rules
If you're interested in winning the lucky draw prizes, this is important!
1. Every Shanghai Burger Month participating restaurant will carry official Shanghai Burger Month Passports. Just ask for one!
2. For every participating burger you order, you'll get a stamp!
3. The rule is: only one stamp per burger, per venue, per passport.
4. Collect 8 different stamps and submit your passport into the lucky draw for cash prizes and more! Just fill in your contact details, and return your completed passport at any participating restaurant by September 30….And start a new passport!
5. Increase your chances of winning by starting a new passport! You can submit as many completed passports as you want, as long as you have 8 different stamps.
6. Too many burgers for one person, you say? You can also do it with friends. Get a team together to join in on a passport and hunt down those burgers!
---
The lucky draw will be conducted on October 2. Passports will be picked at random. Winners will be contacted via mobile or WeChat—so be sure to have nice tidy writing on those passports. An announcement of the winners will also be posted on the Nomfluence official WeChat account shortly after.
THE PRIZES
Grand Burger Meister
¥2,000 cash & ¥1,000 dining vouchers
Burger Contender
¥1,000 cash & ¥1,000 dining vouchers
Burger Apprentice
¥500 cash and ¥1,000 dining vouchers
There also will be EVEN MORE giveaways during Shanghai Burger Month—so stay tuned for some additional goodies.
---
Participating Restaurants & Burgers
A.K.A. Asian Craft
Address: 1/F, United Valley, 462 Changle Lu, near Shaanxi Nan Lu 集社1楼, 长乐路462号, 近陕西南路
Tel: 18116246747
The DILLIGAF Burger ¥118
Beef patty, mac & cheese lava patty, bacon, and cheddar, topped with beef chili sauce and served with shoestring fries. This is a monster of a burger created just for Burger Month. And it is most definitely the highest calorie count on this list. Available for dinner.
---
Beef & Liberty
Address: 1/F, Kwah Centre, 108 Xiangyang Bei Lu, near Huaihai Zhong Lu 嘉华中心1楼, 襄阳北路108号, 近淮海中路
Tel: 54562356
The Liberty Burger ¥159
New Zealand grass-fed rib-eye house ground patty (220g) with caramelized onions, house pickles, dijonnaise, and a mound of Jarlsberg cheese, served with fries. Beef & Liberty is bringing back this beauty—a classic burger but topped with copious amounts of Jarlsbeg cheese, served table side. Available all day at the KWAH store.
---
Bubba's Food Co.
Address: Rm 103, Bldg 18, 808 Shaanxi Bei Lu, near Kangding Lu 陕西北路808号18号楼103室, 近康定路
Tel: 62730283
The Fried Cheese, Cheeseburger ¥88
100% house-ground USDA beef, fried cheddar slab, smoked pepper aioli, dressed lettuce, fire-roasted tomato, marinated red onion. Bubba's signature burger! Available all day.
---
Cages
Address: 3/F, 428 Jiangning Lu, near Wuding Lu 江宁路428号3楼, 近武定路
Tel: 52995273
Big Mick ¥98
"Two all-beef patties, special sauce, lettuce, cheese, pickles, onions, and our buns….no seeds" served with a side of chili cheese tater tots. A new burger for Burger Month. Available all day.
---
The Cannery
Address: 1107 Yuyuan Lu, near Jiangsu Lu 愚园路1107号, 近江苏路
Tel: 52760599
Double Smash Cheeseburger ¥128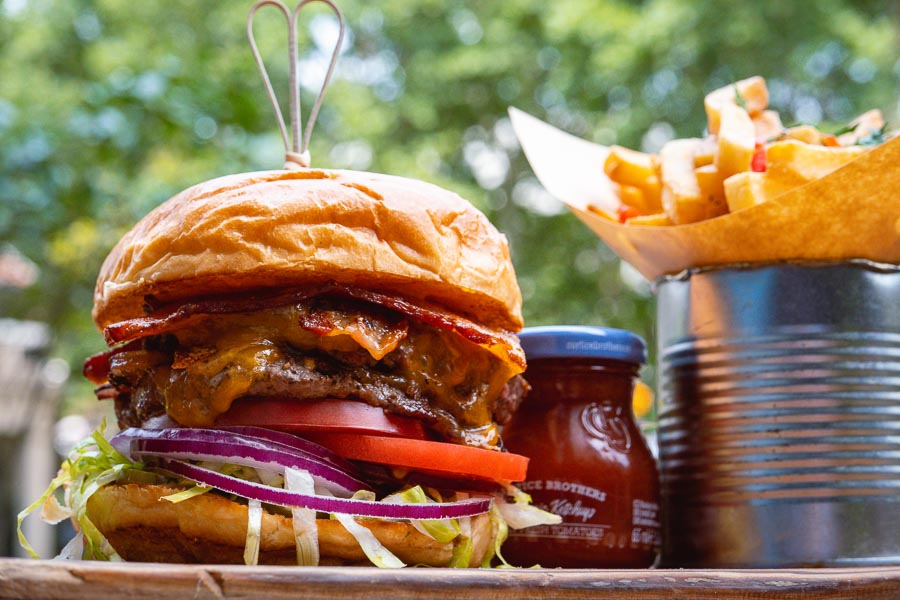 Double smash beef patty, housemade bacon, cheddar, pickles, house sauce, served with fries. A favorite at The Cannery, the Double Smash is yet another signature on this list. Available all day.
---
Cuivre
Address: 1502 Huaihai Zhong Lu, near Wulumuqi Nan Lu 淮海中路1502号, 近乌鲁木齐南路
Tel: 64374219
Mike on the EXTRA Blue ¥118
Australian beef patty, blue cheese, onion confit, homemade bacon, served with fries. Cuivre already does a blue cheese burger, but this one has extra house bacon. Add ¥10 for truffle fries or sweet potato fries. Complimentary soft drink during lunch, Monday to Friday. Plus, on Mondays from 5:30-9:30pm, order the burger and get a complimentary cocktail! Available for lunch and dinner.
---
Green Common
Address: Suite 49, 1/F, 1139 Changning Lu, East Section Raffles City, near Zhongshan Bei Lu 上海市长宁路1139号, 来福士广场东区1层49号, 近中山北路
Tel: 62333696
Moving Mountains Cashew Burger ¥72
Moving Mountains vegan patty, vegan burger bun, red bell pepper cashew sauce, lettuce, tomato, coriander, served with side salad. A new burger on the menu with a fresh and creamy sauce made with cashews, bell peppers, and apple cider vinegar. The sole vegan burger for Shanghai Burger Month! Available all day.
---
Heritage by Madison
Address: 1/F, 600 Zhongshan Dong Er Lu, near Longtan Lu 中山东二路600号1楼, 近龙潭路
Tel: 63129089
Aged Beef Burger ¥138
Aged beef patty, smoked cheddar, house mustard, arugula. Heritage's classic burger has been on the menu since opening. Available all day.
---
Highline
Address: 6/F, 282 Huaihai Zhong Lu, near Huangpi Nan Lu 淮海中路282号雅诗阁公寓6楼, 近黄陂南路
Tel: 63330176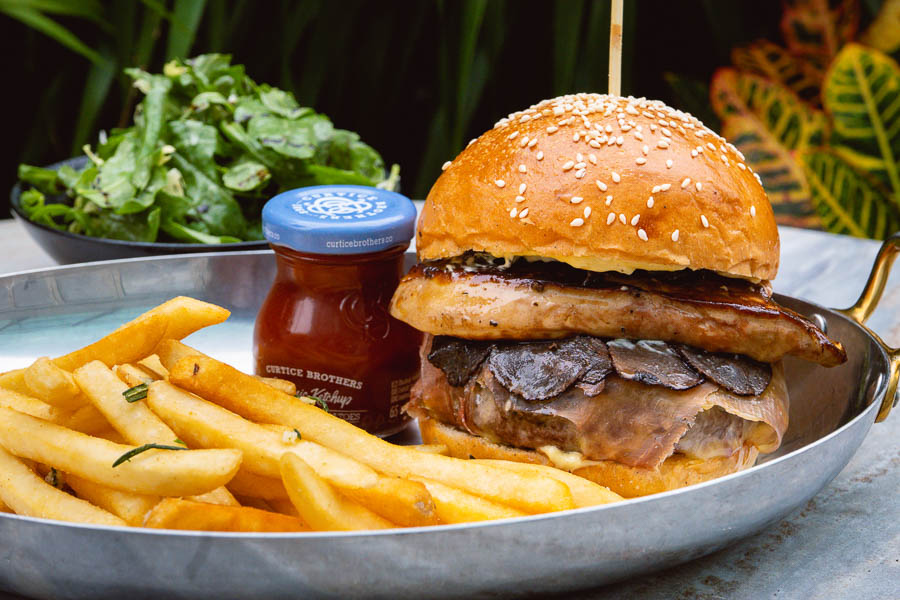 Foie Gras Burger ¥158
Wagyu beef, seared foie gras, shaved black truffle, mushroom duxelle, and bayonne ham, served with garlic fries and arugula salad. This is a signature at Highline, and for Burger Month, get it at special price of ¥158! (Originally priced at ¥198.) Available all day.
---
Liquid Laundry
Address: 2/F, K.Wah Centre, 1028 Huaihai Zhong Lu, near Donghu Lu 嘉华坊2楼, 淮海中路1028号, 近东湖路
Tel: 64459589
Spicy Godmother ¥88
Charred Angus beef burger (150g), sesame Laoganma aioli, mozzarella, fried shallots, sautéed peppers, pickled mustard greens, house sesame buns, served with fried shredded potatoes. A new burger on the menu at Liquid Laundry, using the famed Laoganma chili sauce. Available for lunch and dinner.
---
The Smokehouse
Address: 1/F, 97 Xiangyang Bei Lu, near Xinle Lu 襄阳北路97号1层, 近新乐路
Tel: 64379446
FIGJAM "Fu#% I'm Good Just Ask Me" ¥88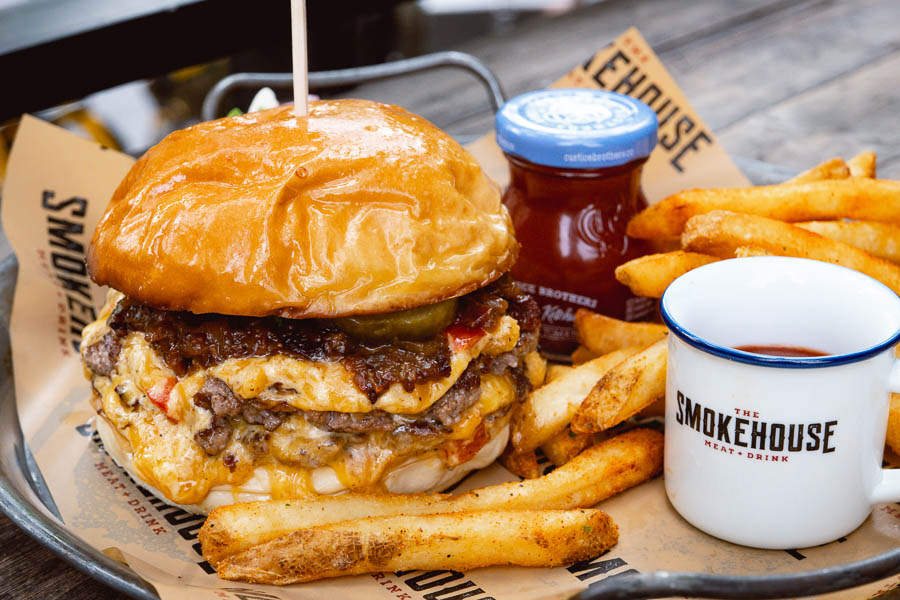 Double smash patty, double layer of pimento cheese, bacon onion fig jam, scallions, pickles, ketchup & mustard, served with slaw and fries. A new burger at The Smokehouse that comes loaded up with double everything. Available all day.
---
UP Shanghai
Address: 2/F, 688 Shaanxi Bei Lu, near Kangding Lu 陕西北路688号2楼, 近康定路
Tel: 15618073530
Broadway Burger ¥88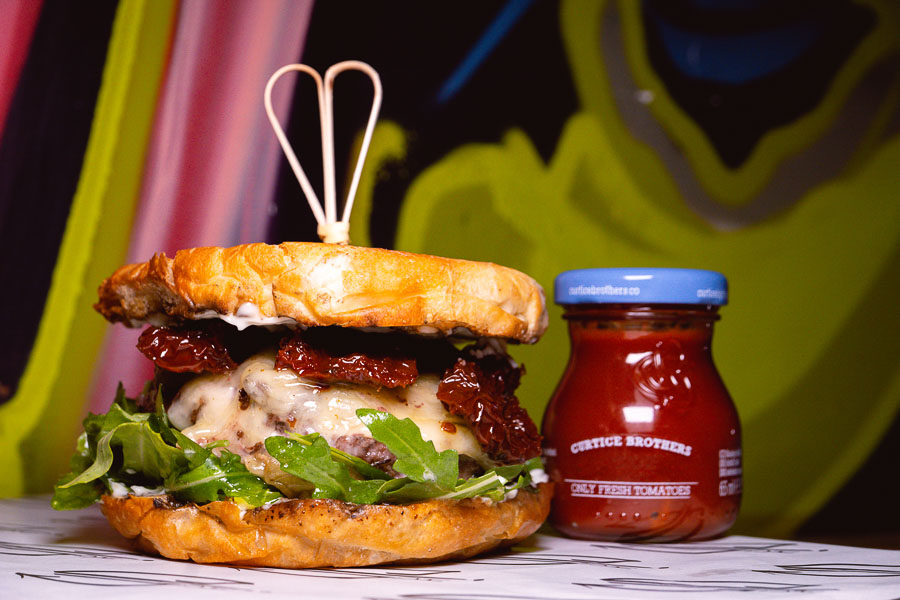 Beef patty, truffle, arugula, provolone, oven-dried tomatoes, buttered buns. UP Shanghai isn't a restaurant, but damn, they do a good burger. Available from 6pm until late.
Ready, get set, go!
Eat those burgers!