Mimi Wang, co-founder of popular cafe RAC, and Tiantian Wang, co-founder of national dorayaki chain Ze-Tian. Twins that ended up in the same industry share their empowering stories.
---
Shanghai's Food and Beverage Industry Superwomen
In celebration of Women's Day, this series is an ode to the resilient and passionate women in the food and beverage industry.
Featuring eight interviews with chefs, bartenders, owners, and entrepreneurs, these women share how they got their start, challenges they've faced in recent years, their achievements and dreams, and what they're working on now.
It is my greatest honor to have interviewed these exceptional women and to be able to share a small piece of their amazing journey. Cheers to all the women moving and shaking in their industries—you do you, girl!
---
Tiantian Wang 王田田
From Shanghai, China. Co-founder of Ze-Tian Dorayaki (泽田本家·铜锣烧). Established in 2017, currently 24 stores nationwide.
Mimi Wang 王蜜蜜
From Shanghai, China. Co-founder of RAC Coffee & Bar, RAC II, RAC Allée, and Little RAC.
---
"Twins often make similar life choices," a saying that rings true for identical sisters Mimi and Tiantian Wang. Short of communicating telepathically, they both took a similar path and ended up in F&B. Both studied hotel management in college, worked in the hotel industry, and then left to establish their own original F&B concepts in the same year.
Mimi Wang is the co-founder of RAC, one of Shanghai's most popular cafes and brunch spots. The most famous location is the first location on Anfu Lu; the brand currently has four outlets in Shanghai.
Tiantian Wang is the co-founder of Ze-Tian, a mono-product dessert brand that does dorayaki, a Japanese confection that is best described as a mini pancake sandwich. There are 24 stores of Ze-Tian located nationwide with more on the way. The first location opened in Shanghai on Fumin Lu.
Both sisters are creators, entrepreneurs, and operators of their brands, and play key roles in the strategic growth of their businesses.
---
Can you tell me about your background and how you got your start?
Mimi: Tiantian and I both chose to study hotel management in college because we liked experiencing different hotels. This is perhaps why we're so keen on the food and beverage industry. After graduating from college, I returned to Shanghai and worked in hotels for two years.
Then I was a consultant in hotel real estate. It was a great challenge to look at hotels from a macro perspective, but that job contributed a lot to my understanding of the business. I often had to travel for business. There is a lot of truth when people say that you should go "see the world."
Later, I moved from hotels into the F&B industry. I met many representatives of international food and drink brands and companies whose mission was to bring them into China. It was then I decided I wanted to start my own brand. In 2017, I co-founded RAC with my business partner Simon Briens.
Tiantian: First of all, we're both foodies, and enjoy exploring new places and foods together. Like Mimi, I studied hotel management in college, then worked in the hotel industry (The Ritz-Carlton, Guangzhou) for four years. The hotel culture and management style had a very profound impact on me. After leaving the hotel, I decided to start a business in the food and beverage sphere.
What challenges did you encounter in the last three years? How did you overcome them, and what learnings can you share?
Mimi: Compared to others in F&B, I consider us very lucky. Everyone says that the threshold of F&B is very low. Whenever there is a slight change in the market, F&B would be the first to be affected. I experienced this during the pandemic. Our stores would turn from profit to loss in the blink of an eye. But despite the challenges, we managed to stay active.
Many friends ask me about opening a restaurant. I say…. If you can't accept failure, are not mentally prepared, and are not ready to lose money, don't even start. Not everyone is cut out for F&B. It's a complicated, multi-functional, low-profit industry. I'm not that afraid of difficulty or hard work, but I think these past few years have only reinforced my resilience.
Tiantian: With the increasing number of new stores opening and businesses scaling up, there are still many unknowns ahead. The market changes too rapidly, and brand owners are obliged to adapt.
China's F&B market is very broad, and everyone works extremely hard, no matter what segment. The biggest challenge for me in the last three years was to keep up with the pace of change. I'm always learning how to make a better brand and run a better business.
What barriers have you faced as a woman in becoming successful in your field?
Mimi & Tiantian: Indeed, women are more emotionally driven and are sensitive towards their own and others' feelings. Many times, when we encounter roadblocks, we tend to deal with them in a gentler way rather than quarrel or be quick to anger.
In a similar situation, some men might be more decisive than women. What we've learned is also this: too much indecision will make things more complicated, over-thinking a situation is not efficient. Therefore, we're adapting to be more decisive. Problems deserve solutions not complications.
Maybe this question is a little similar to the above, but… How do you think Chinese culture and social norms affect the workplace for working women?
Mimi: This problem exists? Maybe I don't notice it because I'm in Shanghai.
From what I see, women are evermore powerful. Many of my female team members are very strong and positive: A mother of two, she's still hardworking and very energetic. One girl proudly associates with the LGBTQ community. A female barista self-studied to pass their WSET Level 3 examinations. One woman, who is well read, saved up to learn French. They are powerful, and I can learn from them.
Tiantian: As Mimi mentioned, women should be hardworking, a value I hold in high regard for myself.
Actually, I believe there are a lot of new young entrepreneurs, and many of them from good backgrounds with strong foundations. I believe the new age of entrepreneurs and enterprises take these social issues seriously, too. And I find more and more women are stepping up to take the role of leaders and founders. The next generation will gradually change and shape the future work environment.
What's the most important piece of advice you could give to aspiring chefs/entrepreneurs/people who want a career in F&B?
Mimi: Never stop being curious. Go see and experience more things. Don't forsake a brand or store or person you don't like, as there's always something worth learning.
Tiantian: Be studious, diligent, and humble. Don't plagiarize or copy ideas.
Mimi, you're a co-founder of one of the most popular cafes in Shanghai. What do you think contributed to RAC's success? Is there a secret formula?
Mimi: We founded the brand at a good time. In the early stages of opening, I spent most of my time and energy with customers. The goal at the beginning was not to open many stores across the city, but to provide good service to each customer.
To succeed in a restaurant, good and delicious food is the prerequisite, followed by service. Although our average check isn't very high, and we're pretty busy, we still refuse to switch to QR codes for menus and instead place importance on training our service staff to take your order. We're more of a neighborhood restaurant. We should be able to build a connection with guests doing something as simple as taking your order.
There is no substitute for interpersonal communication and emotional exchange, whether you're a coffee shop, bakery, or restaurant.
This is for Tiantian. Tell me more about why you started Dorayaki. You have 24 stores nationwide! Please share your journey.
Tiantian: I founded the brand in 2017 with my partner, and we did everything from scratch. I also worked in-store for the longest time. When the business was at its peak in 2020, we procured new investment to help the business grow further.
I've been asked many times why I chose to do dorayaki. Why not something else?
We still believe that Ze-Tian still has a long way to go—not many people know it nor have they tried dorayaki. We want to continue pursuing this niche and focus on building the brand. There is still so much more potential.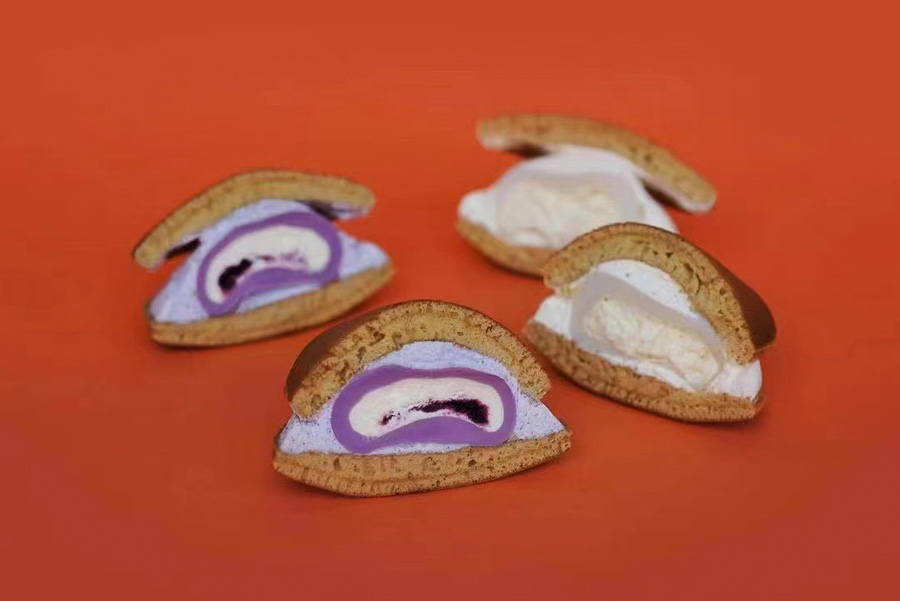 Have you considered working on an F&B project together?
Mimi: If the opportunity arises, of course! We're ready! Plus, we always share what we're working on, and our interests are very similar.
Tiantian: For now we need to devote more time to our current projects, but I believe we will work together in the future.
What would your next dream project be like?
Mimi: The hotel world will always be a big part of my life. I dream of opening a hotel myself! It would be pretty cool to have a RAC Hotel.
Tiantian: My dream is to open a larger format store, maybe 150sqm? Something with gorgeous interior design with an upgraded form of the products. It would be a fantastic opportunity for guests to experience our concept and enjoy our products.
Moving forward in 2023, what do you expect for the market and business? Do you have exciting plans?
Mimi: I have confidence! A quick survey of the data shows that the market is in resurgence. To be honest, I did lose some money last year; therefore I hope to make it back this year! C'mon, Shanghai! I want to give my employees a bigger bonus!
Additionally, I'd like to optimize our brand image. I'd also like to spend more time on utilizing our CRM, as we have a lot of returning customers.
Tiantian: Indeed, the outlook is positive. I believe that the market is recovering and that consumers are finding confidence in spending again, especially on affordable things like our products (one dorayaki is ¥16). In 2023, we intend to open more stores in new cities.
Anything else you'd like to add or say?
Mimi & Tiantian: Thank you Rachel for doing this interview!
The power of women can't be underestimated. There are many excellent women around us, all with their own unique characters and strengths.
Because of entrepreneurship, we found our true selves and were able to prove that we have the power to achieve. We are bolder and more independent. We hope that more and more female entrepreneurs will take charge and create some new and exciting projects in the near future.
---
Click here to read more about RAC Allée.
Follow RAC and Ze-Tian on WeChat for more info & locations:
RAC @ "racsh"
Ze-Tian @ "泽田本家"