All rave-worthy noodle restaurants in Shanghai have the same profile. They're usually located in a local quarter of the city, tucked down an alley with surroundings that would never pass health safety inspections. They're often rammed, a little too cozy, and are run like well-oiled machines.
Yi Ji E Guan (Yi's Goose House) most certainly falls into that description.
Yi's specialty is white-cut goose,which is similar to white-cut chicken, where the bird is poached in stock, chilled, and then chopped up to serve. It's the same method you'd employ to make the chicken used for chicken rice.
While the prized goose was tempting, the noodles were a bigger draw, as were the dumplings.
The noodles are whip-taut, more than al dente, and are absolutely delightful. Goose fat fried scallions perfume the noodles and a house-mix of soy sauce at the bottom of the bowl keeps them slick. It comes with a massive bowl of offal-rich geese soup. (干葱鹅油拌面鹅珍汤, ¥36 for noodles and soup.)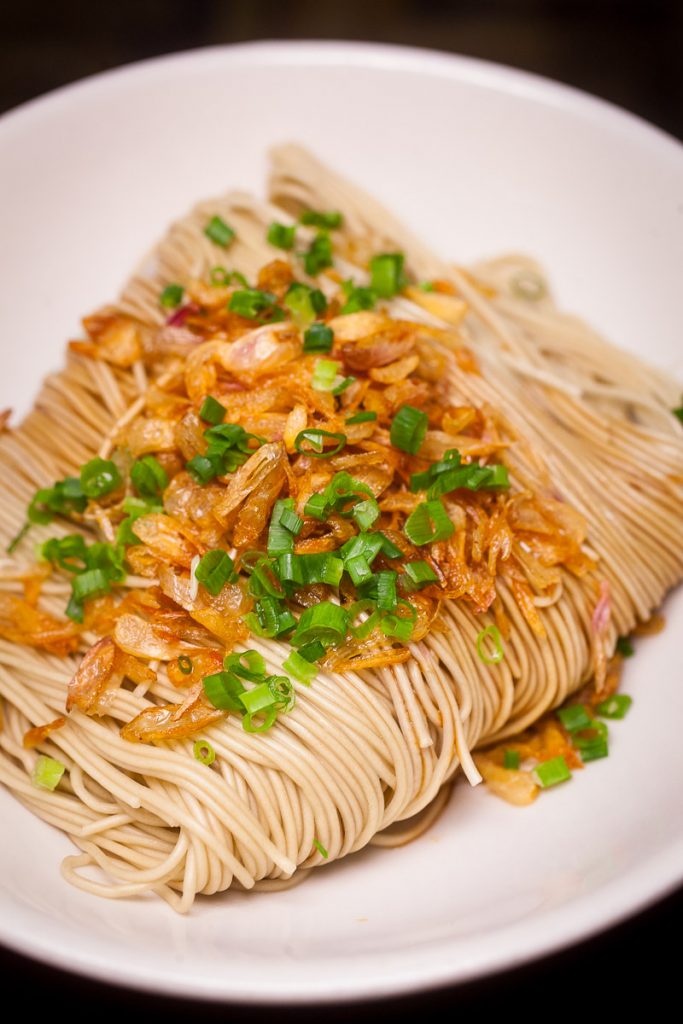 The soup is heavenly. It's a rich, potent broth made with old geese, pork belly, apples, pears, osmanthus wine, and hua diao wine, served with baby bok choy and an assortment of goose innards—creamy livers, crunchy gizzards, and tender intestines. The size of the bowl is as big as the following serving of dumplings.
The dumplings are a must-try (鹅肉鹅珍汤馄饨, ¥39 for a bowl of eight). Filled with a mixture of goose meat and innards, these fat purses come served in the same hearty broth. It's heady to say the least.
How To Order
Don't speak Chinese? Use the following text to order.
Scallion Noodles & Offal Soup
干葱鹅油拌面鹅珍汤
gān cōng é yóu bàn miàn é zhēn tāng
Goose Dumplings
鹅肉鹅珍汤馄饨
é ròu é zhēn tāng húntún
White-Cut Goose (¥99/500grams)
老上海白切沾鹅
lǎo shànghǎi bái qiē zhān é
Make your order at the front of the shop, where you'll get a ticket. Find yourself a seat in the dining room with the yellow doorway down the alley. Listen for your number to be called!
Additionally, complimentary hot tea is available. Go early in the day to avoid the lunch rush. (I was the only diner at 10am.)
---
Yi Ji E Guan 逸记鹅馆 (Yi's Goose House)
Address: 106 Zhaozhou Lu, near Ji'an Lu 肇周路106号, 近吉安路
Tel: 63859710
Hours: 8:30am-8pm