Xinjiang Ali Barbecue (新疆阿力烧烤) is a street cart selling Xinjiang barbecue in Shanghai, found on the corner of Lujiabang Lu and Zhongshan Nan Lu. The hunt for excellent lamb skewers ends at this southward expedition to one of the last remaining street food stalls in Shanghai.
Finding good chuan'r (串儿) or street food in general is more difficult these days. Once upon a time popular street corners all over Shanghai were rife with vendors fanning barbecue and tossing fried noodles. The morning after left telltale signs of their presence with the remnants of skinny wooden sticks and empty beer bottles strewn about the place. Now they've all but gone.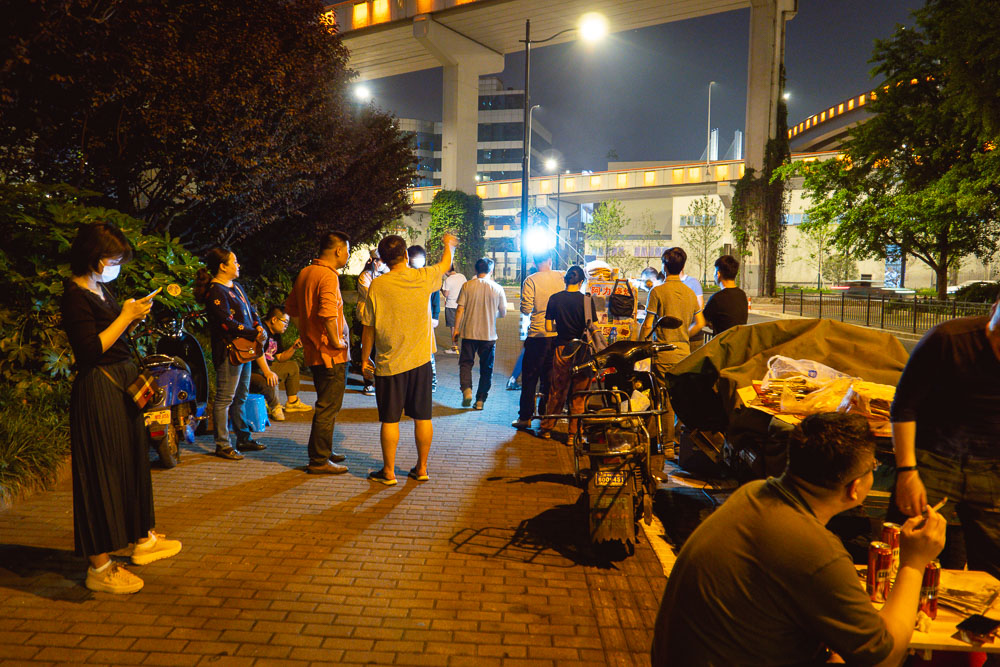 I do miss a good roadside lamb skewer. And it is by referral of St. Cavish from SmartShanghai that brings me to Xinjiang Ali Barbecue.
Street Food in Shanghai: Xinjiang Ali Barbecue
Xinjiang Ali Barbecue (新疆阿力烧烤 xinjiang ali shaokao) is a street food cart that specializes in lamb barbecue. Finding the cart is easy once you have the intersection—you'll smell the cumin-peppered street spice before you even see the stall. It is one of the last bastions of unadulterated shaokao in Shanghai.
It lays claim to the entire sidewalk with low foldable tables and tiny plastic chairs. If you're early, you win a table. If you're late, you stand or swoop in when someone leaves.
The lamb skewers (¥10/stick) are fat chunks of speared meat. These are set on the barbecue and are showered with a mixture of cumin, chili powder, salt, and other spices. The proprietors man the station like clockwork, turning and fanning the skewers.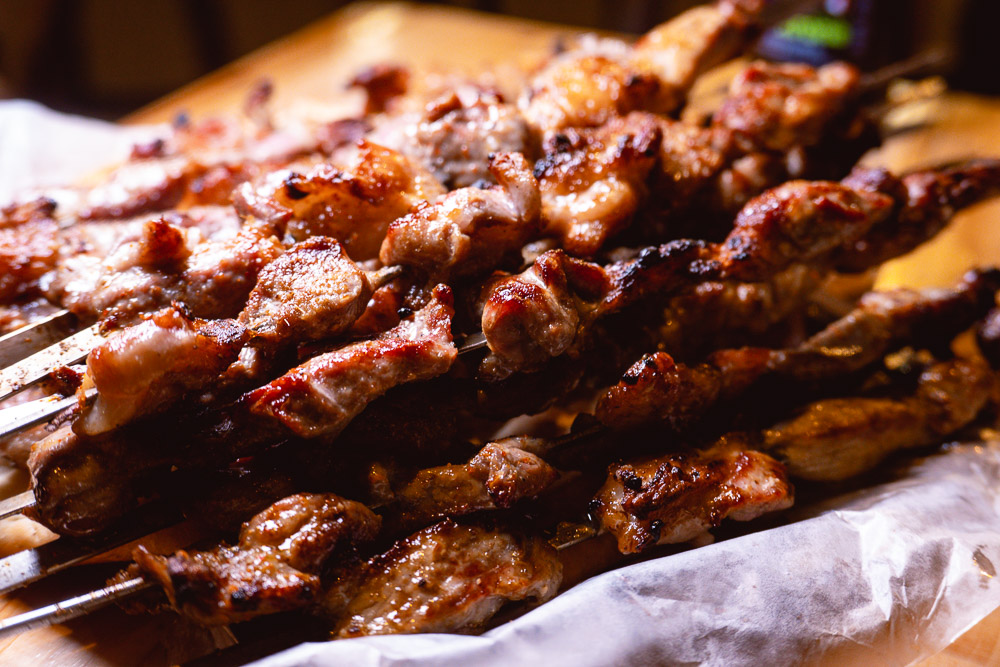 It is highly recommended to order naan (¥5/piece). It becomes your makeshift plate, as skewers are stacked atop the baked bread, letting the fat and juices of the lamb soak into it.
There are more lamb parts than just the meat, including kidneys, stomach, and ribs. Alongside are also chicken wings.
For libations, they only have Wusu Beer (¥10). It's an open-air destination—there are no limitations about BYOB.
Lamb Skewers 羊肉串 yang rou chuanr ¥10
Nang馕 ¥5
Wusu Beer乌苏啤酒 wusu pijiu ¥10
Go on, make the time. It's absolutely worth the trip.
---
Xinjiang Ali Barbecue 新疆阿力烧烤
Address: Lujiabang Lu, near Zhongshan Nan Lu 陆家浜路, 近中山南路
Tel: 13472727211
Hours: Daily, 8pm-2am